The Best XI Goals Scored Around Europe So Far This Season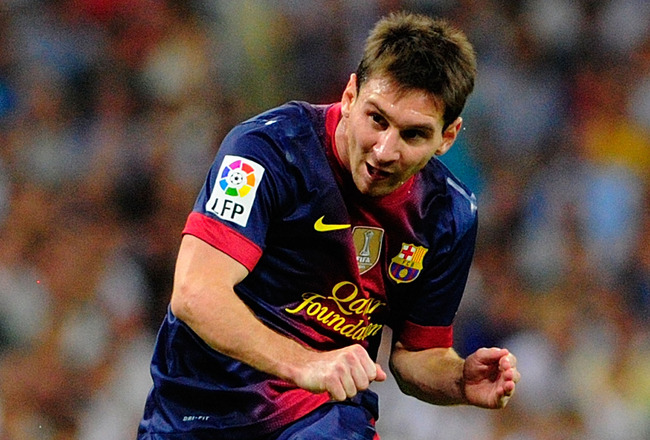 Gonzalo Arroyo Moreno/Getty Images
Football has only just returned, and inevitably there is an inconvenient international break to disrupt the domestic action.
We have seen some superb action over the last couple of weeks to have us all believing that this is going to be a thoroughly entertaining season across all of Europe.
Here are 11 of the best goals so far.
Contribute to the debate in the comments section below on your favourites—or, what you believe to be notable omissions—thus far.
Enjoy!
11. Samuele Long (Espanyol) Versus Levante
Inter Milan will be smiling as they see another of their young stars prosper with Spanish side Espanyol.
Philippe Coutinho flourished in La Liga and it seems like Samuele Longo can do the same, as the Nerazzurri youngster smashed home a volley at the second time of asking.
10. Robin Van Persie (Manchester United) Versus Fulham
Robin van Persie's debut goal for Manchester United was sensational.
The Dutchman met a Patrice Evra cross on the half-volley ahead of Brede Hangeland, connecting perfectly with the ball spinning away from Mark Schwarzer into the top-right corner.
9. Luis Suarez (Liverpool) Versus Manchester City
It seems like it is Luis Suarez or bust for Liverpool right now.
That may not be a bad thing when he is on form like this!
8. Lionel Messi (Barcelona) Versus Real Madrid
Similar to Luis Suarez's effort, Lionel Messi whips the ball around the wall, but from slightly further out.
Iker Casillas is helpless due to the power generated from such distance by the world's best player.
7. Abel Camara (Beira-Mar) Versus Academica
Abel Camara scored a screamer in this crazy match in the Liga ZON Sagres.
The Portuguese under-21 international had the audacity to shoot from so far out, on the turn, placing the ball into the top corner.
6. Pablo Daniel Osvaldo (Roma) Versus Inter
Pablo Daniel Osvaldo converted a sublime Francesco Totti pass with the most impudent of finishes, leaving Luca Castellazzi absolutely helpless.
What made it even better was the Giallorossi striker's celebration, obviously abundantly pleased with himself.
5. Antonio Candreva (Lazio) Versus Palermo
Antonio Candreva unleashed a rocket against Palermo.
Candreva, who grew up a Roma diehard, went some way to appeasing the Lazio fans with this wonderful goal.
4. Ismaily (Braga) Versus Udinese
Brazilian left-back Ismaily saved Braga in the first leg of their Champions League playoff against Udinese by equalising with this ferocious strike.
Zeljko Brkic had absolute no hope of stopping this shot, and it eventually proved to be crucial, as the Portuguese side qualified for the group phase of the competition.
3. Pablo Daniel Osvaldo (Roma) Versus Catania
Here he is again; Pablo Daniel Osvaldo this time executes an incredible bicycle-kick finish.
The Azzurri international has precedent here, after a previous effort against Lecce was wrongly ruled offside.
This time it counted, made even more special by the delightful scooped pass from Daniele De Rossi.
2. Marco Schneuwly (FC Thun) Versus Servette
Marco Schneuwly scored with the most audacious effort so far this season.
The Swiss striker scored in a way that was reminiscent of Zlatan Ibrahimovic.
1. Pirmin Schwegler (Eintracht Frankfurt) Versus Hoffenheim
Pirmin Schwegler scored the goal of the season so far, in my mind, with this long-range effort against Hoffenheim.
The Swiss international managed to create a ridiculous amount of swerve on the ball, and Tim Wiese could only watch and admire as it flashed past him into the back of the net.
Keep Reading