Top 15 Famous Footballers Average Fans Couldn't Pick out of a Lineup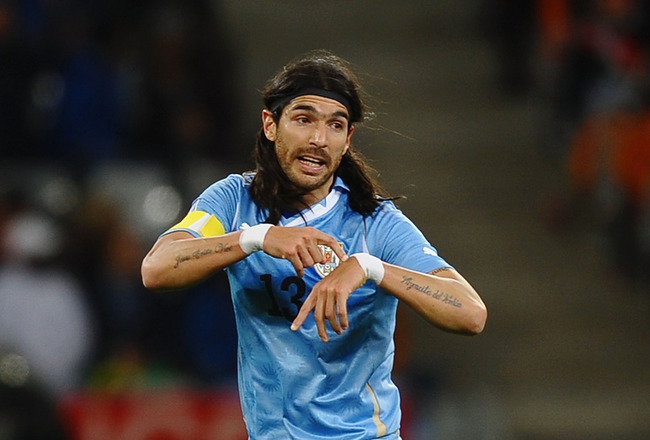 Laurence Griffiths/Getty Images
Fame and fortune, that's all any professional sportsman or woman ever begins their career in hot pursuit of, right?
Well, for whatever reason, there are those that can make it to the pinnacle of their trade, but still not get the recognition that some hold so dearly as long as their career may last.
Some would blame it on their nationality, or perhaps that the team they've spent most of their tenure with don't get enough publicity, but they just don't make it into the general landscape.
So who are these specters within the game, these unknown figures that we should perhaps know about?
As an even bigger challenge to myself and to you, all of these players are still plying their trade in some way or another on the professional scale.
Bear in mind, there will certainly be those of you that may recognize some, or perhaps even all of the players included. But then you can count yourself as holding an above-average intelligence, and give yourself a hearty pat on the back.
15. Fédéric Kanouté
Jasper Juinen/Getty Images
Now at the ripe old age of 35, Frédéric "Freddy" Kanouté continues to go about his business in the lucrative climates of the Chinese Super League, as has become the popular pension plan for so many veterans in recent years.
Before he joined Beijing Guoan, Kanouté had stints with West Ham and Tottenham Hotspur before moving onto the club with whom he had the most success, Sevilla.
Having scored almost 200 professional goals in nearly 500 professional appearances in France, England, Spain and China, Kanouté isn't the most prolific scorer of all time, but he certainly knows where the goal is.
14. Luisão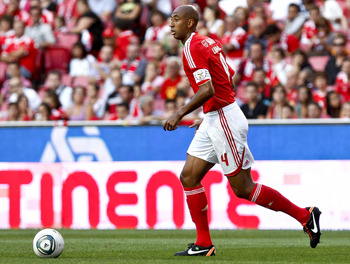 EuroFootball/Getty Images
A Benfica stalwart, Luisão is a player who has had to settle for a place on the brink of the Brazilian national squad for a decade, regularly failing to make the final cut.
Now in his 10th season with the Benfiquistas, Luisão is sure to go down as one of the most loyal servants the Portuguese outfit have ever had the pleasure of having.
The 31-year-old most recently came back into public view when a video emerged of the centre-back allegedly knocking out referee Christian Fischer.
Unfortunately, his lack of prominence within the Brazil starting XI means that Luisão fades into slight obscurity, when he's actually a premier centre-back.
13. David Trezeguet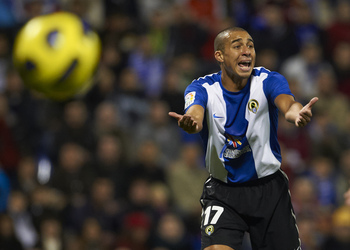 Manuel Queimadelos Alonso/Getty Images
One of France's all-time top scorers, David Trezeguet was a borderline decision to make this list.
The 34-year-old was at the height of his powers in the late '90s and early '00s, winning the 1998 World Cup and Euro 2000 trophy in succession.
It was during this time that Trezeguet racked up more than 300 appearances for Juventus, averaging more than a goal every other game while in Turin.
After more than a decade of prolific scoring for the Old Lady, the striker called it a day and has since had average spells with Hercules and River Plate.
Still in Argentina, the veteran has certainly taken a step down from the highs reached in Serie A, but will ultimately go down as a legend for both France and Juve.
12. Javier Saviola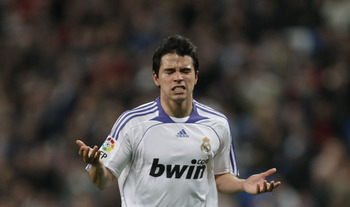 Denis Doyle/Getty Images
The first of two Argentines to make their way onto this list, Javier Saviola is surprisingly unknown by a great deal of your "average" supporters despite having an incredibly successful career.
One of only a handful of players to have careers with both participants of El Clasico, Saviola made over 150 appearances for Barcelona before playing several seasons with Real Madrid.
Not to pay any disrespect to the Primeira Liga, but Saviola's three years with Benfica will have seen him float out of the recognition of the general public.
That said, the 30-year-old is now at Málaga and could soon be making a name for himself in the Spanish top flight once again.
With more than 40 caps for the Argentina national team, Saviola has more than paid his dues to the football fraternity but isn't one of its most noticed faces.
11. Marcos Senna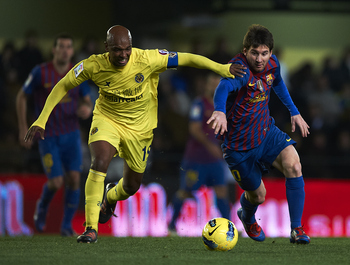 Manuel Queimadelos Alonso/Getty Images
Defensive midfielders have a habit of slipping into the corner, neither earning reputations as a goal threat, nor as the talismanic defender that's there to mop up others' mistakes.
Before Spain became the Tiki-Taka know-hows that we've come to envy today, Marcos Senna was a lynchpin in the team's midfield that helped nurture the younger talents around him.
The Villarreal veteran, who recently celebrated a decade with the club, is somewhat of an exception to that defensive midfield tradition, making it his mission to become a long-range effort and penalty specialist in his time.
Now 36 years old, the Euro 2008 winner continues to lead the Villarreal side and has undoubtedly rejected the chance to move on from the Liga Adelante side in recent seasons.
10. Didier Zokora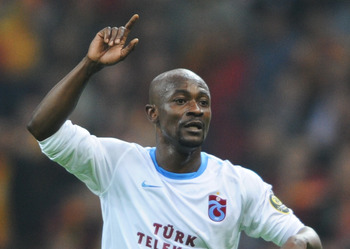 EuroFootball/Getty Images
Any professional player that accumulates more than 100 caps for their country evidently has a bit of skill—and Didier Zokora has 103 of them.
The midfield anchorman is the Ivory Coast's most capped player and is somewhat of a journeyman on the club level also, having racked up an impressive tally of more than 350 appearances for clubs in Belgium, France, England, Spain and Turkey.
The 31-year-old is now playing with Trabzonspor, and will be remembered by English audiences for his semi-successful period with Tottenham.
Although he failed to score during a 130-appearance stay at White Hart Lane, fans still became enamoured with the African veteran, although he wasn't the brightest of stars.
9. Arne Friedrich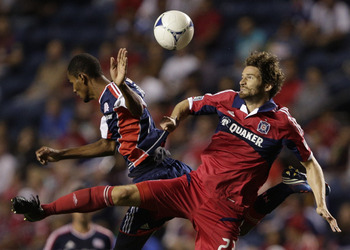 John Gress/Getty Images
U.S. audiences will have become much better acquainted with Arne Friedrich in the last six months or so, ever since he completed a move to the MLS.
The Chicago Fire stopper is enjoying a slightly higher profile in American soccer, but he had a massively successful career in his native Germany before that.
The centre-back's biggest success came with Hertha Berlin, a club for whom he made almost 300 appearances over the course of an eight-year stay.
It was during this time that Friedrich rose to prominence within the German national ranks, earning 82 senior caps for Die Mannschaft.
Given his low-profile club career, Friedrich never really pops up as an elite defender but has served his country in a way that many players dream to.
8. Nuno Gomes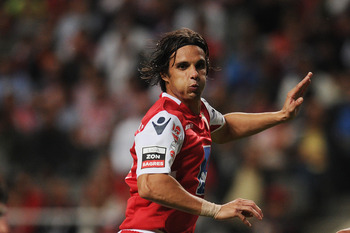 EuroFootball/Getty Images
Given their current Championship status, you might not expect anyone playing for Blackburn Rovers to exactly be synonymous with fame and popularity.
However, Nuno Gomes is a very new addition at Ewood Park and previously made a name for himself after making more than 400 appearances for Benfica.
What's more, the 36-year-old forward also earned more than 75 caps with Portugal's national team in a 15-year stint.
While you may have heard the name of the Portuguese veteran, not many would be able to pick out the face Nuno Gomes, as the title suggests.
7. Juninho Pernambucano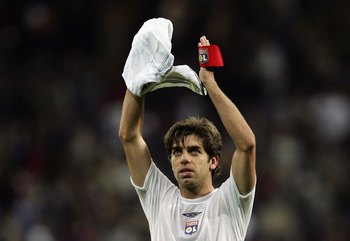 Denis Doyle/Getty Images
One of, in my opinion, the greatest Brazilian players never to earn the same spotlight as his flashier teammates, Juninho goes under the radar of many when thinking of the nation's best and brightest.
Possibly the greatest set-piece taker that ever lived, Juninho made around 350 appearances for Lyon, scoring a very decent tally of 100 goals during his stay.
Now back in his native Brazil with boyhood club Vasco da Gama, the veteran is nothing if not loyal, and has accumulated a career total of over 570 club games.
There is undoubtedly a number of English, Spanish and Italian clubs that wanted to make a move for the midfielder but, for whatever reason, Juninho remained in France and never really got the publicity that he deserves.
6. Juan Roman Riquelme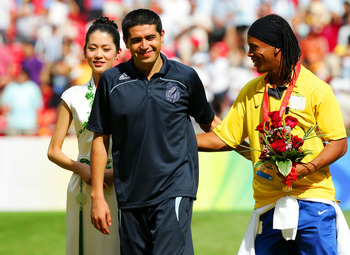 Koji Watanabe/Getty Images
One person set to make his way into the Boca Juniors hall of fame, Juan Roman Riquelme's prominence in South American football means that his name isn't as well-known on other shores.
In fairness, the 34-year-old spent several seasons with Barcelona and Villarreal in the early to mid 2000s, equating to almost 200 appearances in the Spanish top flight.
In total, Riquelme had three individual spells for Los Xeneizes, totalling almost 350 appearances for the Buenos Aires side.
Riquelme has now left La Bombonera, citing that he simply doesn't have the energy to play at such a level anymore (via WinnipegFreePress.com), but that tiring shouldn't detract from what a talent the attacking midfielder was in his day.
5. Giorgos Karagounis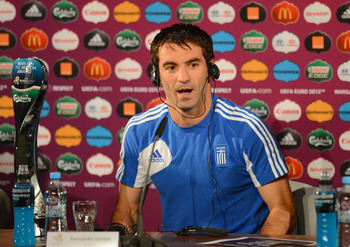 Handout/Getty Images
Currently a free agent after Panathinaikos opted not to offer their veteran an extended deal, Giorgos Karagounis may be a recognisable face in his native Greece but won't be a prominent name outside of it.
The 35-year-old has made more than 330 appearances for The Shamrock during two spells with the club and is a known man at the Olympic Stadium.
Where Karagounis' true fame comes from, however, is his involvement with the Greek national team, having earned 120 caps for the side, a remarkable achievement no matter the nation.
Karagounis needs just one more cap to become his country's most decorated veteran, and the highlight of his international career will undoubtedly be the Euro 2004 victory, a tournament in which he netted the first goal.
Some unsuccessful spells with Internazionale and Benfica may muddy the career of a talented player, but don't you dare mock the name of Karagounis in Athens.
4. Dennis Rommedahl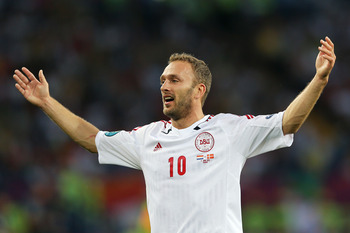 Ian Walton/Getty Images
One of Denmark's most beloved and loyal servants—second only to Peter Schmeichel—Dennis Rommedahl has done well to accumulate his 118 caps with the Danes, a tally he is still adding to.
Rommedahl's most recent foray on the national stage was at Euro 2012 and, even at the ripe age of 34, it's hard to imagine where the winger summons such ferocious speed from at times.
Fans of PSV, Charlton Athletic and Ajax will all know the Danish superstar all too well, Rommedahl having served admirably with all three.
Although his best days certainly came in Holland, Rommedahl is a known figure in his native Denmark. But he never quite made it into that upper echelon of quality, although his accolades on the national level would have you think otherwise.
3. Jay-Jay Okocha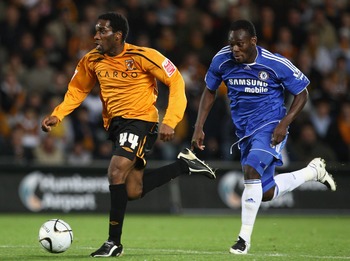 Laurence Griffiths/Getty Images
"The player so good they named him twice," Jay-Jay Okocha will always be a beloved figure at the Reebok Stadium, where he cut out a name for himself in England.
The former Nigerian international was famed for his dazzling footwork and skills when on the ball and was named in Pele's FIFA 100.
A two-time winner of the BBC African Footballer of the Year, Okocha is now a part of the emerging Indian Soccer League, having agreed a deal to play for the Durgapur Vox Champions.
While he might be a known to a certain amount of English fans for his time with the Trotters, this legend deserves a little more recognition for the light-hearted spirit he could bring to the sport.
2. Mohamed Aboutrika
Joern Pollex/Getty Images
Often thought of as one of the best players never to leave his native league for a more elite standard, Mohamed Aboutrika may well have become a household name were it not for his loyalty to his home roots.
The 33-year-old has won countless trophies in the Egyptian top flight, including seven league titles with Al-Ahly, the top scorer award on numerous occasions and is also a five-time winner of the Best Player in Egypt award.
Despite these accolades, the general football public wouldn't know Aboutrika if he was staring them dead in the eye, when he should really be a household name.
The striker-come-playmaker has also helped his country to two African Cup of Nations victories and may have made his way into the thoughts of some when he appeared as one of Egypt's over-23 players at the 2012 London Olympics.
1. Sebastián Abreu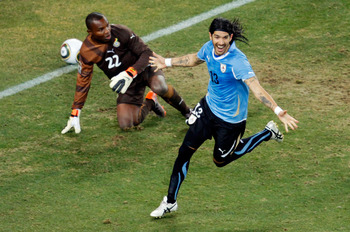 Dominic Barnardt/Getty Images
While his moment of greatest fame arguably came in the 2010 World Cup, Sebastián Abreu was already 33 years old by the time that he scored that penalty to send Ghana out of the competition.
In truth, Abreu has been around for way longer than many will have known, and his 70 caps for Uruguay are merely the tip of the iceberg in a long, long career.
In total, Abreu has played for 20 different clubs and is the epitome of what people mean when they refer to a "journeyman."
One of his nation's all-time leading goalscorers, El Loco has been around the block and then some, but you'd be surprised how many people don't even know who he is.
Keep Reading