Top 10 Early Front-Runners for Premier League Player of the Season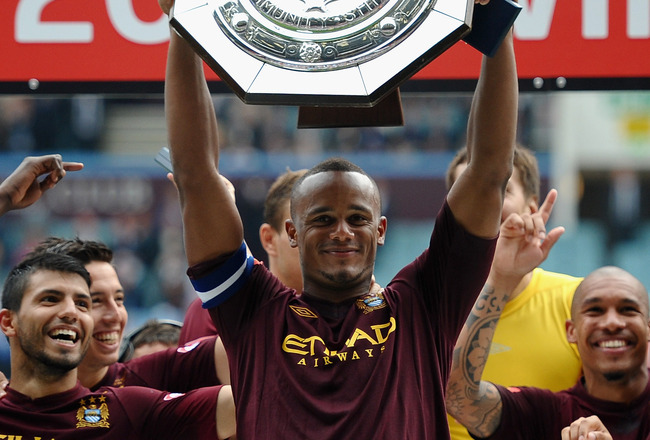 Kompany: Current award holder
Laurence Griffiths/Getty Images
It's merely three weeks since the Premier League season returned to our hearts and television sets, but already we can begin to formulate just who will be the heroes of this particular campaign.
Last season saw league champion Manchester City's leader in chief, Vincent Kompany, handed the honour of Barclays Premier League Player of the Year, and it would have been hard to argue otherwise.
The opening exchanges of the new term have seen as much excitement as ever and, as is usually the case, it isn't always the usual suspects, the goal scorers, that see themselves as candidates for the accolades.
The ensuing selections are based solely on the form shown in the opening three weeks of the season and are made regardless of any prowess a player may already have.
Whether he's shooting for a top ten finish at the Hawthorns or aiming for Champions League qualification, here are the stars that might just make the grade when May rolls around.
Michu: Swansea City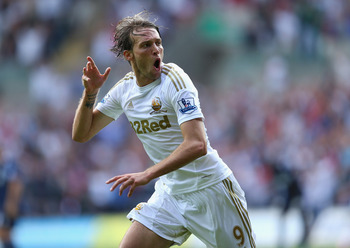 Michu: Spectacular Swansea signature
Richard Heathcote/Getty Images
A man currently weaving his way into fantasy football sides across the nation, Michu is Swansea City's surprise sensation.
The strange thing however, is that he really shouldn't be a surprise.
The 26-year-old was La Liga's highest scoring midfielder last season after managing to net on 15 occasions, but his arrival in England was still slightly subdued.
Michu's performances have already shown that a small price-tag doesn't necessarily mean a small talent, arriving at the Liberty Stadium for a paltry fee of just £1.7m rising to £2.2m based on appearances and success.
Swansea turned to the services of Michu after they missed out on the permanent signature of Icelandic international and last season's midfield hero, Gylfi Sigurdsson, who opted for a move to White Hart Lane.
The Spaniard appears to have plugged the void left by Sigurdsson and then some, scoring four goals and registering one assist in just three matches.
If that isn't prolific, I don't quite know what is.
If Michu doesn't win this season's Player of the Year award, he is most certainly at the front of the race for its Most Valuable.
Carlos Tevez: Manchester City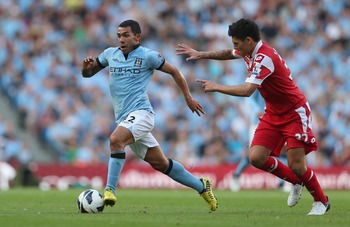 Clive Brunskill/Getty Images
A comeback story if ever there was one, it wasn't so long ago that Carlos Tevez was being hunted out of the Etihad Stadium by his own fans.
The Argentine infamously refused to come off the substitutes' bench in a Champions League tie against Bayern Munich in September 2011 (via BBC Sport).
The resulting saga saw Tevez return to his native Argentina for four months, as well as being transfer listed for the entirety of the January window.
However, the Citizens failed to offload their former superstar to any interested parties and Tevez made a public apology for his actions, returning to the first team in March.
Fast forward six months and the South American has moved on from his previous mistakes and is once again in the good books at the Etihad.
Tevez has already scored in every match this season, and is linking up well with his teammates having also recorded three assists.
After resolving his grievances with the club, the 28-year-old is once again a hero at City, and will be key in any title chances the club have with Sergio Aguero currently on the sidelines.
Steven Fletcher: Sunderland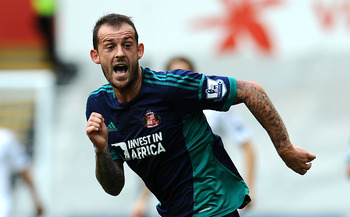 Fletcher: A much needed figure at Sunderland
Tom Dulat/Getty Images
Scoring at the Liberty Stadium is something that even the top teams have found it difficult to do in the last year or so, but Steven Fletcher managed to accomplish the feat twice during Sunderland's travels to Wales.
The former Scottish international has only just completed a long-protracted move to the Stadium of Light but is quickly establishing himself as a fan favourite at the north East club.
Under Martin O'Neill, the Black Cats showed last season that they were a force to be reckoned with at times.
That being said, Sunderland struggled when it came to striking options and were it not for a bigger talent than the likes of Nicklas Bendtner, Ji Dong-Won or Connor Wickham, the club may well have achieved a higher table finish.
In Fletcher, Sunderland now have an attacking asset that can do nothing if not finish scoring chances.
With James McClean, Stephane Sessegnon and Adam Johnson all providing the ammunition, Fletcher can build on a magnificent Premier League debut for Sunderland and make a real run at the Player of the Year award.
Gareth McAuley: West Bromwich Albion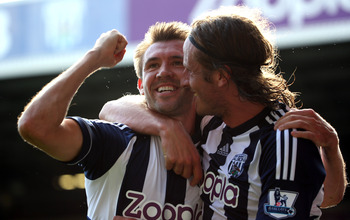 McAuley (left): Adored as a Baggy
Ross Kinnaird/Getty Images
Last season, West Brom were average by all accounts, finishing the season in 10th place and placing 12th and 13th in terms of the Premier League's defence and attack, respectively.
Under the management of Steve Clarke, the Baggies appear to be shooting way beyond that, and Gareth McAuley is one of those players thriving under the new boss.
The Northern Ireland international stands at 6'3" and is always making a fuss of himself at set-pieces, an attribute he showed in scoring against Everton over the weekend.
The West Midlands club have conceded just one Premier League goal so far this season and currently have the second best defence in the English top flight.
How long that streak will last is anyone's guess, but it's fair to say that the Hawthorns crowd will see McAuley as a particularly strong factor in that run.
West Brom probably won't be winning the Premier League crown anytime soon, but that doesn't mean that one of their talismans can't develop a run as Player of the Year.
Santi Cazorla: Arsenal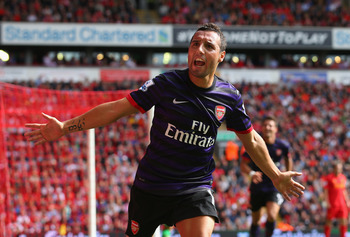 Cazorla: Sensational summer signing
Alex Livesey/Getty Images
Transferring from one league to another is never easy, but Santi Cazorla appears to be making short work of his jump from La Liga to the Premier League.
The ex-Málaga star was instrumental in Arenal's win over Liverpool over the weekend, scoring his first goal for the north London club in what promises to be a very successful tenure in the English capital.
Operating in a more provisional role, Cazorla's strengths don't necessarily lie with his goalscoring ability, but the ammunition he'll offer to the club's new attacking line should be invaluable.
The Euro 2012 winner is barely into his career as a Gunner but is already making strides in his new surroundings and should find himself in the running for the end of season awards.
Marouane Fellaini: Everton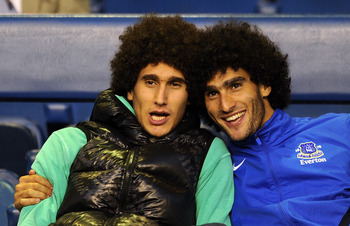 Fellaini: Seeing double
Chris Brunskill/Getty Images
Any time a player can say that they played a big enough role in defeating Manchester United that it can almost be described as "single-handed", you know you're dealing with a pretty talented player.
Marouane Fellaini can say as much after Everton's season opening victory over the Red Devils, a game in which he scored the only goal.
The 24-year-old has been an important player at Goodison Park for the last few seasons, but it's only now that we can see just how talented Fellaini is.
A part of the emerging Belgian national team, Fellaini will be integral to any bid for European football that Everton may have this season, a bid that is looking very hopeful as things stand.
Standing at 6'5", Fellaini has shown that he is capable of playing in just about any midfield position, and his display against United showed that he's also comfortable being pushed into a more attacking role.
Sure, his hair may enamour him amongst supporters just because it's hard not to love, but Fellaini's quality speaks for itself in the running for Player of the Season.
Robin Van Persie: Manchester United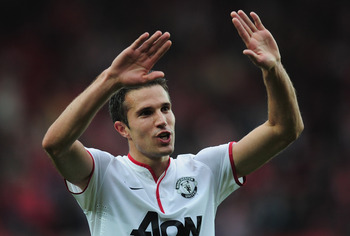 RVP: Shining as a Red Devil
Jamie McDonald/Getty Images
Unless you've been hiding under a rock for the past 48 hours, you'll have heard that Robin van Persie scored his first hat-trick for Manchester United over the past weekend.
The Dutchman was voted the PFA Player of the Year last season after hauling in 30 Premier League goals, and he could make another surge for the awards again this time around.
There was the sneaking suspicion that RVP would emerge as a one-trick pony, and that the 2011-12 season at the Emirates Stadium was that one trick.
Those claims, however, appear to be put to bed, and after notching four goals in just two appearances as a Red Devil, it seems that the striker could be in luck once more this campaign.
The 29-year-old will be Sir Alex Ferguson's go-to guy in the absence of the injured Wayne Rooney, providing Van Persie with the ideal opportunity to build an early lead in the goal scoring tally.
Hatem Ben Arfa: Newcastle United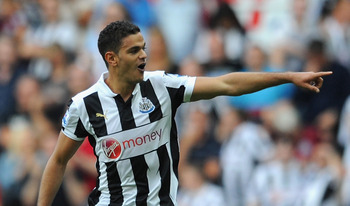 Ben Arfa: Speed Demon
Chris Brunskill/Getty Images
In what was his first injury-free season in Newcastle colours, 2011-12 showed us what a talent Hatem Ben Arfa can be on his chosen day.
With tight control and a penchant for the amazing, Ben Arfa has even gone as far to earn comparisons to Lionel Messi from his manager, Alan Pardew (via BBC Sport).
The Frenchman has two potentially prolific strikers in front of him in the forms of Papiss Demba Cissé and Demba Ba, but the Senegalese pair can do nothing without the ball.
That's where Ben Arfa comes in.
With blistering pace as his companion, the pint-sized attacker has already scored twice for the Magpies and is his club's top scorer so far this season.
One of the most threatening Premier League wingers when playing to his maximum, Hatem Ben Arfa can make a go at becoming the first Newcastle player ever to win the Premier League Player of the Year award.
Thomas Vermaelen: Arsenal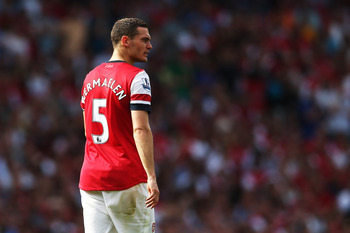 Vermaelen: Arsenal's main man
Julian Finney/Getty Images
Arsenal have the esteemed honour of being the only club on this list to have two candidates nominated for Player of the Year and that's thanks to the early season heroics of Thomas Vermaelen.
The Belgian international has become a defensive talisman for the Gunners in recent seasons, and it's difficult to think of a more suitable player to don the captain's armband at the Emirates Stadium.
Vermaelen is to Arsenal what Vincent Kompany is to Manchester City and without the centre-back in their lineup, the Gunners look a considerably weaker side altogether.
As things stand, Arsenal are the only team yet to concede a goal in the 2012-13 Premier League season, and if that run continues, it will be because Vermaelen's performances allowed it to.
Along with his stalwart presence, the 26-year-old is a constant threat on goal and loves to get forward whenever possible.
Eden Hazard: Chelsea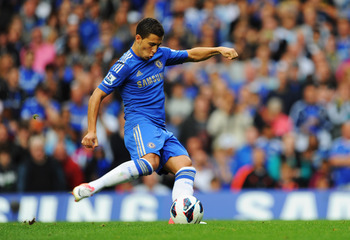 Hazard: New kid on the block
Michael Regan/Getty Images
Arguably the best player of the Premier League season thus far, Eden Hazard has adjusted to the brutally physical climate of the English top flight in beautiful fashion.
Another Belgian to make his way onto this countdown, Hazard was touted as one of the world's most promising youngsters before his £32m move to Stamford Bridge, and is certainly living up to expectations.
Despite having played only three league games with the Blues, the 21-year-old is averaging two assists per game.
No, you didn't read that wrong. Two assists per game.
Capable of functioning just about anywhere along the creative line, the winger come play-maker will be essential if Chelsea are going to build on last season's Champions League victory, and is a very real option as Player of the Year.
Keep Reading