San Jose Earthquakes Top MLS Power Rankings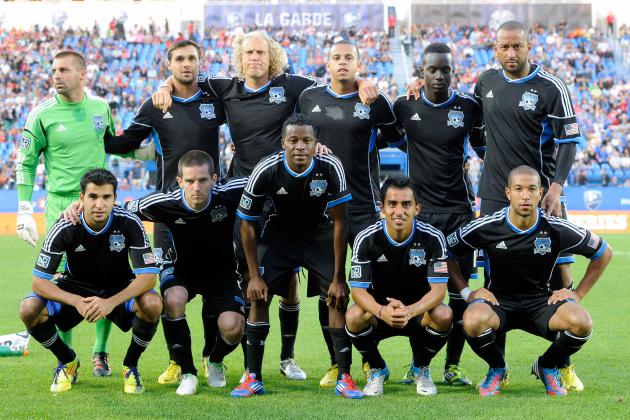 Richard Wolowicz/Getty Images

Every now and again, it's a good idea to take a look at how all the teams in a particular league stack up against each other.
With about a third of the season left, I thought it was time to rank all the MLS teams 1-19. I have to say "about a third" because the Philadelphia Union and Chivas USA both have 12 games left, but the Montreal Impact and FC Dallas each have seven remaining.
For the purposes of placing the teams on the list, I used points per game (PPG). The teams will not necessarily be ranked where you would think based on the conference standings. PPG is the fairest way to do this, considering not all teams have played the same number of games.
In the case of two teams with the same PPG, goal differential will break the tie.
Begin Slideshow

»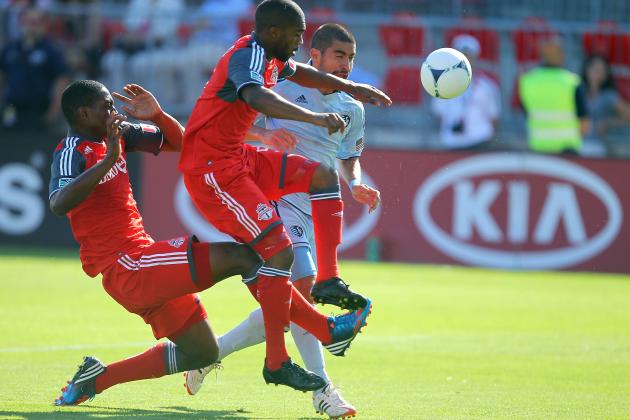 Abelimages/Getty Images

Toronto FC is simply bad. Very bad.
They started the season with nine consecutive losses. They've improved some, going 5-6-5 since then. If they'd split those first nine games in a similar fashion, they would have 32 points and be ranked six places higher.
The sad part is, as the Canadian champions, they're still in the CONCACAF Champions League.
Next up: at Houston, Saturday, 8/25.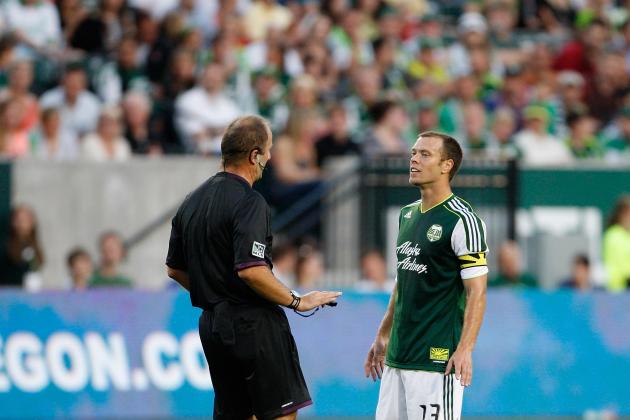 Kevin Casey/Getty Images

The Timbers didn't start quite as badly as Toronto, but they're about as bad off as their Canadian colleagues.
They've outscored their opponents at home 18-17, but on the road is where the trouble lies. Portland has only scored six goals away from JELD-WEN Field. The problem with that is they've allowed 25.
I feel bad for the Timbers for a couple of reasons. Captain Jack Jewsbury spent a long time playing in Kansas City and the Timbers Army and I have a common enemy in Seattle.
Next up: v. Vancouver, Saturday, 8/25.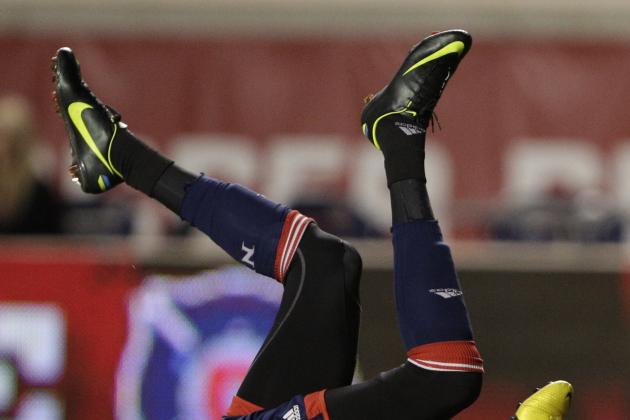 John Gress/Getty Images

First-year head coach Jay Heaps probably thought things would be going a bit differently by this point of the season.
Unfortunately for him, and the Revs fans, this season hasn't gone according to plan, especially if that plan didn't include trading team captain and club icon Shalrie Joseph.
Next up: at Columbus, Saturday, 8/25.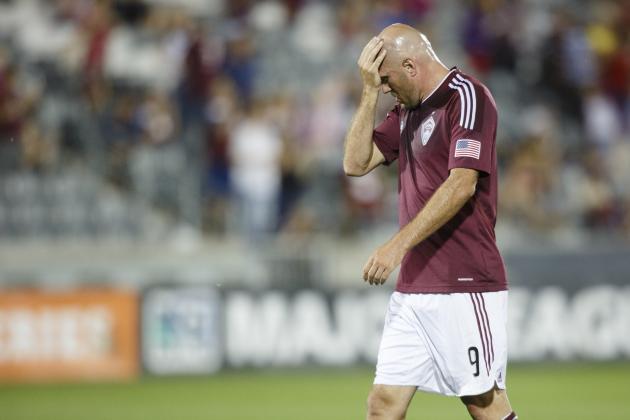 Trevor Brown/Getty Images

I would imagine that being a Colorado Rapids fan would involve, at some level, being a bit of a masochist.
The main reason I think you have to be a masochist to be a fan of this team is the way the organization seems to treat its biggest fans. Badly. I can't count how many times I heard complaints about the ownership group the couple of times I've been able to travel to Denver to take in a game at Dick's Sporting Goods Park.
The team has scored 22 goals at home this season, the same number they've conceded away from home. That would be a problem, considering they've only scored 10 on the road.
Next up: at San Jose, Saturday, 8/25.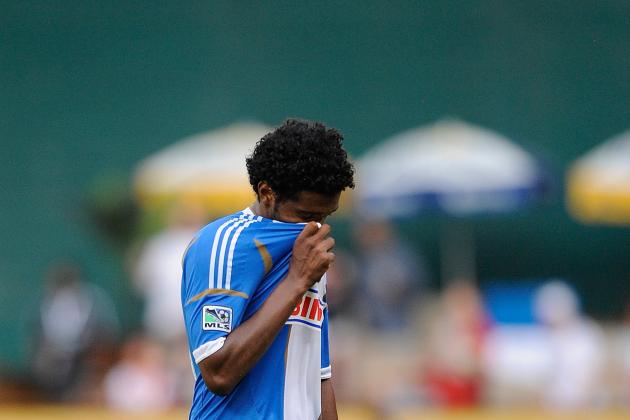 Patrick McDermott/Getty Images

While they would be two points behind the Colorado Rapids in a single-table reading of the standings, they've also played three fewer games, bumping up their PPG.
Following the June 13th dismissal of head coach Peter Nowak, the team did play better, giving Sporting Kansas City a 4-0 thumping in interim coach John Hackworth's second game in charge.
They also made a deep run in the U.S. Open Cup, losing to eventual champion Sporting KC in the semifinals.
Unfortunately, Philadelphia find themselves in eighth place in the Eastern Conference, 16 points behind D.C. United for the fifth and final playoff spot.
Next up: v. RSL, Friday, 8/24.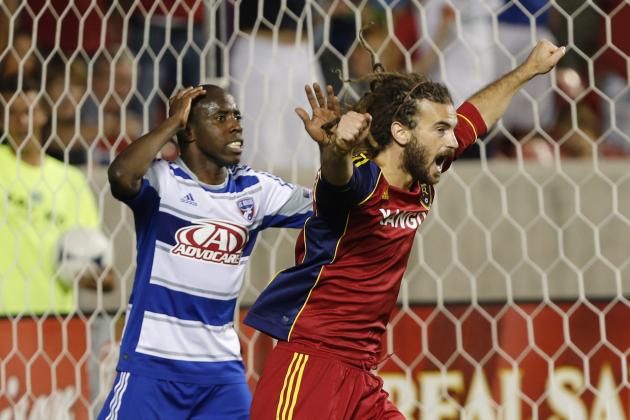 George Frey/Getty Images

The next time I do a list like this, I would imagine that FC Dallas would be at least a spot or two higher up. They've yet to lose a game in August, getting 10 points of a possible 12, with only one loss in their last six matches.
The reason they're this low to begin with, though, is that their 2-1 win at Colorado on July 14th was their first in all competitions in exactly three months (4/14, v. Montreal). They did have six draws in that span, but going three months without a win is never an easy thing to overcome.
Next up: at L.A. Galaxy, Sunday, 8/26.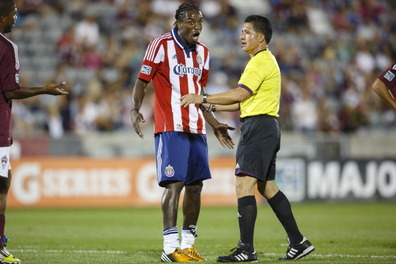 Trevor Brown/Getty Images

Long the red-headed stepchild at the Home Depot Center, Chivas USA now covers large sections of seats, unable to sell the tickets necessary to make it worth using them.
Fans of offense are rightly staying away from Chivas USA matches. Their anemic attack has only scored 15 goals all season, a pathetic 0.68 goals per game. No other team in the league has less than 24 goals.
They are also unique in the fact their goal differential is actually better on the road than it is at home. They've allowed nine more goals than they've scored at home, but that difference shrinks to two when on the road.
Next up: v. Seattle, Saturday, 8/25.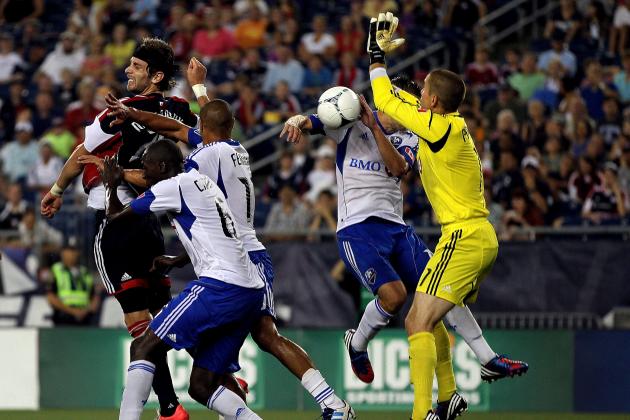 Jim Rogash/Getty Images

If you knew nothing about the league and someone asked you to pick the expansion team, you probably wouldn't pick the Montreal Impact. Four points out of a playoff spot with only seven games remaining, Montreal has a legitimate shot at making the postseason.
Montreal has been playing well lately, as evidenced by their current four-match winning streak, including a 3-1 home win over the San Jose Earthquakes this past weekend.
On a side note, I'm happy that Montreal's captain, Davy Arnaud is playing well. I was sad to see him leave Kansas City.
Next up: v. D.C. United, Saturday, 8/25.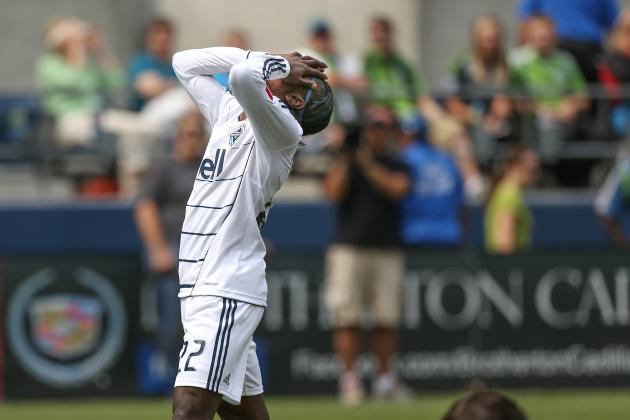 Otto Greule Jr/Getty Images

Vancouver finished in last place in the Western Conference in 2011, 28 points from 34 games (0.82 PPG). At their current 1.42 clip, they would finish with 48 points, which would probably get them a playoff spot.
Captained by former national team defender Jay DeMerit, the Whitecaps are tied for fourth in the Western Conference with the Los Angeles Galaxy.
First-year manager Martin Rennie should be pleased with the improvement over last year.
Next up: at Portland, Saturday, 8/25.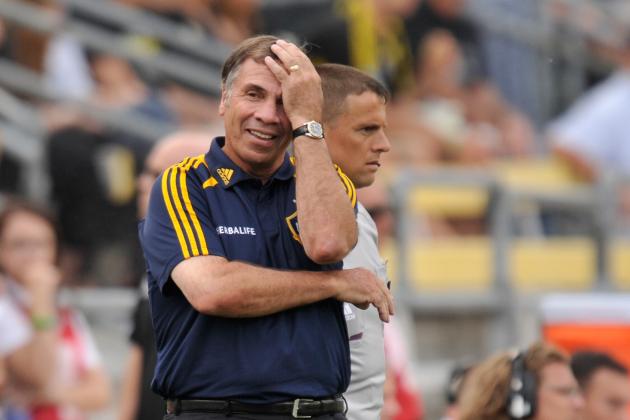 Jamie Sabau/Getty Images

Speaking of the defending champions, number 10 is where we find the Los Angeles Galaxy.
Winners of the 2011 Supporters Shield, the Galaxy had a rough start to the 2012 campaign, finding themselves in the Western Conference basement a couple of months ago.
They've been playing much better lately, going 5-1-2 in their last eight matches. They're also starting CONCACAF Champions League play Thursday at the Home Depot Center against El Salvador's Isidro Metapan.
Next up (MLS): v. FC Dallas, Sunday, 8/26.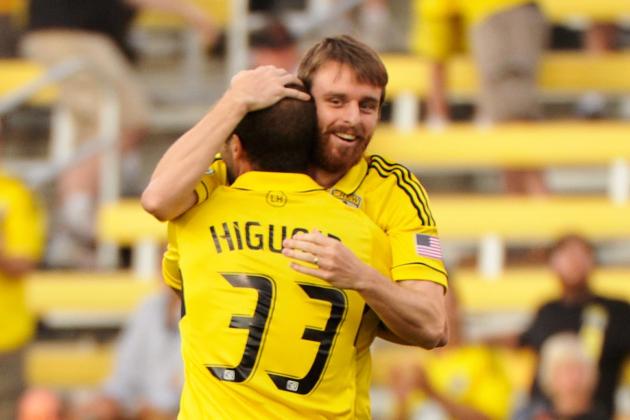 Jamie Sabau/Getty Images

After finishing fourth in the Eastern Conference in 2011, the Columbus Crew are in danger of missing the playoffs for the first time since 2007.
They currently sit in seventh place, seven points behind D.C. United for the final playoff spot in the East, but they've played one fewer game.
They are the only team in the league who, at this point in the season, has allowed the same number of goals that they've scored.
The Crew have also proven they can win the tough matches, having come away with a road win against Sporting Kansas City on July 28th.
They're also proving they can play with heavy hearts, as they're unbeaten in three matches since the August 4th death of rookie midfielder Kirk Urso.
Next up: v. New England, Saturday, 8/25.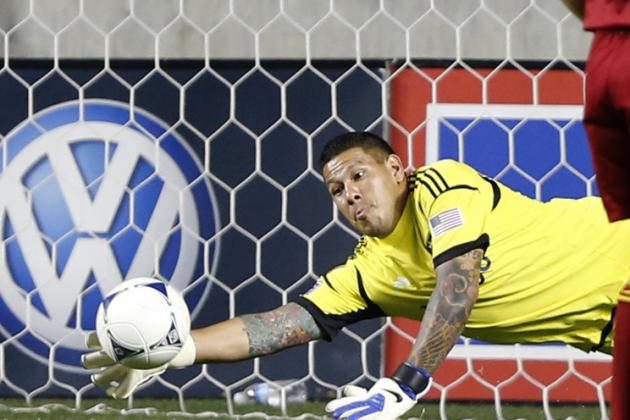 George Frey/Getty Images

True, Real Salt Lake does have more points in the standings than the next four teams in this list, but they've also played more games.
If they want to keep a hold of a playoff spot, they also need to start playing better in league play. Their CONCACAF Champions League win over Tauro of Panama snapped a four-match losing streak in all competitions. Their last league win, however, was July 27th at home against Vancouver.
Next up: at Philadelphia, Friday, 8/24.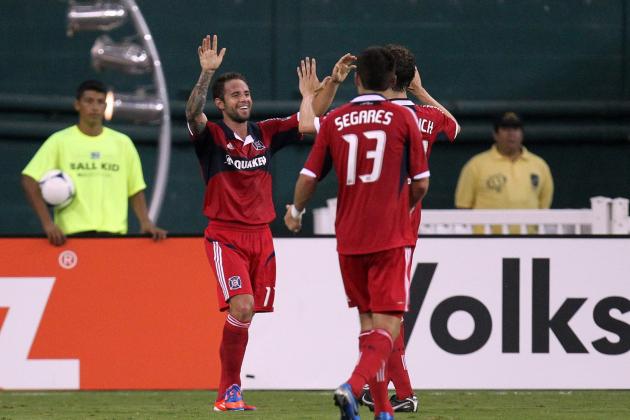 Ned Dishman/Getty Images

After having missed the playoffs in each of the last two seasons, the Chicago Fire currently sit in fourth place in the Eastern Conference.
They already have three more wins this season than they did in 2011. Their problem last year was drawing too many games, tied for the league lead with 16 draws.
They've also been playing fairly well lately, even though they lost 4-2 at D.C. United on Wednesday. The loss snapped a four-game unbeaten streak.
Next up: v. Houston, Saturday, 9/2.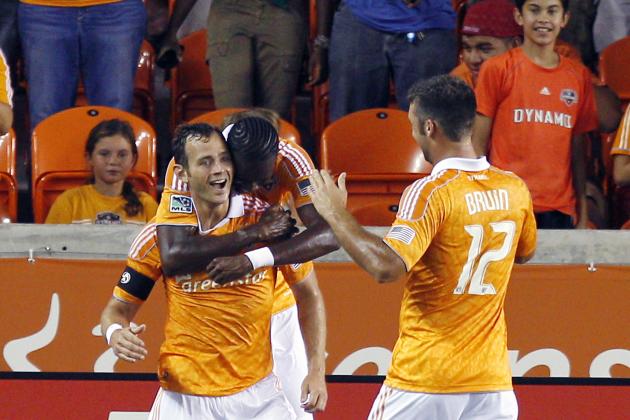 Bob Levey/Getty Images

MLS Cup finalists in 2011, the Houston Dynamo are making a push to be there again. They only have one loss in their last 11 matches in all competitions after a 3-1 win over C.D. FAS in El Salvador on Wednesday evening.
Since opening BBVA Compass Stadium, the Dynamo have been playing well, but attendance could be higher. For a new stadium, there seems to be a few too many empty seats on television. That's probably easily explained considering how hot it gets in Houston,
Next up: v. Toronto, Saturday, 8/25.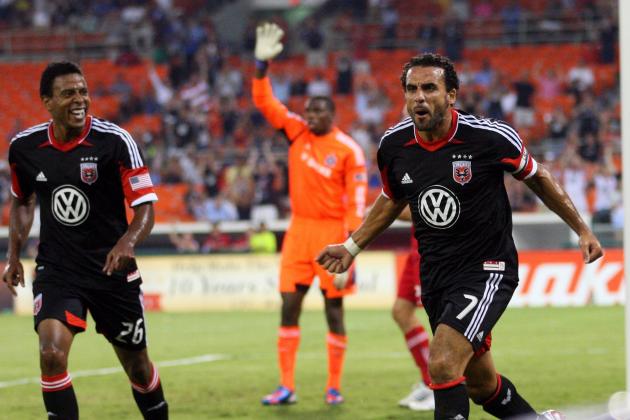 Ned Dishman/Getty Images

D.C. United have a rather potent offense and have scored more goals this season than all but three teams in the league.
They are, however, slipping a bit. They were in first place in the Eastern Conference earlier this season, but now sit in fifth place, having not won consecutive matches since the end of May.
They did get a big win on Wednesday night, beating Chicago at home 4-2. Reigning MVP Dwayne De Rosario was one of four goal scorers. De Rosario is also tied for the league lead in assists with 11.
Next up: at Montreal, Saturday, 8/25.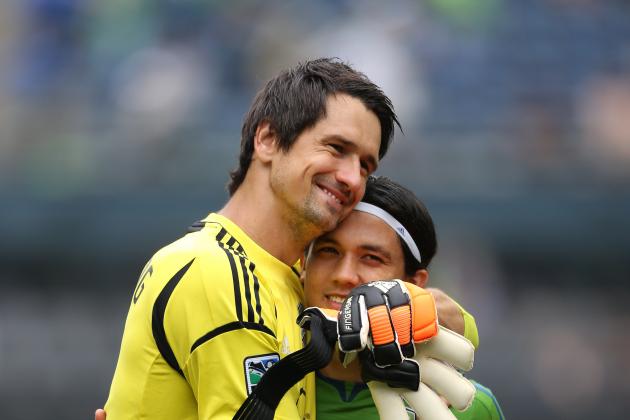 Otto Greule Jr/Getty Images

As far as offense goes, the U.S. Open Cup finalist Seattle Sounders are about in the middle of the pack in MLS.
Where Seattle usually gets you is on defense. The Sounders have allowed the second-fewest goals in MLS this season with 24. Only Sporting Kansas City has allowed fewer, with 22 goals conceded.
Seattle will look to build on their 2-0 win against Vancouver last weekend as they try to make a push toward catching first place San Jose.
Next up: at Chivas USA, Saturday, 8/25.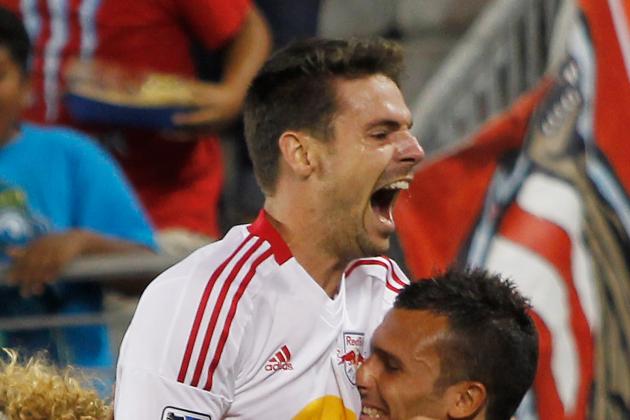 Andy Marlin/Getty Images

After having sewn up their playoff berth in the last week of the season in 2011, the New York Red Bulls are looking to avoid the last-minute drama in 2012.
New York currently sits in second place in the Eastern Conference, two points behind Sporting Kansas City.
Both Thierry Henry and Kenny Cooper are in the top five in goals scored in 2012, with 14 and 11, respectively.
Next up: at Sporting Kansas City, Sunday, 8/26.
Side note: This will be the first of three meetings between the two clubs this season. The other two matches will be at Red Bull Arena on 9/19 and 10/20.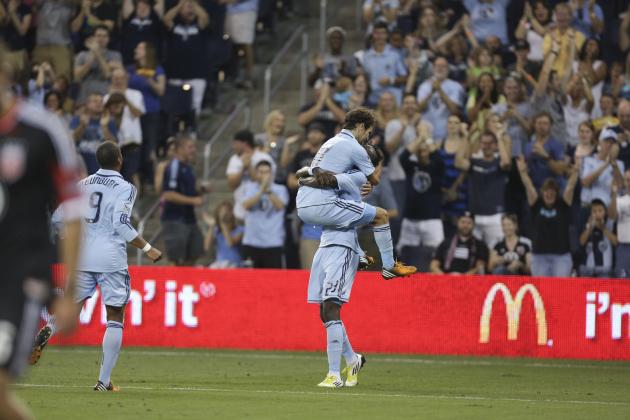 Ed Zurga/Getty Images

In 2011, Sporting Kansas City overcame a 1-6-3 start to finish the season in first place in the Eastern Conference before ending their season in the Eastern Conference final.
They picked up where they left off to begin 2012, starting the season with seven straight wins.
Sporting KC has had its stumbles, but they've been playing better lately. They're currently riding a four-match winning streak across all competitions, including a thrilling win in the US Open Cup final over Seattle.
Next up: v. New York Red Bulls, Sunday, 8/26.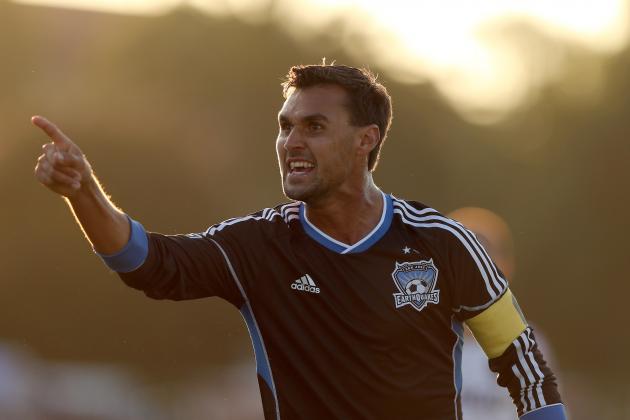 Ezra Shaw/Getty Images

As much as it pains me to put a team other than Sporting KC in the top spot, I have no choice if I'm going to follow a standard for the whole list.
What makes San Jose dangerous isn't just the number of goals they've scored. True, as a team, San Jose has scored more goals than any other team in the league.
It's not just how many goals they've scored, but when. San Jose seems as though they've come to expect to score goals late. What's more, their opponents have almost come to expect it too.
San Jose leads Sporting KC for the Supporters Shield by a solitary point. It should be an exciting close to the season.
Next up: v. Colorado, Saturday, 8/25.