Top 15 La Liga Stars Who Don't Play for Real Madrid or Barcelona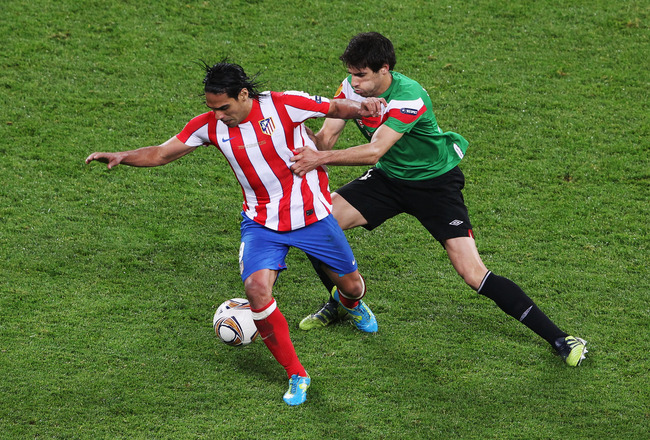 Scott Heavey/Getty Images
In the last few seasons, La Liga has seen a large number of class players leave Spain for various reasons.
Juan Mata, David Silva, and Sergio Aguero are just a few examples of stars that went on to excel in other leagues.
More recently, we've seen Santi Cazorla, Michu, and Borja Valero leave Spain. It looks like Fernando Llorente and Javi Martinez could be right behind them.
However, one of the great things about La Liga is that clubs are consistently able to churn out top talent.
Even after losing so many top stars in recent years, there remain loads of talented players outside of Real Madrid and Barcelona.
This article will list the top 15 La Liga stars who do not play for the Big Two. Players like Martinez and Llorente have been left off as it seems they are on the verge of exiting Spain.
There are also plenty of worthy players who just missed the cut: Natxo Monreal, Isco, Joaquin, Guilherme Siquiera, Gary Medel, Chori Castro, Antoine Grizmann, Joan Verdu and Fernando Amorebieta.
Miguel Moya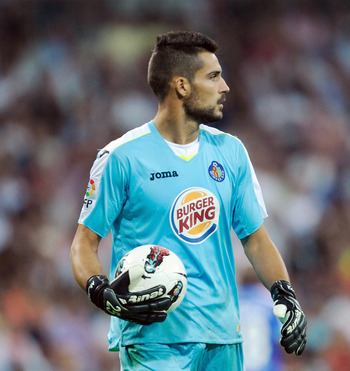 Denis Doyle/Getty Images
Getafe's No. 1 was part of Europe's deepest group of keepers while at Valencia.
Eventually, the great play from Diego Alves and Vicente Guaita allowed the Andalusian club to cash in on their backup keeper.
That move worked out for everyone as Valencia is very happy with its keeper rotation while Moya has continued to play at a high level in Madrid.
Alvaro Negredo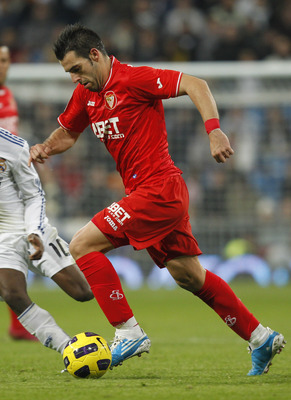 Angel Martinez/Getty Images
Negredo remains one of the best strikers in La Liga.
He had a poor Euro campaign, but that was not help by inconsistent playing time and not starting with the first team.
The Sevilla man has still been better than Spain's starter, Fernando Torres, over the last few years. Just take a look at this comparison of the two since 2009.
League Goals per Season

| | | | | |
| --- | --- | --- | --- | --- |
| | 2009-2010 | 2010-2011 | 2011-2012 | Total |
| Torres | 18 | 10 | 6 | 34 |
| Negredo | 11 | 20 | 14 | 41 |
Over the last two seasons, Negredo has more than doubled the goal output of Torres despite playing at Sevilla while Torres was at the Liverpool and the billionaire-backed Chelsea.
Filipe Luis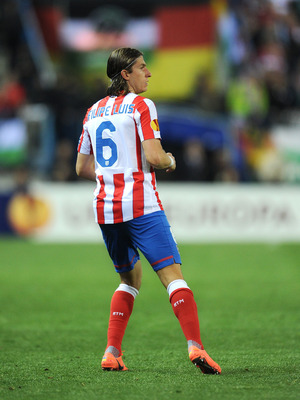 Jasper Juinen/Getty Images
Filipe Luis is arguably the best left back in La Liga. He was, at least, the best and most consistent last season.
His 3.8 tackles per game were the best of any top fullback in Spain—as were his 4.5 interceptions per game.
Both of those figures were better than Marcelo, Jordi Alba, Eric Abidal and Nacho Monreal.
Juanfran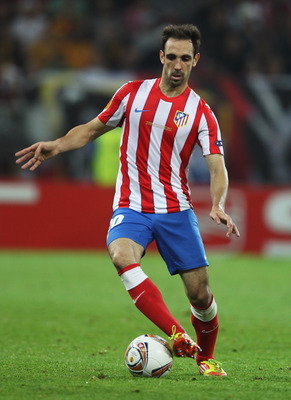 Clive Rose/Getty Images
Luis' partner matching him on the opposite flank is the versatile Juanfran. This pairing may be the best in La Liga.
The former Real Madrid youth product is naturally a winger, but did an exceptional job of converted to right back.
He is still perfecting his role as a defender, but Juanfran is on his way to becoming one of the top fullbacks in the league.
Roberto Soldado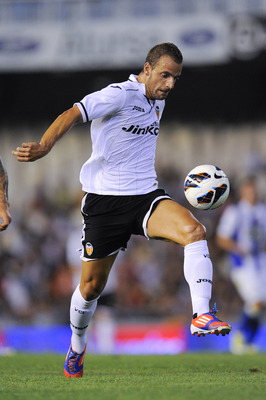 David Ramos/Getty Images
Few players can handle the pressure of having to replace David Villa, but Roberto Soldado has done as good a job as possible.
The former Real Madrid youth star has scored 35 goals in his first two seasons with the club, and this season, he will aim to score at least 15 for the fourth year in a row.
If Soldado can get over the nagging injuries that have slowed him down in the last eight months, he could reach 20 goals this season.
Beñat
Denis Doyle/Getty Images
As of right now, Beñat is still in La Liga and playing for Real Betis.
However, he may soon move to another team—perhaps Wolfsburg. If he does, perhaps Diego will make his way back to Madrid.
He can shoot from distance, he is a solid free-kick taker, and he is a great passer—especially in the air.
If Beñat's opening match against Athletic Bilbao ends up being his last in La Liga, it was quite a way to go out.
Gorka Iraizoz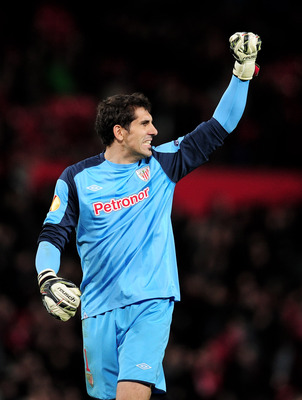 Jamie McDonald/Getty Images
Last year it was Bilbao's No. 1 who blocked Cristiano Ronaldo's penalty—his first league miss in three years and only his second in a Real Madrid jersey.
Due to inconsistent play from his defense, Iraizoz is one of the most tested keepers in Spain, yet he always manages to hold a high save percentage.
This campaign already started out on a sour note when he allowed Real Betis to score five goals, but that was yet again mostly down to poor defending.
Adil Rami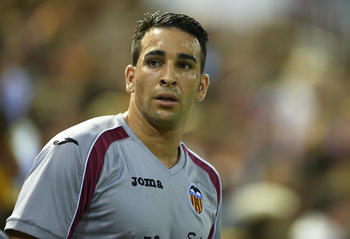 Manuel Queimadelos Alonso/Getty Images
It took Rami just one game to make his presence known in La Liga.
He scored off a header against Racing Santander and then led Valencia's defense to 14 clean sheets—the same number as Real Madrid.
Rami is not very fast, but he is strong and has great positioning.
The Frenchman will have a stronger defense alongside him this season and that can only help him get better.
Arda Turan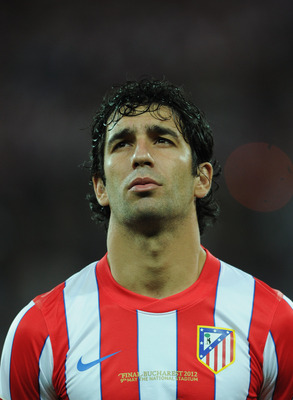 Michael Regan/Getty Images
After joining Atletico Madrid last seson, the Turkish international quickly became a fan favorite—and for good reason.
Turan is one of the most complete players in the league.
He has a strong leg that makes him a threat from distance. He has already put one in this season in the opener.
He can pass—completing over 80% of his passes last year, according to Who Scored.
Turan will likely need to step up and lead the midfield this season with Diego gone. Fans trust that he will be up to the task.
Iraola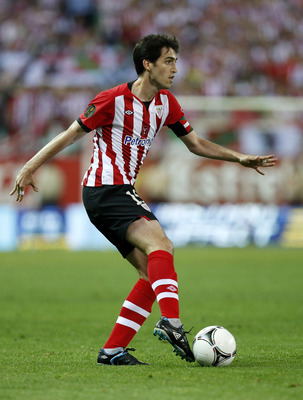 Angel Martinez/Getty Images
Last season, Iraola was arguably the best right back in La Liga.
Not playing for one of Spain's big two has often caused him to get overlooked by fans and the national team, but the Basque star has slowly been getting more attention for his stellar play.
If not for a late-season injury, Iraola would have been part of Spain's historic repeat as European champions this summer.
Vicente Guaita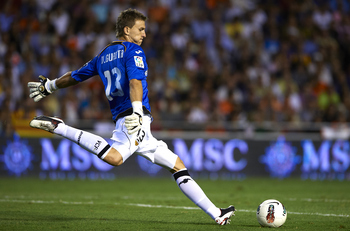 Manuel Queimadelos Alonso/Getty Images
At this point, Real Madrid fans would prefer not to see any Valencia keeper for a while.
Both Guaita and Diego Alves have proven to be impenetrable for Los Merengues. Alves has more experience, but Guaita is a bit more well-rounded.
Last season it was actually the Valencia keeper who allowed the fewest goals in the league, but he did not have enough starts, so the Zamora Trophy went to Victor Valdes despite Guaita making 24 more saves.
Let's see if he can capture the title this season.
Iker Muniain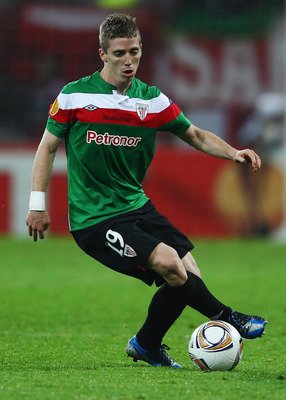 Alex Grimm/Getty Images
Before last weekend, this Basque star was the youngest scorer in league history.
Muniain has excited fans and players almost since he stepped on the pitch. Now we are starting to see him reach that enormous potential he showed as a teenager.
With Fernando Llorente, Javi Martinez, and Fernand Amorebieta at least considering an exit from Bilbao, it may just be a matter of time before Muniain moves on to one of Europe's biggest clubs.
Jeremy Toulalan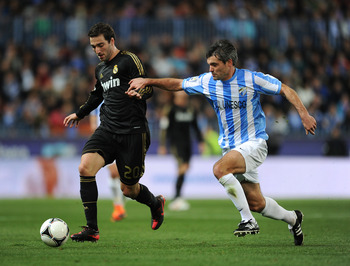 Jasper Juinen/Getty Images
The Frenchman is simply one of the best midfielders in Spain.
Many fans outside of Malaga and Lyon fail to recognize how good he is, but people are wising up each time they see him play.
Toulalan is arguably the best defensive-minded midfielder in the entire league.
At minimum, he is the best enforcer—the best defensive-minded midfielder in La Liga.
Last season, Toulalan averaged 5.3 tackles per game, the most in Spain. In all of Europe, only Arturo Vidal of Juventus was better this season—with 5.4 tackles per game.
Falcao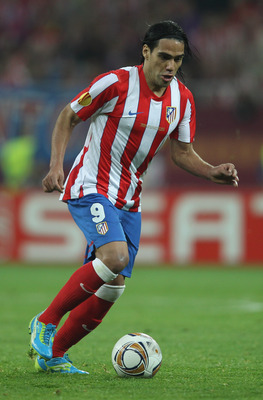 Clive Rose/Getty Images
Talk about value for money.
After Atletico Madrid made Falcao the most expensive signing in club history, the Colombian scored 24 goals in his first season.
That was just five less than Sergio Aguero and Diego Forlan combined to score the year before.
Atletico Madrid paid as much for Falcao as Liverpool did for Andy Carroll. I wonder how those fans feel about their deal.
Jesus Navas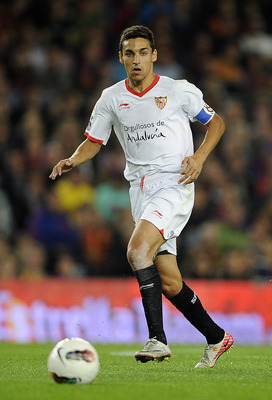 David Ramos/Getty Images
Navas continues to be one of La Liga's best players despite playing for a smaller-market club.
The Spaniard is spectacular with the ball at his feet. He can be a creator who does lots of work off the ball for his teammates, but can also score when put in position.
He is a great passer and is perhaps even more accurate when the ball is in the air.
He was Europe's most accurate passers when sending crosses last season and causes problems for nearly every fullback he faces.
As Sevilla has now fully converted to the 4-3-3, it will be interesting to see how that affects the play of Navas out wide.
Keep Reading