English Premier League Preview: Ranking All 20 Starting Keepers for 2012-13
Laurence Griffiths/Getty Images
The 2012-13 Premier League season is upon us, and once more, the summer transfer window has been littered with clubs splashing out millions upon millions on star attackers, centre forwards to score the goals and dazzling attacking midfielders to provide the excitement.
So far this summer, only a small handful of Premier League managers have looked at bringing in a new goalkeeper for their first team, or even new cover for the position.
Goalkeeping, however, remains one of the most important areas of any successful team.
Here then are the 20 likely first choice 'keepers, ranked in order of ability for their team over the coming months of the new season.
20. West Ham United, Jussi Jaaskelainen
Ben Hoskins/Getty Images
Once under the management of Sam Allardyce at Bolton Wanderers, Jussi Jaaskelainen is about to begin a new lease of life back in the Premier League under the same manager, but this time at West Ham.
Jaaskelainen brings huge experience and is a good organiser, but at 37 years of age, his best is well behind him.
He lost his place in a relegated Bolton team last year to Adam Bogdan.
Suspect handling in recent seasons and not the best distributor of the ball around.
19. Southampton, Kelvin Davis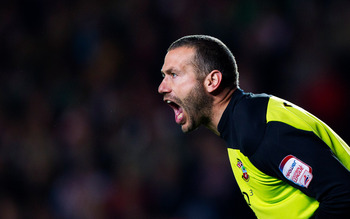 Ben Hoskins/Getty Images
Newly-promoted Southampton have their club captain in goal in Kelvin Davis.
This will be his first spell in the top flight of English football since the 2005-06 season, when he played for Sunderland.
Davis is another good organiser of the defence, but he is prone to slow movement off his line and is not the world's greatest reflex shot-stopper.
A physical figure who is commanding in the air, he will guard his six-yard box well from set pieces, but little further out than that.
18. QPR, Rob Green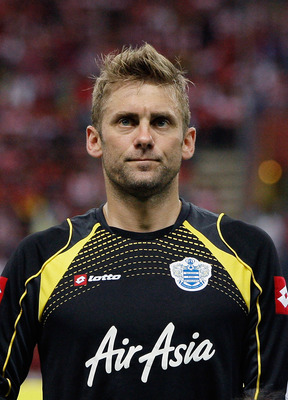 Chung Sung-Jun/Getty Images
Former West Ham United goalkeeper Rob Green made the move to QPR this summer and will be the first choice under Mark Hughes, replacing Leeds United-bound Paddy Kenny.
Green has bags of experience having played for England in major tournaments at international level as well as been West Ham's first choice for a number of years.
He remains, however, a great to average goalkeeper in any given game. Capable of fine flying saves or moments of bizarre decision making, Green will save QPR points this season—but is also likely to cost them some.
17. Sunderland, Simon Mignolet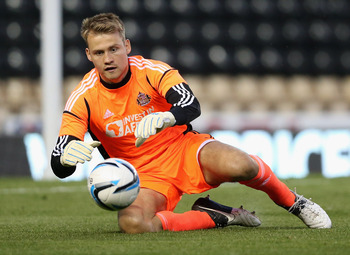 David Rogers/Getty Images
Sunderland's Belgian goalkeeper Simon Mignolet faced a three-way battle to claim the No.1 jersey last season with Keiran Westwood and Craig Gordon and came out on top.
He is an athletic presence in goal for the Black Cats, but his handling is suspect at times.
Decent distribution and a good long throw make him a good weapon for Sunderland's counter attack.
16. Reading, Adam Federici
David Rogers/Getty Images
Adam Federici of Reading has had to bide his time to become first choice, but in doing so last season, helped his club to Premier League promotion once more.
Federici is a decent shot stopper and is unafraid of coming off his line.
Debatable positioning skills, though, mean this isn't always the wisest course of action to take.
His talents will come under a lot of testing this season with Reading yet to really add quality at the back of their team to protect him.
15. West Bromwich Albion, Ben Foster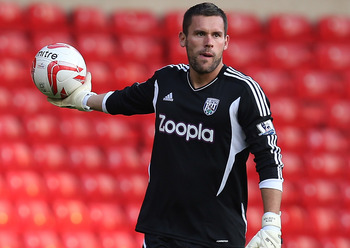 Pete Norton/Getty Images
West Brom secured one of their primary targets for the summer window after they sealed a permanent deal for last season's loaned player Ben Foster.
The former England goalkeeper is undoubtedly an athletic player, capable of making wondrous flying stops at quick notice and from short distances, but suggestions of him being one of the league's top goalkeepers are wide of the mark.
Foster struggles in one-on-one situations, and his kicking, even from his hands, is dire.
These days, it should not be remarked as good enough for a goalkeeper to merely save shots—that is the bare minimum 'keepers are expected to do, and they should be able to offer more.
Foster doesn't.
14. Stoke City, Asmir Begovic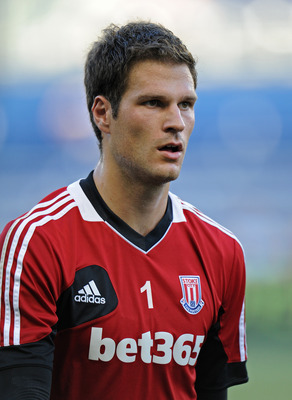 Peter Aiken/Getty Images
Stoke's Asmir Begovic seems to have more or less won the battle to be first-choice Premier League goalkeeper after a tussle with Thomas Sorensen.
Begovic is a steady 'keeper with good technique and shot stopping ability. He commands his area well and is a constant talker, though he is certainly prone to the odd clanger.
If he can cut those mistakes out of his game, he could rise from being a merely decent goalkeeper to a very good one.
From here on in, we are out of the realm of goalkeepers who could make a save or cost a game and into those who are truly top-end players who contribute far more to their team than saving shots.
13. Fulham, Mark Schwarzer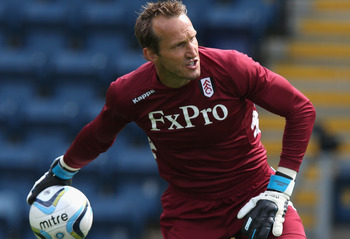 David Rogers/Getty Images
Mark Schwarzer will turn 40 in October, a remarkable player still at the top of the English game and an important part of the Fulham team.
No longer in his prime in terms of athleticism, Schwarzer's abilities in directing his defence, positioning himself well and claiming aerial balls mean he is still the main man despite his age.
Nonetheless, David Stockdale is a promising player backing him up and could certainly pip Schwarzer to the No.1 spot over the course of the coming season.
12. Norwich City, John Ruddy
Claudio Villa/Getty Images
Fresh from his England debut against Italy, John Ruddy was a big part of Norwich's success last season and will be required to arguably be even better during the coming season if the Canaries are to survive again.
Having changed managers in the summer, the defence and goalkeeper may be required to operate slightly deeper than under Paul Lambert.
Ruddy is powerful, quick and shows excellent reflexes.
His distribution is neat and he is a consistent player.
11. Everton, Tim Howard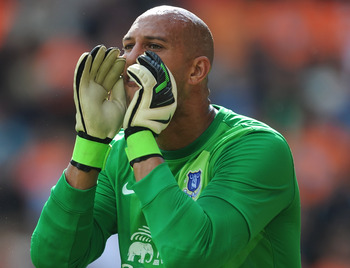 Chris Brunskill/Getty Images
It says a lot about the quality of goalkeeping in the Premier League these days that such a genuinely excellent stopper like Tim Howard is ranked outside the top 10.
Everton's goalkeeper commits the odd howler, but his pros far outweigh any cons.
Good handling skills, comfortable with the ball at his feet and a constant source of encouragement and direction for his defenders, most of whom are experienced themselves, help Everton stay as rigid and reliable at the back as David Moyes loves them to be.
Howard could be a top goalkeeper, and only momentary lapses let him down.
10. Wigan Athletic, Ali Al-Habsi
Michael Regan/Getty Images
Perhaps the most influential goalkeeper for his team in the entire league last season, Ali Al-Habsi at times kept Wigan Athletic afloat single-handedly until their late-season resurgence saw them finish well clear of relegation.
One of the most athletic and supple goalkeeping bodies around, Al-Habsi combines fearlessness with reflexes to pull off stunning saves and is strong and energetic enough to bounce back up and save the follow-up too, an underrated skill with too many stoppers these days.
His passing is good, throwing better.
Al-Habsi is a big player for Wigan.
9. Aston Villa, Shay Given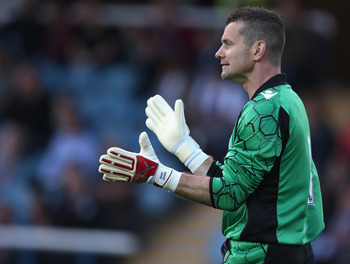 Mark Thompson/Getty Images
Shay Given has been a top Premier League goalkeeper for years and is one of the few who are good enough to rely solely on their reflexes as opposed to working their entire penalty area.
Rarely working outside his six-yard box, Given nonetheless stops goals at source with his positioning, anticipation and power in his leap.
Two strong hands and a will-not-be-beaten attitude make the former Ireland goalkeeper a difficult adversary to breach.
Aston Villa might have been in a whole lot more trouble last season if it wasn't for Given.
8. Newcastle United, Tim Krul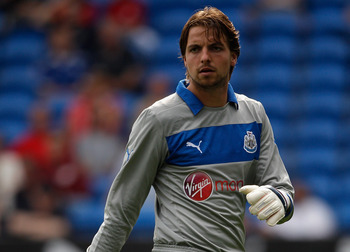 Harry Engels/Getty Images
The apprentice has passed the master.
Former Shay Given understudy Tim Krul had a breakout season with Newcastle last year, proving himself one of the best in the business with a string of top saves at crucial times.
Aside from his reactions and ability to turn seemingly lost causes into moments of defiance, Krul is now far more confident barking orders at his defence and working the aerial route.
Still has plenty of work to do in his one-on-ones and even his distribution, but he's a young goalkeeper and can become far better in the future.
Could feasibly be Holland's next No. 1 goalkeeper if he passes a certain compatriot.
7: Manchester United, David De Gea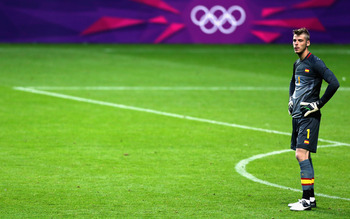 Stanley Chou/Getty Images
Manchester United have two goalkeepers who last year battled for the first choice shirt: pending greatness and unreliable weakness in David de Gea and usual solidity but guaranteed poor concession of goals in Anders Lindegaard.
Had the latter evolved as first choice, United would have figured lower on the list, much lower, but de Gea is a real talent, even with his obvious defects at present.
Still wanting in the air and not yet totally comfortable with anything delivered in-curling towards the far post, he nonetheless possesses the poise and elegance in dealing with attackers which was missing in his early days at the club.
Great shot stopping and an awareness of space already mark him out as a top player, though the distribution needs big improvements.
Another season of bettering himself beckons.
6. Arsenal, Wojciech Szczesny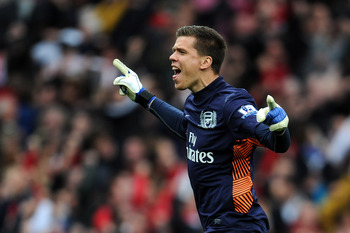 Michael Regan/Getty Images
Arsenal's young Polish star, Wojciech Szczesny, has blossomed into a fine stopper, though he will want to forget his first major international tournament in a hurry after being sent off in his only game in Euro 2012.
Great reflexes and capable of pulling off top saves, he is less athletic and reactionary than de Gea but much more solid in his all-around goalkeeping game.
His passing is also good, and Szczesny has that easily-identifiable but totally unquantifiable quality: confidence.
That makes him arguably even better because it's warranted.
5. Swansea City, Michel Vorm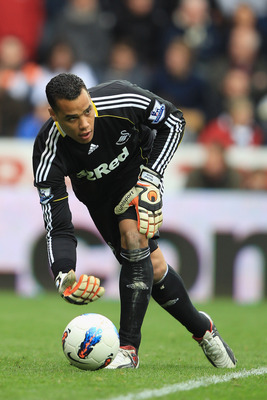 Michael Steele/Getty Images
Swansea City picked up maybe the bargain of the summer for 2011 when they signed goalkeeper Michel Vorm from Utrecht for just £1.5 million.
Aside from magnificent reflexes and an extraordinary penchant for saving penalties in his debut season in the Premier League, Vorm exudes confidence and calmness and provided the perfect platform for Swansea to showcase their passing style last term.
Vorm was their 11th outfield player; his control of the ball meant his team could always go back and be safe that they would retain possession.
A fine warrior in his penalty box and a regular collector of clean sheets.
4. Tottenham Hotspur, Brad Friedel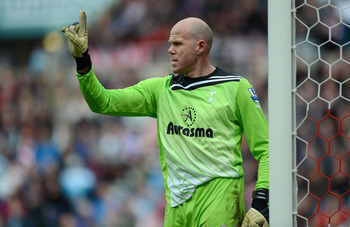 Gareth Copley/Getty Images
Now 41 years of age and very much the elder statesman of the Premier League, Brad Friedel is nevertheless still one of the best goalkeepers around.
He might not have the quick actions any more that he had even only four years ago, but with his years has come a mighty positional sense and an imposing frame which is hugely difficult to beat in a one-on-one situation.
Friedel is still speedy enough to get around his penalty area thanks to a great starting position, and his huge kicks and throws quickly set the Spurs wingers off on the attack.
He is also a great shot stopper and sports a first-class attitude.
3. Chelsea, Petr Cech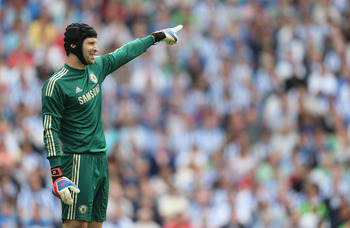 Mark Thompson/Getty Images
Over the past couple of seasons, it might be leveled at Petr Cech that he had dropped his form and his best level.
Given the amount of managerial and stylistic changes that Chelsea went through, that would not be entirely unreasonable or unexpected.
Last season, however, there were games when he looked back to his imperious best, and with the defence now lining up deeper again, affording him more protection and less need to dominate the outskirts of his penalty box where he does not always excel, Cech once more looked the full part.
Marvellous handling, calmness and authority in all situations and an aggressive aerial ability made Cech one of the world's finest, and he looks to be getting back to that level again.
2. Liverpool, Pepe Reina
Clint Hughes/Getty Images
Much like Cech, Pepe Reina last season saw some criticism aimed his way for some below-par performances and uncharacteristic mistakes.
With a new boss in place intent on implementing the style of football which will see Reina able to fully showcase and execute his best skills, this should be a return to prominence—and perhaps the best goalkeeper in the league spot—for the Spaniard who has won multiple Golden Gloves awards during his time in England.
Reina is a master in positioning and starting spots for himself, and there is no finer organiser of the defence in the league.
Great handling and technique and maybe, above all else, passing skills make Reina one of the world's top five goalkeepers anywhere.
1. Manchester City, Joe Hart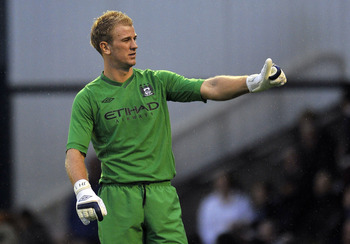 Clint Hughes/Getty Images
Joe Hart is behind Reina and Cech in years and experience, but matches them for on-the-ball technique and certainly for the potential he could eventually reach.
Right now, a case could be made for any of the three to claim the No.1 spot in the league, but Hart's superb mentality, wonderful handling and really top-quality distribution just about give him the edge over the other two in conjunction with his consistency last season and their relative slip-ups.
Hart is maybe less assured in reflex saves than Reina and doesn't have the reach of Cech, but he is as imposing a figure as there is in the league and dominates superbly with high balls.
Right now, Joe Hart is the best goalkeeper in the league—and will keep getting better.
Keep Reading