Premier League 2012-13 Guide: Everything You Need to Know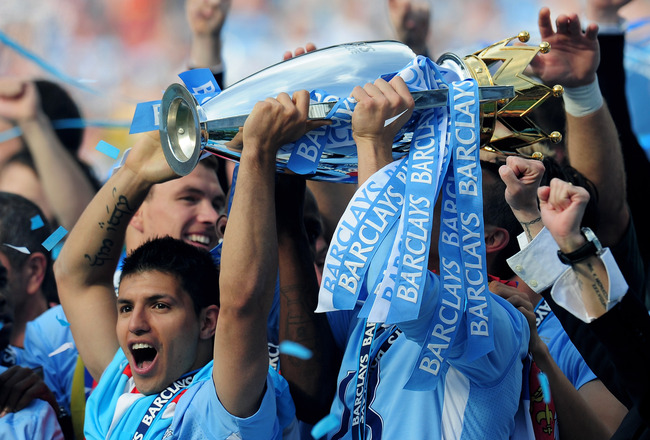 Shaun Botterill/Getty Images
The 2012-13 English Premier League season is about to begin.
After an offseason filled with the usual big-money transfers and incredible moves, clubs are ready to get on the pitch and let their feet do the talking.
Whether this is your first season following the EPL or you've been doing so your entire life, we've got a season guide for you, complete with everything you need to know.
So read away, comment below on what you think or hope will happen this season and enjoy the ride.
It promises to be one heck of a season.
The 2011-12 Season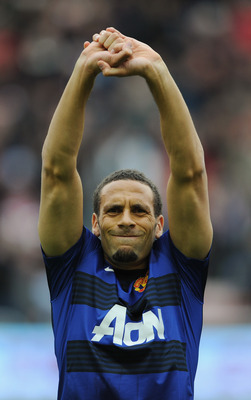 Michael Regan/Getty Images
Last year, the Premier League went the way of Manchester City, who won their first league title in 44 years—beating out rivals Manchester United to the title courtesy of a last-round, last-minute win against Queens Park Rangers.
Arsenal and Tottenham rounded out the top four, though the latter of those two did miss out on their 2013 UEFA Champions League berth due to Chelsea's incredible victory over Bayern Munich on penalty shootouts in the 2012 Champions League final.
Everton finished ahead of Liverpool—much to their dismay—and Newcastle's incredible run under Alan Pardew continued as the Magpies finished in the top five of the League.
Wigan Athletic somehow managed relegation, whilst Wolves, Blackburn and Bolton weren't so lucky—all dropping back down to the Championship.
That was the year that was.
The 2012-13 Season: Teams and Fixtures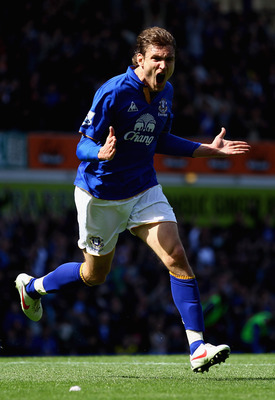 Clive Brunskill/Getty Images
What to Watch out for This Year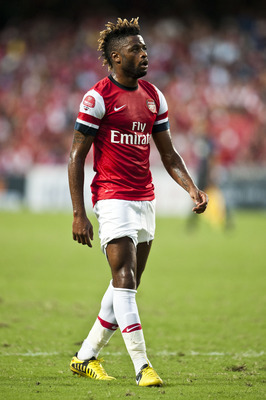 Victor Fraile/Getty Images
Bleacher Report's Mike Cummings has done great work documenting the top 50 storylines to watch in the EPL this year—an article that you can check out here.
For me, the two main storylines to watch are always the top and the bottom—who's going to challenge for the title and who's going to win the relegation battle.
The title seems to be coming down to a Manchester race once more, with Chelsea threatening as an alternative to the two. The dreaded drop-zone, on the other hand, consists of several teams this year including West Ham, West Brom, Swansea City, Reading, Aston Villa, Southampton and Wigan.
All of those teams could genuinely drop down this season—who prevails will be an interesting battle to watch.
Players to Watch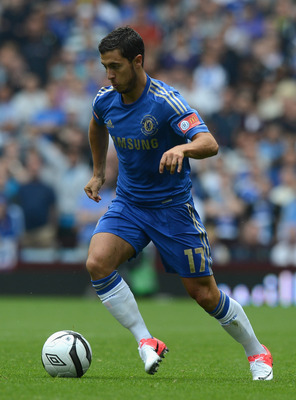 Gareth Copley/Getty Images
Similar praise must be given to Bleacher Report's Sam Tighe for his work in tracking the top 50 players to watch in the EPL this year—an article that can be viewed here.
For me, the two sets of players to watch this year are those that made big-money moves into the EPL and those that made big-money moves around the EPL.
The first set includes Eden Hazard to Chelsea, Shinji Kagawa to Manchester United and Lukas Podolski to Arsenal—all of which were big offseason acquisitions from their former clubs.
The likes of Joe Allen from Swansea to Liverpool and Robin van Persie from Arsenal to Manchester United will also be fascinating to watch this season—seeing whether or not they can replicate the form they had at their former clubs.
New Teams in the Premier League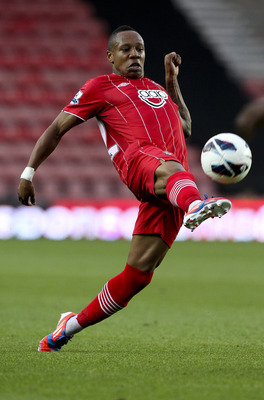 Ben Hoskins/Getty Images
As with every year in the EPL, the three bottom teams in the league are relegated to the Championship below, whilst the three top teams from the Championship are promoted to the Premier League. Let's take a quick look at those teams now.
Reading
Following a huge off-season where they purchased a lot of players with not a lot of money, Reading could well surprise some people this year. They have a good squad and have players that, when on their game, can content with the best in the EPL. I see Reading comfortably avoiding relegation—finishing around 14th—this season.
Southampton
Southampton's season pretty much hinges on the play of one man—Rickie Lambert. The striker was fundamental to their promotion back into the EPL and whilst I can see him having success this year, I can't see it being enough to keep them above the drop-zone. I see Southampton slipping back down to the Championship, finishing in 18th position.
West Ham
The final of the three teams promoted this season is West Ham, who many will be glad are back in the Premier League. The Hammers will no doubt relish the opportunity to be back in the top class and under manager Sam Allardyce will be quite competitive this year. I think "Big Sam" has done enough wheelin' and dealing' in the offseason to keep this club above the drop zone; I've got them finishing 17th for the season ahead.
Title Contenders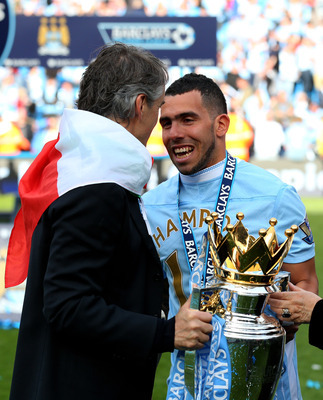 Alex Livesey/Getty Images
As I mentioned before, I think the title this year will come down to a three-horse race—most likely just a two-horse race between the Manchester clubs. Having said that, let's take a look at the chances for the top sides in the EPL this year.
Arsenal
With big acquisitions in Santi Cazorla, Lukas Podolski and Olivier Giroud, Arsenal have put themselves in a great position to challenge once again this year. They have lost key striker and captain Robin van Persie, however, and haven't really done anything to help themselves defensively this summer. So whilst I can see this club finishing top four, I can't see them challenging for the title.
Chelsea
Fresh off their Cup-winning double season last year, Chelsea have again made big offseason moves—bringing in Eden Hazard, Oscar and Marko Marin to their already star-studded attack. They have one of the best defenses in the league on their day, though I think it will take some time for their new signings to all gel together this year. Fernando Torres will have a better year this year, but I can't see the Blues finishing any higher than third.
Manchester City
City have kept the same squad and the same management that won them the league title last year, so who's to say they can't do the same again this year? The Citizens were dominant in defense and clinical at the Etihad and enter the season as the deserved favorites to repeat their Premier League success.
Manchester United
Trying to stop them will be Manchester United, who will no doubt be buoyed on by last year's heartbreaking loss on goal difference. The Red Devils now have Kagawa and Van Persie and will certainly offer more in attack this year—plus they have Nemanja Vidic back from injury on the defensive side as well. If any side is going to stop City this year, it will be United.
Tottenham Hotspur
Newcastle aren't quite there for me, so the last side to watch will be Tottenham. They've ditched Harry Redknapp for former Chelsea manager Andre Villas-Boas, who is seeming to start his Spurs career off on a great note. They've kept Gareth Bale, Rafael van der Vaart and potentially Luka Modric all for this season—plus they've brought in Gylfi Sigurdsson and Jan Vertonghen.
This is a strong side, though there are question marks about consistency and cohesion. I think they're still another year away, but could shock many this year with their performances.
Rivalries to Watch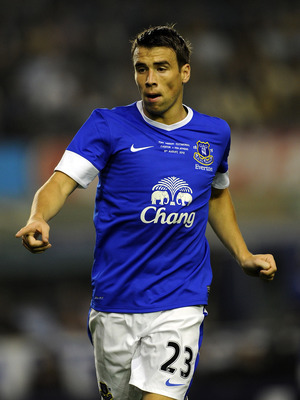 Chris Brunskill/Getty Images
The English Premier League has some great rivalries that will continue this year—here's the top three rivalries to watch out for during the season.
Liverpool vs. Everton
The two Merseyside clubs simply can't stand each other and look set for another gripping rivalry this year. Liverpool beat Everton in both matches last year but the Toffees had the last laugh when they finished above them on the league table and will be hoping to do so again. I've already put some fuel in the fire with this piece as to why Everton will finish higher than Liverpool; a great rivalry to watch all season.
Manchester United vs. Liverpool
Two more clubs that hate each other, but this one is particularly fun to watch given the rivalry that exists between Patrice Evra and Luis Suarez. There's bound to be the whole "but he started it argument"; either way, it's still great viewing for the entire league and one that drives both players to perform at their highest ability when they clash.
Manchester United vs. Manchester City
One that's grown dramatically in the past few seasons and has seemingly culminated in City winning the league title over United last year. There's the local derby feel to it (although it's not really local) and you also get the sense that managers Sir Alex Ferguson and Roberto Mancini don't take too kindly to each other. The two almost came to blows last year; let's see how this rivalry pans out this year.
Look out For: Top Goal Scorer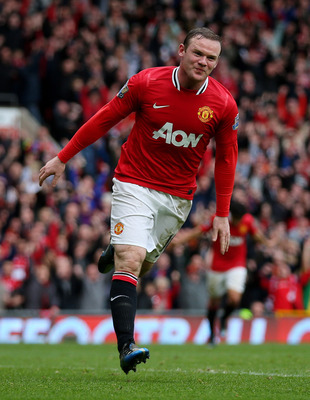 Alex Livesey/Getty Images
The Premier League Golden Boot Award is given out each year to the player that finishes with the highest number of league goals. Last year it went to Arsenal's Robin van Persie, who is now at Manchester United, and for me, there's three players to watch out for this season.
Sergio Aguero (Manchester City)
The Citizens striker must be part of any goal-scoring discussion as he will once again spearhead their attack this season. With creative players around him in Carlos Tevez, David Silva and Yaya Toure, Aguero certainly has the assistance to help him score the goals—now all that remains to be seen is whether or not he will do just that.
Wayne Rooney (Manchester United)
Same with Rooney—you must always consider him a chance, especially after his 27-goal season last year for the Red Devils. Now with Van Persie alongside him and Kagawa behind him, Rooney will receive less defensive attention this year which will help his cause, though it remains to be seen whether both players will steal some of his goals this year. Tough one to call.
Nikica Jelavic (Everton)
How about an out-there selection for top goal scorer—Everton's Nikica Jelavic, who was the club's leading goal scorer last year. Jelavic netted big goals against big clubs and despite only starting for the Toffees in February, still chalked up nine goals for the club.
With Steven Pienaar signed permanently and the likes of Marouanne Fellani improving every year, there's no reason to suggest why Jelavic couldn't hit 20-25 goals this year and challenge for the Golden Boot Award.
Look out For: Twitter Use
Shaun Botterill/Getty Images
Twitter is growing crazy right around the world—particularly for footballers, with many of the Premier League's stars using the social network.
However, this year, watch out for something to big to happen from a player via Twitter—something that could possibly result in a suspension.
The Football Association has changed its rules to include Twitter this year, and given the mistakes we've seen in the past few months from Joey Barton (per The Daily Mail) and Rio Ferdinand (per The Guardian), we could well see something big unfold this season.
Predicted Finish
Clive Rose/Getty Images
All in all, it promises to be one incredible Premier League season once again. I've got Manchester City to finish ahead of Manchester United, Chelsea, Arsenal, Tottenham and Liverpool, with Reading to be the surprise package of the year.
West Bromwich Albion, Southampton and Wigan Athletic will all be relegated and Sergio Aguero will be the top goal scorer—though the odds on Nikica Jelavic are appealing.
Keep an eye out also for the Bleacher Report writers' tipping competition that will start tomorrow, as the site's best put together their predictions for every week of the Premier League.
It will be a spectacular season in the EPL this year.
What are you looking forward to or think will happen this year in the EPL?
Comment below or hit me up on Twitter: Follow @dantalintyre
Keep Reading