London 2012 Soccer: 10 Standout Footballers Primed to Have Successful Careers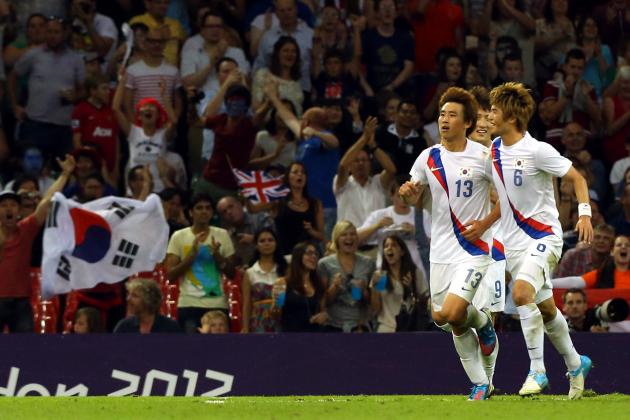 Stanley Chou/Getty Images

As the London Olympics draw to a close, so does the football competition. With South Korea beating their Asian archrival Japan in the bronze medal match, Mexico and Brazil will duke it for bragging rights as the best football team at these Olympics.
Furthermore, there were scouts from across the globe who have watched each and every single game. From the group stages to the final, scouts have set their sights on who they think will be the next starlets in the near future.
So without further ado, here are the 10 standout footballers at these Olympics who are destined to have successful careers.
Note: (Players over 23 are not included in this list, as they are "wildcards")
Begin Slideshow

»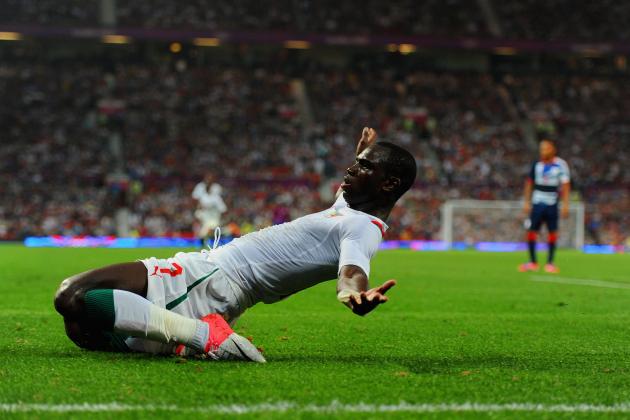 Michael Regan/Getty Images

Even though Senegal failed to make the semifinals, Moussa Konaté had a brilliant tournament, scoring five goals throughout Senegal's campaign. The 19-year-old winger/striker who currently plays for Maccabi Tel Aviv in Israel amazed crowds with his speed and power throughout the four games he has played in.
It is only a matter of time before he moves to a bigger European club, with the English Premier League being his most likely landing spot with Arsenal, West Ham, Newcastle and Manchester City expressing their interest in Konaté.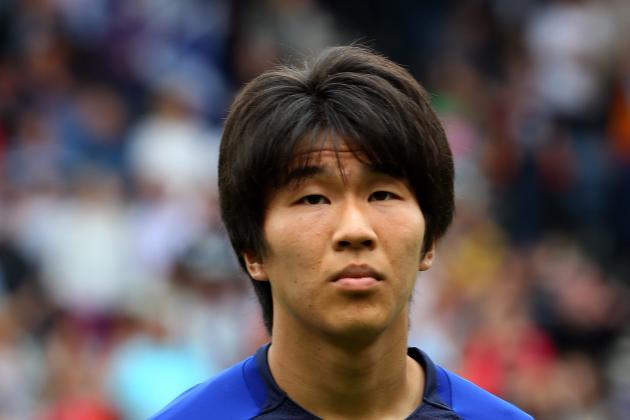 Stanley Chou/Getty Images

Kensuke Nagai has been a standout player for Japan at these Olympics. With his lightning speed and great footwork, Nagai has been able to score two goals in this tournament. Currently playing for Nagoya Grampus in Japan, the 23-year-old was the one player who flourished in Japan's counter attacking style throughout these Olympics.
Currently, only Scottish champions Celtic have expressed their interest in signing Nagai. However, the interest in Nagai is certain to grow in the near future.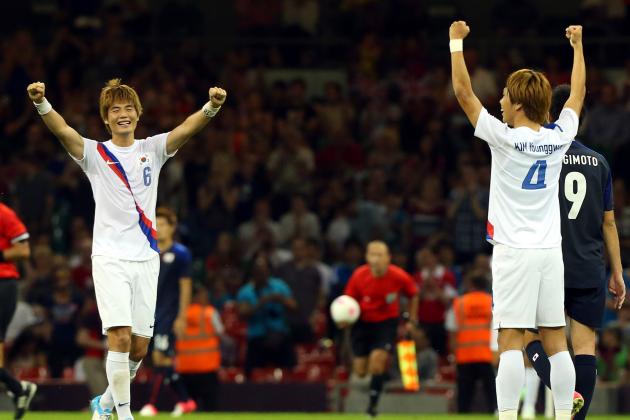 Stanley Chou/Getty Images

South Korean midfielder Ki Sung Yueng has probably been the best midfielder at these Olympics. With his strength, speed and passing ability, he has been touted as the "South Korean Gerrard."
After securing the Bronze medal at these Olympics, Ki, along with his teammates, are exempt from their two-year military service—which is a bonus for Ki and his potential suitors.
Currently playing for Scottish champions Celtic, the list of interested clubs are increasing with Athletico Madrid, Arsenal, Queens Park Rangers and Liverpool all likely landing destinations for Ki.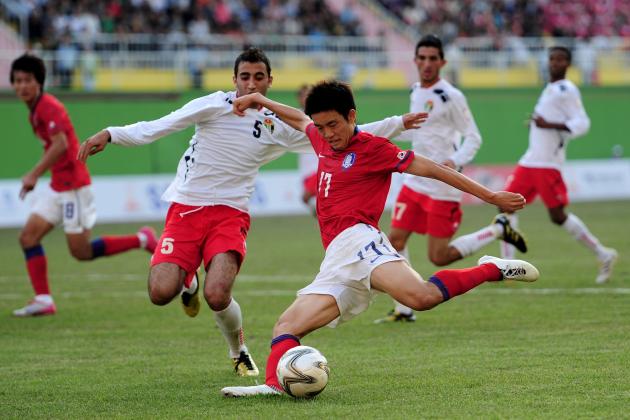 Jamie McDonald/Getty Images

Yun Suk-Young was a relatively unknown player before these Olympics. A tenacious left-back, Yun was labelled by the British press as one of the main reasons why Team Great Britain lost in the quarterfinals to South Korea.
His stifling defense against Craig Bellamy and his performance against Japan in the bronze medal match caught the eye of Roberto Mancini, the Manchester City manager keen to bring in Yun to his squad as a backup to first choice left-back Gael Clichy, with Aleksandar Kolarov set to leave Manchester City.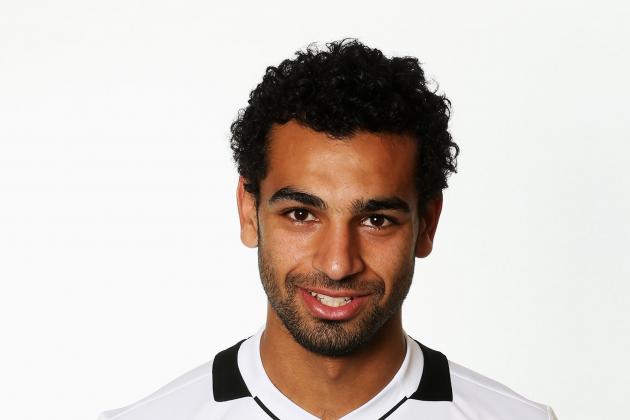 Joern Pollex/Getty Images

Known as the "Egyptian Messi", Salah is a left-footed striker/winger. Salah has made his name in these Olympics by scoring three goals for Egypt, until they bowed at the quarterfinal stage to fourth place finishers Japan in this tournament.
Mohamed Salah moved to FC Basel in April this year. However, it seems only a matter of time before Salah is on his away to a bigger club in the near future.
Julian Finney/Getty Images

A footballing prodigy, Dos Santos was signed by Barcelona at the tender age of 11. Dos Santos, however, did not have a fruitful time at Barcelona, staying for one year with the senior squad before moving to Tottenham Hotspur. He has yet to adapt to the vigorous footballing season, with loan spells to Galatasaray, Ipswich Town and Racing Santander.
It seems as though this upcoming season, Dos Santos is ready to have a breakout year. Scoring three goals on Mexico's way to the final, Dos Santos has been the catalyst to this Mexican team. Hopefully, he continues on with his good form and produces in the domestic league.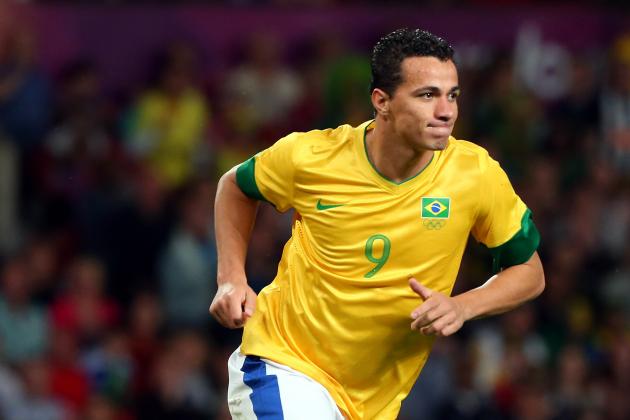 Stanley Chou/Getty Images

Leandro Damiao is the latest Brazilian to delight the British crowd with his lethal touch, his physical strength and his dazzling footwork. Damiao currently leads the goal-scoring tally with six goals—and even though he has top goalscorer title all wrapped up, he could add to his amazing tally in the final against the Mexicans.
Tottenham Hotspur were the first club to express their interest in Damiao, but with Manchester City also having their eye on him, expect the transfer race for Damiao to heat up after the conclusion of these Olympics.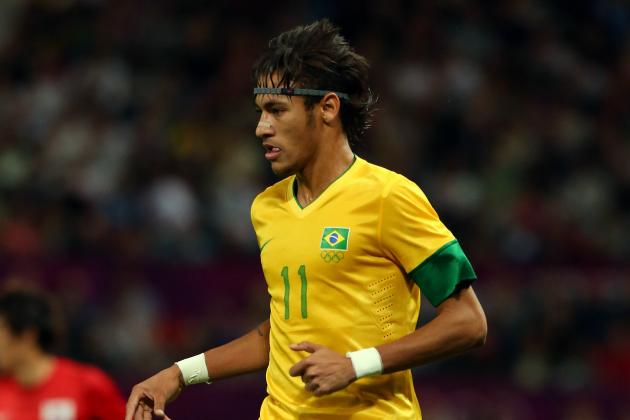 Stanley Chou/Getty Images

Neymar certainly has lived up to the hype at these Olympics. A forward just like his compatriot Damiao, Neymar possesses a deft touch, a lethal strike and dribbling skills even Pele would be proud of. Neymar is touted as Brazil's answer to Argentina's Lionel Messi, and he certainly has not disappointed—scoring 3 goals en route to the final.
Real Madrid and Barcelona appear to be the most likely destination for Neymar in the coming years. However, Neymar has been inclined to join Barcelona when his time at Brazilian powerhouse Santos is up.
Neymar and Messi at the forefront of Barcelona's attack would be a formidable sight to see.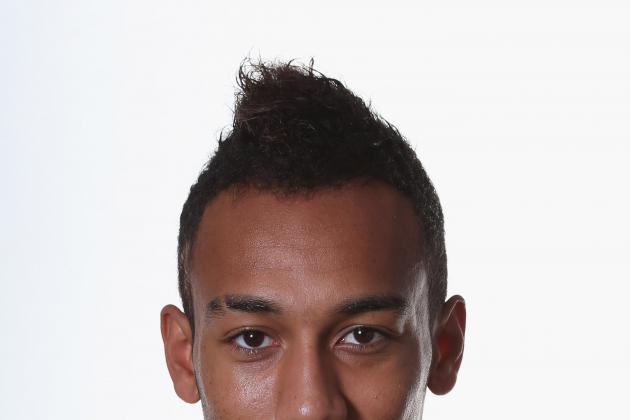 David Rogers/Getty Images

Pierre-Emerick Aubameyang is a Gabonese forward who plays his trade at Saint-Étienne in France. As a youngster, Aubameyang was signed by AC Milan when he was 19-years-old but failed to make a single appearance at his time at the San Siro.
Even though his Gabon team was knocked out in the group stages, Aubameyang showed glimpses of brilliance during Gabon's three games, scoring his team's only goal in the Olympics against Switzerland.
Aubameyang is rated highly by European officials, as he was invited to play for the Italy U-19 team, but refused—instead playing for the French U-21 team before ultimately representing Gabon.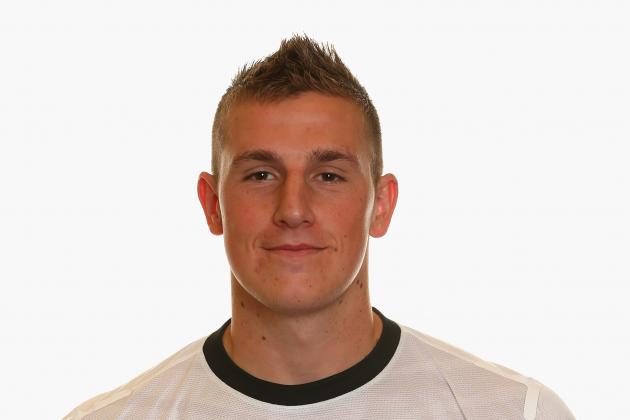 Robert Cianflone/Getty Images

Chris Wood is the best prospect New Zealand has to offer, and is also probably one of the best players for the All Whites right now. His tall stature and his fast feet have been one of the main reasons why New Zealand have qualified for these London Olympics. He earned his team a point in the group stages with his strike against Egypt.
Wood has been playing in the English Premier League with West Bromich Albion, and he has also spent time at the lower tiers of English football on loan spells. Wood is only 20, so expect him to be a perennial goal-scorer in the coming years.