Premier League Footballers Who Should Have Different Careers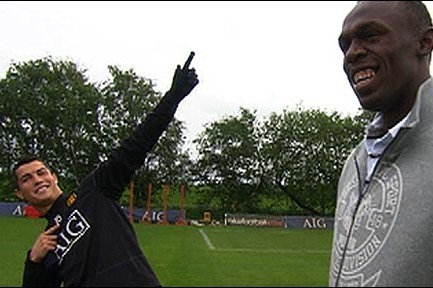 According to the Belfast Telegraph, Usain Bolt would like to play for Manchester United. OK, we're in the middle of the Olympics and Ronaldo fancies himself as a sprinter, so why not?
We thought we'd take a light-hearted look at different possible careers for well-known footballers. There is a little bit of an Olympic flavour, so enjoy.
Please also put your own suggestions forward in the Comments section.
Begin Slideshow

»
Ashley is going to have to tidy up his technique—or preferably get rid of it altogether.
He's a decent footballer who, like talented United players Ronaldo and Nani, has gotten himself a reputation which will be difficult to shake off.
Meanwhile, his current technique is more like a free-styler off the blocks, or maybe a walrus rolling in the sea.
No medals for you Ashley; stick to the day job.
Having watched far too many seemingly pointless fights in the early stages of the Olympics, it seems to me that Lee Bowyer has a potential future in Judo.
So for that matter has his former Newcastle team-mate, Kieron Dyer.
Enjoy.
For someone who's earned millions in football, you would have thought Ronaldinho could have spent a few sorting out his "Ampstead Eath"!
Physician, heal thyself.
Maybe he and Dwight Yorke could train together?
OK so he never played in the Premier League, but he's managed there and he did play for West Ham in the old First Division.
Frankly I couldn't leave him out.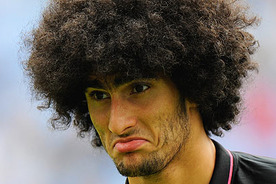 What a wonderful barnet!
You have to be some footballer to get away with a haircut like that. Could be worse though, like Gerry Francis's mullet!
Fellaini certainly has his own distinctive brand and style, but you won't be seeing many of those down your street any time soon.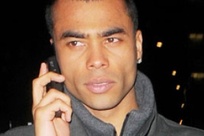 When do you ever see Ashley in civvies without a mobile phone?
Nice looking lad, coming towards the end of his career, down to his last £200k a week shortly.
Come on Carphone Warehouse, pick him up while he's hot.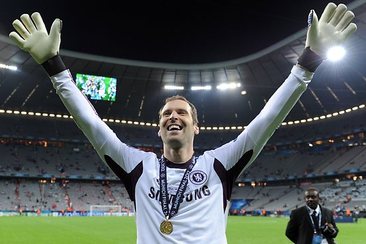 'Course you know. The guy with the table tennis bats who signals your plane into its docking bay.
Petr wouldn't even need the bats with gloves and hands like that. He could certainly stop a Jumbo.
There isn't enough room to show all the footage of Joey Barton in various scraps. Certainly he's got a great right foot as he showed while being sent off against Manchester City.
But this right to the body on Morten Gamst Pedersen is pure class. It would definitely have scored a point in the Olympics.
Looks like he's got little future in football. Not too late for the Rio Olympics, Joey.
Didn't see much evidence of Portugal in the gymnastics...
This back-flip is the nursery slopes for Nani, but its a trade mark. It probably does Sir Alex's head in every time he does it. Watch out for the Achilles!
Still, it's great entertainment. Better than diving...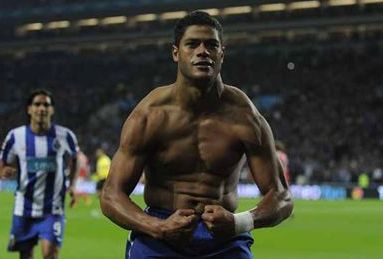 Is that really why he changed his name?
Need I say more?
Could have put Sol Campbell in here, or Yaya Toure, but you wouldn't want to take on Danny on a Saturday night out...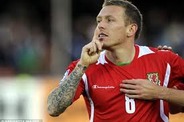 Could Craig ever take a vow of silence? He never stops rabbiting; just watch footage of Team GB with him as captain.
And he's pretty combative.
So it could be therapeutic turning to a career like this. Especially as it has been suggested in The Sun Daily that he could pick a fight with himself in a phone box.
Carlos Tevez has lived in England for five years. Clearly it has had a wonderful effect on his English...not.
Which all makes it highly ironic that after his apparent refusal to play for City last season, according to ESPNSoccernet, he claimed that he was "misunderstood."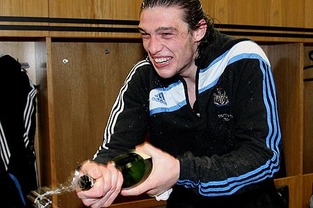 Jager Bomb sir?
Say no more...
There were any number of candidates for this article and Luis Suarez was impossible to resist.
Like Craig Bellamy, he doesn't seem to know when to stop and walk away.
Let's hope we see more of his undoubted talent this season than his regrettable petulance.
Remember to put forward your own proposals below.