Women's Olympic Soccer 2012: Power Ranking the Top 10 Players of the Tournament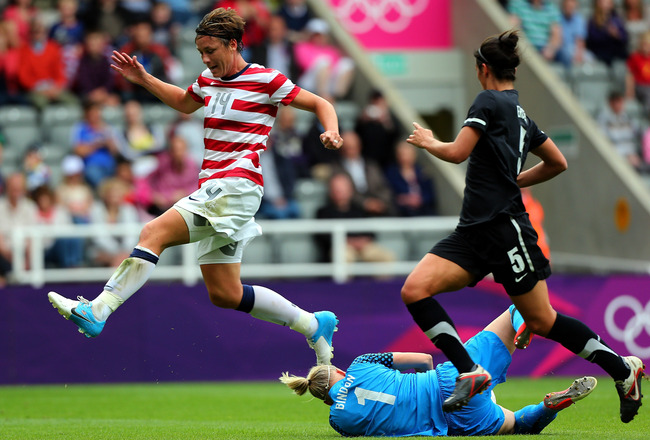 Stanley Chou/Getty Images
All the excitement and surprises from the Women's World Cup last summer have carried over into London, and the women's football tournament at the Olympics has so far been a treat for fans.
Canada has rebounded very well from a horrendous World Cup showing in Germany and will take on the No. 1 team in the world and two-time defending gold medalists United States in one semifinal.
World Cup holders Japan will take on the most surprising team in women's football in the last year, France, in the other matchup.
Team USA's star so far has been Abby Wambach, who has scored in all four games for the USWNT. Japan's defense is what has helped them advance once again, and with France, it's hard to pick only a few players who have starred.
Who have been the top 10 players of the tournament so far? Read on to find out.
Steph Houghton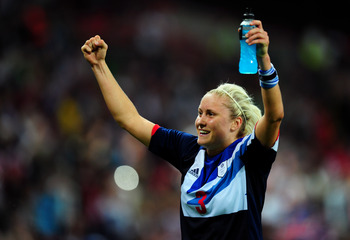 Mike Hewitt/Getty Images
Steph Houghton saw her side knocked out at the quarterfinal stage over the weekend, but she and the rest of Team GB still did their nation proud.
The Arsenal Ladies midfielder scored three goals in her four games, one in all three group games.
Her goal was the only one of the game in Team GB's opening match against New Zealand, and she was the match-winner again in the final group game against mighty Brazil.
The 24-year-old saw her first real involvement on the international stage this summer as she was not used much for England last summer. Though she won't take home a medal, she certainly earned a spot in the starting XI for England.
Karen Bardsley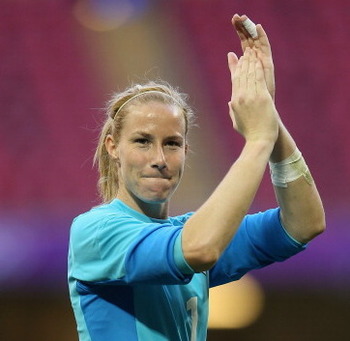 Julian Finney/Getty Images
Team GB's American-born goalkeeper Karen Bardsley made a claim as one of the best keepers in the game last summer in Germany, and she backed it up big time in front of the home-town crowd this summer.
Bardsley didn't allow a goal in the group stages, the only keeper who can make that claim, which includes a shutout of Brazil.
At 27 years old, Bardsley is entering her prime as a keeper, and she could give Hope Solo a run for her money pretty soon.
Sarah Bouhaddi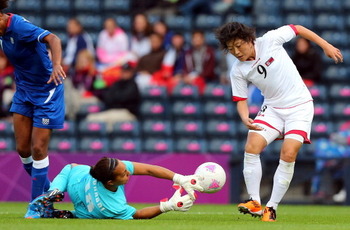 Stanley Chou/Getty Images
France were surprise semifinalists in last summer's World Cup, but they aren't shocking anyone this time around.
That's because they have Sarah Bouhaddi back in goal.
Bouhaddi missed the World Cup due to an ACL injury, and France had problems in goal in each game. Aside from the opening match against Team USA this summer, France has been much sturdier. Bouhaddi may have allowed four goals to the U.S., but since then, she's only allowed one goal, to Sweden in the quarters.
Bouhaddi is only 25, and she has a flashy, dominant midfield in front of her and scorers all over the pitch. France are a team to watch out for this summer and for a long time coming.
Homare Sawa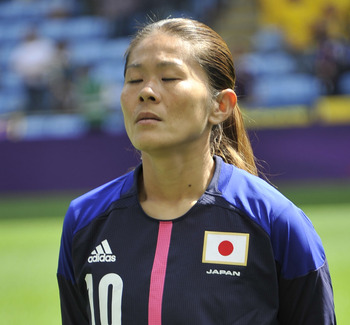 Francis Bompard/Getty Images
Homare Sawa, the reigning FIFA World Player of the Year, actually hasn't scored a goal yet in London. Reigning World Cup champions Japan have only scored four goals in four games, being held scoreless twice so far.
That's just fine for them though. Japan relies on a suffocating defense and sturdy formation to advance, and that's just what they've done so far.
The 33-year-old Sawa is the one who keeps the game under control whether Japan are in possession or not, and she's been in fine form for her country so far.
However, coming up against a France side that is firing on all cylinders, Japan has to do more than defend. Sawa is capable of popping up out of nowhere to produce a moment of magic, which the U.S. is well aware of, and if Japan want to make another final appearance, they'll need Sawa to do just that.
Christine Sinclair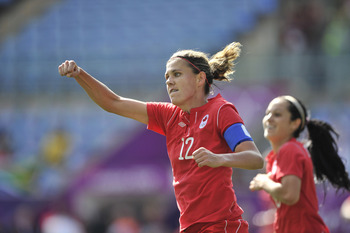 Francis Bompard/Getty Images
Canada's Christine Sinclair suffered a broken nose in the opening game of last summer's World Cup, and she and Canada had a very poor tournament because of it.
This time around, Canada are making up for it in a big way.
Canada were handed a tough draw in the group stages having to go through Japan and Sweden, but they did just enough to make the next round, and Sinclair's two goals against South Africa made a big difference in getting them there.
She then scored the second goal, effectively ending the match, against Great Britain in the quarterfinals. Aside from scoring, Sinclair has opened the door for her teammates, allowed her side more time on the ball and been a constant threat to defenders.
Coming up though, she faces a tough test in an American side that now hasn't allowed a goal since the 14th minute of their opening match.
Alex Morgan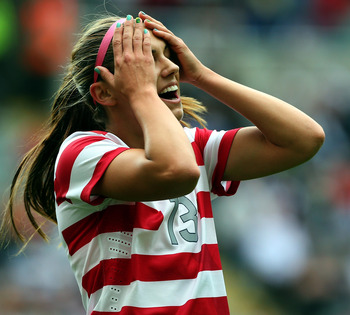 Stanley Chou/Getty Images
With the amazing scoring run Alex Morgan has been on, it's a bit surprising to realize she's only scored two goals at the Olympics so far. Morgan scored the equalizer against France in the opening game and then the fourth to seal the deal.
While she hasn't scored as often as many would have expected her to, she's been at the center for almost all of the USWNT's attacks and goals in their four games.
Morgan has been sharp in every match, and she's been unlucky not to score more goals herself. Fortunately, the U.S. hasn't needed her to score much so far, but they need her to keep playing her game if they are to take home gold.
Carli Lloyd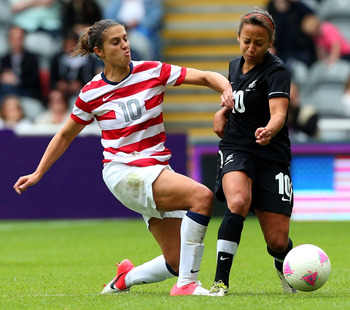 Stanley Chou/Getty Images
Football is a game of midfielders these days, and the USWNT's Carli Lloyd has taken up her mantle with no trouble whatsoever.
Lloyd has been dominant in the center for Team USA in their first four matches of the Olympics, and she's scored two goals along the way, including the winner in a comeback victory of France.
In addition to scoring, Lloyd has been a key component in the USA's defense, which hasn't allowed a goal in over three-and-a-half games.
Lloyd has moved seamlessly from box to box in each match making herself a threat to opposing defenses while not shirking on her defensive duties. It's something USA fans have been waiting for her to do for a long time.
Melissa Tancredi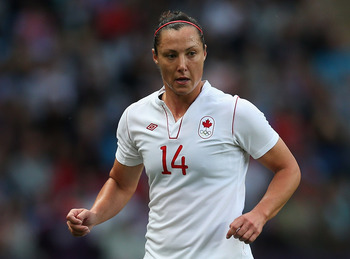 Julian Finney/Getty Images
Christine Sinclair has long been Canada's star, but Melissa Tancredi is making a claim for that title after this summer.
The 30-year-old has scored four goals so far, two of which came in the final group match against Sweden, when Canada was down two after just 16 minutes and looked to be heading home early once again.
Tancredi pulled her side back from the brink and into the quarterfinals. If Canada are to medal, it will be down to Tancredi's boots.
Laura Georges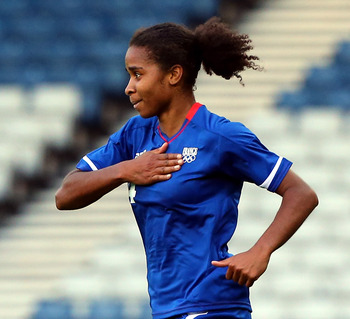 Stanley Chou/Getty Images
It's hard to pick one player on France who has been excellent so far in London. Midfielder Laura Georges and three of her teammates have each scored two goals, but it has been Georges who has scored crucial ones.
Georges got the breakthrough against North Korea right at halftime in France's second group before four of her teammates piled on in the final 20 minutes. After France had given up their two-goal lead over the U.S. in the opening game, it was crucial they make a big statement against North Korea.
Georges' other goal came in the quarterfinal against Sweden, knotting the scores at one just 11 minutes after her side had gone down.
France have gotten goals from everywhere so far in the tournament, and their defense has tightened up since that opening game, both due to Georges in the center of the field.
Abby Wambach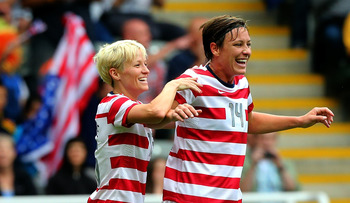 Stanley Chou/Getty Images
At 32 years old and after a horrific leg injury four years ago, you'd think Abby Wambach would've slowed down.
Not just yet.
Wambach wasn't the player she always was for almost three years after she broke her leg just before the 2008 Games, but something changed in the middle of the World Cup last summer, and she's been even better than the Abby of old since then.
So far this summer, Team USA's second leading scorer of all time has scored a goal in each game. With 142 goals, Wambach now trails Mia Hamm on the all-time scorers list (for the most international goals of any male or female footballer) by just 16.
She's been a constant threat for the U.S., always in a dangerous area and ready to capitalize on mistakes.
The U.S. want another gold medal, and Abby Wambach is key to getting them there.
Keep Reading