Olympic Soccer 2012: Ranking the Top 10 Players in Men's Quarterfinals
Julian Finney/Getty Images
The men's soccer tournament at the Summer Olympics heats up on Saturday after a three-day break as quarterfinal play begins.
All four quarterfinals will be played on Saturday across Great Britain and there will be plenty of world-class talent out on the pitches at Old Trafford, Wembley, St. James' Park and the Millennium Stadium.
Everyone already knows about the next great player in soccer, Neymar, but there are other players in the final eight that are the stellar talents themselves.
In all honesty, this whole list could consist of players from Brazil, Mexico and Great Britain but there are some hidden gems left in the tournament that make the list as well.
10. Park Chu-Young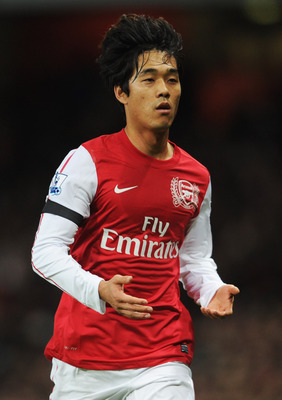 Michael Regan/Getty Images
Arsenal fans will be quick to disagree about Park being anywhere near to the top-10 best players left in London.
The South Korean forward was a huge transfer bust last season after moving from Monaco.
However, Park is having a successful Olympics so far for his country, including a goal against Switzerland in group play.
His one Olympic goal is one more than the amount he scored for Arsenal last season.
Hopefully for Gunners fans, Park's good international form will help him do better in North London this season, if he gets playing time.
9. Mohamed Aboutrika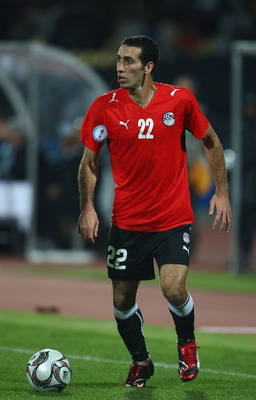 Jamie McDonald/Getty Images
Not many world football fans are familiar with Egyptian legend Mohamed Aboutrika but he is a star in his home country.
The 33-year-old is the captain of the Egyptian squad at the Olympics and is one of five players from Cairo based Al-Ahly to be on the team.
There is no doubt that Aboutrika is the most experienced and well-travelled player left in the competition.
He will be the driving force in Egypt's quest for a medal, starting with their match against Japan on Saturday.
8. Jerry Bengtson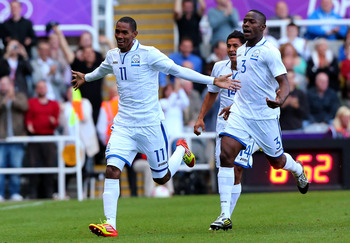 Stanley Chou/Getty Images
Fans of the New England Revolution in MLS must be liking what they are seeing out of Honduran forward Jerry Bengtson.
Bengtson recently signed with the Revolution as a designated player before heading off to London for the Olympics.
Bengtson has all three of his country's goals in the tournament but he will be lucky if he finds the back of the net Saturday when the Central American nation take on Brazil.
7. Tom Cleverley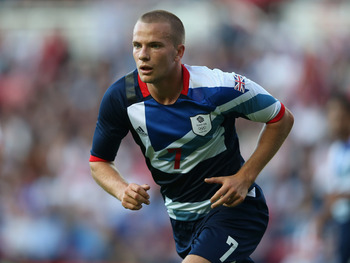 Julian Finney/Getty Images
Tom Cleverley has been named one of England's stars of the future and has big shoes to fill in the midfield for both England and Manchester United.
Last season was supposed to be the breakout season for the 22-year-old but injuries held him back from doing so.
If the 2012-13 season is when fans will become familiar with this midfielder's clever play, he is getting off to a good start with Great Britain at the Olympics.
Cleverley has been in Stuart Pearce's starting lineup for all three matches and will be a key player in the quarterfinal against South Korea if Team GB are to win.
6. Hulk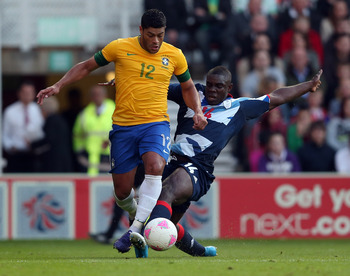 Julian Finney/Getty Images
Hulk has not gotten the attention he deserves at the Olympics.
That tends to happen when one of your teammates just signed for Chelsea, one is highly sought after and another one is Neymar.
Surprisingly, the 26-year-old Porto winger has been overshadowed by Oscar, Lucas Moura and Neymar at the tournament, but that does not mean he is not poised for a breakout game.
Hulk will be looking to become the eighth different Brazilian to score at the Olympics. On Saturday in Newcastle, Brazil faces off against Honduras.
If he does not score on the green pitches of England in the Olympics, no need to worry—Hulk will be playing in England sometime soon.
5. Moussa Konate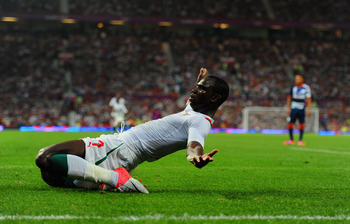 Michael Regan/Getty Images
The surprise player of this tournament has to be Senegal's Moussa Konate.
Konate leads the tournament in scoring with four goals after Group A play and he is also the only Senegalese player to find the back of the net.
For those of you out there wondering where Konate came from, he is on the books at Maccabi Tel Aviv in Israel.
At 19, he could be the next best Senegal forward.
If you ask who are the best Senegalese strikers right now, look at Newcastle United, both Demba Ba and Papiss Cisse play for the English Premier League club.
4. Giovani Dos Santos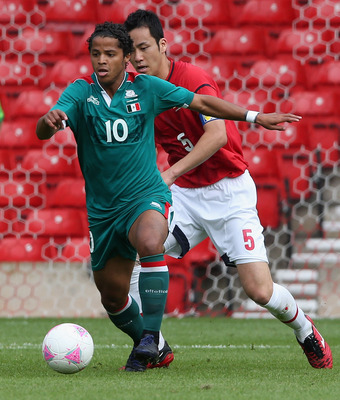 David Rogers/Getty Images
Yet again, Giovani dos Santos is making headlines playing for Mexico, but that seems to be the only team giving him playing time at the moment.
The 23-year-old has been nothing but spectacular for El Tri since joining the national team in 2007 but he has failed to make it at the club level.
Dos Santos is under contract at Tottenham in the Premier League but has been loaned out three times since 2008 and can not find a place on the first team.
All of that nonsense at the club level has not bothered the attack-minded player and playing for Mexico and the 2012 Olympics is no different.
Dos Santos has two goals so far in the tournament, both coming against Gabon, and is one of the reasons why Mexico are favored to reach the finals in their part of the bracket.
3. Daniel Sturridge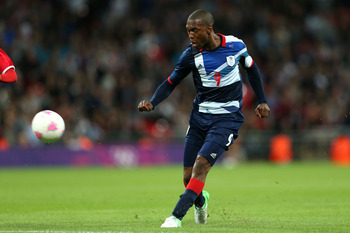 Julian Finney/Getty Images
Daniel Sturridge is slowly becoming one of the newest generation of star players in the game.
Sturridge, who plays for Chelsea, has been the main goal scorer for Great Britain at the Olympics. He has two goals so far, with one against Uruguay sealing a place in the knockout round for Team GB.
However, playing competitively right before the start of the Premier League season may play to an advantage for Sturridge; he has to compete for a starting spot with the likes of Fernando Torres, Juan Mata and Eden Hazard at Chelsea this season.
With a possible six games played already in the Olympics, Sturridge could be at full fitness for the start of the EPL season while most of his teammates will be just getting to full fitness at the same time.
2. Oscar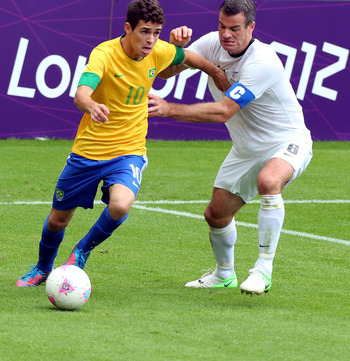 Stanley Chou/Getty Images
Sturridge's newest teammate at Chelsea is Brazilian midfielder Oscar.
Oscar has seen his stock rise drastically over the past year and has arguably been the best player at the Olympics.
The 20-year-old midfielder is giving Chelsea fans a glimpse of what is to come in the future for many years to come at Stamford Bridge.
Another benefit for Oscar going to Chelsea is the Brazilian core that owner Roman Abramovich is putting together with David Luiz, Ramires and Lucas Piazon already at the club.
1. Neymar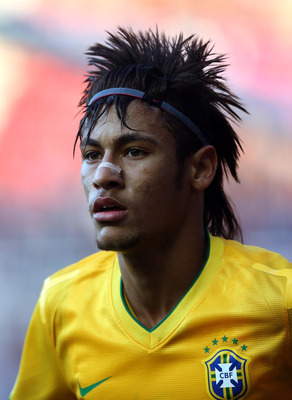 Julian Finney/Getty Images
There is no doubt that Neymar should be number one on this list.
Some people would even put the 20-year-old Brazilian on their list of top-10 players in the world at this moment.
The Santos forward is trying to make the 2012 Olympics his breakout tournament.
So far, that is working out for him.
He has scored the goal of the tournament with a free kick against Belarus.
If he wins a gold medal with performances like he had in the group stage, it will help him make his permanent mark on international soccer.
Keep Reading