Team GB vs. South Korea: 6 Bold Predictions for Olympic Football Quarterfinal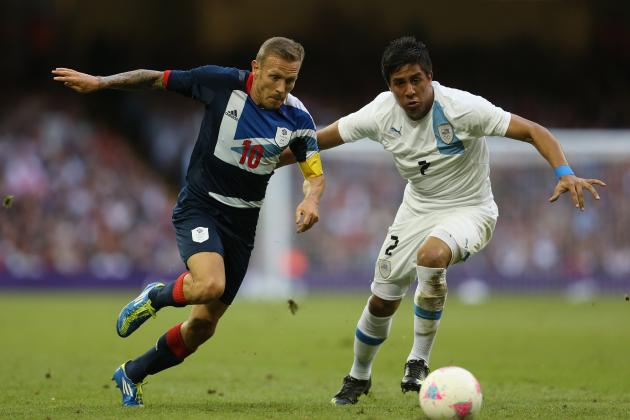 Julian Finney/Getty Images

Team Great Britain and South Korea will meet in the last quarterfinal of the men's Olympic football tournament this Saturday.
Great Britain topped its group while defeating both Uruguay and the United Arab Emirates and playing to a draw with Senegal.
South Korea advanced second from its group with two draws and a win in its three games. Great Britain are among the favourites in the tournament and will be hoping to progress.
Here are six bold predictions for this Olympic quarterfinal.
Begin Slideshow

»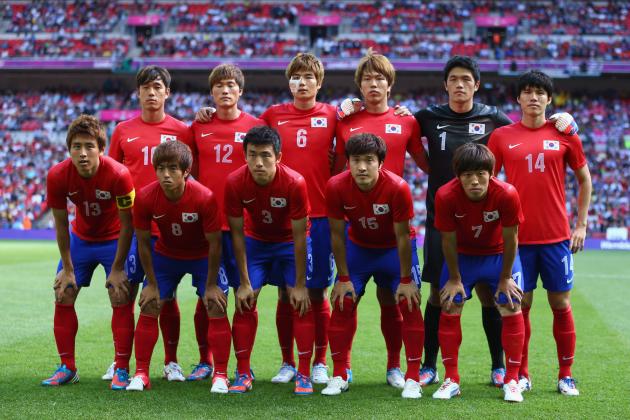 Michael Steele/Getty Images

It seems unlikely that any game in this tournament will go to extra time, but if there is one game in which that could happen it would be this one.
On paper, it is arguably the tightest of the three quarterfinals, with Great Britain's attack coming up against a South Korean defense that has only allowed one goal and few opportunities for its opponents thus far.
If South Korea's defense stands tall, then extra time is very much a possibility.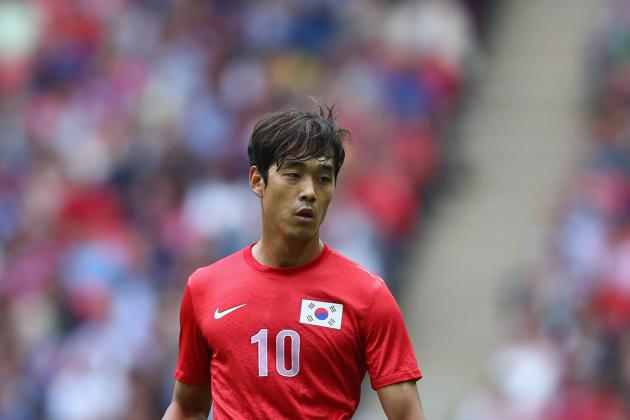 Michael Steele/Getty Images

Park Chu-Young notched his first goal of the tournament in South Korea's 2-1 win over Switzerland.
The Arsenal man has a lot to prove for both club and country, and what better team to do it against than Great Britain?
South Korea created lots of chances in each of its three group games, and only the team's inefficiency in front of goal prevented it from scoring.
Park is one player on the team capable of producing a good finish, and he will certainly get his chances to do so against Great Britain.
Julian Finney/Getty Images

This hinges on Great Britain scoring an early goal, as it's facing one of the stingiest defenses in the tournament.
The home team has scored five goals in the tournament so far—among the most in the tournament—and has unlocked two tough opponents in Senegal and Uruguay in the process.
While South Korea has only two goals to its name, the team has created lots of chances in each of its games so far. Great Britain has also created its share of chances and has been more accurate with its shots on target.
If Great Britain scores early, the South Korean team will have to open up and fans could then see a very open game.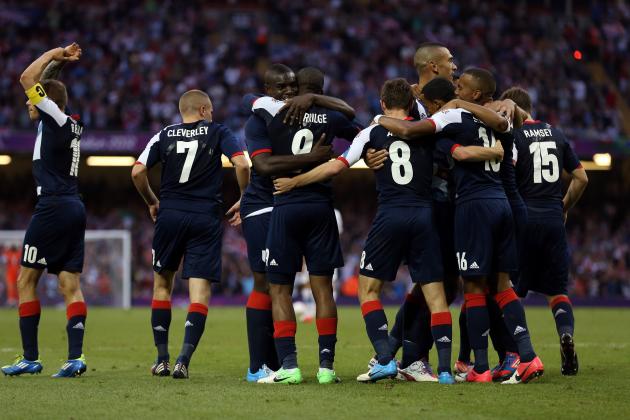 Julian Finney/Getty Images

Both teams have been better than their respective opponents, in terms of possession, in each of their group games.
Great Britain has averaged 59 percent possession in its three games, while South Korea has averaged 55 percent.
This game could well be decided by the midfield battle, and on paper, Great Britain has the advantage and should control the game in that area.
Team GB is facing its first competitor that has done a decent job in possession, though, and the battle could well be very even in midfield with both sides sharing time on the ball throughout the game.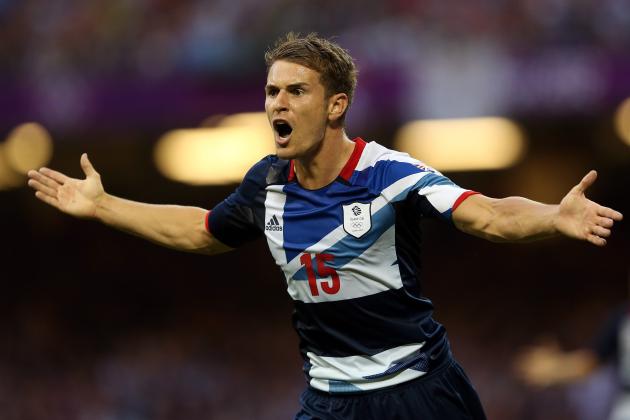 Julian Finney/Getty Images

Great Britain has been better in possession with the Arsenal man in midfield. His colleagues have played well, but Aaron Ramsey has given the midfield some more creativity and a player well-versed in keeping the ball.
It's likely that Great Britain will start with a 4-4-2 setup, with Ramsey, Ryan Giggs, Tom Cleverley and Joe Allen in midfield and Craig Bellamy and Daniel Sturridge up top.
Bellamy has been the danger man throughout the tournament, but it's his midfield compatriot who will be key.
If Ramsey can continue to perform as he did against Uruguay, his side has a great chance of winning the game.
A poor performance from the Arsenal man may not be the nail in the coffin for Great Britain, but it will certainly make things more difficult.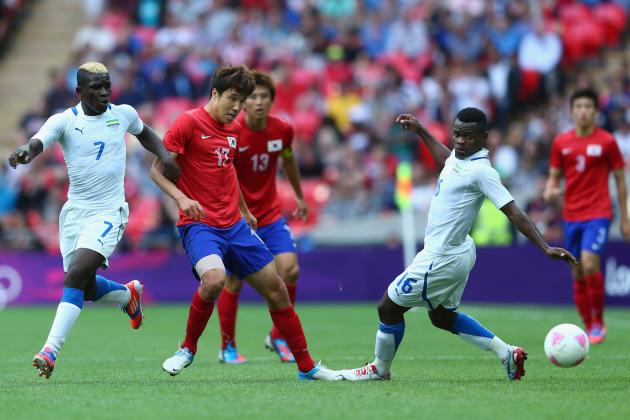 Michael Steele/Getty Images

Great Britain is the favourite, with a host of players playing for some of the top EPL clubs. Not many of them have experienced a high-pressure game, but the same can be said for their opponents.
The Brits have been decent defensively, but it is their offensive output and midfield that give them the edge.
With South Korea's mixture of defensive fortitude and the possibility that one or more of the many chances the team creates will be finished, it has a good chance of coming out on top in this game.
Great Britain's only clean sheet thus far came against a rather disappointing Uruguay attack.
The team struggled a little with the intensity when it faced Senegal, and while the physical aspect may not be the same, the energy the South Koreans display will make it a battle for Great Britain.