Top 10 Candidates to Be English Premier League Player of the Season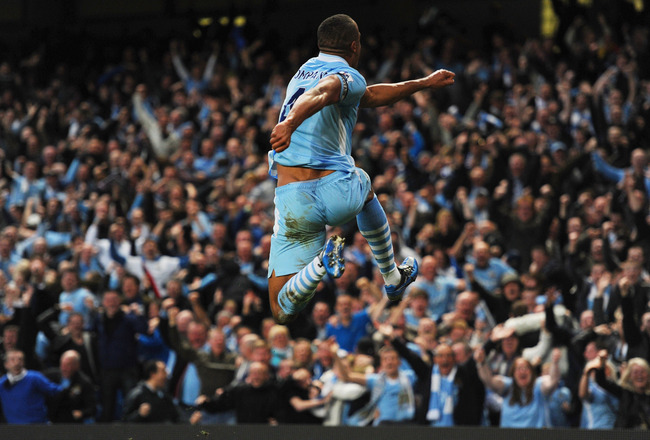 Michael Regan/Getty Images
Vincent Kompany won the 2011-12 Barclays Premier League Player of the Season Award thanks to his sound defensive play at the back for title-winners Manchester City—a deserved winner of the award.
However, with the 2012-13 Premier League season drawing closer, it's time to take a look at who might be crowned the best player in the league this year.
Who is in the running for the top award and who can we expect to see shine in the Premier League this season?
Read on to see the top 10 candidates to be the English Premier League Player of the Season
Joe Hart, Manchester City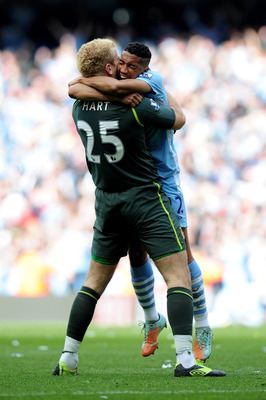 Shaun Botterill/Getty Images
English international goalkeeper Joe Hart is a prime candidate for the award given his class and ability to keep his side in matches they would otherwise lose.
Hart saved City from defeat several times last year (figuratively and literally), and will no doubt do the same again in the upcoming Premier League season.
His great awareness, positional play and skills make him a genuine candidate to win the Premier League Player of the Year Award.
Current odds: 25/1
Wayne Rooney, Manchester United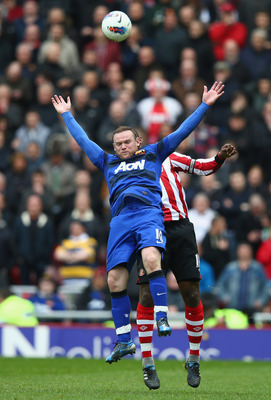 Clive Mason/Getty Images
The Manchester United frontman finished with the second highest goal tally out of all players in the Premier League last season, and is once again expected to be dominant force up front.
Rooney's attacking skills have made him one of the premiere strikers in world football with his involvement in developing attacking raids, meaning that he is never far from the action for United. He can win a game singlehandedly for United, as shown last season, and will benefit even further this year from the addition of Shinji Kagawa into the Red Devils' midfield.
With the future of Robin van Persie unknown, Rooney is a real threat for the Golden Boot Award as well as the Player of the Year Award.
Current odds: 13/2
Eden Hazard, Chelsea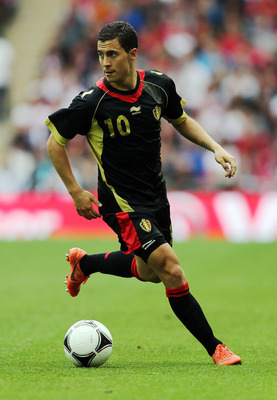 Ian Walton/Getty Images
Eden Hazard was the hottest prospect on the summer transfer window this year and could have a sensational opening year in the Premier League.
Hazard will feature prominently in a very strong Chelsea squad including the likes of Fernando Torres, Juan Mata, Frank Lampard and Brazilian midfielder Oscar. Surrounded by talent, there is no doubt that Hazard will be a huge factor in attack for the Blues.
The Belgian international netted 20 goals and 16 assists for Lille last season and if he can produce similar numbers again this year, is a genuine contender for the Player of the Year Award.
Current odds: 20/1
Yaya Toure, Manchester City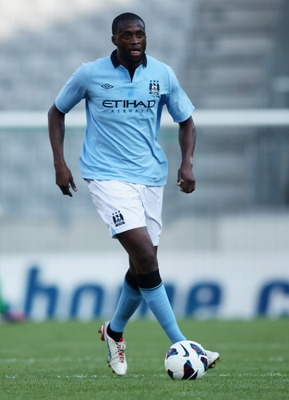 Johannes Simon/Getty Images
Last season, Yaya Toure could have won the Player of the Year Award and nobody would have had any issues with it. The midfielder was sensational for Manchester City, and will no doubt dominate his opponents throughout the upcoming year also.
Toure finished top five in both goals and assists, completed his passes at the second highest completion rate and was a huge difference-maker going forward for City.
He averaged the third highest match rating last year and given he will play with the same City squad that won the title last year, there's no reason why he can't do it again this year.
Current odds: 12/1
Nemanja Vidic, Manchester United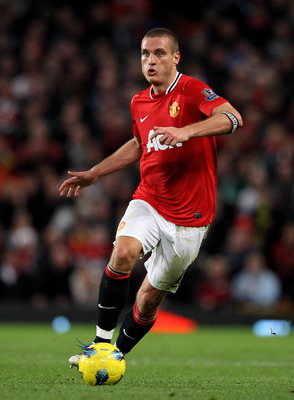 Alex Livesey/Getty Images
Nemanja Vidic was without doubt the most missed player in the Premier League last season. Manchester United looked lost at times without their captain defender and should he remain injury free this year, could have a huge impact on the Red Devils' title chances.
Vidic's significance to United is similar to that of Vincent Kompany at City, who won last year's Premier League Player of the Year Award.
His determination, leadership, tackling and defense could not only set Manchester United up for their 20th title, but also could set himself up for the Player of the Year Award.
Current odds: 40/1
Jan Vertonghen, Tottenham Hotspur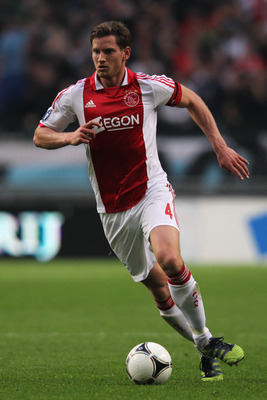 Dean Mouhtaropoulos/Getty Images
And if we're going with that trend, we must also consider Jan Vertonghen, who recently made a move to Tottenham Hotspur over the summer transfer window.
The former Ajax captain will be a huge addition to Spurs' defense and is a real dark horse for the Player of the Year Award. The 25-year-old ranked as Ajax's second-best player last season and was crucial in their title-winning season.
Tottenham have a strong squad, although by no means the strongest, meaning that Vertonghen will have several opportunities to prove himself against the Premier League's elite. Should he handle himself well, he could be a surprise winner of the Player of the Year Award.
Current odds: 150/1
Papass Cisse, Newcastle United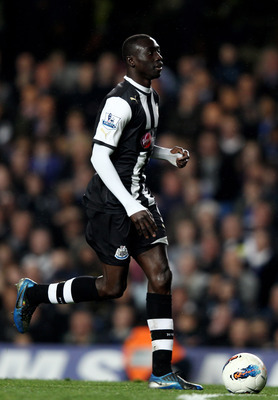 Ian Walton/Getty Images
Papiss Cisse is my other dark horse for the Player of the Year award.
The Newcastle striker was simply a revelation when he arrived at St. James Park last year and with a full season under his belt, could challenge for the award.
Whilst the striker will have to miss a few fixtures due to his commitments to the Africa Cup of Nations, Cisse no doubt has the raw skills and talent to cause havoc for defenses right throughout the league.
He netted 13 goals in 13 appearances for the Magpies last season—it's hard to argue against a player with a strikerate like that.
Current odds: 100/1
Olivier Giroud, Arsenal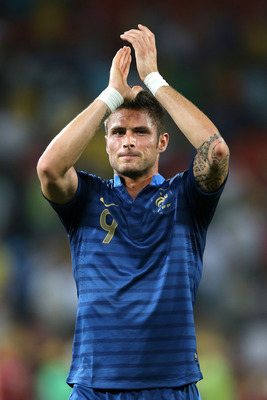 Ian Walton/Getty Images
With the future of Robin van Persie unknown, I have deliberately left him off this list. We can argue about that later, but in the meantime, let's focus on his apparent "replacement" at the Emirates, Olivier Giroud.
Giroud provides a brand-new threat at Arsenal given his height and once you throw in his ability to shoot with both feet, he could net several goals for the Gunners throughout the year.
Should van Persie leave the club, Giroud would assume the role of the go-to striker—meaning that he cannot be discounted from having a breakout season as the Gunners look to him to win their games.
Van Persie netted 30 goals like that last season for Arsenal; Giroud could well do the same.
Current odds: 50/1
Antonio Valencia, Manchester United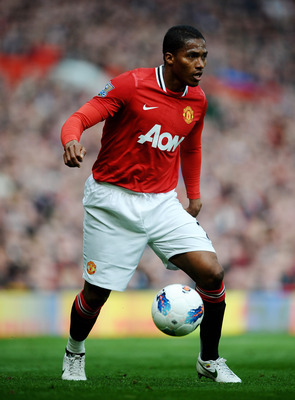 Laurence Griffiths/Getty Images
Antonio Valencia was named Manchester United's Player of the Year last season courtesy of an excellent season on the right-wing and could well do so again this season.
The 26-year-old provided an incredible 13 assists for the Red Devils last season and similar to Wayne Rooney, will benefit from the inclusion of Japanese sensation Shinji Kagawa in the midfield.
This one is another dark horse given he may have to share time with Nani and Ashley Young depending on who United sign over the transfer window, but it is hard to rule him out as a candidate for the award.
Current odds: 40/1
Sergio Aguero, Manchester City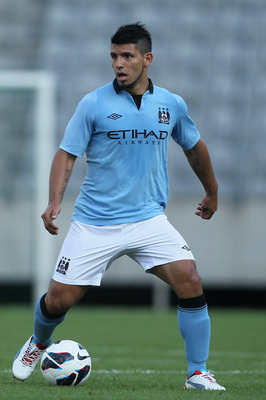 Johannes Simon/Getty Images
Wrapping up our top candidates for the Premier League Player of the Year Award is Manchester City striker Sergio Aguero, who looks primed to have another strong season for the Citizens.
Aguero finished as the top goal scorer for Roberto Mancini's men last season—third in the entire league behind Robin van Persie and Wayne Rooney.
With Carlos Tevez and Mario Balotelli in the striker's ranks alongside him and a depth of talent in midfield behind him, Aguero should score a bag full of goals this season and could be a winner of the Player of the Year Award as a result.
Current odds: 11/1
Who do you think will be the Player of the Year?
Comment below or hit me up on Twitter: Follow @dantalintyre
Odds courtesy of PaddyPower.com; statistics courtesy of WhoScored.com
Keep Reading