Team USA vs France: 6 Key Battles to Watch in USWNT's Olympics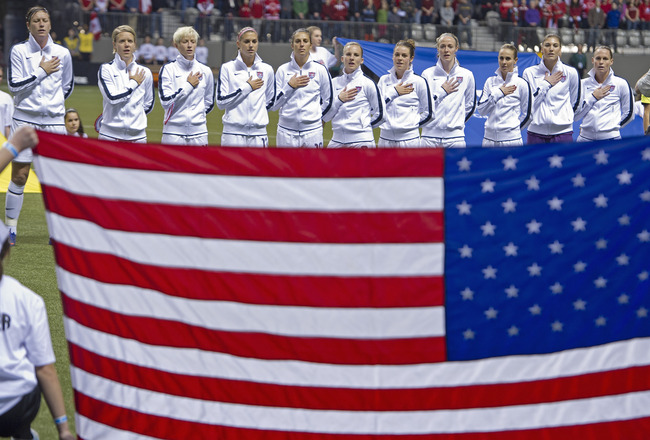 Rich Lam/Getty Images
Next week, the United States Women's National Team will start their road in hope to grab a fourth gold medal at the Olympics.
Abby Wambach, Alex Morgan, Christie Rampone, Laura Georges, Louisa Nécib and Gaëtane Thiney are some of the players that will bring a lot of action and excitement to the opening match.
The last time these teams faced each other in a major competition was at the semifinals of the 2011 FIFA Women's World Cup, where USA defeated Les Bleues 3-1.
France will seek to take revenge and surprise the team that has been atop the FIFA Ranking since mid-2008. Meanwhile, the States will try to impress the world after losing the World Cup against Japan.
Abby Wambach vs Sonia Bompastor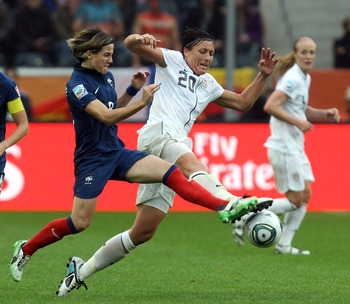 Martin Rose/Getty Images
Sonia Bompastor is a fierce left-back who made it to the 2011 FIFA Women's World Cup All-Star Team. At age 32, this veteran defender has proven to be strong enough to stop bigger rivals.
However, Abby Wambach is the second top scorer of the USWNT this year with 13 goals so far. She also made a goal at the World Cup semifinals.
Wambach has a lot of tactic work ahead if she wants to surpass Bompastor's speed and toughness.
Alex Morgan vs Ophélie Meilleroux
Martin Rose/Getty Images
Alex Morgan is one of the fastest players on the team. She moves from the center to the left sideline or vice versa.
Defenders tend to lose her from sight and that's precisely what Alex takes as an advantage to score. This will give Ophélie Meilleroux a lot of work.
Morgan has 16 goals in 2012, which sets her as the top scorer of the team. Like Wambach, Alex scored against France in the World Cup, sealing the United States' victory 3-1.
Meilleroux has 61 caps with the national team and serves as captain of Montpellier HSC, a Division 1 Féminine club. She also played the 2011 Women's World Cup.
Heather O'Reilly vs Laura Georges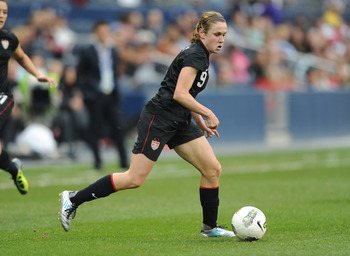 Peter Aiken/Getty Images
If there's someone that knows how to make a run, that's Heather O'Reilly. The Boston Breakers midfielder tested Laura Georges' capacity at the 2011 World Cup.
The first goal was hers, as Georges couldn't keep up the pace. This gave O'Reilly enough time to shoot and score. Although she hasn't started in the last two games, Heather is an experienced winger who has scored 34 times with the USWNT in 166 appearances.
Laura Georges is a center-back who has 118 caps with the national team and serves as captain of Lyon, a Division 1 Féminine club. The OL Ladies hoisted last season's trophy. Meanwhile, Laura was appointed to the 2011 World Cup All-Star Team.
Megan Rapinoe vs Sandrine Soubeyrand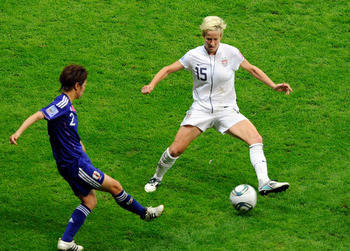 Thorsten Wagner/Getty Images
Megan Rapinoe is a very complete footballer. She has long-distance accuracy, ball control and speed. She will be a key factor in the game as she can support Wambach and Morgan, but also unbalance the midfield and defense.
French captain Sandrine Soubeyrand must do a titanic job to try and stop Rapinoe. The Juvisy midfielder is the most capped player of her country, above Lilian Thuram and has played with the national team since 1997.
Soubeyrand's experience will be a cornerstone in the center of the pitch. She is organized and methodical.
Shannon Boxx vs Louisa Nécib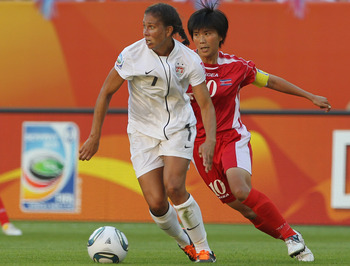 Boris Streubel/Getty Images
France's playmaker Louisa Nécib is one of the most lethal players of Les Bleues. She can play as a creative midfielder or as a winger.
Nécib is a brilliant passer. She provides depth to the squad and has appeared 79 times and has scored 16 goals.
Louisa plays for Division 1 Féminine Lyon. Last season, she was sixth in assists and scored seven goals, including a hat trick.
Shannon Boxx must be at her best in her third Olympic Games to try to stop Louisa's pace, while leading and keeping the Stars and Stripes midfield organized.
Both Boxx and Nécib made it to the 2011 FIFA Women's World Cup All-Star Team.
Heather Mitts vs Gaetane Thiney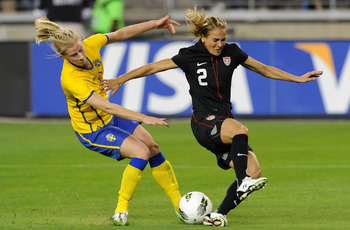 Norm Hall/Getty Images
Gaetane Thiney is a 26-year-old who serves as an attacking midfielder or a striker, depending on the team's needs. She is one of the French footballers that brings speed and depth to the table.
Thiney is one of the lead players of Juvisy. In the 2011-12 season, she scored 13 times, which put her in a tie for third on the goalscorers table. She also had 10 assists and a hat trick.
At the 2011 FIFA Women's World Cup, Gaetane scored twice in the group stage against Canada and took a penalty kick in the quarterfinals against England.
Heather Mitts, who has played with the USWNT since 1999, will be the player assigned to cut Thiney's attack.
Mitts is a top right-back that knows how to handle and protect the ball in risky situations and keep the defense calmed.
She was part of the squads that won the 2004 and 2008 gold medals, as well as member of the 2011 FIFA Women's World Cup runner-up team.
Keep Reading