11 Young Players to Watch in the Premier League Next Season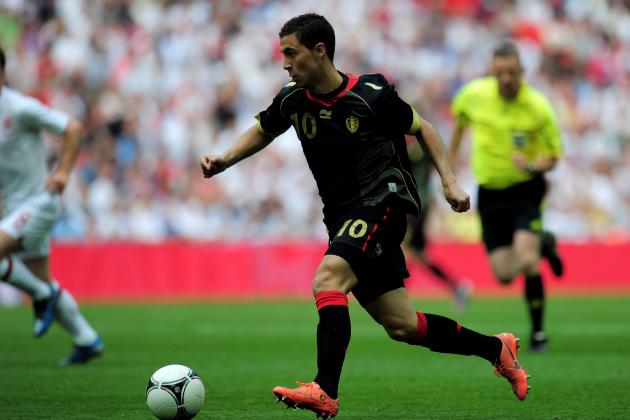 Shaun Botterill/Getty Images

With Euro 2012 firmly behind us, and transfer season in full swing, it's time to start looking ahead to some of the top young players we'll be seeing next season, specifically in the English Premier League.
As expected, the EPL's leading youth producer, Arsenal, leads the list with four names, but the rest of the list comes comes from a variety of teams in the EPL.
In order to keep the list full of mostly young, unknown players, we've set the cut off date for inclusion as January 1st, 1991. All players born before this date have been excluded.
Let's get to it.
Begin Slideshow

»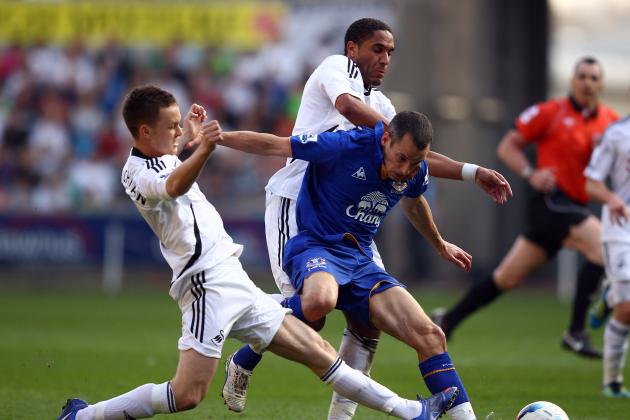 Richard Heathcote/Getty Images

After making four starts and 17 total appearances for Chelsea in 2010-11, Josh McEachran was heralded as a future star for the Blues. However, a subsequent season of just one league start on loan and 10 appearances in total has made many Chelsea fans concerned about the youngster's once-bright future.
McEachran has always had the skill, but the hard part for him will be getting the playing time to show off that skill. At Chelsea and Swansea last year, playing time was at a premium.
McEachran needs an early loan to a club willing to provide him the freedom to play, make mistakes, and learn. He also needs his new Chelsea coach, Roberto Di Matteo, to trust him, and give him the opportunity to compete with less integral members of Chelsea's midfield, like Raul Meireles, for playing time.
He's likely in store for another season of having to fight for playing time, but if he can finally break into the rotation at Chelsea or starting lineup of a lower-level EPL club, the sky is the limit for McEachran, and everyone will be wanting to see what the young Englishman can do.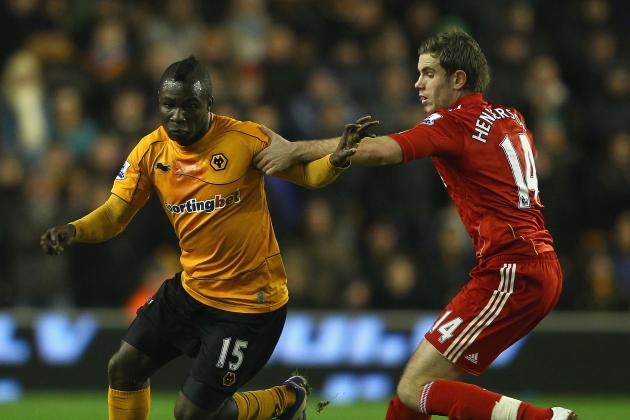 Clive Mason/Getty Images

After a handful of impressive performances for Arsenal in the first half 2011-12, Frimpong was sent on loan to Wolverhampton Wanderers to further develop as a player, receive more regular playing time, and increase his chances of becoming a starter for Arsenal sooner rather than later.
Unfortunately, after four impressive games starting in Wolves' starting lineup, Frimpong ruptured his cruciate ligament in a game against QPR, bringing his season to an early end.
Still, despite not picking up too much experience with Wolves, Frimpong remains an excellent prospect, whose stamina and fearless tackling have gained him many admirers in England, where physicality is the name of the game.
He may not get much playing time at Arsenal if all the team's central midfielders return to full fitness as expected, but he'll benefit if injuries strike the team once again.
At worst, he'll likely be loaned out once again to one of the EPL's smaller teams, and he'll get another chance to "Frimpong" a whole host of unsuspecting midfielders game after game.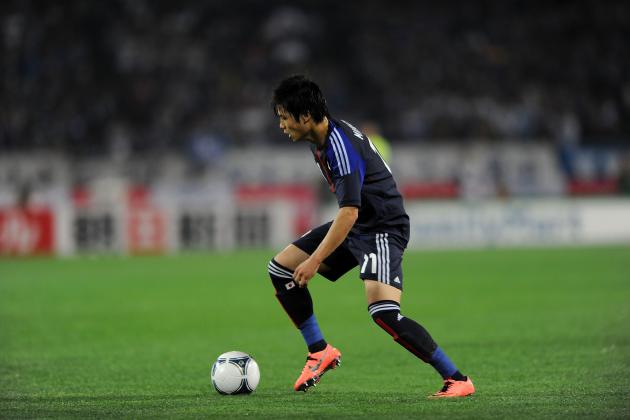 Kaz Photography/Getty Images

Ryo Miyaichi's loan spell with Bolton started off excellently, with Miyaichi being voted the February Player of the Month by Bolton fans for his excellent early displays. His performances even earned him a call-up to the Japanese national team.
However, towards the end of his loan spell, Miyaichi's form fizzled out as Bolton struggled and ended up being relegated on the final day of matches.
Though Miyaichi is all the better for his loan move to Bolton, he returns to an Arsenal team even more stacked up front than it was when he left. Andrei Arshavin, for the time being remains an Arsenal player, and if he does not move Miyaichi will be competing with Gervinho, Alex Oxlade-Chamberlain and Theo Walcott for playing time.
That isn't to mention new recruits Lukas Podolski and Olivier Giroud, who will almost surely factor regularly into Arsene Wenger's rotation of players at Arsenal.
Arsenal also have yet to sell Marouane Chamakh, Park Chu-Young and Nicklas Bendtner, and if they fail to sell all three, then playing time becomes even more scarcely available for someone like Miyaichi.
Miyaichi will likely be sent on loan once again, and this time he'll need to really prove himself to be a consistent threat in the EPL if he hopes to avoid the fate of Carlos Vela before him. Otherwise, he could find his chance to breakthrough at Arsenal gone for good with all of Wenger's new acquisitions.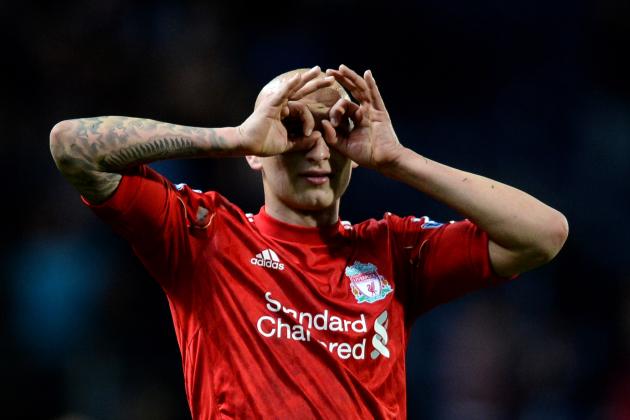 Laurence Griffiths/Getty Images

Finally, a player that does not need to go on loan for another season. Shelvey may face an uphill battle to get playing time at Liverpool, but that isn't because he hasn't proven himself; to the contrary, his six goals and three assists in 10 games for Blackpool convinced Liverpool that Shelvey was ready for the first team.
Before being fired, Kenny Dalglish started Shelvey in seven of Liverpool's last eight games, and though results weren't great, Shelvey's confidence rose and he even scored against Chelsea in the penultimate game of the season.
Liverpool will be undergoing major changes with Brendan Rodgers now the man to lead the reads, but the club would be wise to continue developing Shelvey and see how far he can go as a player before electing to sell him on or drop him to the bench.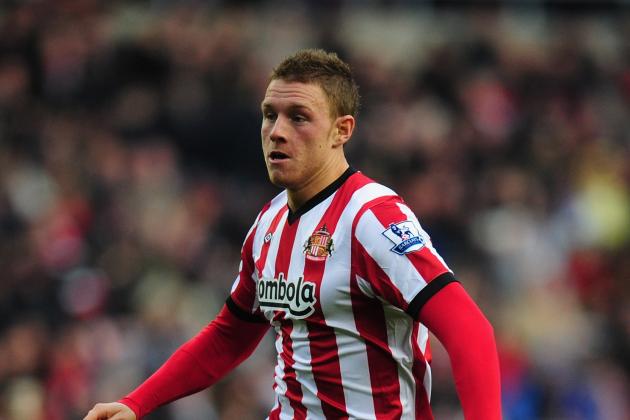 Stu Forster/Getty Images

Despite signing for Sunderland for an impressive sum of £8 million, Connor Wickham's first season in the EPL was not an easy one. He scored just one goal in 16 matches, as the Black Cats struggled badly without the goal-scoring services of Danny Welbeck, Darren Bent and Asamoah Gyan, who'd all played for the club in 2010-11.
It now remains to be seen if he can overcome the "freshman blues" and repay the club's faith in him. The good thing for Wickham is that the only way for him is up; as a striker, you can't do much worse than a single goal in 16 games.
The bad thing is that time is running out for Wickham. Until now, he's been acknowledged and praised because his extraordinary rate of development, but as he hits 20 and approaches 21, his accomplishments will be regarded as normal.
If Wickham still hopes to make it big, he'll need to start playing better ASAP. Let's hope he can impress enough to win his starting spot back with Sunderland, and hope that the goals start pouring in.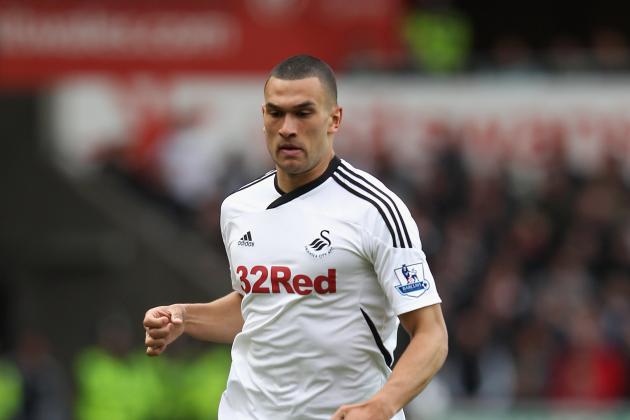 Michael Steele/Getty Images

Talk to any Tottenham or Swansea City fan, and they'll explain to you that Caulker is a very, very big deal.
Though still only 20 years old, Caulker has a better skill set than most EPL centre-backs, and is well on his way to becoming one of the best.
Last year was his third consecutive successful loan, and first one in the Premier League. If new manager Andre Villas-Boas trusts the player, he should be at least Tottenham's third-choice centre-back for the upcoming campaign.
Caulker has the potential to solve many of Tottenham's defensive problems, and would be a massive upgrade over the aging Ledley King or William Gallas. We just have to hope that AVB learns from his Chelsea experience and puts more trust in the youth at Spurs.
Ian Walton/Getty Images

A year ago, Lukaku was the undisputed best young striker in the world, well on his path to becoming the next Drogba. Now that title is often only technically right, given Lukaku's young age, and Lukaku is much farther removed from becoming "the next Drogba" than he was when he arrived at Stamford Bridge.
That's what a year spent almost entirely on the bench does for you. Lukaku's patience turned out to be his undoing, as he was hardly given any opportunities by both of Chelsea's managers to prove himself, in a very turbulent campaign for him and the squad.
Lukaku has made it clear this time around that he very much intends to leave Chelsea on loan to get playing time, and it looks like West Ham are set to oblige his request by signing him on loan.
If such a move were to pan out, its potential is massive. Lukaku has always had the ability to score goals, and if he can score 10-15 for West Ham his value to Chelsea will soar, and he could be getting playing time or even starting for the Blues before you know it.
After a year out of action, Lukaku will have to be patient and take things slowly, but a loan move to West Ham could be just what the Belgian needs right now.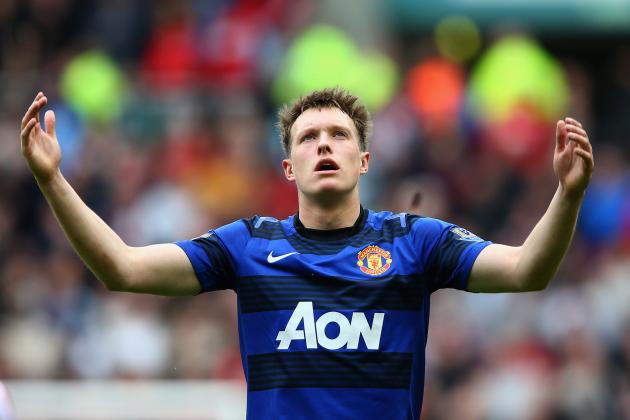 Clive Mason/Getty Images

Phil Jones had arguably one of the best starts of any player in Manchester United's rich history in the 2011-12 EPL season. He would cover the mistakes of Jonny Evans and Rio Ferdinand, charge forward to join the offense, and even scored a couple of goals for good measure.
Jones looked virtually unstoppable.
However, as the season progressed, Jones' level of play dropped, and soon it was Evans and Ferdinand covering for Jones, instead of the other way around.
This drop in Jones' quality hurt both United's results and Jones' England chances. He was selected for the national team for Euro 2012, but played no role in the competition.
2012-13 must be Jones' redemption year. He'll likely be handed the opportunity to compete with Chris Smalling and Rafael for the right-back spot, and will occasionally rotate with the aging duo of Rio Ferdinand and Nemanja Vidic at centre-back, but the most important thing is he'll have ample playing time to prove himself.
He just needs to make sure he stretches his efforts in the first 10 matches of the season over its entire course.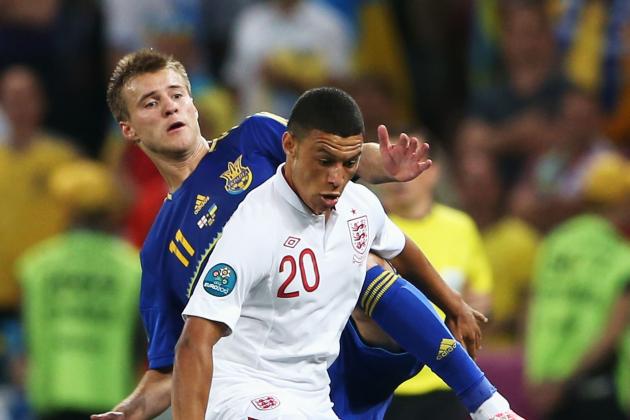 Scott Heavey/Getty Images

He may not have been able to do too much for England at Euro 2012, but Oxlade-Chamberlain's future with the ENT and Arsenal looks very bright.
There's no question that Arsene Wenger rates Oxlade-Chamberlain very highly, and he'll surely become a more important player for Arsenal this year.
The only question is whether Oxlade-Chamberlain will develop as a winger, central midfielder, or rotational player. Obviously such versatility will help Oxlade-Chamberlain pick up more playing time, but it remains to be seen if Wenger will continue to try him at different positions or develop him exclusively as a winger.
Either way, Oxlade-Chamberlain is one of England's top talents, and it'll be great to see him wreck havoc for the Gunners.
Richard Heathcote/Getty Images

Arsenal fans were really tortured last year as they were told time and again that Jack Wilshere was on the verge of returning to fitness, only to be told time and again that another injury or recurrence of a previous injury would further delay his return.
But no more. Come the start of the 2012-13 season, Wilshere should be ready to go.
His return brings the future of a very hopeful England as well as the future of a hungry Gunners midfield.
Wilshere himself has been raring to go. We'll see if he's the same old Wilshere or if being out for roughly a year has slowed down or affected his football.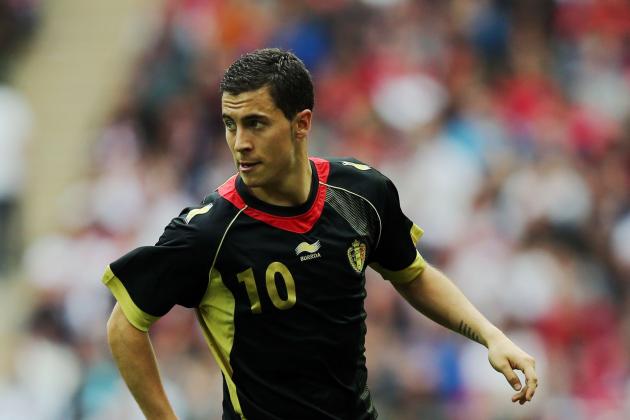 Ian Walton/Getty Images

Who else could it be?
Lukaku's international team-mate, Eden Hazard, completed his move to Chelsea back in May 2012 for roughly £32 million, and as a result has been heavily scrutinized and discussed in the media for his reasoning for joining Chelsea and his potential impact at the club.
In truth, despite his excellent resume with Lille in Ligue 1, this will be a career-defining year for Hazard. If he really is as good as he has been hyped up to be, he should set the EPL alight, and lead Chelsea to success in the process.
If he isn't, then Chelsea will likely struggle, Roberto Di Matteo will likely be fired, and Chelsea will be back to square one.
Much has been said of Hazard, and he'll have to prove he deserves all the hype. I for one know that I'll be tuning in regularly to see how he does with the big task in front of him.