Liverpool Transfers: Why Losing out on Sigurdsson Is Not a Big Deal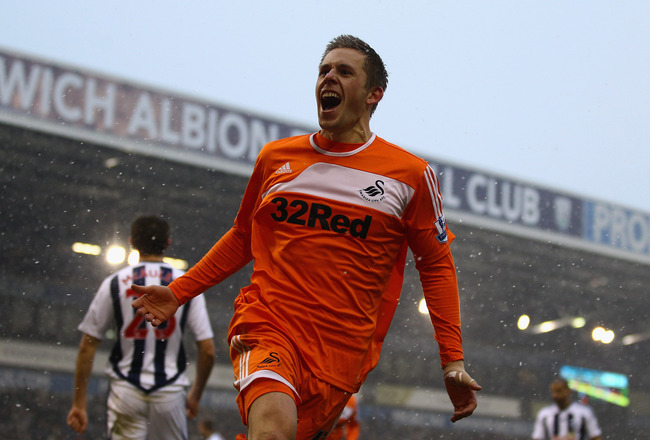 Julian Finney/Getty Images
ESPN made the news official yesterday that Icelandic international Gylfi Sigurdsson is headed to Tottenham.
In this case, White Hart Lane beats out competing offers from Swansea City and Liverpool after weeks of speculation.
Sigurdsson initially came to Liberty Stadium from Hoffenheim on a December loan. He impressed under Brendan Rodgers with seven goals in 19 appearances. The rapid adjustment to life in England made him a hot commodity with the Bundesliga side happy to sell.
The Swans were the initial front-runners, and even went so far as to agree a £6.8m fee to make the move permanent. However, with Rodgers' appointment at Liverpool, proceedings faltered.
The Reds then became favorites to land the midfielder. However, Rodgers deemed the player's wage demands too high. Subsequently, he becomes Andre Villas-Boas' first signing as Spurs manager.
Thus the question becomes: Did Liverpool make the right decision in walking away? I say yes; here are a few reasons why.
1. Character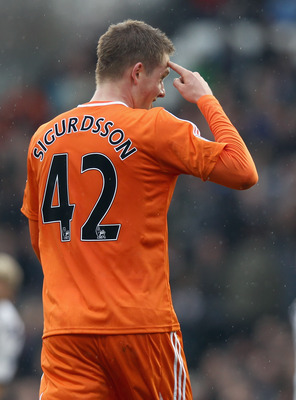 Ian Walton/Getty Images
When assembling a side, Brendan Rodgers has been quick to point out that both character and talent are equal parts of the equation.
His own actions defend that point. When the Fenway Sports Group (FSG) first began its search for a new manager, the Northern Irishman refused to get caught in the initially wide net. He declined a chance to interview until it was clear that interest had past its adolescence.
The moved showed class. By turning down what was then a very long "short list," he kept Swansea's name protected.
Rodgers' submittal to a "player protection" clause is additional evidence in his defence. Essentially, he has to wait a year to take anyone under contract from his former club. A clause of this kind is by no means the norm in modern football.
He could easily have targeted the likes of Joe Allen or Scott Sinclair. Doing so would not have been deemed peripheral to the mainstream. But he did not, and in so doing, kept the kindling away from the bridge.
In short, Rodgers treats clubs in a moral fashion. Naturally, he expects players to buy into his brand and act accordingly.
Thus, when Sigurdsson essentially put three clubs into a bidding war, it likely did not impress his former manager.
The Icelander had three options. There was the team he knew, the manager he knew and the club he knew could pay the most.
Liverpool are not the richest club in England. Perhaps in this case then, it is best to pass on individuals exhibiting the early signs of a mercenary.
2. Hoffenheim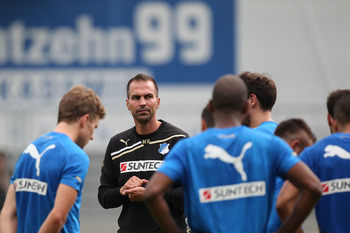 Thomas Niedermueller/Getty Images
Hoffenheim finished last season 11th in the Bundesliga.
This a club where Ryan Babel—yes, that Ryan Babel—not only starts, but astoundingly actually contributes to the offense. In 2011/12, he was their fourth-leading scorer.
And yet Gylfi Sigurdsson was deemed surplus to requirements. Thus, to claim that his star has arrived after four solid months in the Premier League might be a bit hasty.
Perhaps this red flag is worth heeding.
3. Price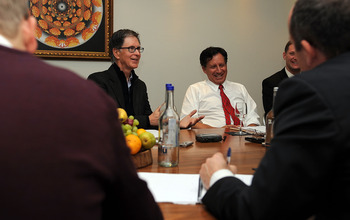 Christopher Lee/Getty Images
As the Guardian notes, Sigurdsson requested a fee of over £40,000 per week.
Further, ESPN states that Swansea had agreed an earlier £6.8 million fee for the midfielder. Therefore, we can pretty safely assume that Tottenham paid at least that amount to secure his services.
Rodgers feels that the combination did not make sense financially.
"I know what the market was and I was not prepared to pay anything over what I knew had already been agreed before," he says.
In the best case scenario for Tottenham, they get a bargain on the heir apparent to Luka Modric. More likely, Sigurdsson is a solid squad player for years to come.
Liverpool have depth in the midfield, with Henderson, Adam, Aquilani, Spearing and Shelvey all vying for one starting spot. Perhaps their money is better spent on a definite starter.
4. Rodgers' Reaction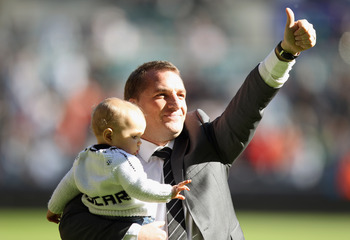 Bryn Lennon/Getty Images
Upon hearing the news that Sigurdsson is heading to North London, Rodgers responded as follows.
"Liverpool would have provided Gylfi with a wonderful opportunity to perform with a manager that he knew at a club that is a footballing institution. But he has decided to go to Tottenham for whatever reason. I wish him all the best and he is a good kid. There is no ill feeling. We have got other targets and we will move on."
Take that with a grain of salt. Certainly, he may just be putting on his best poker face. This could be the posturing of a man embarrassed at a missed opportunity eager to make a good first impression.
However, I think the Guardian got it right when they described the manager as "relaxed." At the end of the day, I think he understands the player and his potential better than anyone at this point. To me, his comments are reassuring.
That is not going to stop the press from speculating. Even writers here have been quick to make "bold predictions" about Sigurdsson's future success.
Yet amidst the clamor, I think there is some solace in Rodgers' reserved response.
Like a man reflecting on the aftermath of a bad breakup, perhaps Merseyside can find positivity in the notion that there are other fish in the sea.
Keep Reading

Liverpool: Like this team?