Germany vs. Italy: Defense Won't Carry Italians to Euro 2012 Finals
June 28, 2012

Michael Steele/Getty Images
Italy has ridden their strong defense and goalkeeping to the semifinals of the 2012 UEFA European Football Championship. However, that wont be enough to get them into the finals.
As impressive as they've been, the Italian side simply won't be able to keep Germany off the board. Italy's conservative offense won't be able to keep pace with Germany, allowing the German side to avenge their 2006 World Cup semifinals loss.
The Germans have scored nine goals thus far in the tournament. That figure is a bit bloated with a four-goal effort against Greece to start the knockout round.
They beat Portugal 1-0 to start group play and followed with 2-1 wins over Netherlands and Denmark. They are yet to trail an opponent in Euro 2012.
Italy, on the other hand, has struggled to score. They have just four regulation goals in the tournament and have just one full-time win...a 2-0 victory over Ireland in group play.
Italy won't have the luxury of riding their strong defense to the finals. 
The German team has goals from seven different players. Mario Gomez is the only player with multiple net shots, scoring three times thus far in the tournament.
As impressive as their offensive balance is, one player is still a threat to break out against Italy.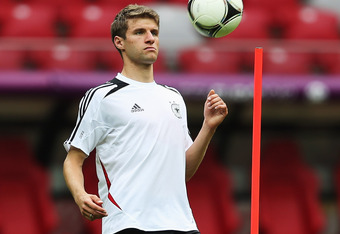 Joern Pollex/Getty Images
Thomas Muller is yet to notch a point in Euro 2012. He won the Golden Boot in the 2010 World Cup, scoring five goals and three assists.
The brains behind the German attack is Mesut Ozil. While not a flashy player, he has the vision to anticipate openings and create scoring plays.
Germany played somewhat conservatively on the pitch during group play. They broke out of that mold against Greece with Ozil leading the way. He had two assists and was instrumental in their commanding win.
Germany has been improving as a team during the tournament and will provide too much offensive push. Italy will again look to clog things up at midfield, but Germany is too skilled and active to surrender the ball on counterattacks. 
While Germany won't be able to match their scoring effort against Greece, they won't need to. A two-goal effort will be enough to hold off an Italian team that couldn't score against a struggling England side in their quarterfinals match.
Ozil will control the pace on the pitch, knowing he just needs to find a few scoring opportunities for his teammates. He will also recognize his side is younger and more fit.
Germany should look to move the ball often early in the match and wear down the Italian side. This will add to Italy's scoring concerns and open up scoring opportunities for Germany in the second half.