World Football: 25 Worst Tempers in World Football
June 27, 2012

Laurence Griffiths/Getty Images
Before delighting us at this year's Euro 2012, Andrea Pirlo used to dazzle us with his technical abilities at Milan where he formed a formidable partnership with great ball-winner and loose cannon Gennaro Gatusso. 
Gatusso lashed out at everyone that surrounded him, and often times, his mere presence led to blown out tempers and escalated fights. Here are some other select individuals who possess this trait. 
Mario Balotelli
Mario Balotelli is certainly one of the most talented forwards out there. At a relatively young age, he has established himself as one of the premier football talents.
However, his temper tantrums might get the best out of him, and his career might just become as short as his temper. The mercurial Italian has been the target of several high-profile media stories already—from throwing darts against youth players to several bust-ups with his own teammates (Micah Richards and Yaya Toure). 
Joey Barton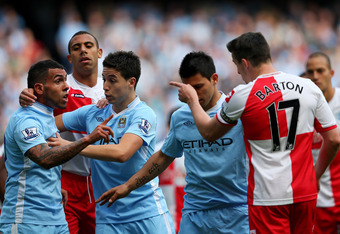 Alex Livesey/Getty Images
Not a surprise inclusion, Joey Barton is renowned for his thuggish behaviour more than his footballing exploits. His temper cannot be contained, and he poses a threat to anyone in the vicinity.
Recently, he was stripped of his captaincy and fined six weeks of wages for his conduct against Manchester City—assault on Carlos Tevez, followed by altercations with Vincent Kompany and Sergio Agüero, on the last day of the EPL.
Wayne Rooney
Manchester United and England talisman, Wayne Rooney, is without a shadow of a doubt one of England's finest players. Through the years, he has matured tremendously, but we still get glimpses of his temper now and again.
Most recently, his assault on Montenegro's Miodrag Dzudovic saw him banned for the first two games of the ongoing Euro 2012. 
Similar behaviour in the 2006 World Cup, got him sent off against Portugal, where he stamped upon Ricardo Carvalho and shoved Cristiano Ronaldo to the ground. England went on to lose the game on penalties. 
Steven Gerrard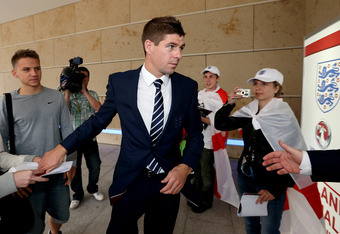 Scott Heavey/Getty Images
Steven Gerrard proved instrumental to the English side during Euro 2012, being involved in all their major plays. Unsurprisingly, the lacklustre game against the Italians was the result of him not being afforded enough space to dictate play.
Despite all his wonderful playmaking, Gerrard also has a short fuse. In 2008, he was accused  of assault at a nightclub. Although he pleaded not guilty and was eventually cleared off his indictment, Gerrard's other temper problems have been well documented. 
Didier Drogba
Didier Drogba once uttered quite the obscenities in front of millions worldwide after Chelsea were famously robbed by Tom Henning Ovrebo in a semi-final encounter with Barcelona. 
Nigel de Jong
Dutch Nigel de Jong is one of the toughest tacklers out there. Admired for his resiliency and positioning ability, de Jong is certainly one of the best defensive minded midfielders out there.
However, his career has not been without controversy. One need not look beyond Nigel de Jong's rib-shattering, kung-fu kick on Xabi Alosno in the final of the 2010 World Cup.
And his tackle on Hatem Ben Arfa resulted in a broken left-leg that almost ended the Frenchman's career. 
John Terry
John Terry is an astute defender. There is absolutely no doubting that.
However, there is also no doubting that this man is a loose cannon. His most recent outburst in the semi-final against Barcelona nearly cost them a place in the final. 
Arjen Robben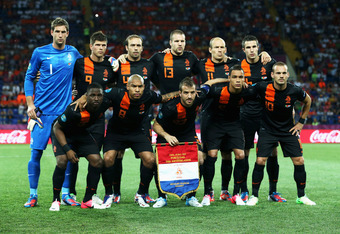 Julian Finney/Getty Images
What do Philipp Lahm, Franck Ribery and Thomas Müller have in common? Besides playing for Bayern Munich, all of them have had at least one altercation with the speedy winger and eternal ball hog, Arjen Robben.
Pepe
Euro 2012 has established Pepe as one of the best players of the tournament. Only Mats Hummels of Germany has come close to his in defensive resilience during the competition. He has looked sharp, made crucial interceptions and tackled efficiently. Not to mention the swiftness with which he has moved the ball around.
Perhaps the Euros will finally make him famous for his defensive abilities rather than his uncontainable temper and diving antics.
Let's hope we don't see this again from Pepe. Or This.
Kevin Davies
100 Yellow Cards. Enough Said. 
Patrice Evra
In an age where quality full-backs are a rarity, Patrice Evra has proved himself to be one of the best left-backs in the world. He combined defensive and offensive duties and proved to be an integral member for both Manchester United and France.
His work-ethic and skills earned him captaincy for both club and country, and while he has been a great leader in the absence of Nemanja Vidic for Manchester United, he was abysmal as a captain for the French.
After Nicolas Anelka was sent home by coach Raymond Domenech following a bust-up, Patrice Evra famously rallied up his entire team against the coach. The team refused to train and went home after the group stages, bringing embarrassment to the entire nation. 
Carlos Tevez
Often times, temper gets the better of Carlos Tevez. The man complains incessantly about everything.
His worst temper tantrum, however, came when Manchester City visited Bayern Munich, and during the most crucial of times, he refused to warm up and enter the field as a substitute. 
Francesco Totti
Rome prides itself on two things—it's architecture and Francesco Totti.
However, the Roma captain has proved at times how short-tempered he can be. Not the most subservient of players, Totti has been a problem child for several coaches.
And there is also this incident involving Balotelli, where he just lashes out at Mario and receives a straight red-card. 
Sergio Ramos 
The second of a trio of Real Madrid stars, Sergio Ramos is certainly a red-card magnet. Since the 2005-06 season, he has been sent off on 14 occasions. 
Mark van Bommel
Mark van Bommel, during his hey-days, was an expert tackler and ball-winner. Highly decorated for both club and country, he was also the first non-German captain of FC Bayern Munich.
But the Dutch captain has been subject to a lot of controversy over his actions on the pitch. He was the first player to be booked in the "Battle of Nuremberg" and his foul-play in the 2010 World Cup, especially in the final against Spain, earned him a fair share of detractors. 
Lee Catermole
Another card magnet, current Sunderland player Lee Catermole has received cards in almost half of the games he has featured for The Black Cats. 
Luis Suarez
Despite a fair number of controversies, Luis Suarez remains a talented forward and play-orchestrator.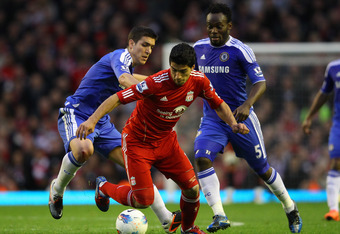 Alex Livesey/Getty Images
Nevertheless, the fact does not change that he has a notorious temper. Did you know that Luis Suarez once bit another player's nose? 
Javier Mascherano
Another great ball-winner on this list, Javier Mascherano is another player with a temper problem.
He once famously served a three-match ban after protesting his then teammate Fernando Torres' yellow-card in a game against Manchester United in 2007.
He also, supposedly, forced a move to Barcelona, even refusing to play for the club in a Europa League tie. 
Marcelo
Often compared to Roberto Carlos, Marcelo has proved himself to be one of the best players in his positions. Having garnered praise from illustrious greats such as Diego Maradona and Paolo Maldini, Marcelo will probably be an instrumental member of the Real Madrid squad that seems destined to knock Barcelona completely off the perch.
Let's just hope they bring down Barcelona in a somewhat dissimilar way than the way that Marcelo brings down Cesc Fabregas here. This incident culminated to an all-out brawl between Real Madrid and Barcelona, and drew the ire of football fans from all over the world. 
Nicolas Anelka
Did we mention the disgrace that happened with the French team started out with Nicolas Anelka being unable to control his temper?
Robin van Persie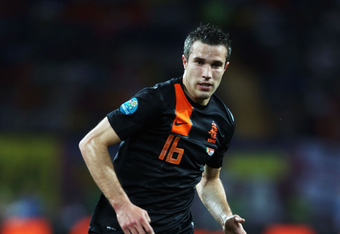 Ian Walton/Getty Images
These days, Robin van Persie has established himself as one of the best strikers in the world. Arsenal are now trying desperately to hold on to him, while cash-rich clubs such as Manchester City seek to pry him away.
However, before he was an established striker, few people were willing to take a risk on Robin van Persie, as he was known to have quite the temper. Only last season, he was embroiled in a delicate situation with Newcastle United where he got into a bust-up with fellow countryman Tim Krul. 
Zlatan Ibrahimovic 
After being bought by Barcelona, Zlatan Ibrahimovic's temperamental attitude was too much to handle for Pep Guardiola. He was eventually shipped back the Serie A after a disappointing season. 
Franck Ribery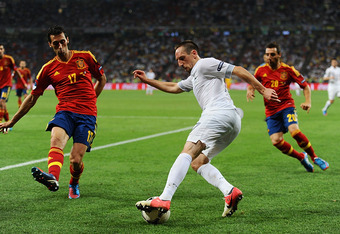 Laurence Griffiths/Getty Images
Franck Ribery and Arjen Robben are perhaps the major reason that saw them progress through to the finals of this year's Champions League. Their partnership saw them terrorize opponents on either flank, and their long balls into the box proved to be the undoing of numerous teams.
Nevertheless, on-field camaraderie does not necessarily translate once the pitch is vacant.
During the Champions League semi-final encounter with Real Madrid this season, Ribery punched Robben straight in the face. The reason for the lashing out? Ribery had been denied an opportunity to take a free-kick by Robben. 
Emmanuel Adebayor
The last of our problem child, he is certainly not the least.
Such was his attitude problem that he demanded ridiculously high wages after one successful season at Arsenal.  
Follow me on twitter @BrenGoetze