Spain vs. France: Scoring the Key Duels in Euro 2012 Quarterfinal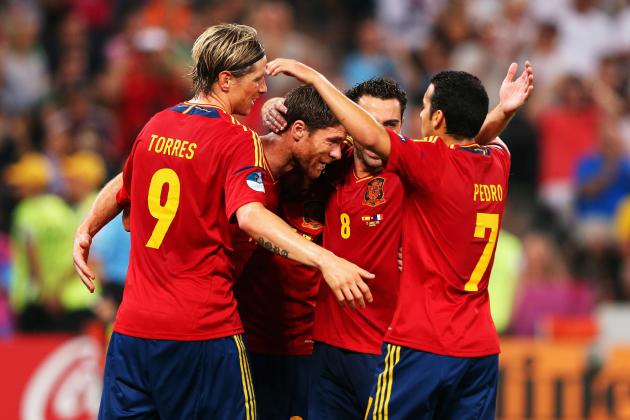 Alex Livesey/Getty Images

Chelsea may have stopped Barcelona's "tiki-taka" football in the Champions League, but on the international stage, no one has yet managed to stop Spain's possession-oriented football, at least not at Euro 2012.
In what was a rather dour, controlled affair, Spain rather comfortably beat France 2-0, and secured their place in the Euro 2012 semifinals against Portugal.
France had some good moments in the second half against Spain, but their substitutions came too late, and the damage done in the first half could not be repaired. They could've been more dangerous, but ultimately, tactical errors cost them the chance to dethrone Europe's current kings.
Where exactly was the damage done, and what matchups won this game for Spain? We'll discuss just that in the coming slides.
Begin Slideshow

»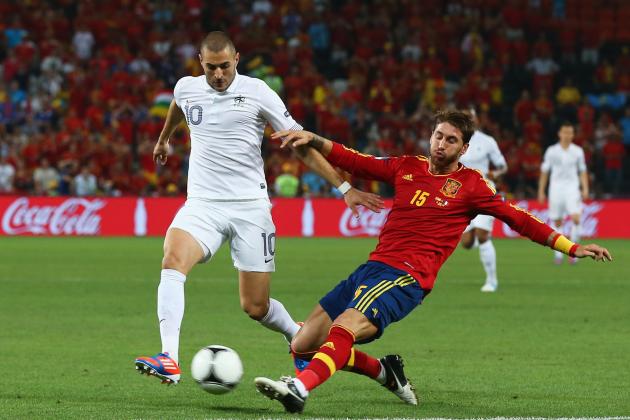 Martin Rose/Getty Images

The fact that both Karim Benzema and Sergio Ramos play at the same club (Real Madrid) certainly played to Ramos favor, because Ramos had Benzema figured out for most of the night.
Benzema succeeded in getting Ramos carded, but for most of the night Ramos was either in the right position to deny Benzema the ball, or keeping close contact with the striker to tackle him when the time was right.
Benzema toiled all game long, but at the end of the day he had little more than two off-target shots to show for his work.
Ramos on the other hand had two successful tackles, one interception, and six clearances at the end of the game. Pique occasionally helped out with Benzema, but he had little to do because Ramos had the Frenchman in his back pocket for much of the game.
Winner: Sergio Ramos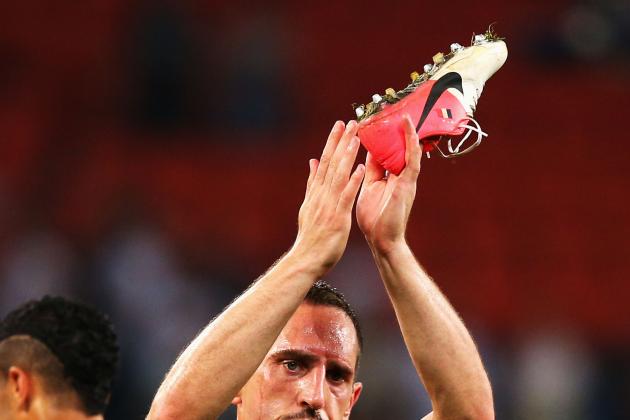 Alex Livesey/Getty Images

Franck Ribery was one of the few, if not the only French player to show up to play against Spain today. It's a real shame that terrible tactics from Laurent Blanc and a poor showing from his teammates cost him the game.
Though he was repeatedly dispossessed throughout the match, he was one of the few French players who possessed the skill or courage to dribble the ball at the Spanish defenders, and his seven crosses were practically France's only hope of scoring for much of the game.
That isn't to criticize Alvaro Arbeloa too much though. Arbeloa contributed practically nothing on offense, but generally he kept Ribery in check, and didn't allow him to create any clear-cut chances for himself or his teammates.
He made three successful tackles, and two clearances, though neither found a Spanish player.
If I had to pick a winner, I'd go with Ribery, but it's close enough for me to call this one a draw.
Winner: Draw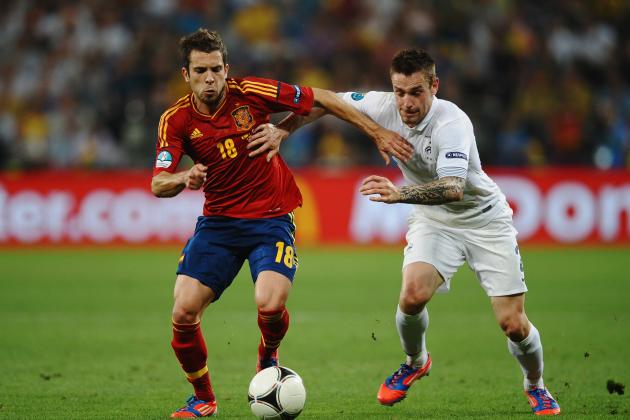 Laurence Griffiths/Getty Images

Remember those "tactical errors" I was talking about earlier, made by French manager Laurent Blanc? Here is the biggest one.
Anthony Reveillere's inclusion was the single worst decision made by Blanc at all of Euro 2012. The 32-year-old hasn't been involved with the national team in some time now, and his inexperience (and age) showed.
He was badly beaten for pace by Jordi Alba on the first goal, allowing him to easily creep behind the defense and find Xabi Alonso unmarked in the box.
Then, to complete his awful return to the national team, Reveillere conceded a penalty to Spain in the closing minutes of the game after a good but simple piece of trickery got him through the French defense.
Alba, on the other hand, showed why he's so highly rated by Barcelona this summer. His passing was excellent, he made three tackles and three interceptions, and he was the most fouled player in the game. And on top of that all, he provided the assist for the opening goal.
Blanc has made a name for himself as a coach for being a man who understands tactics and the way the game works, but this will surely be a massive black spot on his resume.
Winner: Jordi Alba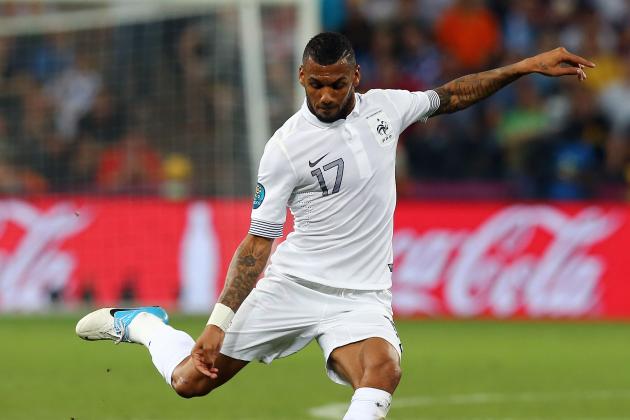 Martin Rose/Getty Images

Laurent Blanc's tactics were conservative ones meant to pressure Spain's attackers. Ironically, they ended up providing Spain with way too much space.
The decision to include Florent Malouda and move Mathieu Debuchy up to right midfielder was a move that only hurt France. It left France's midfield even less protected than it normally would be against Spain's attackers.
As such, instead of taking advantage of Spain's supposed lack of width, France's over-distribution to the wings was taken advantage of by Spain. Spain was able to pass the ball around with ease in midfield, and Xabi Alonso was granted acres of space, which ultimately allowed him to score his first goal.
Yann M'Vila did almost nothing defensively; he finished the game with zero tackles, zero interceptions, zero clearances. But the truth is, he was left stranded by his coach.
Often, his only choice when he got the ball was to kick it up-field in the hope that it may bounce favorably or that Benzema or someone else may get a favorable touch on it. Obviously, this desperate strategy failed.
Winner: Spain's Midfield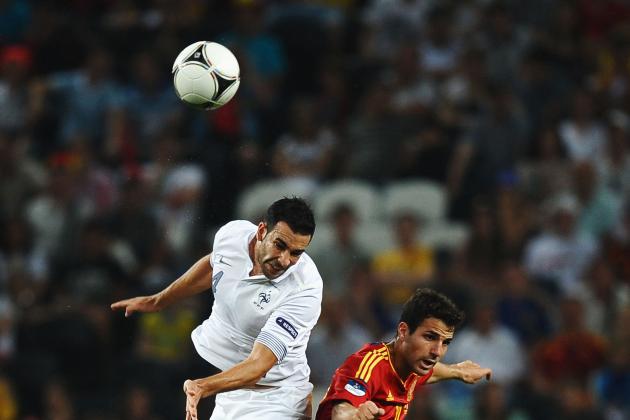 Laurence Griffiths/Getty Images

One thing that should be noted is that not everything went according to plan for Spain. The team got only three shots on target, and only controlled 60 percent of possession, which believe it or not, isn't that great for Spain.
Spain's relative ineffectiveness up front came from the fact that France's centre-backs actually played pretty well.
Laurent Koscielny showed why he's arguably France's most talented centre-back with an outstanding display. Three tackles, three interceptions, five clearances, three blocks, three offsides won, 91 percent passing—Koscielny packed the stat sheet from top to bottom.
He was even a threat at times from set pieces.
Adil Rami was less reliable than Koscielny, especially when he was left completely bamboozled by Pedro in injury time. However, he too had a decent game, recording four clearances, a tackle and an interception, among other positive stats.
Fabregas, on the other hand, took one off-target shot, and wasn't able to do much else. He was substituted in the 67th minute for Fernando Torres.
France's centre-backs were excellent, and arguably could've marked Xabi Alonso better on Spain's goal, but they did well. They outperformed Fabregas in my opinion.
Winner: Adil Rami and Laurent Koscielny