Power Ranking the Biggest Underachievers in World Football History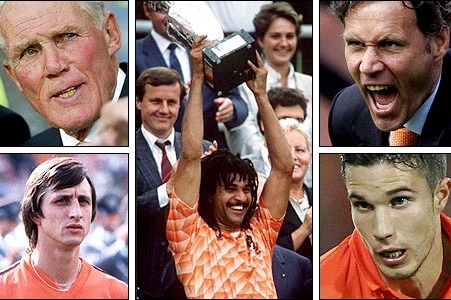 In football, just as in many sports, fans often reflect and think back to what could have been.
What could have been for England in 1986 had 'God's' hand not reached out and tapped the ball beyond Peter Shilton.
What could have been for Holland had Arjen Robben's breakaway attempt not been denied by the right foot of Iker Casillas in South Africa.
For every success on the pitch, there is always a failure. The losing team—often overlooked as we celebrate the achievement of the victors—is forced to sit back and ponder, "what if?"
Many times, that losing team is one that was expected to achieve greatness.
Granted, teams that are supposed to win do just that on many occasions. But every once and a while, the teams expected to come away victorious falter, some at the final hurdle, while others don't make it that far.
For some nations, that has happened more often than they would like.
The list is as long as it is memorable, and extends beyond teams to individual players as well.
For these supremely talented footballers, the road to being branded as an underachiever requires perfect storm of talent, expectation and disappointment. They occasionally brought us to our feet with their displays of brilliance, but more often than not left us craving more.
Whether a team or individual player, all of the following had the potential to be amongst the absolute best, but were unable to deliver what was expected of them. Some even managed to produce for a short period of time, but should have accomplished so much more.
Here are the top 10 underachievers in world football.
Begin Slideshow

»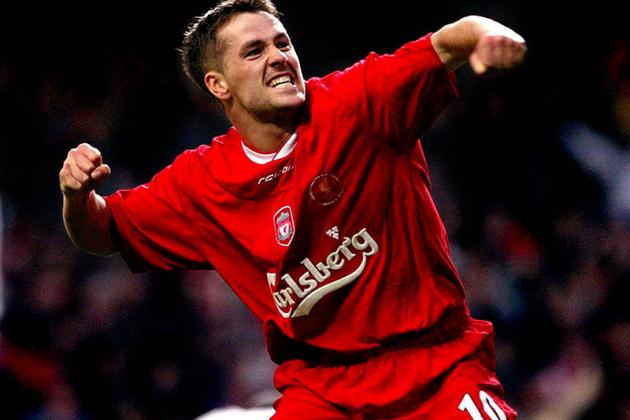 A player who has battled numerous injuries throughout his career, Michael Owen must always wonder what he could have achieved had he not spent so much time watching the game in street clothes.
When he scored against Argentina with a brilliant solo effort at the 1998 World Cup in France, English fans thought they had found the man capable of leading the line for their country for years to come.
When he was 28 years old, most people thought the exact same thing. At that point in his international career, the native of Chester, England, had already bagged 40 goals for his country, leaving him just nine shy of the legendary Bobby Charlton for most all-time with the Three Lions.
Fast-forward to the present and Owen is now 32, and everything has changed.
Everything, except for his international goal tally.
The combination of a move to Real Madrid—where he saw limited action—and a torn ACL during the 2006 World Cup have seen Owen fall almost entirely off the map, and have let fans wondering what he could have accomplished.
Now looking for a new club after being released by Manchester United (where he was languishing on the bench), the striker's slow decline seems to be all but complete.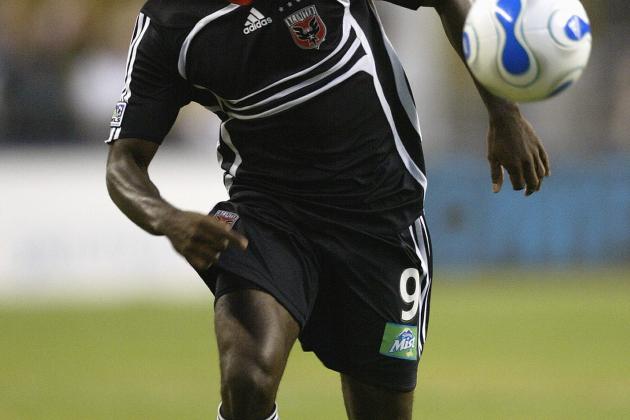 Otto Greule Jr/Getty Images

Freddy Adu was labeled as the future star of American soccer when he was only 14 years old. Quite the pressure for a kid who is only just getting used to life as a teenager.
When a 14-year-old Adu signed a professional contract with DC United in 2004, all eyes were fixed on the Ghanaian-born attacker, even when he was simply watching the match from the bench.
He was supposed to become a star not only at home, but on the international stage as well, paving the way for young American players to make an impact with European clubs.
Unfortunately, it seems the weight of the expectations was simply too much to handle, and understandably so.
Since becoming a professional footballer, Adu has bounced around numerous clubs, unable to make a significant mark anywhere beyond the confines of RFK Stadium in Washington, D.C.
In the time it takes you to read his club history, you could probably get through a novel or two, such has been his inability to lock down a key role at a club outside of the MLS.
His trade from DC United to Real Salt Lake in 2006 was followed by spells at Benfica, AS Monaco, Belenenses, Aris and Caykur Rizespor, the four final clubs all taking Adu on loan before sending him back to Benfica.
At only 23 years of age, Adu still has plenty of time to craft a successful career for himself. Currently a member of the Philadelphia Union, the attacker may well end up becoming an established player in Europe one day.
But it seems very unlikely that he will reach the heights that were projected of him back when he made his MLS debut. While the expectations heaped upon him by pundits and fans were unfair—after all, we're talking about a 14-year-old at the time—there is no denying that he will not have the glistening career that many thought he would.
More than anything else, Adu's career is the prime example of the dangers involved in expecting too much out of a youngster too soon.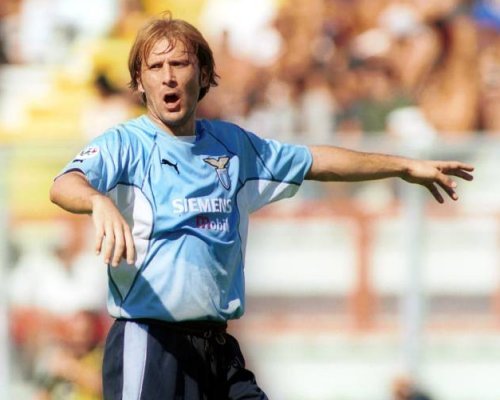 When Gaizka Mendieta completed a massive a €48 million move from Valencia to Lazio in 2001, hopes were high in the Italian capital that the Spanish midfielder could help replace some of the creativity and flair that was lost with the departures of Juan Sebastian Veron and Pavel Nedved.
After all, the Bilbao native had just captained Valencia to consecutive Champions League finals in 2000 and 2001, and was also named Europe's best midfielder in each of those seasons.
The Basque playmaker had the ability to score and create highlight-reel goals, and he combined that technical quality with the work rate of a box-to-box midfielder.
That was the type of player that Lazio expected when they dished out the mammoth transfer fee for Mendieta.
At the time of the signing, Lazio boss Dino Zoff had this to say about his new acquisition:
"Mendieta is an excellent player, with a great temperament and one who is very strong both technically and physically," the former goalkeeper told www.gazzetta.it. "A player such as him can certainly make all the difference to a team."
As it turned out, Mendieta was unable to make any difference at all.
His failure to adapt to the Italian Serie A and inability to replicate the form he showed with Los Che resulted in a miserable campaign that saw him make only 20 appearances with his new club, scoring no goals in the process.
He would go on to have a brief spell at the Camp Nou with Barcelona before closing out his career with Middlesbrough.
While he did have a stellar, if unspectacular, stint in England, Mendieta came nowhere close to living up to his enormous price tag—which, in fairness, is not entirely his fault.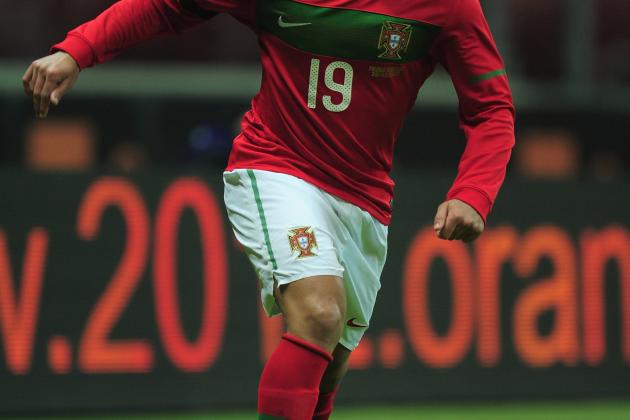 Jamie McDonald/Getty Images

Both Cristiano Ronaldo and Ricardo Quaresma made a name for themselves while playing for Portuguese giants Sporting Lisbon. During the 2001-02 campaign, both youngsters managed to find their way into the first team, showing immense potential along the way.
Portuguese fans were delighted with the thought that one day, their national team would have both men terrorizing defenders with their incredible pace, trickery and shooting ability.
Today, one of those two men is widely considered to be the second best player on the planet—depending on who you ask, he may in fact top the list.
The other is Ricardo Quaresma.
At one point, it was the latter that showed more potential and a greater ability to develop into a world-class winger. His raw pace, great dribbling skill and flair on the ball left many clubs desperate to secure his signature and turn him into the focal point of their attack.
But after moving to Barcelona before the 2003-04 season and falling out with manager Frank Rijkaard, the winger found himself back in the Portuguese top flight, this time with Porto.
Another impressive stint followed, as Quaresma once again demonstrated the skill and ability that had made him such a hot commodity during his time with Sporting. His performances for Porto won him the league Player of the Year award in 2006, which paved the way for another transfer.
But his second big-money move, this time to Inter Milan, yielded similar results, as the Lisbon native spent almost all of his time languishing on the San Siro bench. A loan move to English giants Chelsea didn't help his cause, either.
Whether it's his perceived lack of work ethic in training or his propensity to get caught up attempting one too many tricks on the ball, Quaresma has never been trusted by his managers to become the main attacking option at a major European club.
Quaresma's record of success within his native country cannot be denied.
But it is that success that ultimately finds him on this list, given his inability to replicate that form anywhere else across Europe.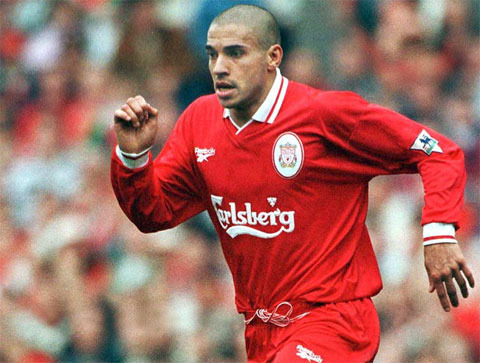 At the height of his powers, "Stan the Man" had everything you could possibly want in a striker. At 6'3", he possessed great size and strength, which was coupled with incredible pace and an ability to find the net with both feet.
Together, those talents should have made him one of the best strikers of his generation. For a while he looked able to live up to his talent, scoring 41 goals in 65 matches for Nottingham Forest between 1993 and 1995
That secured him a then-record £8.5 million transfer to Liverpool ahead of the 1995 season, where he continued to give defenders nightmares alongside fellow striker Robbie Fowler.
But while he was more than capable of using his head to score goals, it was that same body part that caused him all sorts of problems, as his mental fragility and constant mood swings ultimately led to his downfall as a footballer.
After two seasons at Anfield, it was clear that Collymore's antics had alienated both his manager and his teammates, and he was swiftly shipped to Aston Villa in 1997. He did little to prove to the Liverpool brass that they had made a mistake.
That transfer kick-started the sharp decline of Collymore's career, as he struggled to find success at Villa before failing completely at Fulham (loan), Leicester City, Bradford City and Real Oviedo. After scoring only 14 goals combined with these clubs between 1997-2001, the once-feared striker hung up his boots at the age of 30.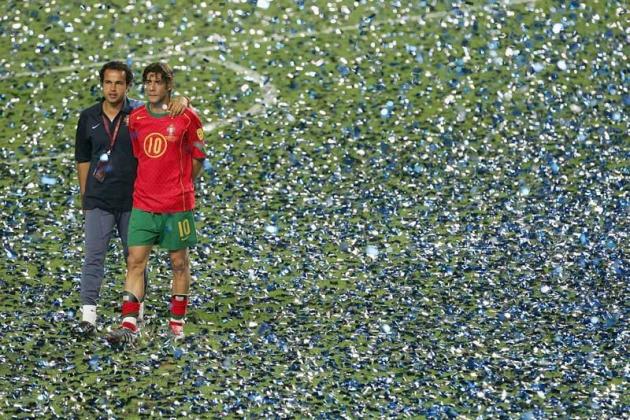 Always a bridesmaid, never a bride.
That is the feeling for Portuguese football fans, both young and old, who have watched their national team come close so many times on the biggest stage, only to fall short at major international tournaments.
Despite never participating in a World Cup Final, the Selecção have reached the semi-final on two occasions, first in 1966 and then once more in 2006.
For a nation that has seen the likes of Eusebio, Luis Figo, Rui Costa, Deco and many more talented individuals don the national team jersey, that is simply not good enough.
But it is on the continent where Portugal has experienced their greatest heartbreak, famously succumbing to the Cinderella story that was Greece in the final of the 2004 European Championship.
The fact that the tournament was played on their own soil surely made it more difficult to swallow for the Portuguese, who were beaten 1-0 in Lisbon thanks to an Angelos Charisteas goal.
The list of disappointments for Portugal also includes two semi-final appearances at the European Championship, the first of which coming in 1984, before a second final-four exit in 2000.
All of that adds up to a list that is excruciatingly long for Portuguese fans; many of whom expected the drought to end during the country's 'Golden Generation' of talent that won consecutive FIFA Youth Championships in 1989 and again in 1991.
With that era having come to an end with the international retirement of Figo, Rui Costa, Nuno Gomes and a few others, the burden now falls upon the likes of Nani, Fabio Coentrao and (most famously) Cristiano Ronaldo to usher in a new golden generation, and lead the Iberian nation to its first ever victory at a major competition.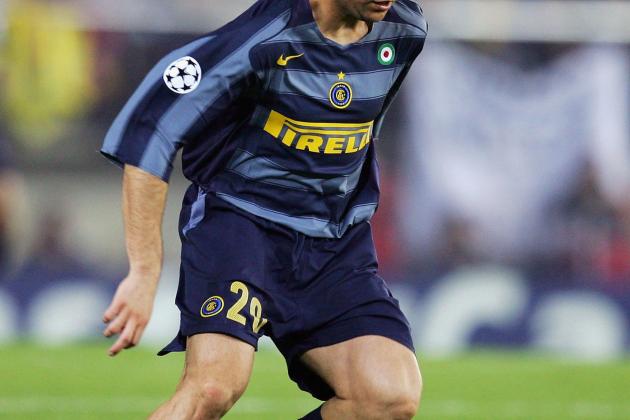 Denis Doyle/Getty Images

Alvaro Recoba should have dominated Serie A for years with his knack for drifting beyond defenders, capacity to pick out inch-perfect passes for his teammates and expertise at bringing the crowd to its feet with his incredible shooting ability.
Blessed with a brilliant left foot, the Uruguayan displayed all of those qualities in abundance during his first two years with Inter Milan.
In fact, the Montevideo native made a name for himself on his club debut against Brescia in 1997, scoring two incredible goals in the final 10 minutes of the match after being introduced as a substitute.
The sky looked to be the limit for El Chino, until it began to cave in on him.
After being suspended for four months in 2001 after it was discovered that he was using a fake passport, Recoba struggled to show the glimpses of brilliance that he looked so easily capable of during his early days in Serie A.
Injuries and a lack of playing time saw Recoba leave Inter, as he became frustrated with his diminishing role at the club. Despite being paid a hefty salary, his managers were unwilling to put their faith in him, and when they did, he was unable to make the most of his time on the pitch.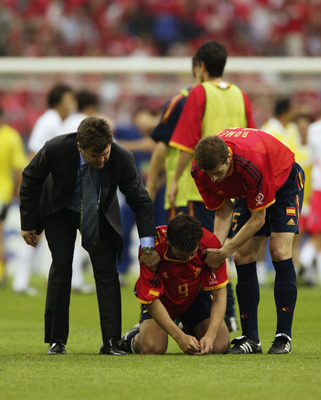 For young footy fans, Spain has always been the standard of excellence. Their unbelievable ability to keep the ball and move it quickly and efficiently around the pitch, coupled with the individual skill of each and every one of their players is a joy to behold.
But prior to their 1-0 victory over Germany in the final of the 2008 European Championship, Spain were seen by football fans as perennial underachievers. Despite producing some of the world's most talented players over the years, La Furia Roja were never able to deliver when it mattered most on the big stage.
After hoisting the European Championship on their first attempt in 1964 on home soil, the Spaniards became synonymous with disappointment at major international events.
But unlike some of the other nations on this list, Spain didn't have to worry about heartbreak at the last hurdle. They were never able to make it that far.
In fact, following a second-place finish at the 1984 European Championship, Spanish fans witnessed their teams fail to make it beyond the quarterfinal of a major tournament until the long-awaited victory in 2008, which came courtesy a Fernando Torres goal in Vienna.
Success had proven elusive, to say the least.
Perhaps it is true, maybe good things do come to those who wait. After a never-ending streak of disappointment, all Spain has done is dominate world football, adding a World Cup victory in 2010 to its ever-growing repertoire.
If they can come away from Poland and Ukraine with the Henri Delaunay trophy and become the first nation to ever win three major tournaments in succession, you can bet Spanish supporters will have forgotten about the past failures that once characterized the Iberian nation.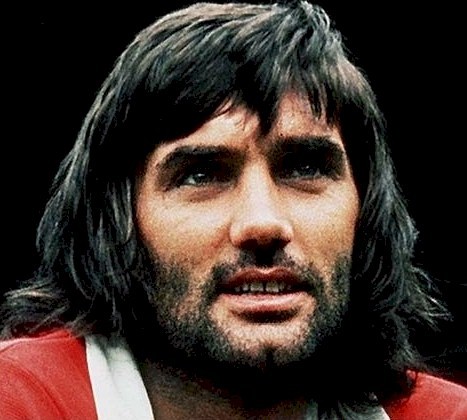 Two English First Division titles, one European Cup and a Ballon d'Or award.
The legendary Northern Irishman can boast all of those achievements, but one cannot help but think that the list should be much longer.
The Fifth Beatle—as he was famously known thanks to his combination of incredible talent along with displays of showmanship and an extravagant lifestyle—burst onto the scene with Manchester United as a 17-year-old, rising up the ranks of world football due to his ability to beat defenders with ease and find the back of the net.
In 1967-68, Best enjoyed his greatest success as a player, scoring 32 goals in all competitions en route to winning the Ballon d'Or and leading the Red Devils to a European Cup victory over Eusebio and Benfica.
Just 22 years old at the time, Best was a superstar, and he lived like one.
He began to enjoy everything that goes along with being a superstar footballer—namely alcohol and women—more than the game itself.
He still managed to score over 20 goals for United in each of the four seasons following the European Cup triumph, but that streak came to a grinding halt in 1972-73, when he found the net only six times.
Best shockingly decided to leave United after the conclusion of the 1974 season, during which he only managed to score twice. At the time, the Belfast native was only 27 years old.
What followed were various stops throughout the footballing world, from South Africa to the United States, all of which were marred by drinking problems and an overall lack of commitment.
In what should have been his prime, George Best undoubtedly had plenty of football left in him, and while he is still recognized as one of the game's most incredible talents, his career will forever be remembered as one that could have been so much more.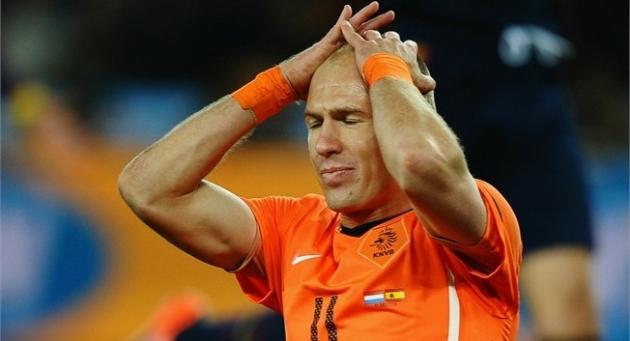 Johan Cruyff, Marco Van Basten, Ruud Gullit, Frank Rijkaard, Dennis Berkamp, Johan Neeskens, Clarence Seedorf, Patrick Kluivert, Marc Overmars, Edgar Davids, and Edwin van der Sar.
No, that is not a ridiculously attack-minded version of someone's ultimate team.
Those are just some of the world-class talents that have pulled the classic orange jersey over their heads throughout the years and represented the Netherlands.
Quite the impressive list, yet the Dutch have only been able to capture one major international trophy in their footballing history.
While Spain has been able to rid itself of their tag as perennial underachievers, the Dutch have had no such luck. Despite winning the 1988 European Championship, the Oranje, have faltered on so many occasions in which they could have been the last team standing.
Runners-up at the World Cup on three separate occasions (1974, 1978, 2010), the Dutch have also faltered at the semi-final stage of the European Championship four times (1976, 1992, 2000, 2004).
For one reason or another, Holland has been unable to find the correct team chemistry to emerge victorious, despite an abundance of talent.
Be it disagreement and hostility between players in the dressing room, or a simple inability to persevere through pressure, Dutch fans have been forced to almost expect disaster once their team reaches the business end of a tournament.
Whether they can turn things around at Euro 2012 remains to be seen, but things didn't exactly get off to an ideal start following a surprising 1-0 loss to Denmark in Group C action—although their tournament win in 1988 came after an opening-match defeat.
Holland is generally able to get beyond the group phase, failing to reach the knockout stages at a major international competition only once, that being the 1980 European Championship.
It's their performances in the knockout stages that are the problem.
Can Arjen Robben and Co. turn the tide on Holland's footballing history? Only time will tell.