Euro 2012: Republic of Ireland Player Ratings vs. Bosnia Herzegovina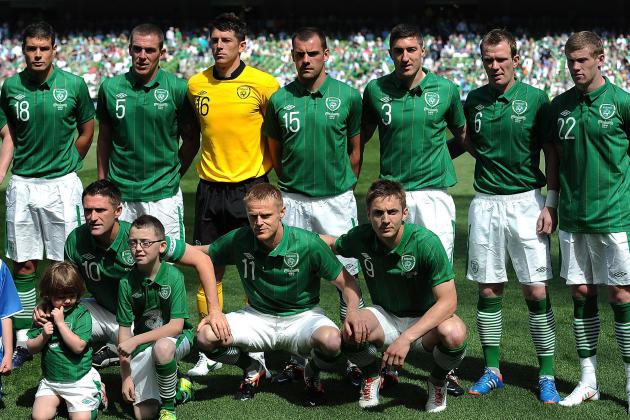 Christopher Lee/Getty Images

What did we learn about the Republic of Ireland ahead of Euro2012 that we didn't already know?
The answer is: not a great deal.
The exciting James McClean made his first start for the team and might have given manager Giovanni Trapattoni a selection headache, but we'll come on to that later.
The game was won by the Irish with a second half strike from substitute Shane Long. The Irish could have scored even more goals but for the woodwork standing in the way.
It was a good run out for a couple of fringe players but the games will only get tougher as the tournament draws near.
Lets take a look at how the players got on. If you disagree, leave a comment and give your opinion below.
Begin Slideshow

»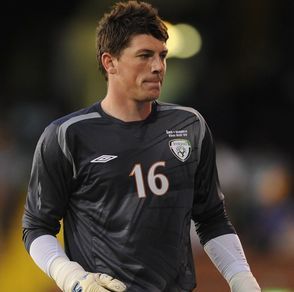 First choice goalkeeper Shay Given had been sidelined with a knee injury so back-up Westwood was given his opportunity.
If he was hoping to impress Trapattoni, he didn't, or should we say couldn't?
Unfortunately Bosnia offered very little going forward, and Westwood could only watch on as his team dominated in the sweltering Dublin heat.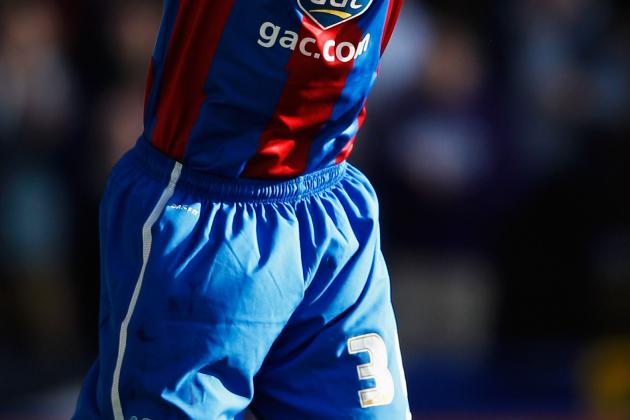 Paul Gilham/Getty Images

I don't want to sound harsh but how is Paul McShane an international footballer?
After being called into the squad during the week due to injuries, McShane was offered a starting role at left back.
Predictably, he failed to impress.
Solid at times but overall a liability with and without the ball.
Also, who was the last good player to wear a headband with long ginger hair? It just doesn't work.
Christopher Lee/Getty Images

After his midweek injury scare, man mountain centre-back Richard Dunne turned in a typically commanding performance in defense.
With Manchester City forward Edin Dzeko in the Bosnia side, Ireland would need someone who could match his physicality and Dunne did not disappoint.
If you're wondering where the 0.5 came from then look no further than the dazzling run when the Bosnia midfield was left scratching their heads at what had just happened.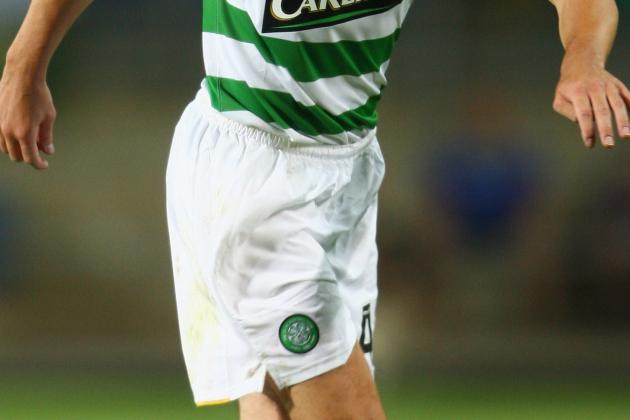 Jamie McDonald/Getty Images

O'Dea is a defender that appeared to have a bright future ahead of him when he broke into the Celtic starting 11 but his career has stuttered, and that would best describe today's performance.
Granted, O'Dea is not the worst defender in the world but he fills the average fan with zero confidence.
Some assured play at the start of the match was ruined by aimless balls to the Irish forwards, whilst also allowing the advancing Bosnian midfield far too much time on the ball.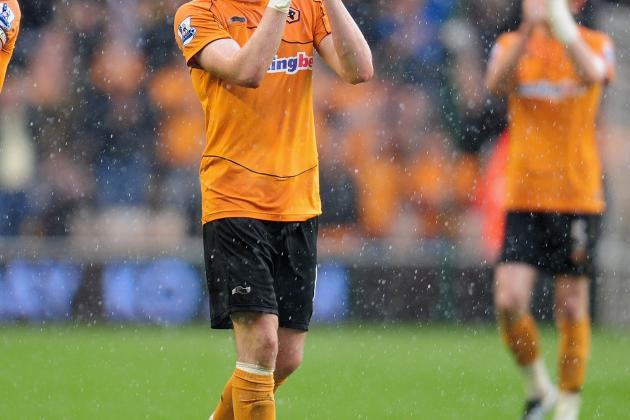 Jamie McDonald/Getty Images

Ward has had a mixed bag of an international career so far with some positive and negative performances to date.
Today was a good day for the right-back as his link up play with McClean was a feature of the game.
Don't get me wrong, he isn't in danger of being mentioned in the same breath of Ashley Cole or Phillip Lahm but for Stephen Ward, today was good.
Whilst solid at the back, he offered an attacking threat when needed.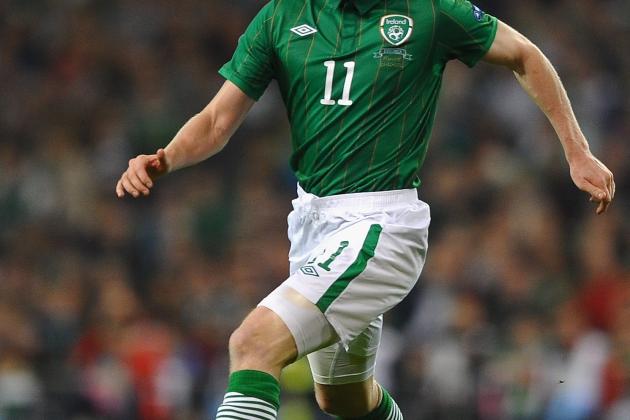 Laurence Griffiths/Getty Images

It is no secret that Damien Duff has lost a yard or 10 of pace in recent years but the veteran winger is still of great use to Trapattoni and his country.
Isolated on the right wing with no help coming from the inept Paul McShane, Duff was limited to what he could do.
Some quality link up play with Kevin Doyle almost resulted in a long overdue goal for the Fulham man but it was not to be. Replaced at half time by Aiden McGeady, Duff's starting place in Poland and Ukraine is safe, for now...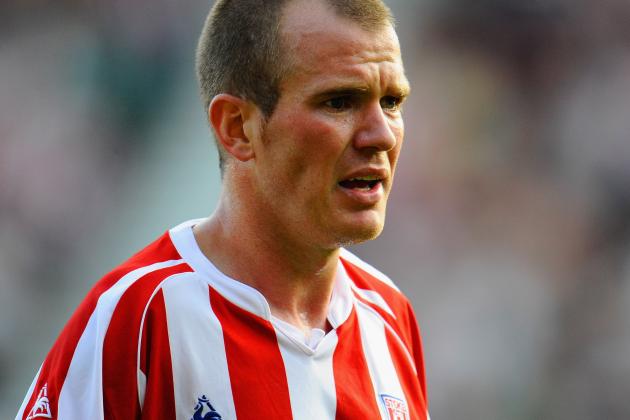 Michael Regan/Getty Images

I am not a Glen Whelan fan. I cannot comprehend how he makes the team when we have far better players sitting on the bench or on the sofa at home watching television.
He's in the squad, so I'll just get on with it.
A typically negative display by the Stoke midfielder was what we got. Passing forward is foreign to him, so when he did do it on one occasion, I almost got my scrapbook out and made a note.
Sitting in front of the defense is what he does, (not very well) but no major mistakes were noted so for that he gets his 6/10.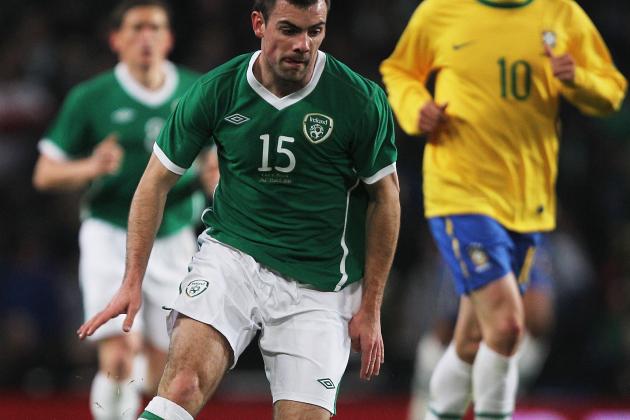 Hamish Blair/Getty Images

Not one of his best games but being better than his midfield partner is what probably earned Darron Gibson his extra 0.5.
Playing the simple ball is what he did well against Bosnia and that helped Ireland create numerous goalscoring chances.
Unfortunately his long range shooting was out of sync otherwise he could have scored in the first half after some great work from James McClean.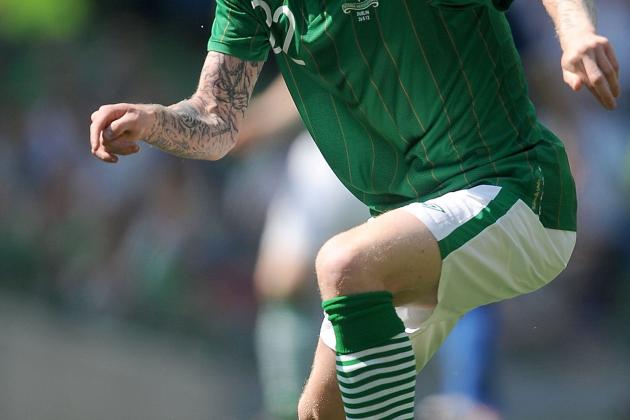 Christopher Lee/Getty Images

McClean has only recently broke into the Irish setup and he has arrived with a bang.
A direct runner who is able to unlock defenses with minimal skill and still be able to deliver a ball into the box. A rare commodity in modern day football.
McClean will find it hard to start the first game at the European Championships but come the latter stages, he could well be the find of the tournament.
Against Bosnia he was confident on the ball and came alive just before halftime. The second half was less fruitful for the young lad as the scorching heat took it's toll as the match staggered home to the final whistle.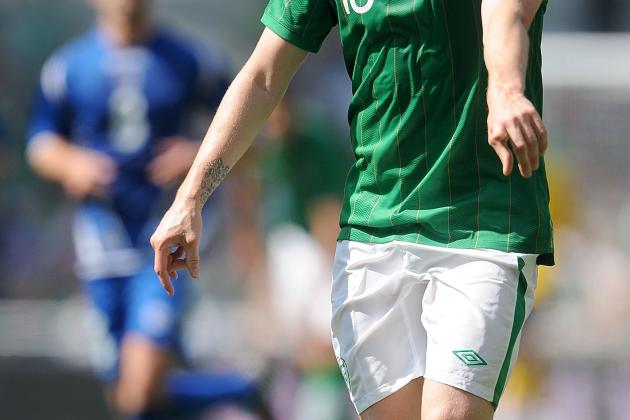 Christopher Lee/Getty Images

I had a heart in mouth moment in the first half as captain fantastic went down with what appeared to be a rib injury.
The look on the manager's face did not fill me with optimism as everyone looked on in anguish. Thankfully Keane made a full recovery and went on to have an accomplished game for the emerald isle.
Displaying his famed movement and work ethic Robbie Keane looks sharp and ready for the challenges ahead.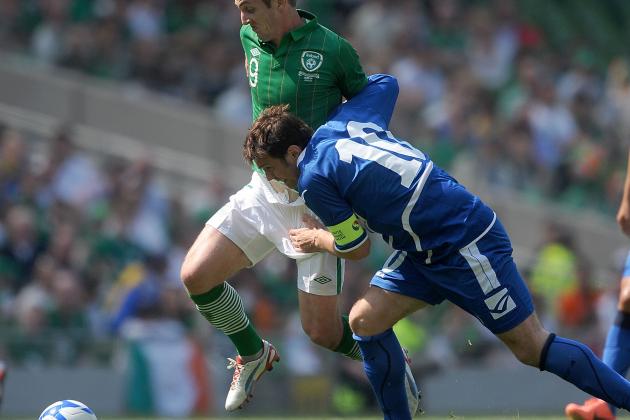 Christopher Lee/Getty Images

Kevin Doyle had a horrid season with his club side Wolverhampton Wanderers but his performance today shows he is only looking to the future.
Linking up with Damien Duff and strike partner Robbie Keane, Doyle was a constant threat to the opposing defense and quite possibly cemented his position in the team for upcoming games.
You do feel that sooner or later he will need to score more regularly to keep some of the other strikers in the squad at bay.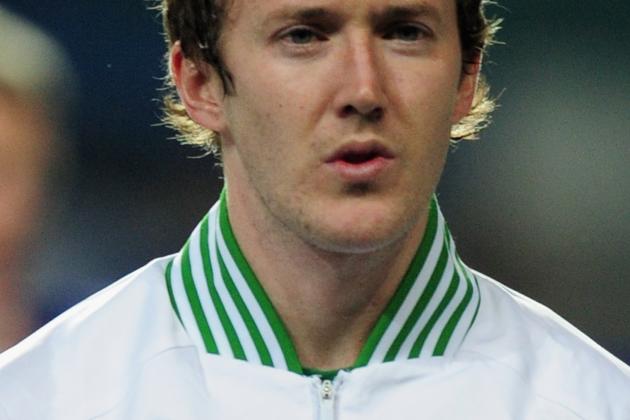 Jamie McDonald/Getty Images

Aiden McGeady: 8/10
Coming on at half time, McGeady changed the game with some exquisite touches and dribbling to unlock a stubborn defense.
He provided the ball for Shane Long's goal and looks ready to compete for his position in the team.
Shane Long: 6.5/10
Long scored the winning goal and was bright when given his opportunity.
Jonathan Walters: 6/10
Should have scored with a header but hit the post.
Stephen Kelly: 6/10
He could have scored an own goal and done better than the bloke he replaced, Paul McShane.
Keith Andrews: 6/10
Slightly more direct than Glen Whelan and comfortable on the ball.
Sean St Ledger: 6/10
Didn't start because of injury but will partner Richard Dunne in Poland and Ukraine.