La Liga: 8 Bold Predictions for the 2012-13 Season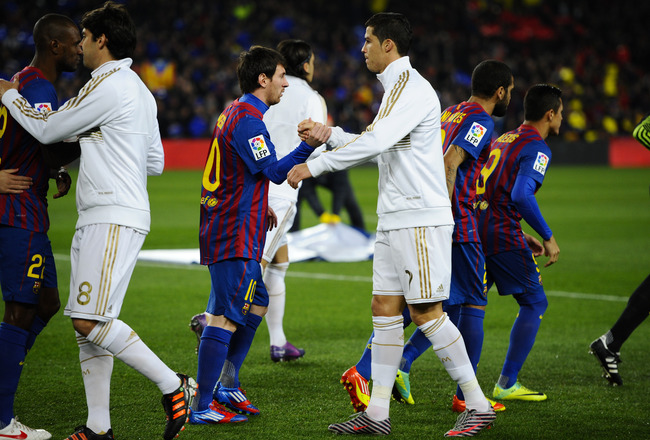 David Ramos/Getty Images
The 2011-12 La Liga season is finally over.
The La Liga title race was effectively over once Real Madrid beat Barcelona in El Clasico, and Valencia have held onto third place with relative ease, but Malaga's place in next year's Champions League was not secured until the final matchday.
The fourth-place finish is a massive achievement for Malaga, and ensures Sheikh Abdullah Al Thani's pet project are well on course for expansion and growth in world football.
At the bottom end of the table, five teams went into Matchday 38 with a chance of getting relegated, including Villarreal, a club which began the season with hopes of Champions League progress and a high league finish.
Unfortunately for Villarreal, both Zaragoza and Rayo Vallecano secured victories to jump in front Villarreal on the final day and send the team down to the Segunda Division, where they'll be joined by Racing Santander and Sporting de Gijon.
Based on the events of the 2011-12 season and the final matchday in particular, what can we expect for next season? Here are eight bold predictions for the 2012-13 season in Spain.
Villarreal's Players Will Be Distributed Across La Liga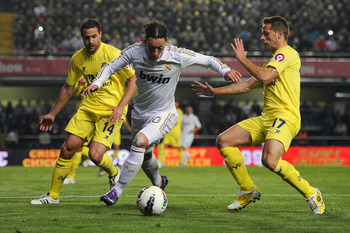 David Ramos/Getty Images
It was a squad everyone said was too good to go down. The repercussions would be too great for the club. But thanks to variety of pressures, the team did eventually go down on the final day.
Why exactly Villarreal crumbled is very hard to pinpoint. They started the season with the same manager that took them to the Champions League last season, Juan Carlos Garrido.
However, this season, he was unable to replicate his work of last season, guiding Villarreal through a terrible Champions League campaign while the team badly underperformed in La Liga as well.
When he was sacked, though, things only got worse. Jose Francisco Molina, another ex-Villarreal B coach, could not handle the pressurized situation he was stepping into, and could not bring about the immediate reversal of results needed at the club.
As a result, he too was sacked, and the club looked very desperate with their appointment of Miguel Angel Lotina, the man who saw Deportivo De La Coruna, one of Spain's historically biggest sides, get relegated last season.
Unsurprisingly, he wasn't the man to do the job for Villarreal either, and it was under him that Villarreal fell into the drop zone for the final time on Matchday 38, despite having stayed clear of the zone since Matchday 21.
The factors that played into Villarreal's relegation are many, and are best saved for a discussion at a later time. What needs to be discussed right now is this: What now for Villarreal's players?
Despite underachieving as a squad, Villarreal still possesses some incredibly talented players.
Diego Lopez, Mateo Musacchio, Rodriguez Gonzalo, Honorato Nilmar, Guiseppe Rossi, Borja Valero, Soriano Bruno and Cristian Zapata are all far too good to ply their trade in the second level of Spanish football.
Cani, Marco Ruben and Julian De Guzman are also better than your average La Liga player, so their status with Villarreal is rather uncertain.
I'd expect somewhere between six to 10 high-quality departures from Villarreal this summer, and I expect most of the players will look to remain in La Liga, since most of them have been playing in the league for the majority of their career.
Where they end up will really affect the balance of power in La Liga.
All Three Promoted Teams Will Stay Up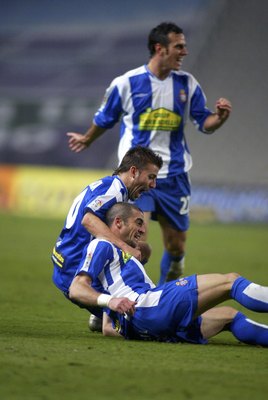 Luis Bagu/Getty Images
We'll start out at the very bottom of the table for the 2012-13 season. Staying in line with the idea of "bold predictions," I'm predicting all three promoted teams to stay up next season.
It happened this year, and I believe it will happen again next season. Rayo Vallecano, Real Zaragoza and Granada all barely survived this season, and hardly looked to be La Liga quality throughout the season.
I believe that Vallecano and Granada will suffer from second-season syndrome, while Zaragoza will eventually tire from late-season relegation struggles and finally go under next season.
The only exception to this is if one of Celta Vigo or Real Valladolid (or Deportivo De La Coruna, though they seem to have the title practically wrapped up) fail to secure promotion in the remaining games of the Segunda Division season.
The top three teams of Segunda Division look strong enough to survive a year in La Liga, but I doubt Hercules, Alcorcon or Cordoba in their current incarnations could handle a year in La Liga.
Athletic Bilbao Will Be Back...In the Cups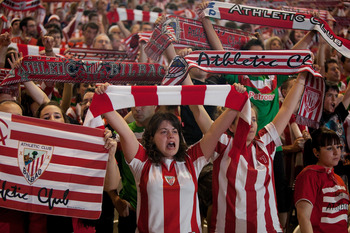 Pablo Blazquez Dominguez/Getty Images
Whether Bilbao win or lose in the Copa del Rey final, this season will have been a successful one for Bilbao. Reaching two cup finals playing the football utilized under Marcelo Bielsa is no small achievement.
But a more critical observer will note that Bilbao fell from sixth place in the league last season to 10th this season. In fact, Bilbao's league campaign was a rather poor one; 13-13-12 is not a league record any club of decent stature will boast about.
So what next for everyone's favorite team? Unfortunately, though we hate to admit it, for teams like Bilbao, the sky is not the limit.
Bilbao is a club with a modest budget, relying on small purchases of Spanish (Basque) talent to bolster a squad composed of Basque players.
They've been blessed recently to see players like Iker Muniain, Fernando Llorente and Markel Susaeta shine for the club, but the club is unfortunately not blessed with a regular stream of such players.
Furthermore, though Bilbao are notorious for their stubbornness in the transfer market, there will be endless inquiries for Javi Martinez and Fernando Llorente this summer, and possibly Iker Muniain. Those inquiries will have to be addressed as they come.
With Bielsa likely to remain as manager, I can see him engineering another season of deep cup runs for Bilbao. Unfortunately, though, as the current squad stands, I don't see Bilbao finishing in the Champions League spots next season.
A move up to sixth or seventh will be as good as it gets for the Basque club.
Atletico Madrid Will Finish Third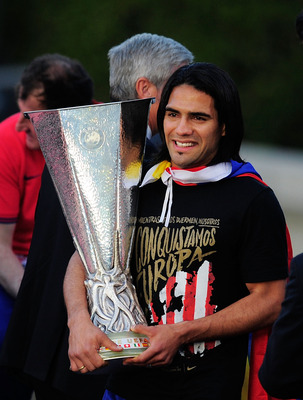 Denis Doyle/Getty Images
Atletico Madrid have a busy offseason ahead, but if they can keep things stable over the summer, I believe they'll finally be able to meet their La Liga objectives.
Every season, it seems Atletico are projected to finish in the top four of the league, only to start awfully with a inadequate manager. But this year, things look like they could go differently.
Diego Simeone has the team performing well, and guided them to a fifth-place finish despite it having been stuck in 10th place at the midpoint of the season.
Atletico Madrid will need to find a way to sign Diego permanently, and avoid selling off the players that brought them success this season, but if they can do that, third place should be no problem. The talent in Atletico Madrid's squad is second only to Barcelona and Real Madrid.
Valencia Will Stumble out of the Champions League Spots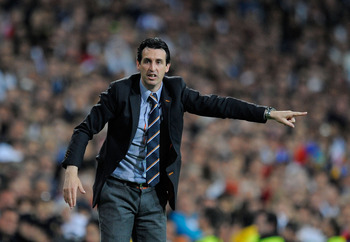 Denis Doyle/Getty Images
Year after year, Unai Emery managed to guide decent Valencia squads to top-class finishes.
In his four years at Valencia, Emery has had to watch as David Silva, David Villa, Juan Mata and numerous others left Valencia for greener pastures. Yet he kept successfully using the players at his disposal to far surpass expectations.
But now that he's gone and set to be replaced by Mauricio Pellegrino, who'll be taking his first head coaching job since two stints as an assistant with Liverpool and Inter Milan, Valencia will likely have to accept a lower position in the league.
Furthermore, one of the club's best players, Jordi Alba, is almost surely leaving for Barcelona, while Roberto Soldado is reportedly the target of interest from Paris Saint-Germain.
Knowing that Valencia will only be moving down the table next season, Soldado could very likely take advantage of the opportunity to make the move to a bigger club while entering the prime of his career.
Taking both of these factors in consideration, it's practically impossible that Valencia will beat out everyone to secure the third-place finish they've secured in the previous three seasons.
The way things stand, I'd be impressed if Valencia even managed to secure a Europa League spot, which I expect will be contested by Sevilla, Bilbao and possibly Levante or Osasuna.
Malaga Will Continue to Grow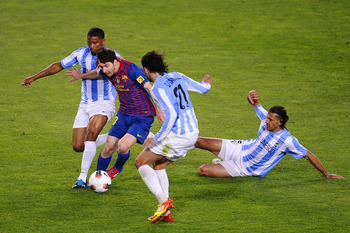 David Ramos/Getty Images
Though they didn't look like the most convincing of teams over the course of the season, Malaga won their games down the stretch and held on to the fourth-place position they got themselves in back in Matchday 30.
That will surely have pleased Manuel Pellegrini and the Malaga owners, who probably did not expect their team to perform so well so quickly.
But now is the hard part: Malaga have tasted success; can they sustain it?
Due to a number of short-term purchases made in the last three or so transfer windows, Malaga have a squad with many aging players.
The squad has four 30-plus-year-old centre-backs, and five of the team's starters this season are over the age of 30.
New transfers will need to be made, dead weight will need to be sold and the club will need to invest in their youth system in the hope that it can produce more Iscos for the future.
Still, with a supportive owner and a good manager in charge, the future is bright for Malaga. If they can survive the playoff round to make the Champions League group stage, it'll be interesting to see how far they can go.
Barcelona Will Have to Adjust to Tito Vilanova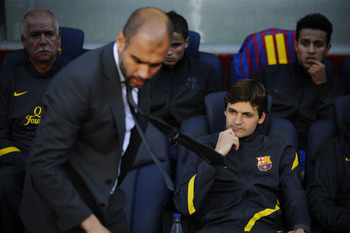 David Ramos/Getty Images
Pep Guardiola still has one game left to coach his team through (the Copa del Rey final), but once that's over and done with, Guardiola will be gone from Barcelona, at least for the next year.
What do we know about Tito Vilanova? About as much as we knew about Pep Guardiola when he took over as Barcelona manager. Vilanova's been an assistant to Guardiola for many years now, so he knows how things work, but being an assistant and a head coach are two entirely different jobs.
Just as Pep Guardiola's first summer at Barcelona was a summer of great upheaval, I expect this summer will be the same for Vilanova. Barcelona are reportedly keen to make €100 million available for Vilanova this summer, so you can infer what that means for yourself.
Barcelona's success in the transfer market will determine to a great extent how successful Barca are next season. This season, Lionel Messi continued to break records, but we saw a Barcelona side a tad over-reliant on Messi, and lacking quality wingers to support him.
David Villa's return will surely boost the quality of the side and give Messi the support he's been missing on the flanks, but it won't be enough by itself. Vilanova needs to make at least one signing or two that put his stamp on the squad and mark the start of a new era at Barcelona.
My prediction? I think he'll need a year to adjust to his new job. I don't think Barcelona will have a bad season, but I don't think they'll win the title. Then again, nobody thought Guardiola would win the trophies he won in his first season.
Real Madrid Will Repeat & Aim for the Champions League Title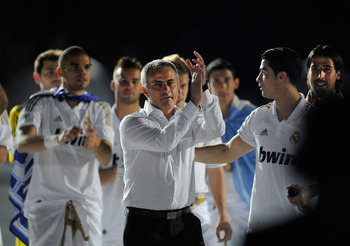 Denis Doyle/Getty Images
This prediction certainly won't please any Barca fans, but I think that Real Madrid will repeat as title winners next season.
There's really little reason to believe otherwise. Real Madrid's current main players are going nowhere. Kaka has already emphasized his desire to stay at Madrid, while Jose Mourinho has ruled out a summer exit for Gonzalo Higuain.
Some of the fringe players may be moved on: Raul Albiol, Ricardo Carvalho and Hamit Altintop are three players who could have new clubs by the start of the 2012-13 season.
But they'll be replaced by better players; Real Madrid haven't spent considerably in the last couple transfer windows, and thus probably have some funds saved up for Mourinho to spend.
Mourinho has a foreseeable future with Madrid, and the players currently at Madrid have continued to develop better chemistry with each other. Furthermore, aside from Iker Casillas and Xabi Alonso, none of Real Madrid's starters have yet hit 30, meaning the squad is young and in good shape.
The one thing that could detract from Madrid's league campaign is the focus they'll likely have on winning the Champions League—now the only trophy Jose Mourinho hasn't won with Madrid.
But until the very end, when the Clasico coincided with the Champions League semifinals, Madrid were hardly affected by their schedule congestion. Their squad is deep, and should be able to compete on all fronts without sacrificing considerable quality in one or the other.
Keep Reading