English Premier League: A Song for Every Teams' Premiership Season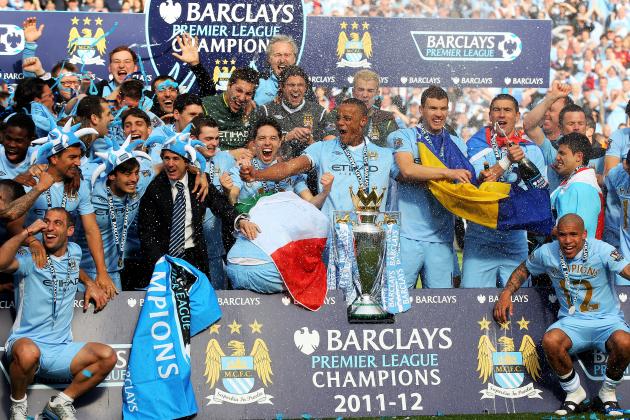 Alex Livesey/Getty Images

Another Premier League season is in the history books, and what an incredible one it was; the title and relegation battles closely linked on the last day of the season, bundles of surprising results from surprising teams and some truly stunning goals.
Speaking of closely linked, football and music have quite a bond. Whether it's crowds chanting at games, sports stars marrying pop stars (a la Beckham and Cole), or footballers trying their hand at the music industry (stay back, Andy Cole, stay back!), music and football, and indeed sport in general, go hand in hand.
With that being said, lets take a quick look at the 2011-12 Premier League season with a bit of a musical twist. Each team, from 20th to 1st has been given a song which encapsulates their season.
As ever, feel free to leave your thoughts in the comments section below.
Begin Slideshow

»
The title really says it all: Wolves, you are going down.
It has been a pretty miserable season for Wolves, to be honest. Old warhorse Mick McCarthy was sent packing mid-season in the hope that someone could turn the club's fortunes around, but that hasn't worked out for the Wolverhampton Wanderers.
Unfortunately, nobody seemed to want Mick McCarthy's job, so Terry Connor was left to do what he could, which turned out to be not much. In fact, Terry Connor has not overseen a win in his 13-match reign.
As the Sick Puppies tell us, "It's been a long time coming," and Wolves have finished firmly rooted to the bottom of the table, where they have been for quite some time.
Some major changes are going to be needed over the summer if Wolves are to have a hope of bouncing straight back up into the Premier League.
In fact, they might like to play this song before matches; it's a pretty good pump up song and Wolves will need to show some more fight next season in the ultra-competitive Championship.
This song probably sums up Steve Kean's season better than the club's as a whole, although the players can't have felt particularly supported as fans spent large parts of games earlier this season booing.
It truly has been a miserable season for Blackburn Rovers. They have spent almost the entire season in, or just above, the relegation zone and few will have been surprised at the Lancashire club's relegation.
Whether or not Kean leaves remains to be seen, but the club will certainly need to be more united if it is to achieve promotion back to the Premier League at the first attempt.
Kean has been the main target for abuse this season, but has managed to maintain his dignity and not lash out at his attackers.
Unfortunately, that has done them little good on the pitch, and Mr Kean is still very much the Blackburn's Mr. Lonely.
Bolton took their fight for survival all the way to the last day of the season, and were right in the mix throughout an absurdly exciting afternoon of football.
Unfortunately, however, they might have "tried so hard, and got so far, But in the end it doesn't even matter" because they were unable to avoid the drop, despite QPR, eventually, losing to Manchester City.
Bolton will be desperate to make it back to the Premier League at the first attempt, but will need to hold on to as many of their top players as they can, and make some astute purchases if they are to do so.
QPR won the Championship in style last season and were tipped to do well in their first season back in the Premier League. However, they have been disappointing.
Their fight for survival went right down to the wire and, after conceding two late goals against Manchester City, their survival was reliant on Bolton failing to win.
Talk about "Clinging on to life."
The R's will need to be a lot better next season if they are to avoid another relegation battle; next season could be even more competitive than this year.
Aston Villa have managed to avoid relegation this season, but I think their fans will feel like they should "Just forget about" this season.
Villa have been playing poorly and slipping closer and closer to the relegation zone over the last few months.
The appointment of Alex McLeish didn't exactly go down well (despite the fact that he got Birmingham relegated last season). Here's what All Time Low have to say about it: "They told you to stay away/
Seems like I'm making a deal with the devil who's whispering softly to me."
Those lyrics pretty much seem to fit Villa fans' attitude towards the Scotsman.
There were some good days; a 3-1 victory away at Chelsea being a particular highlight. All Time Low had a similar experience: You know, there are some days when I really feel like this could work/ Like, you and I are finally gonna get it right./ Then there are days like today, when you make me want to tear my *censored* hair out."
Unfortunately for Villa, there have been too many of the hair pulling days.
Wigan looked dead and buried earlier this season. They couldn't score to save their lives and were firmly anchored in the relegation zone. They even contrived to lose eight matches in a row.
However, they have turned things around in a truly astonishing way. Manchester United, Newcastle, Arsenal and Liverpool have all been sunk in a sensational run of results.
Roberto Martinez deserves a great deal of credit for motivating the players and giving them the self belief to keep performing, but so does Dave Whelan for keeping his faith in Martinez, even in their darkest hours earlier this season.
Wigan are looking increasingly like relegation battle experts, and you would be silly to bet against them staying up again next season, especially if Martinez remains at the helm.
"Alright" is about what Stoke City's Premier League Season was. Nothing special, nothing too disappointing, just average.
Like the song, there was a high paced and cheerful start, but unfortunately the extra games the Europa League led to took their toll and this season saw mediocre results in the Premier League and their Europa League adventure was abruptly ended by Valencia in the round of 32.
Perhaps without the burden of European football next season, Stoke will be able to muscle their way closer to the top of the mid-table pile, but this season has been nothing to write home about.
Sunderland's season got off to a less-than-spectacular start. Indeed, Steve Bruce only made it to December before being given the boot and being replaced by Martin O'Neil.
It was a decision that defined Sunderland's season. Overnight, they seemed to be a different side. They have since pulled off two great results against Manchester City and have never looked like slipping into the relegation dog-fight, as they had done when Steve Bruce left with the club a mere two points above the relegation zone.
Sunderland will be confident of attracting some good players with Martin O'Neil at the helm this summer, and the Northern Irishman will certainly get the most out of his squad as Sunderland look to establish themselves as a top-10 club.
It's OK, it's by The Fray, you can calm down (or be disappointed if you're a Belieber).
Norwich were tipped to be the Premier League's whipping boys before the start of the season, and it's not too hard to see why. They'd won back-to-back promotion's and their squad was not exactly brimming with well known names.
However, The Canaries, with their unheralded players and gutsy football, have finished an impressive 12th, well clear of the relegation zone, and have won the respect of managers, players and fans with their impressive performances.
"Never say never" just about sums up Norwich's season; they have taken on clubs with food budgets worth more than their entire squad and more than held their own.
They have championed the cause of the underdog brilliantly, and will be looking to do much the same next season.
Swansea City have played some truly fantastic football this season. The Premier League's first Welsh side have firmly cemented themselves as everyone's second team with a potent combination of clever passing football and passion.
The Swans even managed to out-pass Arsenal, the passing kings, as they pulled off a remarkable 3-2 victory.
Unfortunately, Brendan Rodgers side have slipped a little in recent times, but they have steered well clear of this season's intense relegation battle and did manage to beat the new Premier League champions. 1-0.
West Brom have finished the season slap bang in the middle of the league. They've beaten the teams they should have done and, a win against Chelsea aside, lost to the teams theywere expected to.
Perhaps the most notable moment of their season was the announcement that their manager, Roy Hodgson, was to become England manager, hardly the mark of an exciting on-field season.
West Brom's footballing year has been typified by good performances away from home, and bad performances at The Hawthorns. They picked up 26 of their 47 points away from home, a record which puts them sixth in the away from home table.
At the end of the day, however, West Brom's season has been remarkably average.
Fulham have had a crazy season. Their year started way back in June 2011, has taken to the furthest corners of Europe, and has seen them pull off some remarkable victories.
The Cottagers have managed to gain impressive wins against the likes of Arsenal, Newcastle and Liverpool but also lose to Wolves, Blackbun and Aston Villa.
The result of all this madness and inconsistency, however, is a top-10 finish, no mean feat for a club on a small budget.
The song might be called These Are the Days of Our Lives, but it's really about past glories.
Perhaps encapsulating the feelings of the Kop toward Kenny Dalglish, Freddie Mercury sings: "Those days are all gone now but one thing is true/ When I look and I find, I still love you."
King Kenny has been unable to "turn back the clock" to take Liverpool back to the heady heights of the pre-Premier League era, or even bring back the spirit that won Liverpool the 2005 Champions League.
However, the Liverpool fans still love King Kenny and are still some of the best fans in the Premier League.
Perhaps a few changes in personnel will help Dalglish relive Liverpool's glory days—or at least get them back into Champions League contention. He will be hard pushed to do so, however, given the strength of the current top six.
How Everton have managed to finish as high as they have done is a miracle. To describe the club as lacking investment would be a massive understatement. They need some cash.
David Moyes seems to be holding things together with magic, somehow managing to beat Liverpool in the league despite having sold Mikel Arteta, his best player, and not having millions to buy a replacement.
Everton are certainly "halfway there;" they have a fantastic manager and some really very good players. They now just need to add several million pounds(probably more) to the coffers and they might, just might, find themselves to be top-six contenders once again.
Chelsea's season could yet be incredibly successful; they are in the final of the Champions League.
However, their Premier League season has not exactly been a glorious affair. Results under new manager Andre Villas-Boas were not up to scratch and he didn't even make it to the end of the season.
There were plenty of rumours suggesting that the players undermined the manager and helped ease his exit as AVB focused on youth, marginalising the older players.
As Bob Marley once sung: "I shot the sheriff. Oh, Lord!/ But I swear it was in self-defence." Sure enough, with AVB gone, the older players found more regular playing time and they "didn't shoot no deputy"(with Roberto Di Matteo playing the role of the Deputy).
An FA Cup win and a Champions League triumph would make this a successful season, but if they fail to do so, the season will be best remembered for the exit of AVB and the arrival of RDM in less-than-ideal circumstances.
Newcastle United were widely viewed as a side destined to finish in the middle of the pack this season. It is fairly easy to see why as well. At a glance, their team doesn't seem to include any huge stars and their squad depth is not the greatest.
However, the Toon Army got off to a fantastic start and it seems that "the movie never ends/ It goes on and on and on and on."
For the majority of the season, people have been predicting a Newcastle United slump in form and a rapid fall back into mid-table.
Happily, it hasn't happened and Newcastle United have had a truly remarkable season, going toe-to-toe with every team they've come across and, more often than not, they have come out on top.
Tottenham Hotspur managed a fourth-place finish, a result they will be disappointed with after, at one point, looking capable of mounting something of a title challenge.
Unfortunately it wasn't to be, and they soon found themselves in a battle with Newcastle, Chelsea and Arsenal for third and fourth places.
Happily for them they made it to the finish line ahead of Newcastle, despite going through a horrific run of results.
Despite finishing fourth, they will have to wait for the result of Chelsea vs Bayern Munich to see if they've made it to the qualifying rounds of the Champions League or not since Chelsea have finished outside the top four.
That perhaps makes this song choice a little premature, but it was not so many seasons ago that the idea of a top-four finish was not even a remote possibility for Spurs.
The North London club have established themselves as legitimate, and regular, top-four contenders, whereas after last season it was hard to see them finishing above fifth in the league.
Arsenal's season has been dominated by Robin van Persie. The Dutchman has been in imperious form all season long and without him a top-four finish would have been a big ask.
RVP really is Arsenal's "Superman;" he has found "the better part" of himself just when Arsenal have needed him most.
Unfortunately, as Five for Fighting tell us, "Even heroes have the right to dream." Rumours about RVP's impending move to any number of major European clubs has overshadowed much of Arsenal's season, a situation not helped by RVP delaying contract talks.
It's certainly "not easy to be" RVP, and it definitely isn't easy to be Arsene Wenger, who has once again delivered a top-four finish and Champions League football, despite selling many of his best players, and is still maligned by football fans around the world.
Talk about "So close, yet so far," Manchester United have finished a lousy nine goals shy of winning yet another league title.
After managing to keep pace with leaders Manchester City for much of the season, Sir Alex Ferguson did what he does best; capitalise on others' mistakes. Soon, Manchester United found themselves a whopping eight points ahead.
The title seemed like United's to lose, and they promptly did so, slipping up once too often and gifting City the lead in the race to "Paradise."
Now Sir Alex will be kicking himself, and his players, all the way into next season.
Manchester City have certainly played like Champions this season and thoroughly deserved their last-minute title win.
They led the table for most of the season before a bad run of results saw them fall behind rivals Manchester United. The way they fought their way back into the lead, including a vital win against United, and then held their nerve to win the title has been impressive.
City will be certainly be hoping for a better outing in the Champions League next season and will undoubtedly look to put some distance between themselves and the other Premier League challengers by further strengthening their squad this summer.
Queen's iconic anthem must pretty much sum up how City fans and players feel right now. They have put everything into this season and will feel like they are on top of the world.