Manchester United: 6 Key Factors That Will Decide the Title Race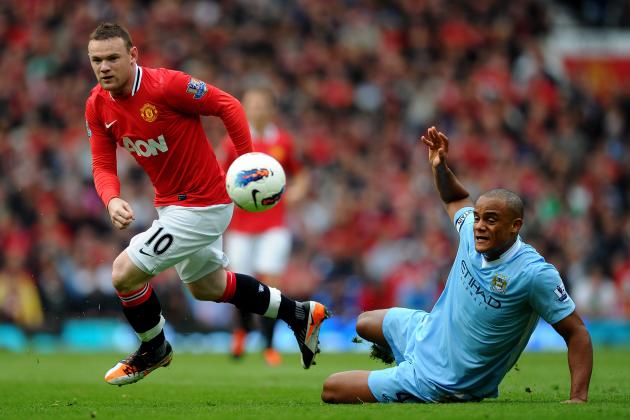 Laurence Griffiths/Getty Images

With just three games left to go in the regular season, things could not be more hotly contested at the top of the English Premier League.
Manchester United sit just three points clear of local and title rivals Manchester City, with a game at City's Etihad Stadium set to take place this coming Sunday.
At this point in time, the trophy could still feasibly go to either half of Manchester.
But what will be the deciding factors in who eventually ends up 2011-12 Premier League Champions?
Begin Slideshow

»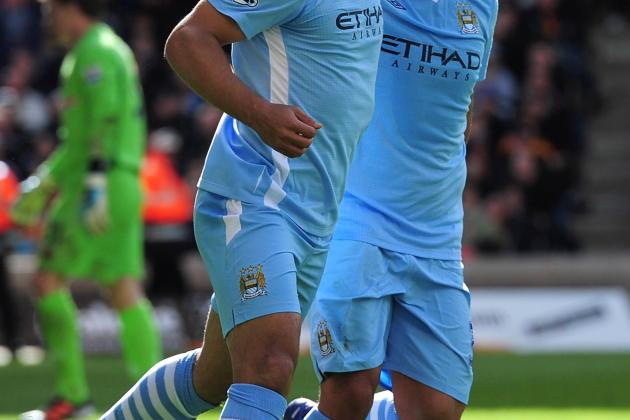 Shaun Botterill/Getty Images

There was mild outrage when Tottenham Hotspur's Kyle Walker was awarded with PFA Young Player of the Year ahead of Sergio Aguero last night.
The striker Aguero, who was signed last summer from Spanish side Atletico Madrid, has been by far and away one of the best players in the entire league this season.
In fact, it's arguably his goals that have put City in the position they are currently.
The well-documented downfall of a certain Carlos Tevez was one of those footballing stories that managed to keep us gripped for almost an entire season.
Having refused to warm up in a Champions League group game when instructed to do so, Tevez was demoted down to the reserves and told he would not be playing first team football again under Mancini.
However, last month, the former United star bit the bullet and publicly apologised for his actions.
Mancini accepted and since then, Tevez has very much come back to the forefront of Premier League football.
Now that the two are finally being given the chance to play together at club level, it could spell disaster for defences across the country.
If these two can find any kind of form together, then Manchester City have a very strong chance of doing what seemed impossible just a few weeks ago, and take that title back to Eastlands.
If the Argentinian pairing can't find the magic stuff in the next three weeks, then City are going to struggle.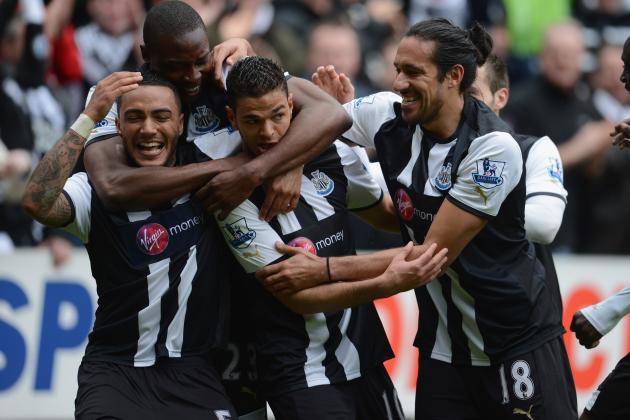 Michael Regan/Getty Images

The Magpies have been flying high in the division all season, and despite many critics' early assumptions that their form would eventually fail them, they have proven all those who doubted them wrong.
Currently sitting in outright fourth position—with a game in hand over third-placed Arsenal—Newcastle have given themselves the opportunity to qualify for the Champions League for the first time in over a decade.
Standing in their way of glory is a home game against title contenders City.
Whatever the outcome of the Manchester Derby this weekend, the match between City and Newcastle will be absolutely crucial for both sides' seasons.
If the game were to take place at the Etihad, I would honestly not give Alan Pardew's men much of a hope.
However, with The Sports Direct Arena (St. James' Park) playing host to the clash, anything is possible.
Newcastle face a difficult challenge in the shape of Chelsea away four days before this game, and as such, they might be needing a victory more than ever.
If City win the Manchester Derby, this will be United's last realistic hope of them dropping points.
If they draw or lose, then United are suddenly given the edge once more.
The Magpies could decide it all.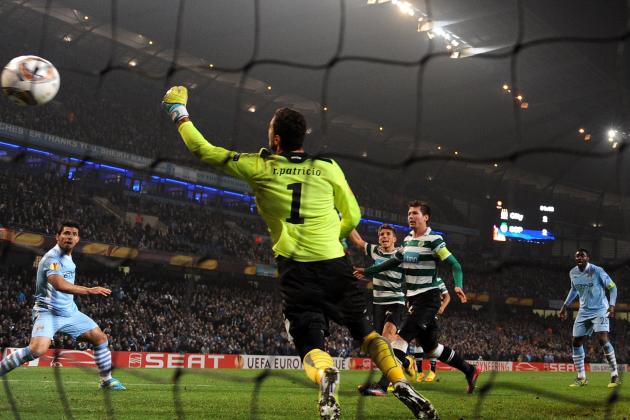 Shaun Botterill/Getty Images

With United now exactly three points ahead of City with so few games left, it's looking like a real possibility that the two teams will end on the same amount of points come mid-May.
If this were to happen, it would really put the ball in City's court.
Currently City have a grand tally of plus-60 goals, as opposed to United's still impressive, although inferior, 54.
Assuming that for the points gap to be bridged this deficit would have to increase even further (with a hypothetical two-goal victory for City changing it to 62-52 with two games left), this would almost guarantee the Sky Blues end the season as top dogs.
This has been something that, as a United fan, I've worried about all season long.
There have been games where United have dominated and even taken early leads, but then failed to go on and really hurt opponents.
Even in the recent 5-0 demolition of Wolves at Molineaux, United could have done better.
Hernandez had netted the fifth goal before the 60th-minute mark and with the way the match was going, I was sure they were going to finish with seven or even eight goals to nothing.
United can't be properly criticised for "not winning by enough," but perhaps if they took as many chances as City have over the course of the year, United would have the goal difference superiority.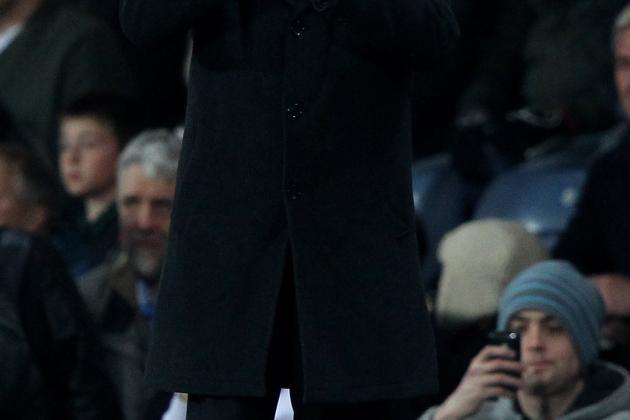 Alex Livesey/Getty Images

One thing that United under Sir Alex Ferguson have been continually praised for over the years is their ability to see out games (and seasons) with that trademark confidence and certainty.
This has been somewhat lacking this season—especially in the past few weeks.
It is almost unimaginable that a United side under Fergie could be eight points clear with just six matches left and now face the genuine possibility of losing the title.
However, sloppy results against Wigan and Everton have seen the Red Devils forfeit five of those points.
Similarly, City have shown genuine signs of choking this season.
The fact that they were at any point so far behind the red half of Manchester shows their ability to crumble, having not so long ago been five points clear of second spot.
Usually, any neutral fan would be backing United this year, but with the way things have gone in this respect so far, either side are still possible of pulling it out or losing it all on nerve.
Even so, one can't help but think that Sir Alex will get his boys through this yet again.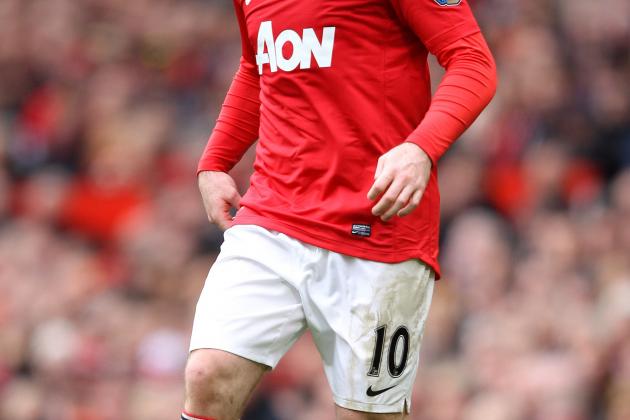 Alex Livesey/Getty Images

Wayne has not been United's best player this season, nor the most consistent.
However, one thing he definitely is, is a goal-scoring match winner.
Just like how City have Tevez and Aguero, United have Rooney banging home the goals.
His performances over the next month will be critical in deciding whether or not United are able to crown themselves champions of England for a 20th time.
Although United have many other attacking outlets, one thing has been pretty consistent in the last six years: If Rooney isn't scoring, United aren't scoring.
Rooney's goals normally make up roughly 35 to 40 percent of the tally you would be expecting United to bag every season.
The Liverpudlian needs to be on the very top of his game at the close of this year's campaign to ensure glory for Sir Alex's men.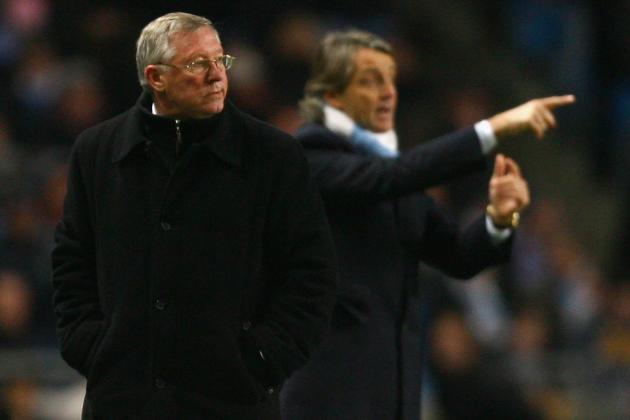 Alex Livesey/Getty Images

This is, without a doubt, the most important game of the English season so far.
In fact, it may well now be the most important Manchester Derby of all time.
If United pull off an upset and take home the spoils, then with just two matches left, City will trail by a whopping six points—a practically impossible margin to drag back.
However, a win for City lifts them back to the top of the league on goal difference, putting the outcome of the title very much in their hands.
A draw is definitely a more favourable result for United that their rivals—maintaining that three-point gap with just two fixtures left.
After the 6-1 demolishing of United at their home in October it would be easy to say that City are expected to win this match.
However, thinking back to Paul Scholes' dramatic return in the 3-2 FA Cup victory at Eastlands, it's far from impossible for United to get something out of this match.
After eight months of blood, sweat and tears, it quite literally all comes down to this Sunday.
Will United maintain their dominance of the English top flight?
Or will City show that they aren't just a load of talk and money, and end that 40-year drought that plagues Manchester's blue half.
In six days, we will find out.