Feel-Good Story of the Week: Salvador Cabañas Returns to World Football
April 22, 2012

We all love a football story that transcends football and reminds us of the greater values of life.
The recent news of Fabrice Muamba's recovery is an example of this; the solidarity shown around the EPL by players and supporters has been well-documented and praised by world football writers and fans all over the world.
So starting this Sunday, I will try to bring my readers one "feel-good" story from the previous week. These will come from all over the world, and will cover a variety of topics.
This week's story is Salvador Cabañas' return to football.
For those of you who don't know, Cabañas was Club America's star striker before he received a near-fatal gunshot wound to the head during a disagreement in a Mexico City bar on January 25, 2010. He still has the bullet lodged in his brain.
Cabañas left the intensive care unit in late February, and hoped to make a push to make Paraguay's 2010 World Cup squad. Although doctors described his recovery as "tremendous," they admitted it would take years for Cabañas to be able to play high-quality football once again.
Thus, Cabañas missed out on the World Cup with Paraguay and was let go by Club America when his contract expired.
However, on January 20th, 2012, Cabañas shocked the world by joining the club he started his career with, 12 de Octubre. The club had just recently been relegated to the Paraguayan third division, but happily welcomed their greatest youth product back to the club.
And after a months of training and regaining fitness, Cabañas completed his journey from the brink of death back to football by playing 40 minutes for the club on opening day of the Primera B third-tier Paraguay championship.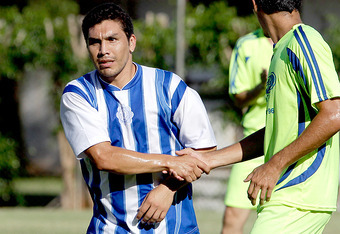 After the game, Cabañas expressed his gratitude to everyone who made his return to football possible:
Nobody survives what happened to me. That's why I always appreciate all the people who prayed for me and also the president of Doce [Club 12 de Octubre] who's let me be with them. Having faith was fundamental for me. That's why I'm here right now.
And the fans were delighted to see their hero return as well. One fan echoed the thoughts of thousands:
I'm happy to see him back. I think all Paraguayans, especially those who live Itauguá, we have been very affected by what happened, he is an idol to us all. It was very painful what happened, we all pray for him and now it seems incredible that return to play on the team of our city.
What does the future hold for 31-year-old Cabañas? No one really knows. He's still got a good amount of training to do before he reaches full match fitness, and before he starts scoring goals once again.
Furthermore, at the age of 31, Cabañas' national team days are probably over. He also will almost surely never play for a huge club like Club America again.
But for Cabañas, none of that matters. For the man who famously proclaimed "football is my life," the joy of having overcome the odds to once again be playing the game he loves is more than enough. 
For guys like Fabrice Muamba, and even Darren Fletcher, Cabañas is a shining example of the power of will. We here at Bleacher Report wish him all the best.