World Football: 6 Crazy Animal-on-the-Pitch Interruptions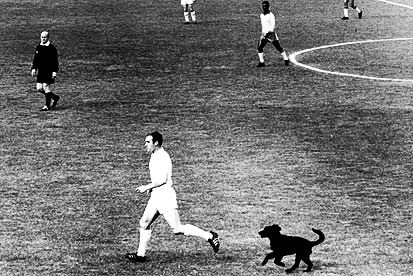 (Popperfoto)
Let's get away from the seriousness of world football and take an off-beat look at the beautiful game.
So instead of reading transfer rumours or why Mario Balotelli is a bad role model, let's just watch some animals interacting with footballers.
When I think of animals and football, I think of Pickles, the dog that found the stolen Jules Rimet Trophy.
Here are six crazy world football animal-on-the-pitch interruptions.
Begin Slideshow

»
After saving the bird, Obafemi Martins would later score with Newcastle United beating Reading 3-2.
Interestingly, Giuseppe Rossi came on for a very brief cameo. I actually didn't know he played for the Toon (he was on loan from Manchester United).
What I find more incredible than a cat managing to streak across a Premier League game was how a tech-savvy individual accumulated over 68,064 Twitter followers (and counting) by making an "official" Anfield cat Twitter account.
Karma has done its justice because people know Luis Moreno for killing an owl instead of his football prowess.
Mariusz Pawełek clearly loves dogs.
The video clip reinforced the old adage that a dog is a man's best friend.
What was in the ball? Generally K-9s are used to sniff out drugs...
Garrincha was a hit with the ladies but clearly not so popular with that dog.
Jimmy Greaves to the rescue. The poor lad's shirt was soaked with urine because the dog had wet itself.
This was during the 1962 FIFA World Cup quarterfinals, the tournament Garrincha basically won by himself after Pelé had gone down with injury.
Please follow me @allanjiangLIVE.