Los Angeles Galaxy vs. Sporting Kansas City: Rating the Galaxy Players
April 8, 2012

Ed Zurga/Getty Images
The lack of David Beckham played a major factor in the Los Angeles Galaxy's 1-0 defeat to Sporting Kansas City, although to their credit, they held their own on defense.
This time, it was the offensive punch that went AWOL, as the Galaxy failed to get a shot on goal.
So, how did the players do? It wasn't that bad of a defeat, but a loss is still a loss. Here are the player ratings.
Josh Saunders: 7
If it weren't for the 41st-minute header by Kei Kamara (and the pretentiously slow-motion celebration that ensued), Josh Saunders would have recorded his first shutout of the season.
Saunders made three saves, but that goal allowed lowers his grade.
A.J. DeLaGarza: 6
Normal performance from DeLaGarza, who I have conceded will have to stay in the center. To my surprise, save for once, LA weren't killed down the middle. Can DeLaGarza keep it up?
Sean Franklin: 3
The goat of the match. Was responsible for giving up the Kei Kamara goal that gift-wrapped another three points for Sporting Kansas City. Do I smell a possible trade soon?
Todd Dunivant: 6
Good outing from the Iron Man, made some clearances but needs to do better on the offensive side of the ball.
Tommy Meyer: 7
Verdict is in: Tommy Meyer has won the starting job in center-back for the rest of the season over Andrew Boyens hands down. Marked his men and limited the production of Kamara, Graham Zusi and C.J. Sapong.
Mike Magee: 7
Best midfielder on the day for LA. Had two chances that went wide. The Magee Magic is fading, though, and this raises a red flag heading into next week's match with the Portland Timbers.
Juninho: 4
This year's Juninho is not last year's Juninho. Completely struggled to find a rhythm in the midfield, and the combo with Marcelo Sarvas failed to deliver an equalizer.
Michael Stephens: 4
Ineffective performance from Stephens. Also came up gimpy and had to be subbed late in the second half.
Edson Buddle: 3
Buddle was left on a island, all alone, and it was a simple task of double-marking Buddle. He doesn't have the speed and finishing touch that defined him in 2010. A complete shell.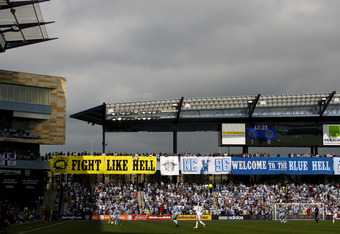 Ed Zurga/Getty Images
Landon Donovan: 6
Landon Donovan was not playing up to full strength and was just easing off an injury to his quad muscle. Also, his late challenge on Kamara affected his grade.
Still, Donovan's presence did make the scoreline respectable, but the dynamics of the match would have changed if LD was at full strength. For example, improved defending.
Robbie Keane: 7
Well, Robbie Keane is the vice-captain for a reason. But what he still doesn't understand is that MLS is not home to the most consistent referees in world football. Aside from that, another workmanlike effort.
Chad Barrett: 5
Barrett had one legit look on goal late in the second half but really should have started the match to test Jimmy Nielsen, who had a rather uneventful outing on Saturday.
Kyle Nakazawa NR, Marcelo Sarvas NR
Both players came in late and didn't do much to change the outcome of the contest, so no rating is given.