Arsenal Transfer Target Lukas Podolski's Video Highlights Reel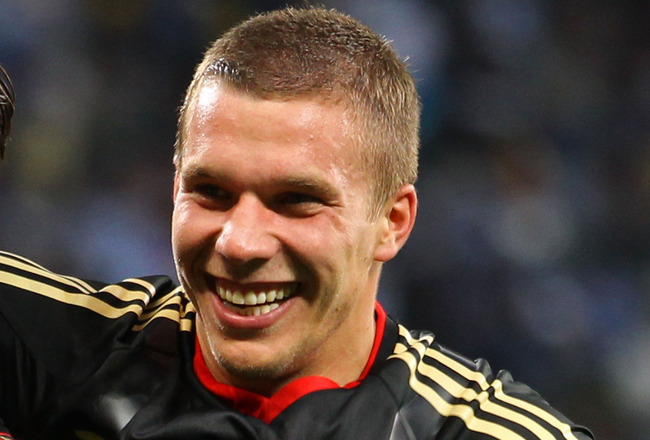 Joern Pollex/Getty Images
All this Lukas Podolski transfer talk takes my mind back to Euro 2008, Germany vs. Portugal.
I was lucky enough to be watching from the stands at St Jakob Park, Basel, as the Germans ran riot and won 3-2, though they could and should have scored many more. Bastian Schweinsteiger got the plaudits that night for a goal and a pair of assists, but the man who really caught my eye was Germany's left winger, Lukas Podolski.
He destroyed Portugal's right back, Jose Bosingwa, and pretty much every other player who tried to stop him. His speed, skill, creativity and of course, his hammer of a left foot stood out, and I wondered why a player who looked world class when playing for Germany hadn't hit the big time at club level.
He was on Bayern Munich's books at the time, and had managed only 17 goals in 75 games for his club up until then. On the contrary, his record for the national team was better than the elusive ratio of a goal every two games.
One season later, with the world at his feet, he left Bayern and re-joined his hometown club, FC Koln. He had a disastrous first season back, scoring just three goals in 2009-10. Bizarrely, he kept getting picked and scoring prolifically for Germany.
The 2010 World Cup in South Africa proved to be a turning point in Lukas's club career. Since the start of the 2010-11 season, he has scored 30 goals in 56 games for his club. His sparkling form, combined with his refusal to sign a new club contract due to "broken promises," have put him in the front row of European football's shopping window.
Happily, Arsenal seems to be his chosen destination, with the Daily Mail reporting that a deal has been done, and the website Caught Offside claiming that he has already completed his medical.
The touted transfer fee of £10.9 million is well within Arsene Wenger's preferred price range, making the likelihood of his transfer even more plausible.
Not sure about you, but I'm really excited about this transfer. I hadn't paid much attention to Podolski earlier, because he just couldn't cut it at club level. But having spent some time on YouTube, I really like what I see.
As an attacking player, Lukas Podolski has it all—speed, quick feet, a bagful of tricks, the ability to score with both feet, strength at set-pieces and a hammer of a left foot. In addition, he's got loads of experience—almost 300 club games and, astonishingly, 95 caps for Germany—quite astounding for a 26-year old.
And as you will see in the videos that follow, he has that most elusive quality—knowledge of where the goal is. Sounds obvious, but not everyone has it.
His ability to find the net when he looks off-balance and out of position is astounding.
Peruse on, and you'll see what I mean.
Follow me on Twitter @ratanpostwalla
5. Lukas Podolski: The Early Years
Here is a montage of some of his goals up until 2008, both for the German national team and for his clubs, FC Koln and Bayern Munich.
Great pace, tremendous thrust and drive, and of course, that stunner of a left foot.
One thing's for sure, though—the Arsenal fans had better think up a new song for him. Not sure if I can live with "Lu-lu-lu-Lukas Podolski" for too long....
4. Lukas Podolski, the Magician
As much as the word "effective" is an apt descriptor for his game, Lukas Podolski has plenty of touch and flair in his game. It's a wonderful contrast when compared to that sledgehammer of a left foot.
Here is a collection of his best tricks and flicks.
The man has undoubted class.
3. Lukas Podolski at FC Koln: The Second Coming
Lukas Podolski's club career was almost at a standstill at the end of the 2009-09 season. He had just endured and ended a miserable three-year spell at Bayern Munich.
Having joined the Bavarian club amid much fanfare and expectation, he was, quite frankly, a flop. Just 26 goals in 106 games is nowhere near good enough at a club that dominated local football, and were always a prominent force on the continent.
He returned to hometown club FC Koln, but his club form just didn't improve.
Three goals in 31 games in 2009-10 was an almost Chamakh-esque performance. Nowhere near good enough.
However, he seemed a changed man during and after the 2010 world cup, and burst back into the spotlight for his club in the following season. 14 goals in 34 games was a much better return.
This video brings you each and every one of them. Some are quite special. Are you watching, Marouane?
2. Stop Press: On Fire This Season
If 2010-11 was good for Podolski, the current season has been off the charts.
It appears as if the knowledge that he will be moving to pastures anew has freed the shackles. Lukas has been quite spectacular, with 16 goals in just 20 league games for FC Koln.
If he is indeed coming to Arsenal, this is the Lukas Podolski we are hopefully going to see.
I can't wait!
1. When Paris Hilton Approves, Who Are We to Argue?
I found this video on YouTube and thought it would be wrong to deny you all the pleasure of watching it.
On second thoughts, though, I'm not sure if Paris Hilton's endorsement is something a footballer would want on his CV.
I speak of his skills with a football, of course.
But this video does indeed confirm that Paris Hilton is one of the biggest air-heads around.
Let her have Cristiano Ronaldo, I say...
Keep Reading

Arsenal: Like this team?