Arsenal FC: Why It Is OK to Defend Arsene Wenger and Andrei Arshavin
January 24, 2012

Mike Hewitt/Getty Images
As a fan of the beautiful game, sometimes a loss just stings.
This weekend's Arsenal vs. Manchester United match truly defines those feelings.
Yet the biggest story to come out of the result is not the score line, or the fact that United is keeping pace with Manchester City for the title, or the fact that it wasn't a repeat of the first meeting between the two.
It was about some questionable and controversial decision making made by Arsene Wenger.
As a fan watching this game, I too experienced the same highs and lows as everyone else. And after giving ample amounts of time to soak in the result (and ensuing rage, frustration, anger, bitterness and sadness), rationality has begun to take over.
Fans of the Gunners must certainly be used to such feelings by now. Trophy-less since the FA Cup triumph of 2005, coming painstakingly short once again should be nothing new to swallow.
I'll be the first to admit that I was utterly bewildered when the fourth official called for Alex Oxlade-Chamberlain's number in exchange for Andrei Arshavin. Even before serving up a precise pass to Robin Van Persie en route to the Dutchman's equalizer, his play was creative and energetic and was menacing down the flank.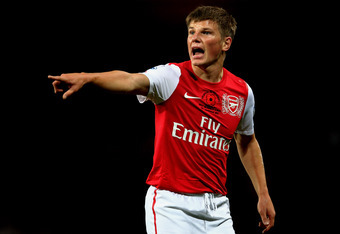 Julian Finney/Getty Images
If it were true that he was "ill" during the week and also his calf was bothering him, then I for one could not tell.
The irate boos and reception the diminutive Russian received seemed plausible at the time. Why would Wenger take off the Ox the second he created some momentum? And in doing so, why would be put a slouching an overtly under-confident Arshavin on?
This is where the ability to reflect truly comes into play. I respect Wenger so much as a manager because he is far from the current trends of "what have you done for me lately" football. He recognizes, as he duly stated in his defense during the post-game presser, that he wasn't putting on some no-name bum.
He was putting on Andrei Arshavin, Arsenal's record signing. The captain of Russia. The man who scored four against Liverpool at Anfield. The man who just last year scored a cracker to help beat Barcelona at the Camp Nou.
People will argue that the past is in the past, but the Frenchman understands the Russian's track record. That plays a gigantic part in his decision making and I for one am all for it at the end of the day.
When he is on (and yes, that day has been far and few between recently), Arshavin is a pint-sized dynamo capable of single-handedly unlocking a backline. He is influential and respected in world football, even if his form has been woeful of late.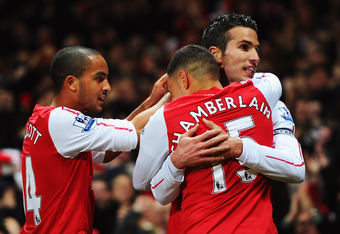 Mike Hewitt/Getty Images
Everyone knows that Arshavin has been in the dumps this year. His body language is sullen, he looks out of sorts and self-assurance is nowhere to be found in the winger. But that is why Wenger threw him into the fold.
Wenger gives his lads the opportunity to play out of a funk, whereas so many managers are quick to glue a slumping man to the bench (Fernando Torres, Andy Carroll, etc). As a player's coach, and a person who has true admiration and relations with his team, he puts destiny into one's hands. It is up to THAT person to take advantage of it, which Arshavin failed to do.
People are quick to come out and attack Arshavin's defensive miscue as well, which allowed Antonio Valencia (i.e. The Man of the Match) to find Danny Welback for the winner.
First of all, Arshavin is an offensive-minded player, flat out, which should be of no surprise to anyone. Were we really expecting him to come in with a textbook challenge on Valencia, who in my opinion was playing so well that not even Thomas Vermaelen could handle him that day, and start up a quick counter? Wishful thinking.
While I admit the attempt to defend was most definitely frail at the very least, and as a professional, basic defending is vital at the top level, we can not pinpoint a scapegoat. That is the last thing they need to do.
They need to examine the full 90 minutes, and ponder the spurned chance RVP had or the soft challenge Vermaelen put on Valencia for the opening goal. As difficult as that is to do, because Vermaelen and RVP are 99% of the time spot-on, fans must utilize patience, and above all, some forward thought process.
And when it comes down to it, the person and instance we all must take into consideration ultimately is the behavior of Oxlade-Chamberlain. When he was subbed off, you did not see him sulking and you did not see him complain. He acknowledged the fan's applause, took a seat and cheered his team until the very end.
You have to respect the fact that the 18-year-old has come out and said all of the right things. A sign of maturity is something missing in most young players, and Arsenal fans should be glad this kid acts like he is a seasoned vet.
I know I am going to get some mixed responses for this viewpoint, but in actuality I think it is fair to defend Wenger's decision making. You can direct more criticism towards Arshavin's efforts once he was introduced, but not to the extent I have been hearing.
Arsenal still has two major pieces of silverware to play for. They are a spot out of the Champions League but they have endured a tough schedule as of late. Fans must remain behind the squad, Wenger and the downed Arshavin.
How about we applaud the Ox for taking his first Premier League start and knocking it out of the park? It is funny how seemingly a child can put a lot into perspective.