Africa Cup of Nations 2012: Fixtures, TV Schedule, Live Streaming & How to Watch
January 23, 2012

Julian Finney/Getty Images
Lost amid the Arsenal-Manchester United weekend chatter—and soon to be disrupted by the midweek El Clasico Copa del Rey matchup between Barcelona and Real Madrid—is the 2012 Africa Cup of Nations tournament, which kicked off this weekend in Bata, Equitorial Guinea.
While it may not pack the punch or star power of this summer's European Cup in Poland and the Ukraine, Africa's continental championship features several talented squads and a plethora of big-name players.
From Didier Drogba, Kolo and Yaya Toure and Gervinho of the Ivory Coast to Ghana's Asamoah Gyan and Sulley Muntari, there will be plenty of talent on hand.
And with upstart hosts Gabon and Equatorial Guinea already having earned victories to start off their campaigns, the home fans are sure to get more and more involved as the three-week event goes on.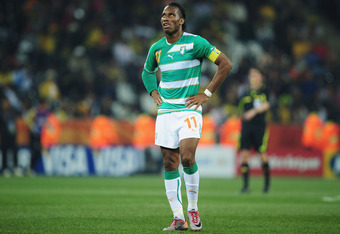 Clive Mason/Getty Images
If you're interested in following the matches live in the United States, you can do so on any number of sketchy underground, live-streaming websites.
But the safest, most reliable option for American viewers appears to be watching the matches live on Al Jazeera Sports USA, if, of course, you're lucky enough to get it on your cable system.
However you choose to follow the tournament, here's the full schedule for the 2012 Africa Cup of Nations.
| Day, Time ET | Matchup | Stage |
| --- | --- | --- |
|  Jan. 21, 1:30 p.m. |  Equatorial Guinea v Libya |  Group A |
|  Jan. 21, 4 p.m |  Senegal v Zambia |  Group A |
|  Jan. 22, 11 a.m. |  Ivory Coast v  Sudan  |  Group B  |
|  Jan. 22, 2 p.m. |  Burkina Faso v Angola |  Group B |
|  Jan. 23, 11 a.m. |  Gabon v Niger |  Group C |
|  Jan. 23, 2 p.m. |  Morocco v Tunisia |  Group C |
|  Jan. 24, 11 a.m. |  Ghana v Botswana |  Group D |
|  Jan. 24, 2 p.m. |  Mali v Guinea |  Group D |
|  Jan. 25, 11 a.m. |  Libya v Zambia |  Group A |
|  Jan. 25, 2. p.m. |  Equatorial Guinea v Senegal |  Group A |
|  Jan. 26, 11 a.m. |  Sudan v Angola |  Group B |
|  Jan. 26, 2 p.m.  |  Ivory Coast  v Burkina Faso |  Group B |
|  Jan. 27, 11 a.m.  |  Niger v Tunisia |  Group C |
|  Jan. 27, 2 p.m. |  Gabon v Morocco |  Group C |
|  Jan. 28, 11 a.m.  |  Botswana v Guinea |  Group D |
|  Jan. 28, 2 p.m. |  Ghana v Mali |  Group D |
|  Jan. 29, 1 p.m. |  Equatorial Guinea v Zambia |  Group A |
|  Jan. 29, 1 p.m. |  Libya v Senegal  |  Group A |
|  Jan. 30, 1 p.m. |  Ivory Coast v Angola |  Group B |
|  Jan. 30, 1 p.m. |  Sudan v Burkina Faso |  Group B |
|  Jan. 31, 1 p.m. |  Gabon v Tunisia |  Group C |
|  Jan. 31, 1 p.m. |  Niger v Morocco |  Group C |
|  Feb. 1, 1 p.m. |  Botswana v Mali |  Group D |
|  Feb. 1, 1 p.m. |  Ghana v Guinea  |  Group D |
|  Feb. 4, 11 a.m. |  A Winner v 2B |  Quarters |
|  Feb. 4, 2 p.m. |  B Winner v 2A |  Quarters |
|  Feb. 5, 11 a.m. |  C Winner v 2D  |  Quarters |
|  Feb. 5, 2 p.m. |  D Winner v 2C |  Quarters |
|  Feb. 8, 11 a.m. |  TBD v TBD |  Semis |
|  Feb. 8, 2 p.m. |  TBD v TBD |  Semis |
|  Feb. 11, 2 p.m. |  TBD v TBD |  3rd-place |
|  Feb. 12, 2 p.m |  SF 1 Win v SF 2 Win |  Final |