Liverpool FC, Kenny Dalglish, Luis Suarez and Racism: What Is the Best Solution?
January 16, 2012

Clive Brunskill/Getty Images
Liverpool Football Club's managing director Ian Ayre made a statement that reflects the club's position regarding the recent sad matter of racism within the club. He stated:
One of the many disappointing things about recent events is that it has led some people to the perception that Liverpool Football Club's stance on racism and discrimination is not as firm as it is.
It must be stated from the off set that Liverpool Football Club are not a racist club, nor does it in any way condone or support it and is fully committed to eradicating it from the game.
From a personal point of view, I would also like to add, that having grown up in England during the late 1970s and early 1980s and having experienced this scourge of society first-hand, I echo fully the stance of club that I so passionately support.
Having said that, one must reflect on the matter and with hindsight openly discuss Liverpool Football Club, its manager Kenny Dalglish and Luis Suarez, the player at the centre of this terrible and potentially damaging incident.
The position of the club has been firm and stead fast from the start of this saga. It has defended Suarez and maintained that he is not a racist person. Could the club have done more to have stopped the fuse, once lit, making its way to the explosive?
I think, and this is my own opinion, that Suarez is not a racist person. However, he is, or was prior to this incident, an ignorant one.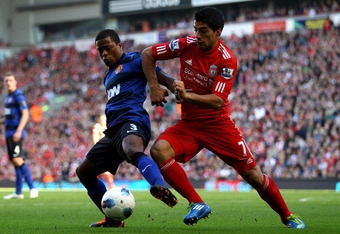 Clive Brunskill/Getty Images
The nuances and intricacies of the Spanish language and whether the term which Suarez used when referring to Partice Evra, is not for me to comment upon in this forum or article, as is what has happened. There is a reference which Suarez has used, which within the culture and environment that he now plays is not acceptable. Who is to blame for him using such a term?
Could, or should, Liverpool Football Club have been able to predict that a player, new to playing in a country, be aware of what is considered acceptable to be said considering the background from which he has come or been brought up?
So much has been said of the way the club has handled the situation. But with the FA Cup fifth round clash between the clubs looming on the horizon, it maybe more prudent to see what the club has learnt from this whole affair and what steps should be taken to see that something of this nature is not repeated.
Personally, I think that I will not get into the whole issue of whether appealing the verdict is an admission of guilt.
I would like to see Liverpool and all other clubs take steps to educate new players, particularly those new to the country, on the social etiquette of the game here in England.
Overseas players coming to play in England for the first time should be formally educated on what are the 'do nots' of the way the game is to be played here. Just as they are informed that in all matches there is the formal handshake of the players at the start of each encounter, they should be advised of what is considered socially unaccepted in the game here.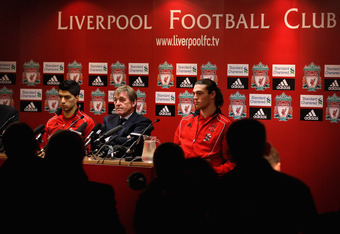 Alex Livesey/Getty Images
It may be sad that clubs have to resort to this, but it would ensure that new foreign players are not left ill-informed and ignorant.
Dalglish has stood behind his player and players. Rightly or wrong in this current situation, one cannot say that he has not been committed to defending his team.
His stance, and one that he has maintained, is that he does not believe that Suarez is a racist man and that having been told this by the player, he has no reason to doubt him and therefore will stand up in his defence.
Dalglish has also maintained that he is in no way racist and that by backing his player, who states that he is also not racist, is not tantamount to racism or being racist himself. His position may be unmoved, but it has not demonstrated racism in any shape or form.
He has repeated that racism is not and should be part of the game. He has not defended racism or racist people or their behavior. He has defended his player who has maintained that he is not a racist.
The FA had a real chance to send a clear message to all the players and their clubs that it will not tolerate this type of unacceptable behaviour; not with its verdict, but with its punishment.
They issued a long ban and a hefty fine on Suarez alone, when maybe Liverpool Football Club was also at fault here.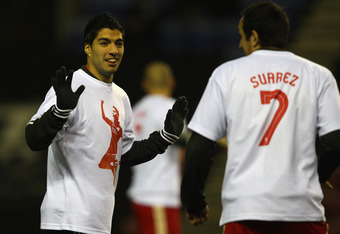 Michael Steele/Getty Images
I would put it to fans of football, that the club should have also gotten a hefty fine, as it is clubs that will ultimately be part of any complicated solution.
The FA would have done well to introduce a mandatory education and training programme for all new foreign players signed by English clubs. This would be conducted in a language the player would fully understand and would be a culmination of all that the FA has learnt to date and a guide to what is racially unacceptable in this country.
This training could be conducted at the time of the medical for the player and even written into his contract, that he has been given this induction course and fully understood its content.
Liverpool Football Club is not a racist organisation and neither is its stance on the issue weak, to suggest otherwise is ludicrous. Suarez, maybe ignorant, but he is not racist. Dalglish is not a racist and to suggest that his support towards his player suggests that he is, is also ludicrous.
English football's governing body, the FA, should take a leading role in looking to find ways that these events are not repeated.
The FA's attempts to remove racism and racist behaviour from football through bans and fines is not a clearly thought out solution, but rather a knee-jerk reaction.
Surely, the long-term solution lies in the education of players through the active participation of their clubs.