Premier League: Chelsea and AVB Must Go Backwards to Go Forwards
January 12, 2012

Jamie McDonald/Getty Images
As spritely and as energetic as their young manager is, there is no hiding that Chelsea and Andre Villas-Boas remain reliant on their ageing stalwarts to help secure points more often than not.
The young Portuguese coach, youthful and often pedantic in his favourite spot, in the corner of his technical area, crouched and fidgety, must surely be coming to the following realisation.... 
Even with the dynamism of Juan Mata and Daniel Sturridge on Chelsea's flanks, the spine of this current crop, remains best served with experience.
Didier Drogba, Frank Lampard and John Terry—the order here being their relative proximity to the exit door, remain Stamford Bridge's go to men, pace or no pace.
At 34, conventionally Villas Boas remains far too young to be a top-flight manager, than any of his old guard are too old to be title challengers. Where there is a will there is a way but the way forward is not always the way up.
Compare Mourinho's men, which Terry, Lampard and Drogba perhaps still long to be, with their closest competitors, these three come out on top, even if the latter two are unable to maintain lofty standards throughout the full 90 minutes.
A defence without Terry remains a worry for Chelsea, far more so than one without the unpredictable David Luiz. As for Lampard, he cannot and will not cover as much ground as previous but his pass completion still sets him above his fellow midfielders.
Though perhaps Ramirez is starting to match him for goals, due chiefly to the reasoning above, the Englishman simply cannot cover the ground to be able to score as many in seasons' past.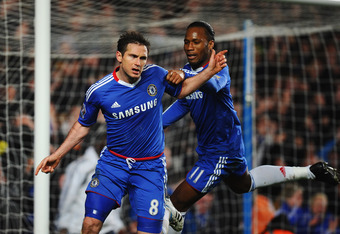 Clive Mason/Getty Images
Then of course there remains the issue of Drogba, or should the issue really be labelled Fernando Torres. The Ivorian on his day, which is still more often than not, remains a menace to centre-backs even a pair of them when played as a lone striker
Yet no menace is greater than a £50 million spent being shelved. Torres, wanting or otherwise, must play, not only to Villas-Boas's wishes but the powers above.
How high Chelsea finish remains anyone's guess. How low they finish will depend on the stubbornness of decision makers in persisting with new personnel.
This is not to say that their wilting stars will not eventually peter out but for now they remain taller than the rest of the Chelsea garden. Taller still than Chelsea's latest flower, the manager himself.