World Football: 50 Weirdest and Funniest Post-Match Interviews Ever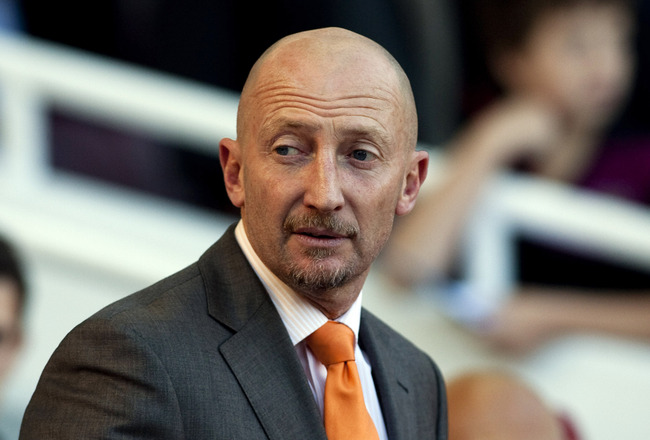 Ben Hoskins/Getty Images
The post-match press conference and team interviews always have the chance to bring out the best or worst in players, managers and reporters alike.
Some things are weird, and some things are just plain funny. Here are some of the best of both worlds.
Whether it be a misunderstanding of language, culture or even just a funny jab at a teammate or friend, you can always count on something happening more times than not to make the post-match highlights worthwhile.
Jaime Carragher
What on earth is that noise he is making?
Emmanuel Adebayor
I seriously have no clue what he is saying.
Rafa Benitez
The "27,000 people" speech.
Jose Mourinho
The bus is parked...or the plane.
Zlatan Ibrahimovic
The striker lets the reporter know how he feels. I apologize for some of the language.
Thierry Henry and Cesc Fabregas
Andre Villas-Boas
Ahh just admire..wait, what was the question?
Jose Mourinho and Andre Villas-Boas
Not post-match, but still funny.
Steven Gerrard
Someone pulled the mat out on Captain Fantastic.
Chelsea Again
This poor chick can't get a break at all, but at least it proves the guys have some fun.
Daniel Agger
The frustration mounts for Agger.
David Luiz
He doesn't even have to say a word.
David Bentley
Where did their shirts go?
Anderson and Cristiano Ronaldo
Who needs translators and reporters?
Spanish National Team
So much for Bastian Schweinsteiger's interview.
Sir Alex Ferguson
We will get him on Friday.
Cristiano Ronaldo
I am the pinup boy, but Messi and I are both the best.
Owen Hargreaves
An Englishman sandwich between the Portuguese wingers.
To Much Sweat
Seriously, that is insane.
David Luis and Michael Essien
Thanks you, boys. Thank you, Chelsea.
Patrice Evra and Ji-Sung Park
Emmanuel Adebayor
Nothing but a bunch of crybabies.
Ian Holloway
Brilliant. If it were me, heads would roll...seriously.
Jose Mourinho
If I want Sir Alex's job one day, I better tread lightly on this.
Cristiano Ronaldo
If only we were all so modest.
Arsene Wenger
It was the reporter that made it interesting.
Rafa Benitez
Having a go at Sir Alex Ferguson.
Sir Alex Ferguson and Sam Allardyce
Johnny Evans and Sir Alex
This is how it goes, young lad.
Roy Keane
Not a Lady Gaga fan I can see.
Sir Alex Ferguson
Why do you ask these questions?
Landon Donovan
Seriously, did you just ask that question?
Phil Brown
Professionalism, seriously.
Harry Redknapp
Sarcasm is everyone's friend.
Christiano Ronaldo
I don't understand this confidence thing.
Craig Bellamy
He won't waste his time on John Terry. He knows what he is like.
Keep Reading