Arsenal FC: Return of Thierry Henry Only Proves Arsene Wenger Wrong
December 30, 2011
Laurence Griffiths/Getty Images
Arsene Wenger has confirmed that a deal is in place to turn Thierry Henry's brief training period with the club into a two month loan deal before he has to return to his US club the New York Red Bulls. Wenger stated, "It was my idea. He was happy about it, but it was my idea." (Courtesy of Skysports.com.)
From that statement alone it seems that Wenger can not hide his joy and is almost in a boastful mood. There is obviously something he still sees in his old teachers pet, which can be corroborated with comments from other first team players. Established players such as Alex Song, pardon the pun, have sung the legends praises since his return to training and even new players like Per Mertesacker have rated the return of the prodigal son.
Of course Mertesacker would still think Henry was lightening, as his own pace can be compared to that of a snail's. Training is different to the real physical demands of Premiership Saturday afternoons, where the opposition do not care for status or respect. I sincerely hope that Henry, now 34, knows that his legacy can be slightly tarnished by this decision, but I'm sure his ego would have told him that he is good enough and that this is what the fans want.
He is right. This is what the nostalgic fans, including myself, want and I'm sure he does still hold the technical ability to surpass all—if not most—of the Arsenal first team, though these days that is hardly a contest. In the state the current Gunners squad is in, Henry coming back now for a two month deal is actually a good bit of business. Either way it's neither a win or lose situation, hence why Mr Arsene Wenger is so proud of the moment.
For me this hides a lot of questions that should be pointed at the manager, such as: What about the purchases that were made in the summer, which were supposed to solve some of the more current problems the team had?
Wenger purchased Joel Campbell, Alex Oxlade-Chamberlain and Ju-Yung Park to strengthen the squad. What he didn't say was that they would get little or no playing time. Hardly the sign of a manager trying to fix immediate issues. No wonder senior players are looking to leave the team. Who's next? Robin Van Persie? God forbid.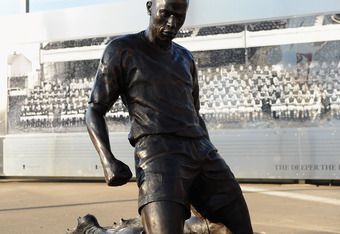 Michael Regan/Getty Images
Henry is not the first player Wenger has had to drag back to the club after letting them go. Sol Campbell and Jens Lehman have both had to be persuaded to do the same as Wenger looks for the cheap fix. Incidentally, all three have been previous Arsenal captains. He even toyed with the return of Patrick Viera. For me it should be seen as an embarrassment, something Alex Ferguson would never do.
Releasing a player because you feel they are passed it and you have moved on, only to entice them back to save your bacon should be seen as a weakness, a sign of defeatism. It is clear that Wenger's vision was more a fantasy and now surely he can see the club have gradually gone backwards. It shows that there has been no progress and that Wenger has been wrong on the decisions he has made with the comings and goings of most of his players. There have been bigger losses to his squad then additions and now he has had to drag players close to retirement back into his team, on a number of occasions.
Wenger is not a silly man and has played a very clever game this season. The football on the pitch at the moment is still very much the same as the football played at the beginning of the season. However, Van Persie is on fire and the late additions, due to the defeat at Old Trafford, have helped plug holes that should have been filled as soon as the transfer window was open.
Since the rise up the table he has left question marks over his future by talking to French press about his uncertainty of how much more he can give to Arsenal. He knew that the fans would then treasure him more than ever. If he had said that after the 8-2 loss the mood may have been different.
Arsene Wenger still has a long way to go to prove to me that Arsenal are still a top four team as the football has been moderately good against mediocre opposition, including a mediocre Chelsea. For me, the jury is still out as for the last five seasons the second half of the season has not been Arsenal's strongest period. The return of Jack Wishere and Bicary Sagna could not come any quicker. Those who think Wenger will buy another striker in addition to Henry in January do not know him at all.
Twitter: @SamuelMensahLDN