World Football's Top 11 Feel-Good Stories of 2011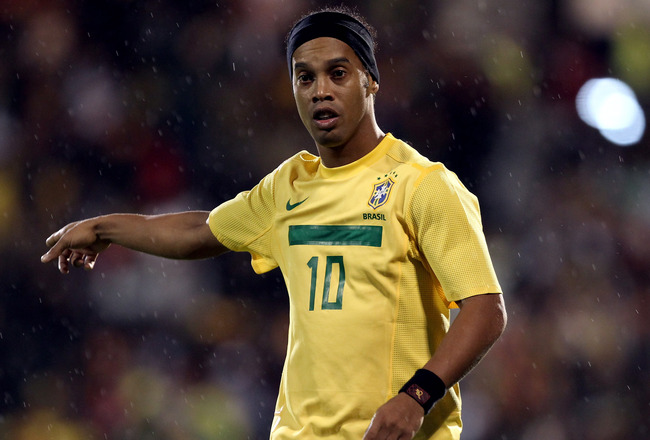 Clive Rose/Getty Images
Football can be a cynical and joyless business these days. Corporate greed dictates which games we see and which we don't. Ticket prices are too high, despicable agents hold clubs at ransom and some players have a sense of entitlement that makes them impossible to love.
But it's not all bad. As the English band Starsailor once sang, "Thank goodness for the good souls, who make life better."
In 2011, we were certainly treated to our share of uplifting, football-affirming stories. From the fantastical underdog exploits of no-name players and teams, to the rejuvenation of some of our best-loved stars of yesteryear, there was much to celebrate.
Here are my 11 feel-good stories of 2011.
1. American Samoa Finally Win
In 2001, American Samoa lost a World Cup qualifier 31-0 to Australia—a world-record defeat in the competition.
It was the lowest point in a desperately low 17 years for the nation—who arrived in 2011 having lost 30 consecutive games and not tasting victory since beating Wallis and Futuna (who?) in 1983.
Then came their Oceania World Cup qualifying game against Tonga in November, and with it a 2-1 success that was celebrated throughout the footballing world.
American Samoa leaped 18 places in the FIFA rankings as a result, and into the hearts of millions of us to boot.
2. David Beckham Wins MLS Cup
It took him four years, most of which was seemingly spent injured or trying to negotiate loan moves back to Europe, but ultimately David Beckham delivered.
The man LA Galaxy paid the world for was instrumental in their MLS Cup triumph, and you couldn't help but enjoy the moment with him. For all his fame and wealth, Beckham remains the most dignified and hard-working man in football.
It was his intense work ethic that made 2011 the culmination of his time in the MLS, and Galaxy will be poorer without him.
3. Sir Alex Ferguson Celebrates 25 Years at Manchester United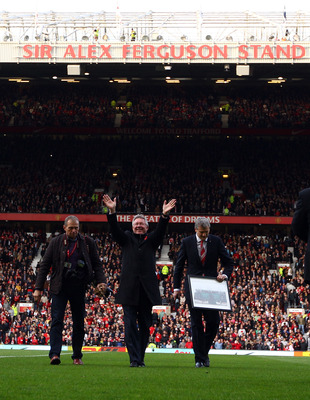 Richard Heathcote/Getty Images
Like him or loathe him, there's no denying the remarkable achievements of Manchester United manager Sir Alex Ferguson.
In November, Ferguson celebrated his 25th anniversary at Old Trafford. To mark the occasion, the club unveiled a stand named in his honor before their home match against Sunderland.
I was lucky enough to be at Old Trafford that day, and the reception that greeted the great man, from both sets of supporters, was truly something to behold.
4. Mexico Triumph at the Gold Cup
It's been a mixed year for the Mexican national team, but it was a cynical football fan who didn't enjoy their romp to Gold Cup glory in June (that or a USMNT fan of course).
A crowd of 93,420 filled the Rose Bowl in Pasadena for the final, where Mexico saw off the U.S., 4-2. The highlight was Giovani dos Santos's sublime chip, which ultimately sealed the victory.
Mexico's next generation were to the fore in the tournament. Provided they can steer clear of controversy, they look to be heading in the right direction for World Cup 2014.
5. Republic of Ireland Qualify for Euro 2012
Irish eyes were smiling again in November, as Giovanni Trapattoni's Republic qualified for Euro 2012 in emphatic style with a 5-1 aggregate playoff win against Estonia.
The success went some way to erasing the painful memory of Thierry Henry's infamous handball in 2009, which robbed Ireland of a place at the 2010 World Cup.
The Irish will be at their first major tournament since the 2002 World Cup next summer in Poland and Ukraine. Whatever happens in a group that contains Spain, Italy and Croatia—you can bet your life they'll enjoy it.
6. Ronaldinho's Return
After nearly a year in the international wilderness, the toothy grin and ridiculous skills of Ronaldinho were reinstated to the Brazil team in September.
The 31-year-old returned against Ghana, and kept his place for the friendly matches that followed. His comeback was capped with this trademark free-kick against Mexico, and the Brazilian public are not alone in hoping it continues.
Ronaldinho on one wing, Neymar on the other. What could be more Brazilian than that?
7. USWMNT Stun Brazil
The 2011 Women's World Cup was high watermark for women's soccer. Millions tuned in to watch a captivating tournament unfold, and nothing bettered the dramatic U.S. victory against Brazil in the quarterfinals.
The U.S. went ahead early on, before a twice-taken penalty from Marta leveled the game at 1-1. The game's biggest star scored again to make it 2-1 early in extra-time, but Abby Wambach forced a penalty shootout with a header at the death.
It was then left to Hope Solo to provide the heroics that sent her star still further into the stratosphere.
8. Barca Masterclass
Barcelona took on Manchester United in the 2011 Champions League final, and proceeded to dominate the 2008 and 1999 winners in typically convincing fashion.
Following a comprehensive 3-1 defeat, United manager Sir Alex Ferguson called Barca, "the best team I have faced." He added: "Nobody's given us a hiding like that but they deserve it."
Pedro, Lionel Messi and David Villa did the damage for Pep Guardiola's pass masters, who will enter 2012 having won 13 of 16 trophies available to Guardiola in his time at the club.
Another reason to cheer Barca's success at Wembley in May, as was well pointed out by Temi Tayo-Tiwo, was the presence of Eric Abidal in their starting XI. Abidal had a tumor on his liver removed in March, and thus completed a remarkable recovery from cancer diagnosis to Champions League winner in a matter of weeks.
9. Forlan Leads Uruguay to Copa America
After his superb performance at the 2010 World Cup, Diego Forlan came good again on the international scene with a double in the Copa America final.
Forlan's brace helped Uruguay to a 3-0 win against Paraguay, bringing his nation their first Copa triumph since 1995.
Forlan's strike partner Luis Suarez was named MVP for the tournament.
11. Japan Win Women's World Cup
An extra slide added due to phenomenal public demand—it's Japan winning the Women's World Cup.
Their final against the U.S. kicked off at 3.45am local time in Japan, but that didn't stop millions tuning in to witness a tense penalty shootout triumph for the team one commentator called the Barcelona of the women's game.
For a nation reeling from the devastating effects of natural disaster, it was a sporting success that brought much-needed cheer and pride.
Keep Reading