Ravens vs. Chargers: TV Schedule, Live Stream, Radio, Game Time and More
December 17, 2011
Jeff Gross/Getty Images
Two teams that are perennial AFC powers will square off on Sunday night when the Baltimore Ravens travel west to take on the San Diego Chargers.
These two teams have experienced dramatically different seasons. 
The Ravens are tied for the best record in the AFC at 10-3. They are technically tied with the Steelers atop the AFC North, but hold the tiebreaker. 
The Chargers are on a two-game winning streak, but come in at 6-7, virtually out of the AFC West race. 
Where: Qualcomm Stadium. San Diego, California
When: Sunday,  Dec. 18 at 8:20 p.m. ET
Watch: NBC 
Listen: 98 Rock and WBAL-1090 AM in Baltimore. KIOZ 105.3 FM and KLSD 1360 AM, Sirius: 93 in San Diego. Streamed at nfl.com (not a free stream).
Betting Line
Ravens (-3), according to Bodava. 
That's a safe number for the Ravens. San Diego has struggled all season against strong defenses, and Baltimore is one of the top defenses in the league. Offensively, they have the weapons to exploit San Diego's weaknesses.
What's at Stake?
Baltimore will make the playoffs. But despite sweeping the Steelers, they are still fighting for a division title. Additionally, a first-round bye and home-field advantage are on the line, as the Ravens, Texans, Patriots and Steelers are all 10-3.
For the Chargers, very little. They're mathematically alive, but are two games behind the Broncos and one behind the Raiders with only three games to play. 
Ravens' Injury Report
K Billy Cundiff, CB Lardarius Webb, CB Chris Carr, G Ben Grubbs, LB Ray Lewis, DT Haloti Ngata and DE Cory Redding are probable. 
RB Anthony Allen is probable.
Chargers' Injury Report
C Colin Baxter, LB Donald Butler, DE Jacques Cesaire and LB Takeo Spikes, are questionable.
S Darrell Stuckey is probable.
Fantasy Start 'Em, Sit' Em and Sleeper
Start 'Em: Ray Rice. He's clearly the top weapon on the Ravens offense. They need a big performance from him to set up their passing game.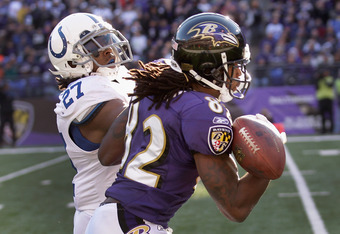 Rob Carr/Getty Images
Sit' Em: Chargers' RB Ryan Mathews. This is a much better defense than any he has done well against this year. When Mathews has gone against the league's top defenses, his performances have been consistently poor.  
Sleeper: WR Torrey Smith. He's a consistently dangerous big-play option for an offense that does struggle to sustain drives. Joe Flacco will be looking his way all game.
What They're Saying
Jeff Zrebiec of the Baltimore Sun feels that one of the keys to a Ravens win will be to exploit San Diego's poor offensive line.
Two of the Chargers' best blockers -- Kris Dielman and Marcus McNeill -- are on injured reserve, forcing San Diego to pluck former Raven Jared Gaither off waivers and juggle the rest of their offensive line. The Ravens, who currently lead the league with 45 sacks and boast the AFC leader in that category in Terrell Suggs, should be able to take advantage of that and get to Philip Rivers.
Brian Hiro of the North County Times wrote that the return of Malcom Floyd has made the Chargers a significantly more potent, diverse offense.
This is the domino effect of the Chargers' offense. Take Floyd off the field — before playing in the last two games, he had missed the previous four with an oblique injury — and opponents have more resources to devote to stopping Gates, top wideout Vincent Jackson and emerging running back Ryan Mathews.

Put Floyd on the field — with the deep threat posed by a 6-foot-5, 225-pound target who possesses above-average speed — and the Chargers become exponentially more versatile and difficult to defend
Ravens Player to Watch
S Ed Reed. Against a quarterback like Rivers, it will be interesting to see how Reed attacks. He's one of the best ball hawkers of all-time and has a tendency to find the end zone after interceptions. He will need to be accounted for at all times. 
Chargers Player to Watch
QB Philip Rivers. Their recent winning streak can be chalked up to him not turning the ball over. When they were losing before, he was. The Chargers will have no chance in this game if Rivers throws the ball to the Ravens.
Key Matchup
Chargers' offensive front vs. Ravens' defense. Baltimore attacks the quarterback all game long. San Diego will need to find ways to keep the Ravens' defenders out of Philip Rivers' face. 
On the Hotseat
Norv Turner. The Chargers need to run the table to have any chance of making the playoffs. If they don't make the playoffs, Turner is as good as gone.
Prediction: Ravens 24, Chargers 13
The Ravens are just the better team here. The Chargers will have their moments, but Baltimore will ultimately win easily.