Yankees' 20-Year-Old Phenom Estevan Florial Has Future 5-Tool MLB Star Power
March 6, 2018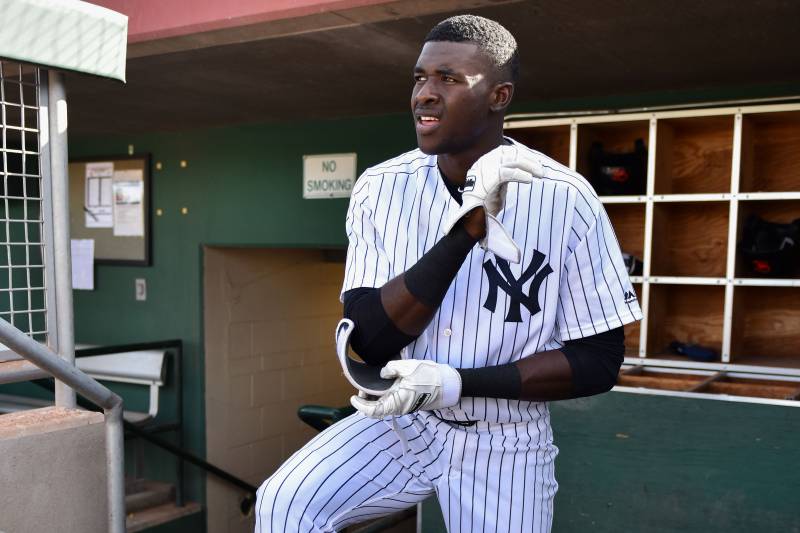 Jennifer Stewart/Getty Images
Estevan Florial arrived to New York Yankees camp as a non-roster invitee whose task involved standing out next to a reigning MVP, a reigning Rookie of the Year, a handful of Cy Young contenders, perhaps the mightiest bullpen ever, and several other highly regarded prospects.
Not a problem, apparently.
Although Florial isn't looming as large on the radar as fellow top prospect Miguel Andujar, he's hardly flying under it, either. The 20-year-old center fielder from the Dominican Republic has played in eight games and put together a 1.089 OPS, in part thanks to a league-leading three triples.
For many, this is the first real glimpse at one of the most helium-filled prospects in Major League Baseball.
Florial is ranked as the No. 3 prospect in the Yankees' loaded system by Bleacher Report. He's also a standout on top-100 lists elsewhere: No. 79 for FanGraphs, No. 44 for MLB.com, No. 32 for Baseball America, No. 26 for Baseball Prospectus.
What has everyone so excited? One word: tools.
"As a scout, using the scout lens, you're looking at the athleticism, you're looking at the tools, the speed, the arm. Everything is just a plus," Tim Naehring, the Yankees' VP of baseball operations, said of Florial to Pete Caldera of NorthJersey.com. "And at a premium position, center field."
More so than the numbers, the exciting part of Florial's spring breakout is getting to see his tools in action. For instance, here's him showing off his power and speed on a triple off two-time All-Star Pat Neshek:
The speed that earned a "Man, oh, man" from Philadelphia Phillies play-by-play man Tom McCarthy is as real as it gets. It grades out as well above average and projects as an asset for him on both the basepaths and on defense.
And while the 6'1", 185-pound Florial may lack a slugger's size, the video doesn't mislead about how he has a slugger's power.
What you see is an effortless swing followed by a rocket to the opposite field. Any prospect who can do that regularly is not to be taken lightly. And courtesy of MLBFarm.com, here's a graph that confirms he has indeed done it regularly since beginning his pro career in 2015:
Image courtesy of MLBFarm.com.
The bulk of Florial's homers and extra-base hits have gone to right field, sure. But he's also produced a steady supply to center field and to left field. By the normal standards of less-than-humongous speedsters, that's impressive stuff.
The one tool that hasn't yet made a notable appearance this spring is his throwing arm. But rest assured, it exists. 
As evidence, consider when he unleashed a laser to cut down a speedy runner at home while he was playing with the Single-A Charleston RiverDogs in May 2017:
Of course, no analysis of any prospect is ever complete without a "Yeah, but..." portion of the program. In this case, Florial's is a doozy.
Since this discussion is prompted by his red-hot spring, the first caveat is that he's mostly faced inferior competition. According to Baseball Reference, his opponent quality rates as a 6.6 on a scale of 1 to 10. That's roughly equivalent to Double-A competition.
Then there are the whiffs. Florial has struck out in five of his 16 plate appearances. That's a rate of 31.3 percent, which is in line with his 28.2 career K% in the minors. And that's not counting his stint in the Arizona Fall League, which included a 35.8 K%.
Florial's problem has to do with pitch recognition. This was a deal-breaker for ESPN's Keith Law, who left Florial out of his top 100 and issued the following warning:
"Players can improve their pitch recognition with repetitions, but baseball history is littered with examples of prospects who couldn't, and Florial has a very long way to go before his projected performance matches his pure physical ability."
As it is, Florial is probably at least a year away from breaking into the major leagues. If his biggest flaw lingers or gets worse, his timeline will become much more uncertain.
One point to make in Florial's defense, however, is that he's been significantly younger than the competition at every step of his professional journey.
He played the 2017 season at just 19. That made him two-and-a-half years younger than the average player at Single-A last year and closer to four years younger than the average player once he got to High-A Tampa and the Arizona Fall League.
Then there's the next point in Florial's defense: With bat speed like his, he at least has what he needs to hold his own against the ever-increasing fastball velocity in modern baseball.
Then there's the last point: For the most part, Florial's swing-and-miss habit hasn't gotten in the way of putting up numbers.
That's true of this spring. It's also true of his showing in the AFL last year, as he managed a solid .797 OPS in 19 games. Before that came an .828 OPS in 19 games at High-A and an .855 OPS in 91 games with Charleston.
His power has been a factor, but just as important is how he hasn't let his pitch-recognition issues stop him from taking his walks. He had a 10.5 BB% in the minors last year and a 12.3 BB% in the AFL.
Because it consists of 389 plate appearances, Florial's stint with Charleston in the South Atlantic League is the best sample to consider for further inspection. All told, walks (10.5 percent) and extra-base hits (9.5 percent) accounted for 20 percent of his results.
With the help of FanGraphs, I found that Florial is one of only 25 teenagers who have provided walks or extra-base hits at better than a 20 percent clip in single seasons in the South Atlantic League since 2006.
It's mostly an unspectacular list, save for the names that really stand out: Bryce Harper, Giancarlo Stanton, Joey Gallo, Gary Sanchez and Trevor Story.
That's encouraging company that's made all the more encouraging by the realization that none of the five ever was or is now a low-strikeout hitter. They're living proof that a high strikeout habit in the low minors isn't necessarily a death sentence so long as you have youth and tools to lean on.
Florial has the former and certainly has plenty of the latter. All he has to do is keep putting them to work, and future years should make his 2018 spring breakout look more like a promise than a fluke.
Spring training data courtesy of MLB.com. Other data courtesy of Baseball Reference, FanGraphs and MLBFarm.com.