Los Angeles Dodgers: Ned Colletti Must Make Moves Before the All-Star Break
June 26, 2012

Stephen Dunn/Getty Images
The Los Angeles Dodgers are in a tailspin, and they must do something to stop the bleeding soon.
After dropping the series opener to the San Francisco Giants 8-0 last night, Los Angeles is now in jeopardy of falling into a tie for first place in the NL West by the time the series ends on Wednesday night. The Dodgers are now 11-12 in June and are in danger of having their first losing month since July of 2011.
While injuries to All-Star center fielder Matt Kemp—who's missed 38 games across two DL stints with an injured hamstring—and starting pitcher Ted Lilly have certainly hurt, it's more apparent than ever that the Dodgers need to make a trade or two soon if they want to maintain their grip on the division and have a shot at an extended playoff run.
Both the San Francisco Giants—who are now within two games of the first-place Dodgers following Monday night's win—and the Arizona Diamondbacks—the defending NL West champions—are starting to play like most predicted they would at the start of the 2012 season.
Neither team should be expected to take steps backward during the second half, injuries notwithstanding.
Yesterday I wrote a column outlining eight deadline possibilities for the Dodgers, but now it's clear that general manager Ned Colletti cannot wait that long before making moves to improve the roster.
The Dodgers hope to have Kemp back after the All-Star break, but there is no definitive timetable for his return. Lilly's return is not imminent, either, and Nate Eovaldi may not be the long-term solution, as he continues to struggle with his command despite looking good in five of his six starts this year.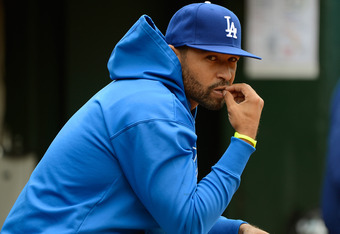 Thearon W. Henderson/Getty Images
Los Angeles knew that it had questions in both the rotation and in the lineup entering the 2012 season, and while their strong start helped to mask some of those deficiencies, it is now time to start plugging those holes in preparation for a second-half playoff run.
The addition of the second Wild Card spot in each league has narrowed the field of teams that are clearly out of contention heading into the July 31st trade deadline. This will create greater competition for the few players that are available via trade, so Colletti would be wise to start working the phones now.
The Dodgers can expect some improvement to occur organically once Kemp and Lilly eventually return. But that likely won't be enough to hold off second-half surges from the Giants and Diamondbacks, as well as other National League teams that may make moves to improve their postseason chances.
Contact Geoff at geoff@popflyboys.com, follow him on Twitter @snglemarriedguy and read more about sports and pop culture at popflyboys.com.