Yankees Closer Rafael Soriano Would Be Nuts to Opt Out after 2012
June 20, 2012
Patrick McDermott/Getty Images
Amazingly, the New York Yankees haven't missed Mariano Rivera all that much. He was lost for the season well over a month ago, but leads are just as safe in the ninth inning now as they were back when he was healthy.
The Bombers have Rafael Soriano to thank for this. He took over as the team's closer in early May after David Robertson got injured, and he's been money ever since.
So far, Soriano has 13 saves in 14 opportunities. Per Baseball-Reference.com, he has a 1.59 ERA and a 4.25 strikeout-to-walk ratio in save situations, as opposed to a 2.16 ERA and a 0.83 strikeout-to-walk ratio in non-save situations. Turns out he's a better closer than a set-up man after all.
Suddenly, the three-year, $35 million contract he signed in January of 2011 doesn't look all that bad. It's still bad, mind you, but not that bad.
Because of Soriano's recent success, people are starting to wonder if maybe he'll choose to become a free agent this offseason instead of picking up his $14 million player option for the 2013 season. That's a lot of money, but Joel Sherman of the New York Post pointed out that Soriano could go searching for a multi-year deal worth many more millions if he opts out.
He could, but that would be a fool's errand. Choosing to decline his $14 million option for 2013 would be pretty dumb.
As Sherman was quick to note, the biggest problem is that closers just aren't getting big-money contracts anymore (see Ryan Madson and Francisco Rodriguez). Clubs are wise to the fact that good closers can be found from within for cheap, and they're also wise to the fact that handing out big contracts to closers can result in disaster.
Francisco Rodriguez's contract with the New York Mets is a good example. He got a three-year, $37 million contract from the Mets in 2008, and he was never as effective for them as he was for the Los Angeles Angels. He posted a 0.3 WAR his first year and a 1.4 WAR his second year (per FanGraphs), and he was ultimately traded at the All-Star break last season.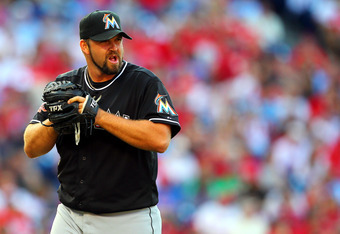 Rich Schultz/Getty Images
Heath Bell's contract is another good one. Despite the fact he had topped 40 saves three years in a row, he only got a three-year deal worth $27 million from the Miami Marlins. He's come around after a really slow start, but so far his contract is looking like a bust.
The Bell contract is one that should scare Soriano away from declining his $14 million option for 2013. Bell couldn't even get a contract worth $10 million per year, and he had three 40-save seasons under his belt. Soriano is likely to have just one 40-save season under his belt at the end of this season, so the odds of him getting a multi-year contract worth upwards of $10 million per season aren't good.
Yes, he did indeed manage to get a deal like that before, as the Yankees signed him on for three years and $35 million knowing full well that he had only saved as many as 40 games once before. But let's not forget that there weren't many interested parties on the line when he was a free agent, and the only reason he got a deal from the Yankees was because ownership forced Brian Cashman's hand.
Here's what Cashman, baseball's most tortured soul, had to say about the Soriano signing back in 2011 (via MLB.com):
"This certainly will help us try to win a championship, there's no doubt about that, so that's in the plus column. But I didn't recommend it, just because I didn't think it was an efficient way to allocate the remaining resources we have. We had a lot of debate about that."
This would be the nice way of saying that the Soriano signing was a really stupid way to spend money.
And that's coming from a guy who has more money to spend than any GM in baseball. If Soriano comes to the conclusion (i.e. if Scott Boras tells him to come to the conclusion) that he could get a similar big-money deal from another GM and another team, he'd be sorely mistaken. There are only so many teams that can spend $10 million-plus per year on a single reliever, and it's simply too debatable whether Soriano is worth that kind of cash.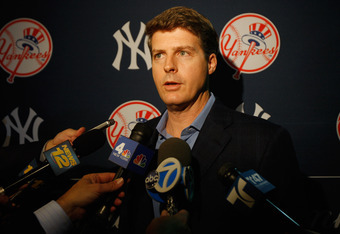 Mike Stobe/Getty Images
There's always the possibility that Soriano could decline his option and then ask the Yankees for more money, a la Alex Rodriguez in 2007 and CC Sabathia this past offseason, but good luck with that. Hal Steinbrenner (the smart son) told ESPNNewYork.com earlier this season that he wants to get the team's payroll under $189 million. It's currently at about $197 million, according to USA Today, so having Soriano come off the books would actually be rather helpful.
If he were to come off the books and then ask for more money, the Yankees would probably laugh in his face. 
The possibility of Soriano declining his 2013 option is intriguing, but he'd be making a highly unnecessary gamble. The smartest thing he can do is pick it up.
For starters, he'll make $14 million next season, which is a ton of money for a relief pitcher. More importantly, he has a very good chance of starting next season as the Yankees' full-time closer. Rivera will be in play for that role, but he'd have to a) sign a new contract and b) show the Yankees that he's healthy.
Rivera has said that he wants to pitch next season, of course. But since he's going to turn 43 later this season and is currently recovering from an injury that generally takes a full year to heal, I'll believe it when I see it.
If Mo stays out of the picture next season, Soriano will be free to rack up saves and then pursue a rich contract in free agency.
If he gets it, great. If not, oh well. He just made $35 million over three seasons, including $14 million in a year in which he could have walked away.
He should take that money and take his chances on the open market in 2013.
If you want to talk baseball, hit me up on Twitter.