Lamar Odom: 5 Possible Destinations for Next Season
May 24, 2012

Kevork Djansezian/Getty Images
Would you want Lamar Odom on your favorite NBA team? 
That is the question that many general managers will have to ask themselves as the distraught forward is suddenly available. 
"The Mavericks and I have mutually agreed that it's in the best interest of both parties for me to step away from the team," Odom said on April 9, 2012. 
He was listed as inactive for the rest of the season after that date, but will most likely get traded this summer before June 29. Any team that has Odom on its roster on that date will have to pay $2.4 million in guaranteed money.
If he's not traded by then, he'll become a free agent .
Now that the facts are out, let us get to the speculation. 
Here are five NBA teams that might want to take a gamble on the big man. 
This is the most obvious choice, but it is also the best fit for Lamar Odom. 
His heart was never in Dallas. He didn't fit in the locker room and he didn't fit on the court. He was always a Laker at heart. Odom should go back to Los Angeles and give it one more shot. 
He respected Kobe Bryant and was never a nightmare in the locker room. He was successful in L.A. and an important part of two championship teams.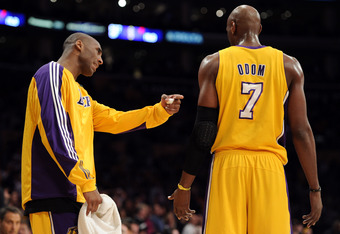 Harry How/Getty Images
Bryant, Metta World Peace and numerous other Lakers have said they want Odom back in the lineup. The fans would welcome him back with open arms, and the whole situation makes sense. 
With the Lakers bounced out of the playoffs, many questions need to be answered. Perhaps, Odom is a part of the answer. 
L.A. needs to get younger, not older, but having someone who is familiar with the team might be a boost for this franchise. 
He can still contribute when needed and will immediately add to the depth in L.A. 
This is a team that is generating quite a bit of buzz and is potentially interested in the big man. The Knicks are on the top of his list of preferred teams and we know that New York loves to add veteran players like they did with Baron Davis and J.R. Smith. 
If Odom arrives in Madison Square Garden, he will provide much-needed depth to a Knicks squad that will probably be back in the playoff hunt. 
Odom will provide veteran leadership for New York and will fit in as an important role player. He could contribute when needed. It is safe to say that the reality television star will immediately find his niche for the Knicks. 
He would immediately leapfrog Jared Jeffries for the right to backup Stoudemire and could score and rebound with ease.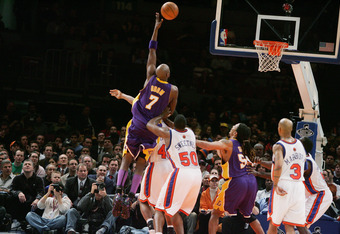 Jim McIsaac/Getty Images
The only problem with this move is the attitude of Odom. He may not fit in well in the Big Apple and could create locker room problems, turning New York into Dallas. 
Miami would give Odom a chance to shine as a role player. 
It would be a win-win situation. The Heat would get another contributor to increase their depth beyond the Big Three, and the former Maverick would get another chance to chase a ring with a title contender. 
He would fit amazingly well in the rotation, being able to back up a number of holes due to his versatility. The Heat bench would suddenly become respected with Odom, Norris Cole, Mike Miller and Shane Battier. 
If he did end up in South Beach, Odom would have to take one for the team and kill his antics. He might just be the missing piece for a Miami championship ring. 
The Brooklyn Nets are always on the lookout for big-name players. 
Deron Williams has one foot out the door as he heads into free agency. Jay-Z and Mikhail Prokhorov need to enter Brooklyn with something reminiscent of a star. 
Lamar Odom may fit the bill. He still has big name appeal, and New York would become the playground for him and Khloe Kardashian, his wife.
Odom has said that he feels comfortable in New York and loves the city. Of course, that was in reference to joining the Knicks, but there is another team in the Big Apple now. They might just be a landing spot for him. 
On the court, the 32-year-old will be able to ease in with Kris Humphries, MarShon Brooks, Brook Lopez and Gerald Wallace. Odom may have what it takes to breathe new life into a disgruntled franchise. 
But the chemistry between the Kardashian, Odom and Humphries (former husband of Kim Kardashian), could get really awkward, really quickly. 
This one is a long shot, but how great would it be to see Odom return to L.A. not wearing purple and gold? 
If this was to go down, then Odom would get to return to his beloved Staples Center and the Clippers would get a productive sixth man behind Blake Griffin. 
The other team in Los Angeles is young and dependent on developing superstars such as Griffin and Chris Paul. Bringing Lamar Odom into the picture would solidify a veteran presence to get this team through stretch runs and playoff hopes. 
Where do you think Lamar Odom will land? Leave your opinion in the comment section below.