Why Terry Collins Made Right Call in Protecting David Wright from Beanball War
May 16, 2012

Mike Stobe/Getty Images
As Cole Hamels demonstrated a couple of weeks ago, pitchers don't need much of a reason to justify throwing at an opposing batter. 
So it's understandable why New York Mets manager Terry Collins might have been a bit nervous after D.J. Carrasco plunked Ryan Braun. David Wright was set to lead off the bottom half of the inning for the Mets, and Collins didn't want his star player to get hit in retaliation. 
Whether Carrasco intended to hit Braun is certainly open to interpretation. Was he mad after giving up a home run to Rickie Weeks and decided to take it out on the next Milwaukee Brewers batter? As stupid and misguided as that would be, it's certainly possible.
Many think Carrasco couldn't have meant to plunk Braun. What would the sense in that be with the Mets down 8-0 and presumably ready to move on to the next game? 
Yet Carrasco's action got the unwritten rules dominoes falling. You hit ours, we hit yours. It's just how it goes in baseball. Collins laid it out explicitly in his postgame press conference.
"I got news for you, in this game there are unwritten rules," Collins said. "And one of the unwritten rules is you hit my guy, I'm hitting your guy. They're not hitting my guy tonight. I'm not exposing him to being hit." 
Would Brewers manager Ron Roenicke have ordered Zack Greinke to throw at Wright when he came up to bat? We'll never know because Collins didn't give them a chance, pulling Wright in favor of Jordany Valdespin to lead off the bottom of the seventh inning.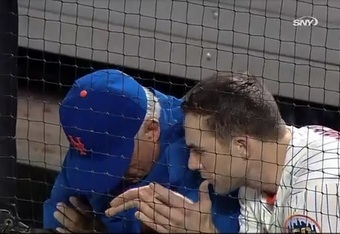 That decision enraged Wright, who let his manager know about it in the dugout for all to see.
Collins wasn't budging, however. And in doing so, he made the right call.
On some days. it would be worth fighting that fight and letting Wright demonstrate that he had his teammate's back and wasn't going to back down. But not with the Mets behind 8-0 and the outcome all but official. 
Wright showed what kind of leader he is by standing up to his manager and voicing his disagreement. But it didn't need to go any further than that.
That doesn't even address the larger issue, which is that the Mets simply can't afford to lose Wright on something as silly as this. It's one thing if he gets injured sliding into a base or checking his swing. Those things happen as a consequence of playing baseball.
This is different. Without Wright, the Mets are toast. Collins knows it. It's the manager's job to protect his players—even from themselves—and that's exactly what he did here.
(It's also his job to let his players know when they're being idiots, and that's a talk Collins should probably have with Carrasco for putting his teammates in this position to begin with, regardless of whether he meant to throw at Braun or not.) 
Being so honest with the media about his intentions was even more admirable. Just say what everyone already knows. Collins looks smarter for it. 
Follow @iancass on Twitter