The Bill Belichick Era: The New England Patriots Best, Worst Draft Picks
May 10, 2012

A. Messerschmidt/Getty Images
Bill Belichick took over as head coach of the New England Patriots in 2000, but everybody knows he does a lot more than coach the team.
Though his title may not read it, he is the general manager of the Patriots. Through the 13 drafts he has overseen, he has had some very good picks—and also some very bad ones.
Taking when they were drafted and what the team got out of them into consideration, here are the best of the best...and the worst of the worst.
The Best
Tom Brady, QB: Round 6, 199 Overall, 2000
Was there any question he would be on this list?
In a word—no. The Patriots found arguably the best quarterback in the league (and possibly in league history) with a throwaway pick in the sixth round. You can argue they got lucky, because if they knew he'd be this good they never would have waited until the sixth round to take him.
Either way, he is without a doubt the best pick of the Belichick era.
Richard Seymour, DE: Round 1, 6 Overall, 2001
The team paid a high price to select Richard Seymour at number six, but it was well worth it. Seymour for a stretch was looked at as perhaps the best defensive lineman in football and was a key contributor to three Super Bowl championships in New England on his way to five straight Pro Bowl selections.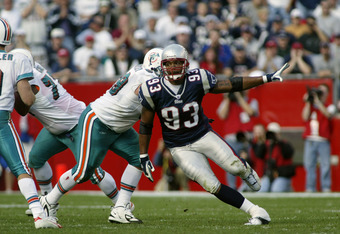 Rick Stewart/Getty Images
He was even kind enough to fetch the Patriots a first-round pick from the Raiders on his way out in 2009.
Rob Gronkowski, TE: Round 2, 42 Overall, 2010
The Patriots saw a player they wanted and jumped ahead of the Baltimore Ravens in the second round to go get him—and it has paid off.
Gronkowski is a complete tight end whose size and athleticism will likely become the prototype at the position for years to come. Only two years into his career he has already become the best tight end in football and had the greatest season in the history of the position in 2011.
Dan Koppen, C: Round 5, 164 Overall, 2003
Koppen may have never been the number one center in the league, but since joining the team he has been one of the NFL's best year in and year out. Voted as a Pro Bowler and Second-Team All-Pro in 2007, he is a player the Patriots will always be proud to have selected in the fifth round.
Asante Samuel, CB: Round 4, 120 Overall, 2003
The same year they found Koppen they found a cornerback out of Central Florida who would become one of their top defensive players just a few years later.
Samuel ended his New England career as one of the biggest playmakers their defense has ever seen. Unfortunately, he is remembered by many for the one play he did not make as the Patriots were seeking perfection in Super Bowl XLII.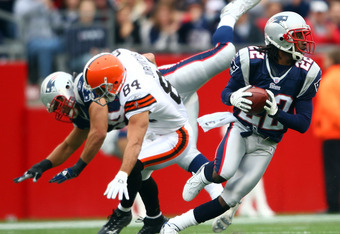 Elsa/Getty Images
Matt Light, OT: Round 2, 48 Overall, 2001
In the year Tom Brady took over the reigns at quarterback, the Patriots were able to find the player that would serve as his left tackle for the next 11 years in Matt Light.
Light was about as consistent and solid a player as you could ask for at the position. Along with Brady, he started in all five of the Super Bowls the team played in this century.
Deion Branch, WR: Round 2, 65 Overall, 2002
Branch is one of the only hits Belichick has had on picking receivers in New England.
Luckily for the team, he was a major hit.
Branch quickly became a favorite of Tom Brady and the two enjoyed much success together in back-to-back Super Bowl victories, the second of which Branch was named the MVP against the Philadelphia Eagles. 
Logan Mankins, OG: Round 1, 32 Overall, 2005
Guards are not players that usually flood the first round of drafts, but the Patriots found a worthy one with the final pick in Round 1 in 2005. Mankins has become arguably the best guard in football, something the Patriots obviously believe as, in 2011, they gave him what was then the priciest contract in NFL history for a guard.
Vince Wilfork, DT: Round 1, 21 Overall, 2004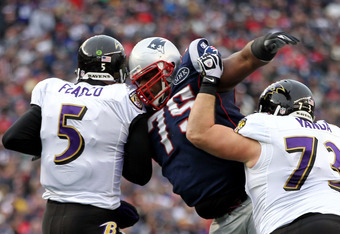 Jim Rogash/Getty Images
He may not play a glamorous position, but Wilfork gets the job done. He does not make as many noticeable plays as some fans would like, but he is widely regarded as one of the best lineman in football. His ability to take on double teams and still not be moved off the line is something not easy to find.
Jerod Mayo, LB: Round 1, 10 Overall, 2008
Similar to Wilfork, Mayo does not always make as many plays as people would like, especially when considering that he was the 10th overall pick in the draft.
That being said, Mayo is one of the most solid linebackers in football and is one of the absolute leaders of the Patriot defense. Mayo is the perfect player for Belichick to sculpt his defense around.
David Givens, WR: Round 7, 253 Overall, 2002
The Patriots struck gold for the second time at receiver in the 2002 draft, this time all the way at the end of the seventh round.
Givens had the type of production you would love to get out of a second rounder, let alone someone picked in the seventh. Givens quickly became one of New England's biggest post-season performers, making huge contributions to championships in 2003 and 2004.
Aaron Hernandez, TE: Round 4, 113 Overall, 2010
The Patriots, coming off their selection of Rob Gronkowski earlier in the draft, found a more athletic receiving-type tight end in Hernandez who has since become a great player in his own right.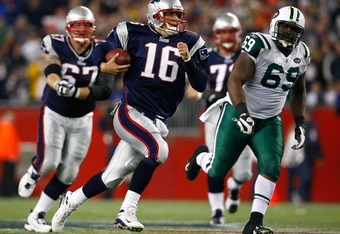 Jim Rogash/Getty Images
He should be a top tight end in the league for years to come.
Matt Cassel, QB: Round 7, 230 Overall, 2005
It was impossible to make this list without including Cassel. In Cassel, the Patriots selected a player who was never even a starter in college and turned him into an NFL-caliber quarterback. Cassel was one of the biggest surprises in the NFL in recent years, leading the Patriots to 11 wins in 2008 as Tom Brady was recovering from a torn ACL.
Honorable Mentions
James Sanders, S: Round 4, 133 Overall, 2005
Stephen Gostkowski, K: Round 4, 118 Overall, 2006
Matthew Slater, ST: Round 5, 153 Overall, 2008
Julian Edelman, WR: Round 7, 232 Overall, 2009
The Worst
Brandon Meriweather, S: Round 1, 24 Overall, 2007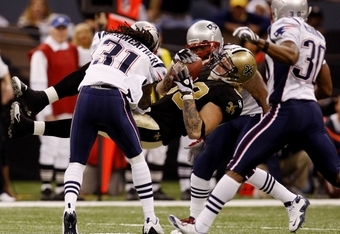 Chris Graythen/Getty Images
The Patriots thought they had found the answer to replace an aging Rodney Harrison at safety and they could not have been more wrong.
Though he was a hard-hitting presence in the defensive backfield, he was often out of place and seemed to work independently of the defense at times. He backed his way into two Pro Bowl appearances somehow, an honor most would agree he deserved neither time.
Laurence Maroney, RB: Round 1, 21 Overall, 2006
A similar situation to Meriweather, the Patriots selected Maroney to take the reigns from Corey Dillon, but he never lived up to his potential.
His mental and physical toughness were always in question as he was often off the field and was never decisive enough even when he did play. His time in the league is already likely done just six years later.
Chad Jackson, WR: Round 2, 36 Overall, 2006
The Patriots traded up with Green Bay and grabbed another flashy offensive player with their pick after Maroney.
Jackson suffered from a problem familiar to a lot of players: he could not get on the same page with the Patriot offense. He was cut just two years after being selected.
What makes it worse is the Packers selected Pro Bowl WR Greg Jennings with the pick the Patriots traded to them to move up.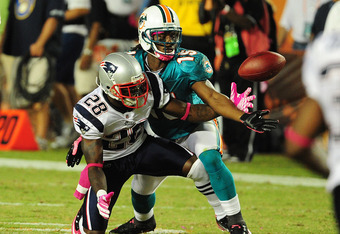 Scott Cunningham/Getty Images
Darius Butler, CB: Round 2, 41 Overall, 2009
Butler is a player many were excited about—a very athletic corner who played locally at UConn.
He showed glimpses of promise in his rookie year, but went into a sophomore slump in 2010, losing his starting job to Kyle Arrington. He did not get another chance to redeem himself in 2011 as the Patriots waived him during their final cuts in September.
Terrence Wheatley, CB: Round 2, 62 Overall, 2008
Wheatley is another player who showed promise early, making a couple of key pass break-ups against the Indianapolis Colts as a rookie before getting a season-ending wrist injury that same game.
Injuries and coaching decisions had him rarely seeing action over the next year and a half until he was finally waived in November 2010.
Taylor Price, WR: Round 3, 90 Overall, 2010
In one of the more odd cases of the Belichick era, Price was never able to see the field in his tenure in New England other than at garbage time.
He seemed to be the answer to a team in need of a deep threat, and offensive coordinator Bill O'Brien was even quoted in 2011 as saying they were going to get him involved in the game plan—but it never happened.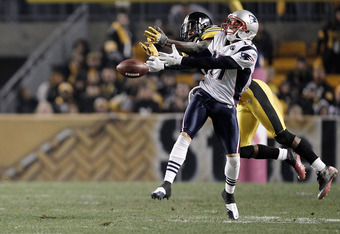 Jared Wickerham/Getty Images
He was cut just a season and a half into his New England career.
Dishonorable Mentions
 Bethel Johnson, WR: Round 2, 45 Overall, 2003
Shawn Crable, LB: Round 3, 78 Overall, 2008
Kevin O'Connell, QB: Round 3, 94 Overall, 2008
Brandon Tate, WR: Round 3, 83 Overall, 2009