Tim Tebow: As John Elway Rolls the Dice on Manning, Tebow Should Be Dealt
March 14, 2012

Oh, the Peyton Manning Saga.
As a die-hard fan of the Denver Broncos, I do not think that I could properly encapsulate my words into coherence when I heard that my Denver Broncos were bringing Peyton Manning in for a visit.
Low and behold, there he was, being tracked by helicopters on his way to the Denver Broncos training facility.  Local reporters swarmed like locusts to the scene and the reports that followed were some of the most ambiguous, yet confident I have ever come across.
"Manning loves Denver" or "Denver is leading the Peyton Manning sweepstakes" torched through Twitter like a four alarm fire.  This was Friday.  And I was pretty damn excited.
I was excited for two reasons.  First, it's Peyton friggin Manning.  If healthy, he, with the help of others the Broncos could acquire while being almost $50 mil under the salary cap, could return Denver to beyond respectability; dare I say, even dominance. I was excited that VP of Operations John Elway had the onions to go out and attempt such a daring feat. 
Denver is not known for participating in the blockbuster free agent business. 
Sure, Denver garnered the likes of Neil Smith at the end of his career while rejuvenating the career of Alfred Williams; and they picked up Howard Griffith at fullback to block for Terrell Davis.  They even went out and turned a fledlging Ed McCaffrey and a head case like Bill Romanowski into key Super Bowl contributors.  Yet, for the most part, Denver remains idle while all the "big name" guys go elsewhere.
Until now.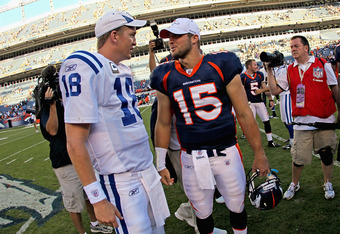 Doug Pensinger/Getty Images
All In
With this attempted acquisition, Elway has fortified his desire to return the Broncos to the promised land.  He is the proverbial Moses.  Only Elway has seen the promised land.  Maybe that makes him Joshua—never mind.  The point is, Elway made a brash move because he thought it was worth the risk, and he did not care if he ruffled a few feathers in doing so.
He made it known that Denver—much like the other teams interested—are willing to do "whatever it takes" to get Manning to sign with Denver. 
They flew Manning in on a private jet and met with him for over six hours.  They wined and dined Manning on Friday and showed him all the best that Denver has to offer.  That is, if you include the Cherry Hills Country Club all that Denver has to offer.  Manning stayed through the night and left the following afternoon. 
Unfortunately, he was on his way to Arizona—to be reacquainted with an old friend in Cardinals coach Ken Whisenhunt.
Yet the ethos of this new Broncos organization has been properly on display.  These are not the Broncos of the past decade.  These are John Elway's Broncos, and they are willing to do whatever it takes to get to the top of the mountain again.  They have a ton of money to spend in free agency, and they intend to bring in players who they think can and will contribute immediately.  This is why they desperately want Peyton Manning.
However, in all the discussion surrounding Manning, where he will go next, what team has the upper hand, how he feels today—notice I did not mention anyone asking if he will throw (a little strange)—most of the media in Denver has lost its focus.  What about the QB who—up until last week—Elway hoped would be around for many years to come?
This is where things could get dicey.
What Happened to Tebow?
During all of this pomp and circumstance with Manning, Tim Tebow has been in Florida doing his normal philanthropic offseason duties.  When asked to comment, Tebow refused.  He what? That is correct, he refused.
By throwing their hat into the Manning mix, the Broncos have created a very uncomfortable situation for either themselves, Tim Tebow, or both.
If by some incredible stroke of luck—more on this in a minute—the Broncos win the Manning sweepstakes, what are the Broncos to do with Tim Tebow?  Some have argued that they could co-exist, and Tebow could learn from one of the best to ever play.
Nonsense.
Anyone who has witnessed what the Tebow brethren have created here in Denver know that is anything but a plausible situation.  In fact, the brethren are so delusional, I would not be surprised if billboards calling for Tebow over Manning surfaced.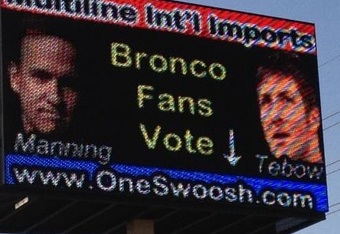 How dare John Elway attempt to double cross the real Broncos fans.  To their credit, they did follow Tebow all the way from Florida.  That's a long way.
As a second option, in a rather fortuitous and coincidental move, the Broncos would have to consider dealing Tim Tebow.
Possibly to Florida.
This, by the way, is my second reason why I was so excited about the prospect of Peyton Manning, aside from him being Peyton friggin Manning.  The Tebow circus will leave town.
In light of these two possibilities, it is easy to see that Elway has taken a substantial risk with his grandiose approach to Manning.  Unfortunately, the problem with taking risks is they may not work out.  This may be one of those occasions.
What Does Elway Do if He Fails?
If the mission to do "whatever it takes" to acquire Manning fails, John Elway will find himself in a veritable predicament. 
Does he keep Tebow? 
Or, even better yet, can he keep Tebow and still have an ounce of credibility with the kid?  I recognize the NFL is still a business, and forget about Tebow's "feelings" for a moment.  If Tebow is still in town, how will his fans react to Elway?  Elway has already been on the victims end of a Twitter onslaught before.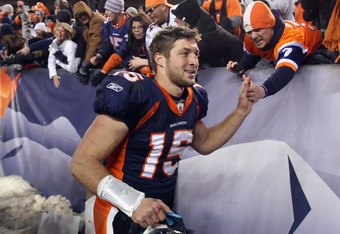 Jeff Gross/Getty Images
This time may be Armageddon.
If Elway's actions over the past four days indicate anything, it is this: Elway wants a prototypical passer leading his team.  He's seen the Tebow show, and he enjoyed the ride, but he wants something a little more consistent, a little more guaranteed.
Tebow could come into camp and be ready to complete over 50% of his passes.  Or, he can look like garbage at practice and everyone will cling to the façade that Tebow will still learn how to pass. 
Regardless, Elway will look to the draft or free agency to provide Tebow with "competition".  We now understand this to mean that Elway is looking for "his guy" instead of the McD holdover who was thrust upon him.
With this being said, Elway should pull the plug on Tebow and trade him while teams—namely Jacksonville—still have that glimmer of Tebow racing after Demaryius Thomas during the quickest overtime victory in playoff history.
He should trade Tebow while he technically is still "a winner", instead of waiting for the possibility that Tebow cannot duplicate the "Tebow Time" of last season and Elway is left with an inaccurate QB who has all the heart in the world but lacks the pertinent technique and tangibles to be an effective,consistent NFL QB.
Hit the Market
It may not seem like it now, because Tebow's heroics are still fresh in the mind of Broncos fans, but Tebow is more of a liability than he is worth. 
We are on the precipice of the free agent frenzy.  As mentioned earlier, Denver has a formidable amount of funds to disperse to potential free agents.  Yet, what semblance of potential offensive talent at the skill positions of QB and WR would want to come to Denver?
Zero.
If you think for one second that a talent like WR Vincent Jackson wanted to come to Denver to mainly block for Tebow and maybe catch ten balls in five games you are smoking the medicinal stuff.  The same goes for Randy Moss or any other free agent WR.  Both guys have signed elsewhere, but even without Manning hindering Denver's aggressiveness, neither would have looked at Denver. 
Or what about a QB like Matt Flynn?  Do you really think he wants to compete with the Tebow circus?  Man versus man is one thing; man versus man plus over a million followers on Twitter and Taylor Swift is something entirely different all-together.
Tebow has the Broncos hamstrung, and Elway has painted himself into a nasty corner. 
At least with Tebow gone, the Broncos can get a viable QB through free agency and Elway can draft "his guy".  These opportunities do not come around often.  A team is typically not close to $50 mil under the salary cap.  Elway needs to seize the moment now, and he must do it without Tebow hindering the ability to bring in formidable talent on offense.
Peyton Manning would solve all of these problems, but that does not look like it will happen.  Maybe Elway pulled the trigger too soon on Manning.  He wanted to be the first impression.  Nonetheless, by the time this saga ends, it appears that the last impression will carry more significance.  As will hometown affiliation, division familiarity, and the opportunity to kick the crap out of the team that basically told you "You're not good enough anymore".
Denver simply cannot compete with an immediate contender (Houston) or sentimentality (Tennessee). For the rest of the teams involved it will come down to scheme and strategy. Regardless of what the "sources" report.
Sources
Which brings me to my final point regarding this entire saga, and how Elway has mortgaged the franchise by rolling the dice on Manning.
The sources reporting on this story are about as reliable as a crack head giving out directions in the suburbs.  Sunday night, a local media type reported that Denver was 95% sure they were getting Manning.
This story was reportedly proven to be false.
Monday morning we were told, again via Twitter, that Manning would not be conducting any more visits.  Come to find out Manning will be visiting with Titans, 'Fins">representatives from the Dolphins and Titans.  He visited with the Dolphins on Monday and will be visiting with the Titans on Wednesday.
Houston has reported interest in the sweepstakes.  Oops, no they haven't.  Their own local media guys have refuted these statements.  Apparently, responsible journalism is not a relevant factor when it comes to "reporting" on Twitter.
Peyton Manning has the fate of these six, maybe seven, maybe ten, teams in his grasp.  For the sake of the other franchises involved, they should hope their contingency plan is formulated a little better than what Denver will be faced with if things do not work out and Elway's risk fails.
Follow me on twitter @bogie711 or check out my other work at thefanmanifesto.com