Utah Jazz and Boston Celtics: Perfect Trading Partners?
February 14, 2012

Elsa/Getty Images
As we begin to hone in on the halfway point of the season, two teams have surprised the league. The Utah Jazz' big men and overall toughness have helped them surprise quite a few people with a winning record and a slot in the playoffs that is theirs for the taking.
Opposite of them in the East sits the Boston Celtics, a team that is accustomed to being title contenders but is now struggling to maintain a spot in the top-half of the East thanks to an aging roster and injuries.  
The Jazz have had a well-documented logjam in their frontcourt and are unable to find sufficient minutes for all four of Paul Millsap, Al Jefferson, Derrick Favors and Enes Kanter, as well as the oft-forgotten Jeremy Evans.
All of their big men have at least an average PER (Player Efficiency Rating) and together are the reason the Jazz rank second in the NBA in points in the paint.
This logjam, however, has crippled Utah's ability to find the minutes Kanter and Favors deserve and have proven they can handle.
Food for thought: There are 96 minutes of regulation at the power forward and center positions. Giving Jefferson and Millsap just 30 minutes a night each (both are currently averaging more) only leaves 36 minutes for Kanter, Favors and Evans to share between the three of them. The minutes just aren't there.
The Jazz have an additional issue that is proving detrimental to their offensive efficiency. The Jazz' ball movement has been severely lacking at times, especially with fans used to seeing John Stockton and Deron Williams tally double-digit assist nights on a consistent basis.
Devin Harris, who should conceivably still be in his prime and playing at an All-Star level, has been sorely underwhelming this season. He is having his worst year ever as a starter and has struggled to adapt to Ty Corbin's system.
Add that the Jazz are 27th in the league in three-point percentage and it becomes clear that they have had no choice but to rely exclusively on their big men for offense. This leaves the Jazz extremely vulnerable when a team has a large defensive stud like Dwight Howard, Tyson Chandler or Serge Ibaka to make things difficult.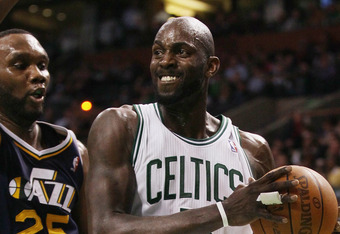 Elsa/Getty Images
The Boston Celtics have had different difficulties entirely. The Celtics' problems stem largely from a more non-material issue: age.
Skeptics have said that Boston's Big Three's days of terrorizing opposing defenses are over. The Celtics have shown they can still be pesky defensively—they're currently ranked third in defensive efficiency—but points have proven harder to find than ever before.
A large part of this concern stems from Rajon Rondo's very limited offensive capabilities. Defenses have been able to play six feet off of him even during crunch time because they know he has troubles scoring outside of the paint.
This has made Paul Pierce, the only Celtic with shot creation abilities, bear the load of the offense in the final minutes, and The Truth is not quite what he once was. 
The Celtics also have a large structural concern with the roster. The Celtics only have four players that will be under contract after the season ends, leaving the Celtics to rebuild their entire squad during the offseason.
Danny Ainge has also been frequently mixed up in different trade rumors, and reports have also claimed that he would trade anyone on the roster for the right price. This has hurt the team's cohesiveness and has put everyone on edge.
The Celtics don't have the luxury of being able to go into rebuilding mode. The city of Boston would not allow it, so that has left Ainge with having to find a way to stay competitive with an aging roster.
The Trade
The Celtics Receive: Paul Millsap, Devin Harris, and Raja Bell
The Jazz Receive: Rajon Rondo, Ray Allen
Why it Benefits the Jazz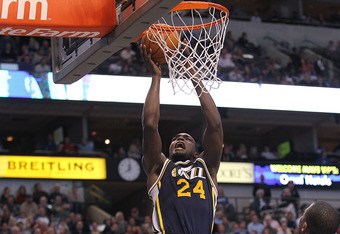 Ronald Martinez/Getty Images
The Jazz receive a large increase in ball movement with Rondo. He is one of the best passers in the league and can help distribute the ball to open players as well as to the Jazz' standout bigs extremely well.
He does not run the floor with the speed that Devin Harris does, but he still excels on the fast-break because of his pinpoint passing. He also is a lockdown defender at the point—something Harris lacked, and something the Jazz need drastic improvement in. 
The departure of Paul Millsap, a fan favorite, would be a sad one for Utah, but he is the most expendable big man.
He does not have the off-the-charts potential that Favors or even Kanter has—or the rookie contract—and has much more trade value than Jefferson. He is also easier to replace, since both Favors and Evans can fill in at the 4, and the Jazz could even slide Jefferson over when Kanter comes in.
It allows the Jazz to give Favors the starting minutes he deserves, and they can slide Kanter into the rotation as a third big, similar to how the Lakers used Odom in the past. This roughly gives Jefferson 35 minutes, Favors 30, Kanter 25 and Evans six (splitting time between the 3 and 4 spots). 
Ray Allen gives the Jazz a true knockdown, spot-up shooter for the first time since Jeff Hornacek retired (no really, it's been that long). He opens up the Jazz offense by allowing them to play inside-out much more effectively on offense, and allows Gordon Hayward and C.J. Miles to act more as ball handlers and shot-creators than shooters, which they are much more efficient as.
It also opens up more cap space at the end of the season, depending on whether the Jazz retain Miles, Josh Howard and Evans—up to almost $17 million to spend on free agents. 
Why it Benefits the Celtics
The addition of Paul Millsap is huge for the Celtics, who need an offensive presence once Garnett and Allen leave at the end of the year. They need to keep a lineup that helps them stay competitive long-term to keep both Paul Pierce and their fans happy.
Millsap already plays at an All-Star-caliber level and is a known hustle player, something Garnett is no longer capable of being. While Garnett might not be thrilled at moving over to center for the rest of the season, he has done it before and is more than capable at that position.
Millsap and Pierce would keep a nice dynamic duo going after the end of the season, and both have good perimeter and inside games. Millsap would also be given more minutes than he currently receives in Utah, something that he has often mentioned in interviews.
His addition also allows the Celtics to have Jermaine O'Neal come off the bench as a shot-blocker and defensive presence, a needed change for a long time. 
The downgrade from Rondo to Harris would be hard for some Boston fans to swallow, but would be a lot less bitter than they imagine. Harris may lack much of the court vision and defensive presence that Rondo has, but he is still extremely quick on both ends of the floor and is very good at playing off the ball, something Rondo was never able to do without a jump shot.
Paul Pierce could handle the ball more often throughout a game, but he would not be forced to take bad shots because Harris is a good spot-up shooter for a point guard and can also slash to the rim. Raja Bell might also be the quiet surprise for Boston fans, as he has shown he is still capable of locking down his man and can still hit from three-point range. 
Another benefit for Boston is that at season's end, when Garnett and O'Neal's large contracts come of the books, Boston will have almost $28 million to spend during free agency just between those two contracts.
They can still attract marquee players with a core of Pierce, Millsap, Harris and Brandon Bass (if he takes his option) off the bench.
The Boston Celtics benefit from younger legs and a more certain future, while Utah finds a much-needed point guard since none are available in this year's draft and opens up minutes for their young players to develop.