Liverpool FC: Should We Buy Back Fallen Hero Fernando Torres?
December 14, 2011
Scott Heavey/Getty Images
The Daily Mail's back page tomorrow will carry a story that, if true, will make the January transfer window absolutely riveting. 
The paper seems to believe that, on the back of his total absence of form since being signed last January for £50 million, Chelsea will be willing to listen to offers in the £20 million range for Fernando Torres.
Torres has been dire since he signed with Chelsea. He has seemed consistently off the pace, disinterested and timid in front of goal. This was born out by his terrible stats since joining Chelsea—five goals in 35 appearances, as it stands currently. 
Chelsea manager Andres Villas-Boas seems to have lost his faith in Torres. He has repeatedly started him on the bench and seems to not rely on him in any situation where the team is in trouble and a goal is needed.
The most telling example of this is perhaps this Monday night's game against Manchester City. Chelsea were level against a 10 Man City and were searching for the crucial winner. Torres—the £50 million goal-poacher extraordinaire—got no time on the pitch.
It is, of course, entirely possible that Torres will find his form between now and January—over a busy Christmas period in which Chelsea have several games against less-than-stellar defenses. This quest will begin on the weekend against the lowly Wigan. That is, of course, assuming that he even gets played.
However, if form to this point of his career in blue is to be followed to its logical conclusion, he will not find his scoring touch in these games.
And that leaves open the possibility that he will be sold in January.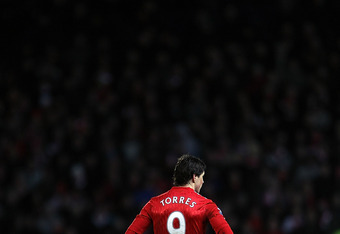 Clive Brunskill/Getty Images
Buying Back Torres
Can anyone think of a team with all the pieces seemingly in place except for a clinical striker? The hint is in the title of the article.
Fernando Torres scored a boatload of goals at Liverpool. He was happy and content for a long time at the club. He loved the fans and we loved him.
Towards the end of his tenure, he cut the figure of a man who had had enough of the unfulfilled promises of the ownership and the culture of mediocrity that had crept into the club. He wanted out and he got his way.
But that was before we saw the progress under FSG. That was before the return of the King and the signing of all the young talent that Liverpool now field regularly. That was before we got Suarez—a second striker forged in heaven for the likes of an on-form Torres.
We are now a club with a lot more positives than negatives. We have ambitious owners, good management and young talent. The only thing holding us back is a lack of goals. We are one player away from being real contenders.
Fernando Torres is very likely looking at the promise and potential brewing in Anfield now. He must be filled with regret, wishing he was home and back in red, wearing the No. 9 that made him a star.
As for Liverpool...well, we know what he can do when he is happy and on form. Chelsea are making enough clear-cut chances for a finisher of his caliber to feast on goals, and all it will take is a few goals to get him back to where he was when he was the fabulous "El Nino" we all loved.
Let's not forget that this is a man who is still only 27 and who had almost a two-goal-per-three-game ratio at Liverpool in his first spell. He knows where the net is and has—buried somewhere deep inside of him—the ability to find it with uncannny regularity.
We know Kenny Dalglish had a good relationship with Torres before he left, and we know he as an ex-striker understands the needs of the position. He could be just the man to rekindle the old fire.
Questions on Torres' Return
There are, of course, problems here. Torres has been poor for a year now, and is prone to injury, He has not looked like the same physical specimen he used to be when he first arrived, nor has he shown the same blinding pace. There is certainly a risk that it is just not there for him anymore.
There is also a possibility that he has had enough of the Premier League and wants a fresh start, perhaps back in Spain.
There is, of course, the question of whether Dalglish is even willing to buy a striker, or whether he is determined to stick with Andy Carroll despite his lack of goals.
There is finally the question of whether Chelsea—even of they are willing to sell—would be willing to sell him back to the team they bought him from for a £30 million discount. It would be a blow to their pride and they may not be willing to do that if there are any other suitors out there. That's especially true for a young man who, not too long ago, was regarded as the premier player in the world in his position.
If it was possible, I, for one, would love to see Liverpool take a risk on resigning Torres.
Maybe I am a deluded romantic, but I hate seeing him in blue. I believe he still has it, and that he loves Liverpool, and that Dalglish would be able to get the best out of him where Chelsea have failed.
While £20 million is certainly not pocket change, it would be a small sum to pay if we were to find we had signed Fernando Torres—just as we remember him. 
If you disagree, please let me know why below. I know my opinion here is a stretch and is based a lot on hopes and assumptions. I understand completely if you think I am a crazy man.
But, on May 5th in Anfield, Liverpool face Chelsea.
Just close your eyes and imagine the sheer, unbridled, glorious brilliance we would witness if Fernando Torres, resplendent in Liverpool red, emerged from his current shell of lethargy and failure to bury the winner into the back of the Chelsea net—as he has done so often for Liverpool in the past—and slid smiling on his knees, arms outstretched toward the swaying, roaring Kop that loves him and never wanted to let him go. 
A man can dream.
And what better time of year is there to hope that a dream—crazy though it is—may just end up coming true?
Merry Christmas.