Week 14: Serie A Predictions
December 1, 2011
Claudio Villa/Getty Images
Week 14 of the 2011-12 Serie A season should pit a number of interesting and close battles. Among them will be Fiorentina hosting AS Roma and Inter Milan hosting Udinese and its leader, Antonio Di Natale.
Here is a rundown of what one can expect this week.
AC Milan at Genoa
This Friday battle pits two sides that have swapped a number of players over the past few seasons.
Genoa is thin up front as Rodrigo Palacio is out due to a one-game suspension.
AC Milan will not have Alessandro Nesta in the center of the defense nor Christian Abbiati in goal. This will be a good opportunity for Marco Amelia to get in some work as Abbiati's replacement.
Prediction: AC Milan 1-0
Lecce at Napoli
Napoli will hope to get out of this battle of Southern squads injury free as it falls just before the most important match of the season thus far as the club will face Villareal next week for a spot in the final 16 of the UEFA Champions League.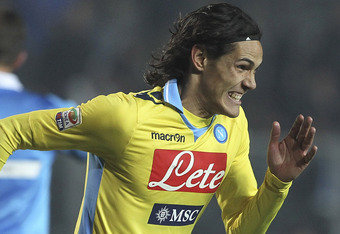 Marco Luzzani/Getty Images
Remarkably, Napoli has a healthy starting lineup. Coach Walter Mazzari may elect to rest a few players for the Villareal match.
Lecce is banged up with a number of injuries to a team that is not very deep to begin with.
Prediction: Napoli 2-0
Udinese at Inter
Having already secured a berth in the final 16 of the UEFA Champions League, Inter does not need to worry about resting players for this league encounter. It does need to move up the table in Serie A, which makes this the more important of its next two matches.
Inter is banged up with key players Maicon, Lucio and Wesley Sneijder all out due to injury. Udinese's Antonio Di Natale has continued to dominate as he has led the league in scoring the past two seasons.
Prediction: 2-2 Tie
Siena at Bologna
These two sides are similar in talent. Bologna has Uruguayan attacking midfielder Gaston Ramirez who is having a break out season. Ramirez and veteran Marco Di Vaio up front along with the home crowd should give Bologna a narrow edge.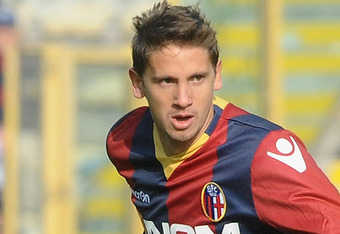 Mario Carlini / Iguana Press/Getty Images
Prediction: Bologna 1-0
Cagliari at Catania
These are two clubs with a lot in common. Both start with the letter 'C.' Both come from islands that start with the letter 'S.' Both sides have gone from the bottom of the Serie A table in the past to becoming solid clubs that often give trouble to the giants of the league.
Catania is tough to beat at home. Cagliari also comes in with a few more injuries than Catania. That should give the Sicilians the edge.
Prediction: Catania 2-1
Atalanta at Chievo
Atalanta has performed over its head to start the season. German Denis leads the league with 13 goals. Chievo is coming off of a tough loss to AC Milan. However, Chievo generally does not get distracted and should be ready for another tough battle.
Prediction: 2-2 tie
AS Roma at Fiorentina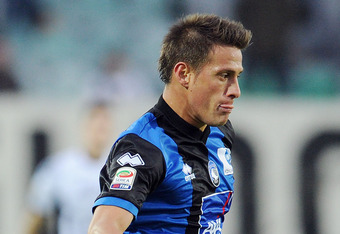 Giuseppe Bellini/Getty Images
This will be an interesting match as Fiorentina is relatively injury free. That is the good news for the home side. A number of players are out for the visitors, most notably Pablo Osvaldo. Osvaldo has been suspended for an altercation with teammate Erik Lamela.
The side has a number of other injuries, but Francesco Totti is expected to return to the starting lineup.
Prediction: 1-1 tie
Cesena at Juventus
The color of home uniforms is about the only thing these two sides have in common. Juventus is shooting to win the Scudetto and Cesena is aiming just to remain in Serie A.
Juventus will be without Andrea Pirlo due to suspension from yellow card accumulation.
Juventus has no injury problems and Antonio Conte may shuffle his cards around and experiment with a different lineup that could feature three forwards.
Even though Cesena is coming off of back-to-back victories, the chances of making it three in a row are slim.
Prediction: 3-0 Juventus
Novara at Lazio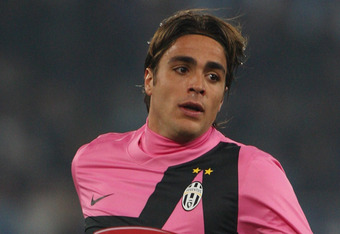 Paolo Bruno/Getty Images
The Roman-based side has faced some tough matches of late, losing to Juventus and drawing with Napoli. Look for Lazio to earn three points in this match.
Lazio does have a lot of players sidelined due to injury, but many are second-string players. Novara's Marco Rigoni has been one of the biggest surprises of the season. But Rigoni cannot do it all on his own.
Prediction: Lazio 3-1
Parma at Palermo
This is an interesting match as Palermo is struggling in the attack with Fabrizio Miccoli, Abel Hernandez and Igor Budan all sidelined with injuries.
That leaves Chilean Mauricio Pinilla to start up front for the home side.
Parma enters in much better condition and could provide a surprise, even if Palermo enjoys the home-field advantage.
Prediction: Parma 2-1