Arsenal: Andrei Arshavin & Ju Young Park's Impact, Wojciech Szczesny's Achilles
October 26, 2011
Michael Regan/Getty Images
As I basked in the afterglow of a seventh win in our previous eight games and lazed away on a Wednesday afternoon (today being the Diwali holiday in India), my mind naturally gravitated to all things Arsenal. And I must admit that, compared to a month ago, the Gunners are giving me quite a lot to smile about these days. 
Having watched the highlights, and large parts of the full game, of our hard-fought Carling Cup victory over Bolton, one player left me beaming—Andrey Arshavin.
His performances have really dipped over the past season and a half, and despite Arsene Wenger's constant assertions that the Russian remained a highly "efficient" player (with reference to his goals and assists stats), it was clear that something was missing from his game. He was making far too many errors, was lacking rhythm and consistency, and seemed to have lost the magic that set Gooner pulses racing when he joined the club.
He himself admitted recently to being disappointed with his form and fully understanding why the Arsenal fans were expecting more from him. Typically honest from Arshavin, but mere lip service was not going to camouflage his on-field form.
It was during his 20-minute cameo against Stoke that I noticed a change in his demeanor. A greater purpose, a spring in his side, more confidence in his movements and far less of the head-drooping that had become commonplace.
I don't believe that it was a mere coincidence that Arsenal scored two vital goals against Stoke while he was on the pitch. He was a menace throughout, and his pass to Gervinho to help set up Arsenal's third was typically nonchalant in delivery but precision-personified in terms of direction and weight.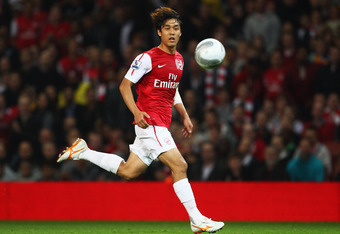 Julian Finney/Getty Images
And last night against Bolton, he was worth his weight (and more) in gold. Playing in the central position that he covets, Arshavin ran the show for Arsenal.
Popping up all over the park (no pun intended), he was a constant thorn in Bolton's side, picking out teammates and opening up the opposition with ease. His goal was typical of the Russian—a precise finish with a ridiculously short back-lift. And his move that created Ju Young Park's goal was special, more so because of the pass he did not make (when Park was offside) than the one he did (off which the Korean scored).
I think he needs a run of games in the side, as he is very much a confidence and rhythm player. Left to me, he would start ahead of Theo Walcott against Chelsea this Saturday.
The other player who caught my eye against Bolton was South Korean captain Park. He looked woeful and out of his depth against Shrewsbury in the third-round fixture. The manager praised him in his pregame notes and the Korean justified Arsene Wenger's opinion with a performance that will provide succor to every Gooner wondering, "What if van Persie gets injured?" 
Besides his goal, that was taken superbly and drew obvious comparisons with Gunners legend Thierry Henry, his all-round play was excellent. He created a number of chances for himself, drawing good saves out of the Bolton keeper Adam Bogdan. His link-up play was excellent too, and Wenger heaped praise on him after the game, calling him "intelligent, mobile (and) a good finisher."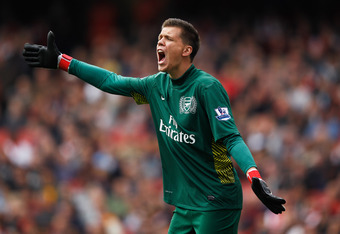 Paul Gilham/Getty Images
Although we haven't yet seen much of him in Arsenal's colors thus far, Park is an accomplished striker, as this video suggests. He has plenty of experience of playing in Europe, and now that he is off the mark in terms of his Arsenal goals tally, I expect him to get much more playing time. Look out Marouane...
And finally, I come to my favorite current Arsenal player—Wojciech Szczesny. I must admit that this is the first time ever that a keeper has earned that gong from me, but there is something special about this guy.
I first watched footage of Szczesny during last preseason's bizarre 6-5 victory at Legia Warsaw. And right away, it was clear that he was THE man. Then only 20, his height, swagger and, of course, his goalkeeping abilities made me wonder why Arsene Wenger didn't make him first choice keeper right then.
Szczesny has been spectacular for Arsenal ever since he broke into the first team. He has made a number of fantastic saves, but more than that, his command of the penalty box has been sensational.
This season, in particular, he has displayed even more authority in his area, coming out more than 15 yards at times to successfully claim crosses. He is undoubtedly Arsenal's No. 1, and in my opinion, he will soon be rated among the top three goal keepers in the world.
However, having watched him concede a free kick goal to Sunderland's former Gunner Sebastian Larsson recently, something struck me. I looked back at all the league goals conceded by Szczesny this season, and quite staggeringly, of the 18 goals scored against Arsenal this term, six were off shots from outside the penalty area. What is more alarming is that these six goals have been conceded from just 12 shots on target.
Considering how good he is as a shot-stopper, this is a disturbing stat. More so when you consider the fact that of all the goals (and there have been many!) Arsenal have conceded over the past few seasons, not many have come from outside the box, if I remember correctly.
It could well be that all these shots were unstoppable, and no other keeper would have saved them. Szczesny was certainly diving at full stretch for most of them. But something seems to suggest that he might be getting off the mark a bit too late. I did get that feeling during the Manchester United game, and I felt the same way after Larsson's free kick, as well-placed as it was.
I'm no goal-keeping expert, though, and time will tell if there's any credence to my hunch.
For once, I hope I am proved wrong...