USMNT Friendly Preview: How Will the U.S. Score Against Honduras and Ecuador?
October 5, 2011
Kevork Djansezian/Getty Images
At halftime of the Sept. 6 friendly between the United States and Belgium, ESPN analyst and former Men's National team player Taylor Twellman recommended the U.S. switch to a 4-4-2 formation, place two defensive midfielders in the game, and use two forwards despite the fact that Bob Bradley used the same plan, and he is no longer coaching the team.
Based on Jurgen Klinsmann's 22-man squad for the upcoming October matches against Honduras and Ecuador, he might have heard Taylor Twellman, or more than likely decided for himself that it's going to take something more from the United States to score. 
It seems Klinsmann is finding out that the goals and wins may not happen even if you declare or play a brand of attacking soccer.
Klinsmann acknowledges as much as he told ussoccer.com: 
"We need to step it up in terms of finishing things off and scoring, That will be our main focus, and we have to make it clear we have to put the ball in the net and build an inner drive to score. That comes with confidence and also with the higher pace of the game.
"We started really well, especially against Costa Rica. If we scored in the first 30 minutes, the game would have been completely different, but we didn't. We need to make sure we do score in these two upcoming games."
To be fair to Klinsmann, his American team has looked much more attack-minded and ambitious, but like a number of the previous American teams, finding the back of the net can be difficult.
Klinsmann's dilemma goes much deeper than the choice of optimum formation.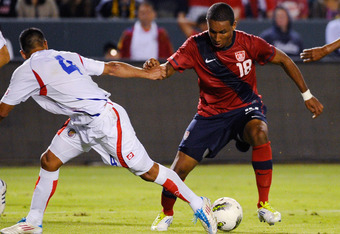 Kevork Djansezian/Getty Images
Nor is it as simple as embracing a particular tactical approach (as much as Taylor Twellman wishes it was), for it seems as with every problem Klinsmann addresses, another takes its place.
Take, for instance, Klinsmann's most obvious decision.
The German's predecessor Bob Bradley molded the national team into a defensive, disciplined unit. Their philosophy was to keep the goals out rather than scoring one more than the other team.
While moderately successful, the final product wasn't what many U.S. players and fans wanted. 
So Klinsmann chose a more attacking, pro-active, style, but he knew, in order to attack, a team must possess the ball...not something the U.S. has been known to do all that well.
Based on the national team's makeup, Klinsmann chose to overload the midfield in order to gain more possession.
This was probably best, not only to possess the ball, but also to allow more options for a team with more athleticism and pace than technical skill (even though Klinsmann selected the most technically proficient midfielders he could find), in order to press high and disrupt attacks, and most importantly, because the current bulk of the U.S. talent played in the midfield.
Naturally, he removed a forward rather than a defender, as the U.S. defense was in no position to lose numbers in its state.
Also, given the developments in the modern game, most specifically, the emphasis of the outside midfielder as an attacking winger, the addition of the withdrawn forward/attacking midfielder, the fluid positional assignments, and the evolution of the modern fullback with attacking skills...and Klinsmann's changes (call it a 4-5-1, a 4-3-3, you decide) should have garnered a few extra goals.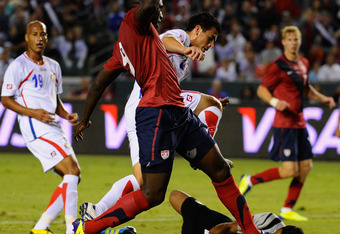 Kevork Djansezian/Getty Images
Only, it didn't.
First, while displaying moments of brilliance, the current pool of American forwards are not built to play the position alone. 
Jozy Altidore can't always hold the ball (once the diving starts, fans know they're in for a long day with Altidore up-top; hopefully his current success may have altered his approach), and Juan Agudelo prefers to play in the slot or closer to the touch line.
Secondly, Klinsmann's attacking midfielders aren't always involved in the attack.
Unfortunately, part of that may have to do with the nature of the game.
Brek Shea is young, and he doesn't seem ready to keep up the attacking tempo for a full 90 minutes.
For the national team, Landon Donovan seems more comfortable playing in space, be it outside or in the middle and running at a defense, rather than being involved in building possession. 
And Clint Dempsey can either drop deep and hold the ball, keeping possession and making passes, or relinquish those responsibilities, move forward as another option in the box (this is much easier for Dempsey at Fulham).
He can rely on a number of technically skilled teammates to build up the attack while he gets into a scoring position (much more difficult to do with his national team).
As for the center, Dempsey and Donovan are hit-and-miss when assigned the duty, and Jose Torres, while strong in possession, struggles to move the ball forward quick enough, especially during counters, but also in relationship to how a number of his teammates play.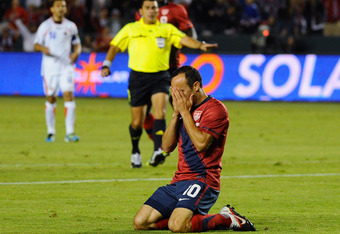 Kevork Djansezian/Getty Images
Also, while Torres is comfortable supporting the attack, he's yet to demonstrate an eye for goal or a penchant for playing as an extra forward...two important requirements when playing only one forward.
Long-term injuries to Stuart Holden keep the Bolton play-maker from, perhaps, fixing the problem, and now, the aforementioned Jose Torres will miss games until December with surgery on his foot.
Add to that, Landon Donovan is now out because of strained right quadriceps.
It doesn't leave many "attacking" options left for the German's 4-5-1.
Perhaps that's why forward Teal Burnbury, Edson Buddle (called up in replacement for Donovan), DaMarcus Beasley (listed as a forward for the game, but at the very least an attack-minded midfielder), and a large number of defensive midfielders have been selected for the October friendlies.
It appears as if more than one striker, or a number of forward-aligned attackers (read: a 4-4-2 or a true 4-3-3) with strong, defensive supporters, will be used in the game.
Honduras and Ecuador will be good friendlies for such an approach. Both teams are likely to let the United States retain possession, play defensively, and look to break on the counter attack.
It may not be the worst approach.
The U.S. is seeing more counter-attack play from CONCACAF opponents lately (it works against the Americans, so why not use it?), and it will give Klinsmann a chance to see if his new formation, approach, and players can break down defensive-minded teams; a first step in CONCACAF qualification. 
Breaking down more talented and attack-minded sides will be the next step.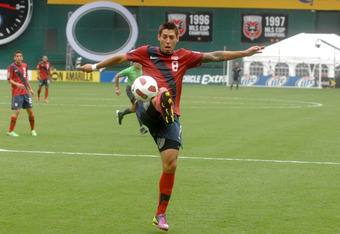 Mitchell Layton/Getty Images
Even if Klinsmann has been forced into his current situation because of injuries, he is going to have to find a way to get his team to score goals.
His team may have been playing more attack-minded, but outside of the obsessed American fan happy to see the team playing a more attractive game, few observers see the difference between the "old" and "new" USMNT.
There is a place for goals and wins in a soccer conversation (Usually, where it fits depends on the country you're from).
Still, for the interim, it looks as if Twellman's view reigns.
Based on Klinsmann's selection and replacements, he's going with more than one forward. In reaction, it appears as if he's looking to more ball-winners and defensive-minded players to make-up for the loss of midfield players.
But, even with his hand dealt for him, some questions remain:
Will the U.S. still be able to hold possession and build an attack without an extra midfielder?
Do the more defensive-minded midfielders have the requisite technical skill, positioning and movement, and eye for goal to support the attack?
Will the U.S. score more goals with another forward, especially if the formation and player changes mean less possession?
How will all of this affect a U.S. defense in flux?
Will it change the style of play for the team?  It looked as if the U.S. was linking shorter passes and starting to move off the ball, hoping to create odd number match-ups or take on opponents 1-on-1.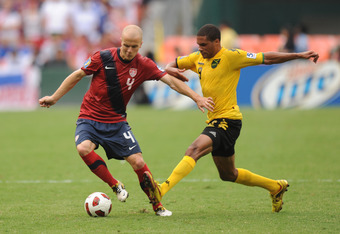 Mitchell Layton/Getty Images
Will they play more direct and long-ball with the extra attacker?  Carlos Bocanegra likes to play that way.
Even if the U.S. plays well, scores more goals, and wins one or both of the friendlies, these questions may not be answered. Without the full squad, who knows how the team will play in the future, or how Klinsmann decides to line them up.
At the very least though, some of the emerging stars (Shea, Agudelo, etc.) should get some much needed experience, and fans will get to see if Klinsmann's approach can be applied to different formations and to a number of defensive-minded players (it didn't go so well for Michael Bradley the first time around),
And just maybe, the team might score a goal...or two.
I'm trying not to be too greedy.