Borussia Dortmund 1-1 Arsenal: Deja Vu for Dortmund as They Barely Manage Draw
September 14, 2011
Ian Walton/Getty Images
If it weren't for AC Milan's clash with Barcelona, the matchup between Borussia Dortmund and Arsenal would've been the most anticipated opening match of this year's Champions League.
After being dormant for eight years, Borussia Dortmund finally returned to the competition they famously won in 1997 beating a star-laden Juventus.
That Dortmund team was legendary not only for their achievement that day at the Olympstadion in Munich but also for the possessing some of the best players of their time, namely Jurgen Kohler, Mattias Sammer and Andreas Moller. All three were at the prime of their careers and never managed to repeat the performances of that year later on. 
This Dortmund side seems to be just as talented but at opposite sides of age spectrum. Mats Hummels, Neven Subotic, Sven Bender, Shinji Kagawa and Mario Gotze are all tremendously talented like their counterparts from 1997 but are not at the World Class level Kohler, Sammer and Moller were. Therefore, with youth and inexperience, it was always going to be tough to face off against an Arsenal side full of experience and quality eventhough they were struggling with a tough start to the season, like Dortmund have as well. 
The lineups were very similar to what many predicted. Arsenal's system being the 4-3-3 Wenger has employed in recent seasons, Mertesacker making is European bow for the Gunners accompanied by Koscielny. Benyanoun made his first start in place of the injured Aaron Ramsey.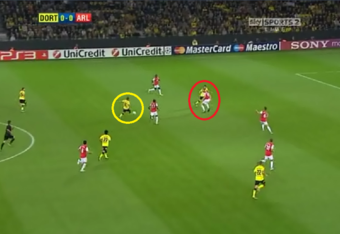 Klopp throw in one surprise with club captain Sebastian Kehl coming inplace of the recently off form Ilkay Gundogan in central midfielder, surprising because Klopp opted to play Antonio Da Silva on the weekend when Gundogan was taking off at half-time, also surprising because Kehl had played a massive 97 competitive minutes this season (90 of which came a month and a half ago).
Formation link: http://www.this11.com/boards/abBdMzBaeQ.jpg
At match started off at a frantic pace for Dortmund as they played the same tactics that brought them so much success and fame last season. Playing a high line, always dangerous against an Arsenal side boosting of quality and pace in attack, they held possession well while not allowing Arsenal any, albeit with the aid of some poor possession play from Arsenal as well.
Sebastian Kehl had a bright start in the central playmaker position as he saw much possession and generally distributed the ball well with short passes, though not creative. Arsenal's high line didn't do them much good as well, as was the case against United, as the lack of pace and mobility of the central defensive partnership of Mertesacker and Koscielny (Mertesacker being the culprit more) was exposed brutally on 3 occasions in the first 15 minutes creating 3 guilt edge opportunities which Dortmund could not take advantage off.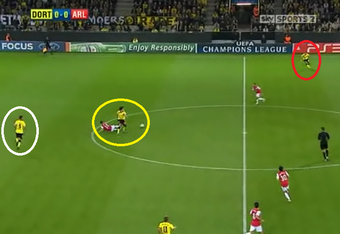 With the lack of defensive support from Gervinho and Walcott, the Dortmund wing backs were able to get forward with quite a lot of freedom and therefore bring width into Dortmund's game and allowing Dortmund's wingers to cut inside and support Kagawa and Lewandowski when they were on the ball. Without Gundogan in the line-up and Kehl in his place, Dortmund were lacking a central midfielder with the ability to spray quality passes like Sahin did with so much success.
With that situation, center back Mats Hummels was given more license then usual to strut forward with the ball and distribute it forward and towards the flanks to the rushing wing backs. It was a brilliant ball over the top from Hummels that created Dortmund's second chance, with Kagawa clever run past the high line Arsenal defence being found with a Hummels pass, Kagawa was only able to sky the ball when one-on-one with Szczesny.
Dortmund's third great chance came under similar circumstances, poor play from Gibbs allowed Gotze to win the ball and take it centrally, bypassing two Arsenal challenges, and with Lewandowski taking up a very good position alongside the slow Mertesacker high up the pitch, all it took was a clever pass from Gotze through the gap between the two Arsenal defenders to set Lewandowski on his way. The Polish striker did well to round Szscesny but was unable to finish it past Sagna who did brilliantly to get back on the line and clear the shot at the last second.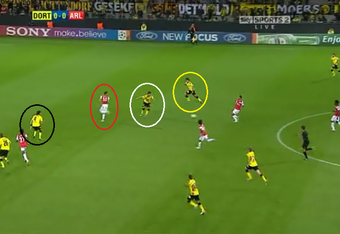 Those three chances were the best Dortmund had in the half and was during Dortmund's best spell for the first 45 minutes. The initially entertaining start died down as the minutes went by with Arsenal gaining more possession with Dortmund retreating slightly as the half wore on. Arsenal ended the half with 55 percent possession after being outplayed for much of the beginning.
Errors started to creep into Dortmund's game, which was to be expected given the youth in the side, only strangely enough the errors were coming mostly from the 31 year old Sebastian Kehl. Poor match fitness going into the match would be the main reason as a series of poor passes in a short spell of time helped Arsenal grow in confidence and surely enough it was a poor pass from Kehl to Hummels that helped Arsenal grab an undeserved lead.
With all the time in the world, all Kehl had to do was play a simple 10-yard pass to Hummels, something which he was doing for much of the match but with the pass being under hit, Van Persie was able to snatch it away from Hummels. Arsenal gaining possession was not the problem in as much as that Hummels and Schemlzer were now well out of position and Van Persie had yards of space to run into completely unopposed.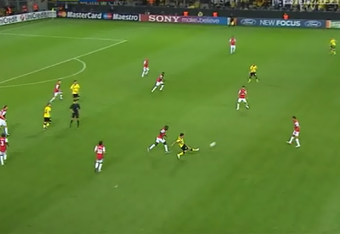 Surely enough, Theo Walcott was able to thread a pass through to the Dutchman who finished with aplomb with only Weidenfeller to beat. Dortmund were losing the ball with poor passes before the goal but that was much higher up the pitch and with ample support behind, Arsenal were rarely able to take advantage. Hummels' speed of thought was regularly able to thwart any openings for Arsenal's quick counters and Kehl himself was doing well to cover for the center back whenever Hummels went forward. But on the occasion of the goal, he was not able to cut out Walcott's pass.
Thus ended the first half with Arsenal in the lead at 1-0. In the second half, Arsenal's high line defence was replaced with a deeper line since Arsenal were not able to contain Dortmund's quick passing and movement in the early goings. With the deeper line, Arsenal were much better at stopping any potential Dortmund attacks and restricted them to playing passes in front of the defence rather than in behind, which was the more regular case during the first half.
Even with Arsenal's defensive tactics, Dortmund managed to carve out a number of half chances, all of which were fluffed due to some poor decision making on part of the Dortmund players. Goetze and Kagawa were the main players leading the creative playmaking duties for Dortmund, while players like Grosskeutz, Schmelzer and Lewandowski were culprits when it came to missing out on attacking opportunities.
Goetze found himself with much more freedom to attack in the 2nd half and came close to grabbing the equalizer with a great run into the heart of the Arsenal defence, only for a last ditch tackle by Alexander Song to take the ball away from the youngster before he was able to pull the trigger.
With the match ambling on and Dortmund not able to create as many clear cut chances as they were in the first half, manager Jurgen Klopp decided to remove the Sebastian Kehl and the poor Grosskeutz for right winger Kuba and left winger Ivan Perisic.
That brought about an interesting change in formation were Gotze, by far Dortmund's best attacker, was shifted to a slightly more withdrawn central role while Kuba went onto the right wing in his place (Hummels was effectively playing in Kehl's position as a deep playmaker).
Formation link: http://www.this11.com/boards/abBdO86afN.jpg
Gotze's shift to a more defensive central role is a shift might have had an impact not only for Dortmund's performance in this match but could also in the next few matches since the poor form of Kehl and Gundogan, the two first choices to replace Sahin, could see Mario Gotze play in the Sahin position, something which he did in the last game of the previous season against Frankfurt.
The substitutes made little difference in the proceedings of the game since Dortmund continued to dominate in face of Arsenal's defensive tactics while also failing to create clear chances. That was until the 88th minute where, surely enough with an absolute wonder strike, Dortmund were able to crack through Arsenal's shell and equalize.
The goal came from Ivan Perisic and one which was nothing less then what Dortmund deserved. A cross into the box was cleared, something of a regularity in the 2nd half, and fell to the Croatian attacker at the edge of the box, who let fly and the ball arrowed into the top corner.
Dortmund's quickness surged after the confidence boost and they managed to create probably two of their best chances of the match within the next 6 minutes as Lewandowski again spurned a good chance while a last ditch tackle from Mertesacker blocked a goal bound strike from substitute Mohammad Zidan. 
Even though they stole 2 points from Arsenal, Dortmund would be disappointed with only managing to get a draw after their tremendous performance in midfield and defence. The feeling of dominating a match and not being able to win was something they felt very regularly last season in the Europa League where they only managed two wins, both against weaklings Kaparty, on their way to getting only third spot in the group stages; all the while dominating every match they played creating many opportunities.
If Dortmund are to find greater results this time in the Champions League, then surely they would have to find a way to put away the chances they create since their inconsistency in the league has shown that midfield performances like this won't always come, especially when playing away from home where Dortmund have not won yet. Marsielle's win against Olympiakos puts more pressure on the German champions since the French side would be their main rivals for the 2nd spot and winning in Greece would not be an easy task, just ask Bremen.