FC Barcelona: Grading the 2011 Summer Transfers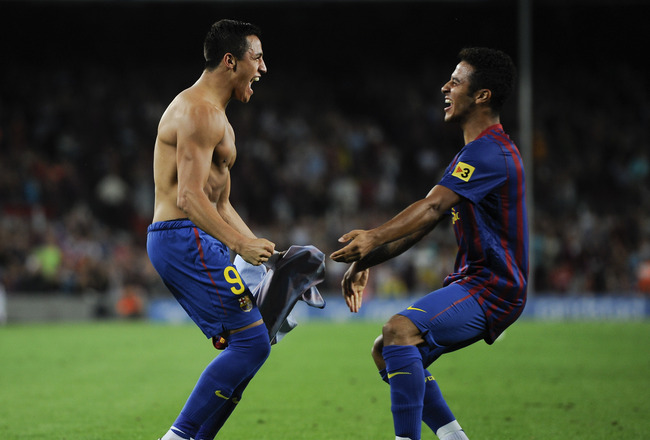 David Ramos/Getty Images
La Blaugrana are right back to where they left off: amassing titles and destroying opponents.
With four games under their belt in the 2011-2012 season, Barcelona look as good as ever, especially with their new cast members.
Barcelona let go of a few players by way of loans, but have also gained two of the world's top footballers in Cesc Fabregas and Alexis Sanchez.
How did Barcelona do in this summer's transfer window?
Read on to find out.
1. Loaning Bojan
Jasper Juinen/Getty Images
It has been clear under club manager Josep Guardiola that Bojan Krkic was not a happy player. In his debut and breakout season of 2007-2008, Bojan played nearly 1,500 minutes. Since then, he has yet to see 1,000 minutes on the pitch.
While Bojan is indeed a great player, he hasn't been able to live up to the promise of his debut season and expectations, through fault of his own or others.
It also didn't help that he has been expected to produce on a front line consisting of star players such as Villa, Messi and Pedro, and with the impending signing of Alexis Sanchez, a departure from Barcelona was all but certain.
Bojan is now on loan at AS Rome with the possibility of returning during the 2013 summer transfer window. Should Bojan flourish in Rome, away from the pressure of producing for the world's best club, we can be assured that Bojan will return unless Rome picks up the permanent purchase option.
Grade: A
Bojan has made it clear he is unhappy and has been labeled as a crybaby by some. He has immense talent, and the best thing for him to do is to flourish away from the pressure and then return as a more mature player.
2. Loaning Jeffren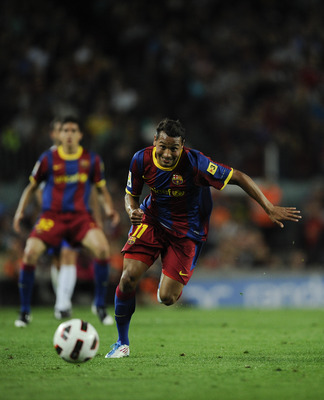 David Ramos/Getty Images
Like Bojan, Jeffren has not seen much playing time under Guardiola because of the preference of Pedro as a starter and the introduction of Alexis Sanchez to the club.
Unlike Bojan, Jeffren has displayed a mature understanding of his situation and is welcoming a chance to improve and play on another squad, Sporting CP in Portugal.
Grade: A
Barcelona has the option to buy back Jeffren after this season or after the 2012-2013 season. Should Jeffren flourish in Sporting he might want to stay, or if the opportunity opens in Barcelona he could return.
3. Signing Alexis Sanchez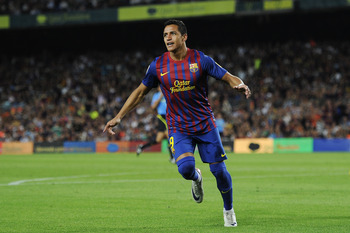 David Ramos/Getty Images
Already tasting glory by hoisting two trophies in his first three games with Barcelona, Alexis Sanchez is fitting right in at his new club.
The breakout young forward from Chile is one of the fastest rising stars currently playing in Europe, and is showing signs of maintaining and even improving the dominant front line of La Blaugrana.
What we saw in his first game against Real Madrid in the Supercopa de Espana was a player not only fitting in well with the likes of Messi, Pedro, Iniesta and Xavi, but a player who also commits incredibly on both sides of the pitch on defense and offense.
Grade: A+
Not only did Barcelona pick up a star, but they did so below market value, much the way they did with Gerard Pique.
4. Signing Cesc Fabregas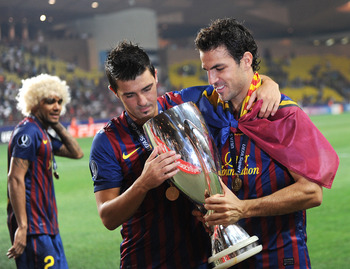 Jasper Juinen/Getty Images
Would you look at this photo please?
Can anyone argue how on-top-of-the-world Barcelona is after all the success it has achieved under Pep Guardiola?
Add to Barcelona the most coveted player of the 2011 summer transfer window, a 12th title in three seasons and Dani Alves in a wig doing who-knows-what around the pitch, and you have the happiest professional sports team on earth.
Cesc Fabregas' signing with Barcelona has been a long time coming. The Barcelona native grew up in the team's academy only to be picked up by Arsenal in 2003. No matter because he grew into one of the world's top midfielders and eventually became captain on one of the Premiere League's top clubs.
Now he is back home, winning titles and contributing to the unreal success of this current Barcelona squad.
Grade: A++
Many will argue that Fabregas won't help improve an already stacked midfield which includes Xavi and Iniesta, but who can argue against such a potent rotation?
A homegrown talent with years still left to achieve on a squad not looking to let up its dominance—there is no alternative to that.
Keep Reading

FC Barcelona: Like this team?